18 Gifts For Someone Who Lost a Cat: Thoughtful & Kind Ideas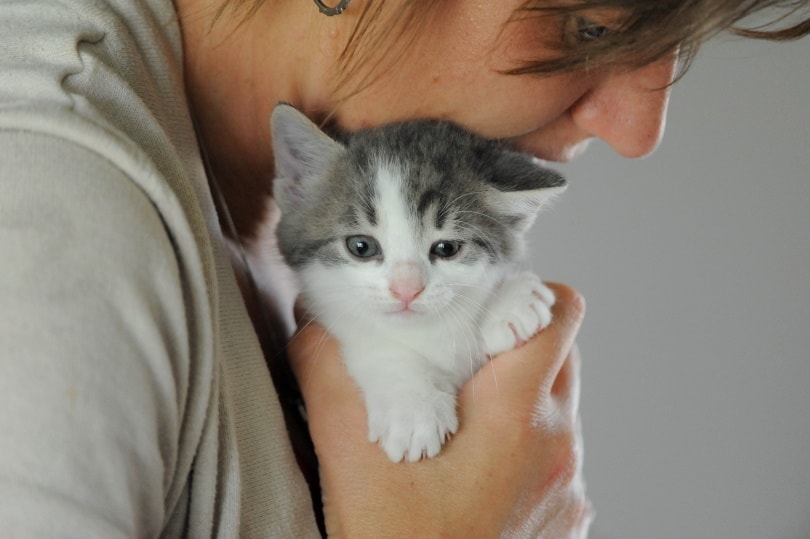 Losing a beloved pet is one of the hardest parts of life with animals. If someone in your life has recently lost a cat, it can be hard to know how to comfort them. One option is to get them a gift to remember or honor their lost loved one. In this article, we'll give you 18 possible gift options for someone who lost a cat. At times like this, it may be the thought that counts, but gifts are still appreciated—especially those that help them remember and honor their lost loved ones.
Top 18 Gifts For Someone Who Lost a Cat
1.

Picture Frame With Remembrance Poem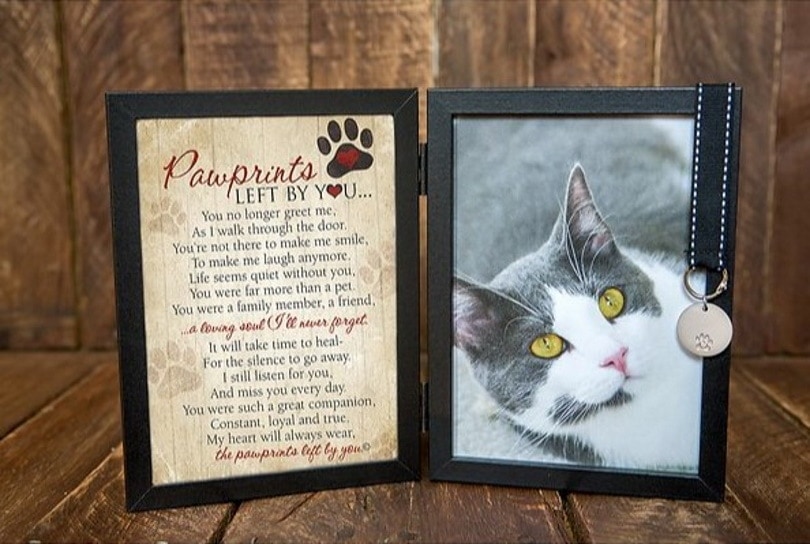 | | |
| --- | --- |
| Type of gift | Photo memorial |
| Customizable? | Yes |
This 5 x 7 double picture frame contains a healing poem of remembrance on one side and space for a photo of the lost cat on the other. The frame also comes with an attached silver paw print disc which can be engraved with the cat's name. Designed to sit on a shelf or tabletop, this frame allows the grieving cat owner to keep their fur baby close by. Made of solid wood, this frame will make a durable keepsake of a lost pet.
---
2.

Memorial Wind Chime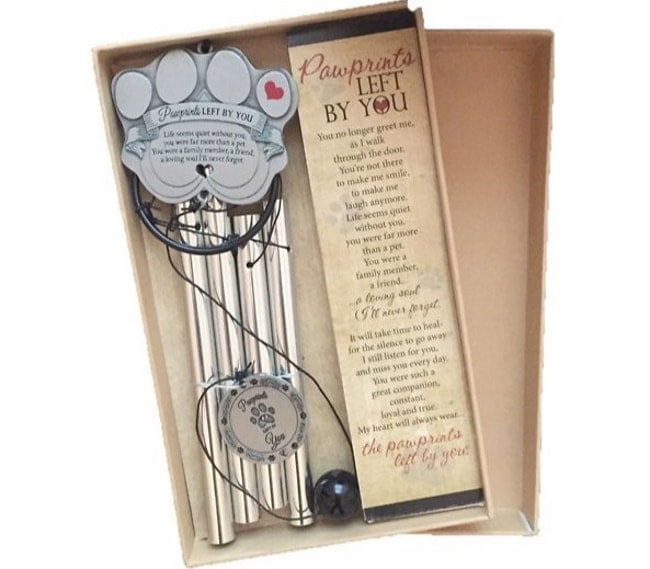 | | |
| --- | --- |
| Type of gift | Outdoor memorial |
| Customizable? | Yes |
For the cat owner who loved to spend time outdoors with their pet, consider this memorial wind chime. This metal chime contains a paw print charm engraved with lines from a poem of remembrance and four musical tubes. The charm has space for personal engraving as well. Best enjoyed outdoors in a fresh breeze, this wind chime could also be displayed inside, perhaps hanging in the lost cat's favorite window. No matter which way the wind blows, the double-printed charm can still be read.
---
3.

Memorial Candle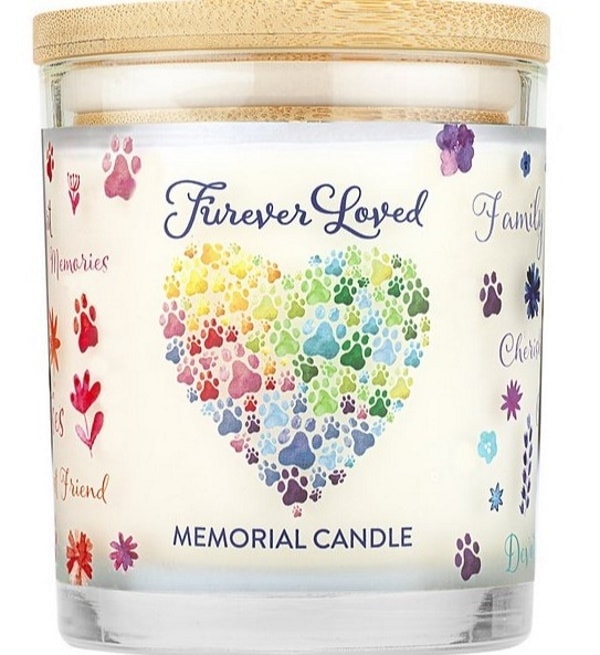 | | |
| --- | --- |
| Type of gift | Home decor |
| Customizable? | No |
It may not burn an eternal flame (just about 70 hours), but this candle still makes a lovely gift for someone who's lost a cat. Made of natural soy, the candle contains no dyes or paraffin for a safe burning experience. The soothing fragrance is ideal for creating a calming atmosphere and allowing the grieving cat owner to hold space for their emotions. The candle jar is printed with a cute paw print heart design and words of remembrance. Once the candle is gone, the jar is reusable, making this a functional, as well as a thoughtful gift.
---
4.

Memorial Garden Stone
| | |
| --- | --- |
| Type of gift | Outdoor memorial |
| Customizable? | No |
This beautiful garden stone features a moving engraved sentiment and makes a stunning memorial gift for someone who lost a cat. It can be placed outdoors in a garden or flower bed, directly on the ground. However, the stone is also fitted with a hanging hole on the back, allowing it to be easily mounted on the wall, indoors or out. Made of stone and resin, this is a durable way to honor and remember a lost kitty.
---
5.

Wood Wall Hanging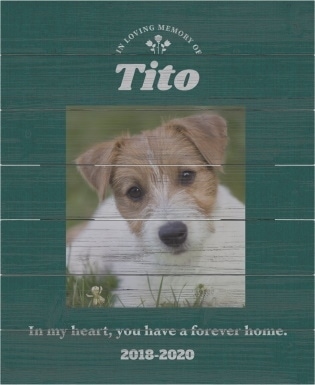 | | |
| --- | --- |
| Type of gift | Home decor |
| Customizable? | Yes |
This 16 x 20-inch wooden wall hanging can be fully personalized, including the background color. The rustic design will appeal to those who want to remember their cat in style. Featuring a photo of the lost cat printed directly onto the wood, this hanging also has space for two lines of custom text. Designed to last for years without fading, this beautiful keepsake will keep the memory of a lost cat alive long after they are gone.
---
6.

Silver Keepsake Pendant
| | |
| --- | --- |
| Type of gift | Wearable |
| Customizable? | No |
For those who want to keep their lost cat physically close to their heart, this beautiful solid silver pendant necklace makes that possible. Designed to represent the circle of life, this pendant has space inside to place a lock of fur or another item of remembrance from the lost cat. Featuring an 18-inch chain, the pendant is just under one inch in size and has a balanced weight. A special splurge in memory of a beloved pet, this gift is a unique way to remember a wonderful life.
---
7.

Memorial Blanket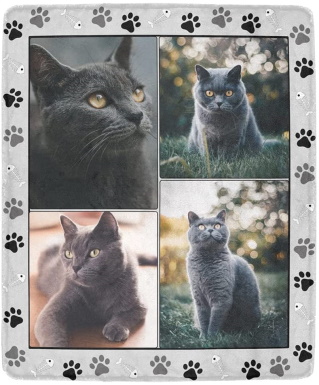 | | |
| --- | --- |
| Type of gift | Home decor |
| Customizable? | Yes |
This soft and comfortable blanket features a large checkerboard pattern of cute designs and words of remembrance but can also be fully personalized. Add photos of the lost cat and their name and birthday if you wish. This blanket is available in multiple sizes, even one small enough to serve as a baby covering. Every family member can receive their own blanket to keep snuggling up with their beloved cat even after they're gone.
---
8.

Keepsake Box
| | |
| --- | --- |
| Type of gift | Home decor |
| Customizable? | No |
This gorgeous, hand-painted keepsake box is the perfect gift for someone who lost a cat to collect all their memories in one place. Featuring an original carving, this resin box makes a lovely display piece as well as a place to store keepsakes. Place a lock of fur, collar, or favorite toys from the lost cat inside to keep them safe and secure for years to come. At the bottom of the box, a message of remembrance serves as another celebration of a life well-lived.
---
9.

Rainbow Bridge Bracelet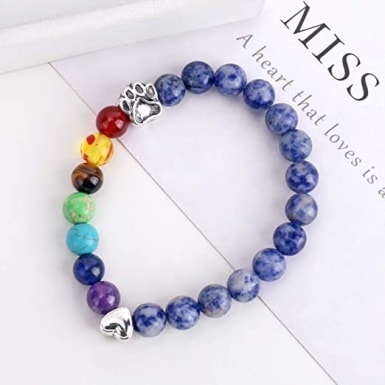 | | |
| --- | --- |
| Type of gift | Wearable |
| Customizable? | No |
This simple yet colorful bracelet honors the memory of a lost cat by using the imagery of the Rainbow Bridge and a promise for the future. The small, metal beads are strung on an elastic band, designed to comfortably fit nearly any size wrist. The bracelet also contains a cute paw print charm, engraved with the phrase "Best Friend." Along with the bracelet comes a printed blessing card, placed inside a soft, velvet bag.
---
10.

Keepsake Keychain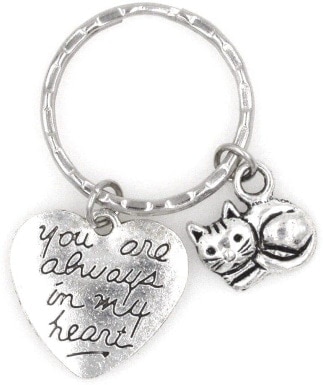 | | |
| --- | --- |
| Type of gift | Home decor/wearable |
| Customizable? | No |
While designed as a keychain, this keepsake gift can also be displayed in other ways. For example, you could attach it to a backpack zipper or dangle it from a charm bracelet. Wherever is most convenient to keep the memory of a pet close, this gift can go there. The charm comes engraved with one of three heartfelt sayings, expressing love and remembrance for the lost cat. A simple but effective gift, this keychain will appeal to all ages, even those too young to drive.
---
11.

Succulent Gift Box
| | |
| --- | --- |
| Type of gift | Home decor |
| Customizable? | Yes |
For the cat lover with a green thumb and a broken heart, this succulent-themed gift box may provide a measure of comfort. Surrounded by a beautifully printed container, this gift includes a personalized card on elegant stationery. Inside, you'll find a vegan soy candle, a box of matches, and a real-life succulent plant in a cute vase. House plants are proven mood-lifters, and tending to this succulent may allow someone who lost their cat to begin the healing process.
---
12.

Memorial Lantern
| | |
| --- | --- |
| Type of gift | Home decor |
| Customizable? | No |
Another stylish gift that allows a lost cat's memory to continue to shine, this black metal lantern comes complete with a battery-powered flameless candle. On one of the glass-paned sides of the lantern, you'll find a touching poem of remembrance engraved. This lantern can be placed on a shelf or table, perhaps beside a photo of the beloved cat. Or, hang the lantern in a safe place to allow the light to shine further.
---
13.

Memorial Ornament
| | |
| --- | --- |
| Type of gift | Home decor |
| Customizable? | No |
This sweet ornament serves as a multi-functional memorial to a lost cat. Of course, it can serve as a holiday decoration, but there are further possibilities as well. Printed with a beautiful design and heartfelt sentiment, the ornament could hang from a rearview mirror or decorate a lamp. Crafted from ceramic materials, this ornament comes with an attached ribbon, allowing it to be placed right out of the box. A classic gift, an ornament such as this makes a lovely keepsake and stirs strong memories with its presence.
---
14.

Hanging Photo Holder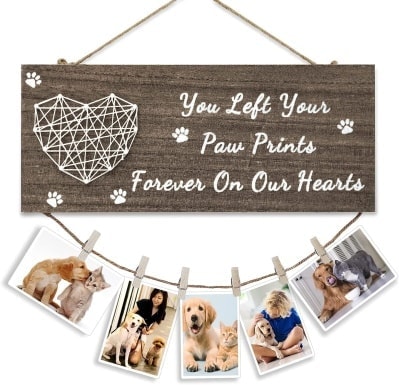 | | |
| --- | --- |
| Type of gift | Home decor |
| Customizable? | No |
Cat owners who can't pick just one photo of their beloved cat will appreciate this hanging photo holder. This eco-friendly wood and hemp rope wall hanging offers a rustic design and the ability to display multiple photos at once. Printed with a heart design and a beautiful saying, this photo holder is striking on its own. Change out the pictures every day if you want to, so every happy memory captured gets its moment to shine.
---
15.

Personalized Coffee Mug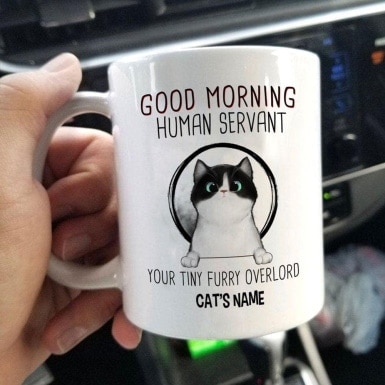 | | |
| --- | --- |
| Type of gift | Home decor |
| Customizable? | Yes |
For the cat owner who misses sharing a morning coffee with a beloved feline, consider gifting this personalized mug. Made of quality ceramic with a stylish black rim and handle, the coffee cup is microwave and dishwasher safe. Customizable with a photo of the lost cat and adorned with a touching remembrance, this gift is both functional and heartfelt. Nothing can replace the joy of spending quiet moments with a well-loved pet, but this mug allows morning tradition to continue, at least in part.
---
16.

Pet Loss Grief Book
| | |
| --- | --- |
| Type of gift | Book |
| Customizable? | No |
Dealing with grief and loss can be tough, and many pet owners need some guidance and healing when it comes to these emotions. This book helps those who've lost cats cope with the guilt, sadness, or even anger they may feel after the death of their pet, especially if it occurred suddenly. Depending on what stage of grief they are in, a sorrowful cat owner may not be ready to read this book right away.
---
17.

Custom Art Print
| | |
| --- | --- |
| Type of gift | Home decor |
| Customizable? | Yes |
One of the most beautiful gifts you can give someone who's lost a cat, this custom print features a design based on an actual photo of the kitty, created by an experienced artist. Printed directly onto canvas, the portrait can be revised and adjusted as often as it takes until the perfect likeness emerges. Available in multiple sizes and with five different custom framing options, this print will serve as a gorgeous memorial to a lost cat.
---
18.

Memorial Donation

| | |
| --- | --- |
| Type of gift | Charitable |
| Customizable? | Yes |
Give a grieving pet owner the gift of knowing their cat's memory is saving the lives of other animals. A memorial donation, made in memory of the lost cat, is one solution to help ease the sadness. Many animal charities, such as Best Friends, have special memorial donation options, including the ability to purchase memorial bricks or wind chimes to be placed on the rescue's property. If the cat who passed away was adopted, consider donating to the shelter or rescue they came from in their honor.
Conclusion
The human-animal bond can't always be explained or understood completely. The loss of a cat is a heart-breaking occurrence, but one experienced by every pet owner at some point. While these 18 gifts will not completely heal a grief-stricken cat owner, they are likely to be appreciated, nonetheless.
---