100+ Goldendoodle Names: Ideas for Playful & Friendly Dogs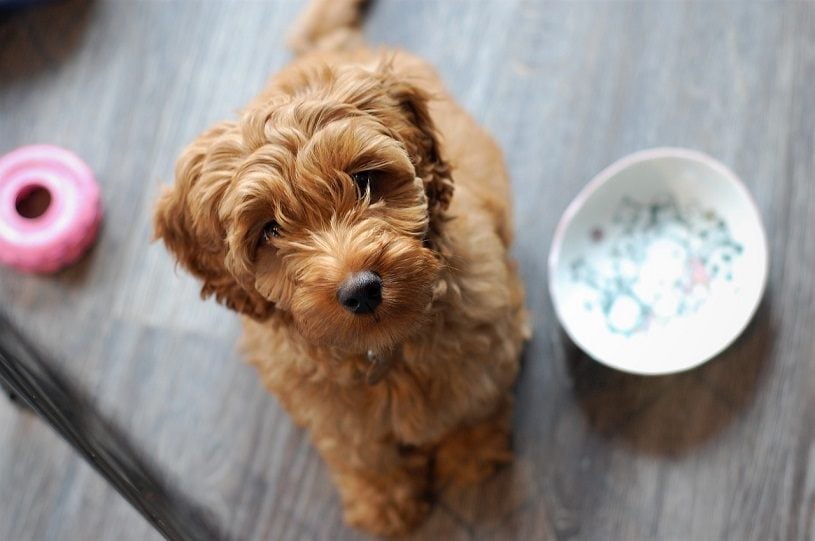 Initially, you may have been drawn to this breed because of its incredibly adorable name, but truly fell in love when you saw what they look like! Despite their sunny name, their coat may be a wide range of colors and can be curly, wavy, and in some cases straight. The Goldendoodle is a hybrid crossbreed between the trusty golden retriever and the cheeky poodle. Inheriting traits from both parent breeds makes the Goldendoodle a friendly, gorgeous, and all-around well-behaved pup. Additionally, this outstanding designer doggie is a natural athlete, is capable of being a true therapy dog, and is hypoallergenic!
Now that you have adopted one of these outstanding dogs – the final step is finding them the perfect name! Below you will find the most popular names for female and male Goldendoodles, precious names for mini and cute pups, curly suggestions for those with spiraled locks, service names for supporting dogs, and finally, a few color-specific choices.

Female Goldendoodle Dog Names
Betty
Callie
Lucy
Aurora
Blakely
Dixie
Fallon
Elsie
Tinlee
Zola
Nova
Citra
Purdie
Heidi
Lotti
Ivy
Zuri
Paisley
Addie
Hazel
Milan
Bailey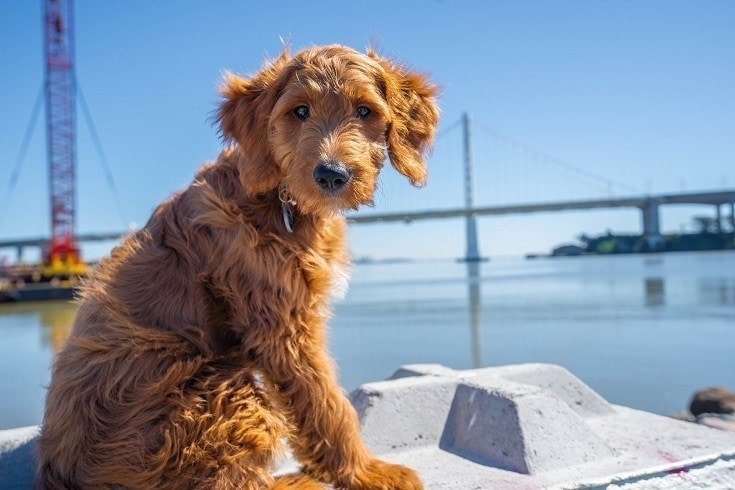 Male Goldendoodle Dog Names 
Andie
Bronx
Flint
Huey
Flynn
Sutton
Juno
Levi
Ripley
Cruz
Mars
Opal
Nolan
Everet
Enzo
Pep
Darby
Knox
Bosco
Remy
Sawyer
Greer
Brodie
Mini Goldendoodle Dog Names
All of the same endearing qualities of the Goldendoodle – only in a bite-sized package! The mini's parents include your standard golden retriever and toy or teacup poodle. If you are interested in a pint-sized name to match your mini pooch, you are sure to find one you love here!
Zip
Peg
Leo
Bitsy
Tank
Tot
Bean
Morsel
Smalls
Chia
Tiny
Chip
Nano
Bits
Pluto
Smurf
Spud
Ziggy
Apple
Runt
Puddles
Raisin
Atom
Mini
Slim
Moose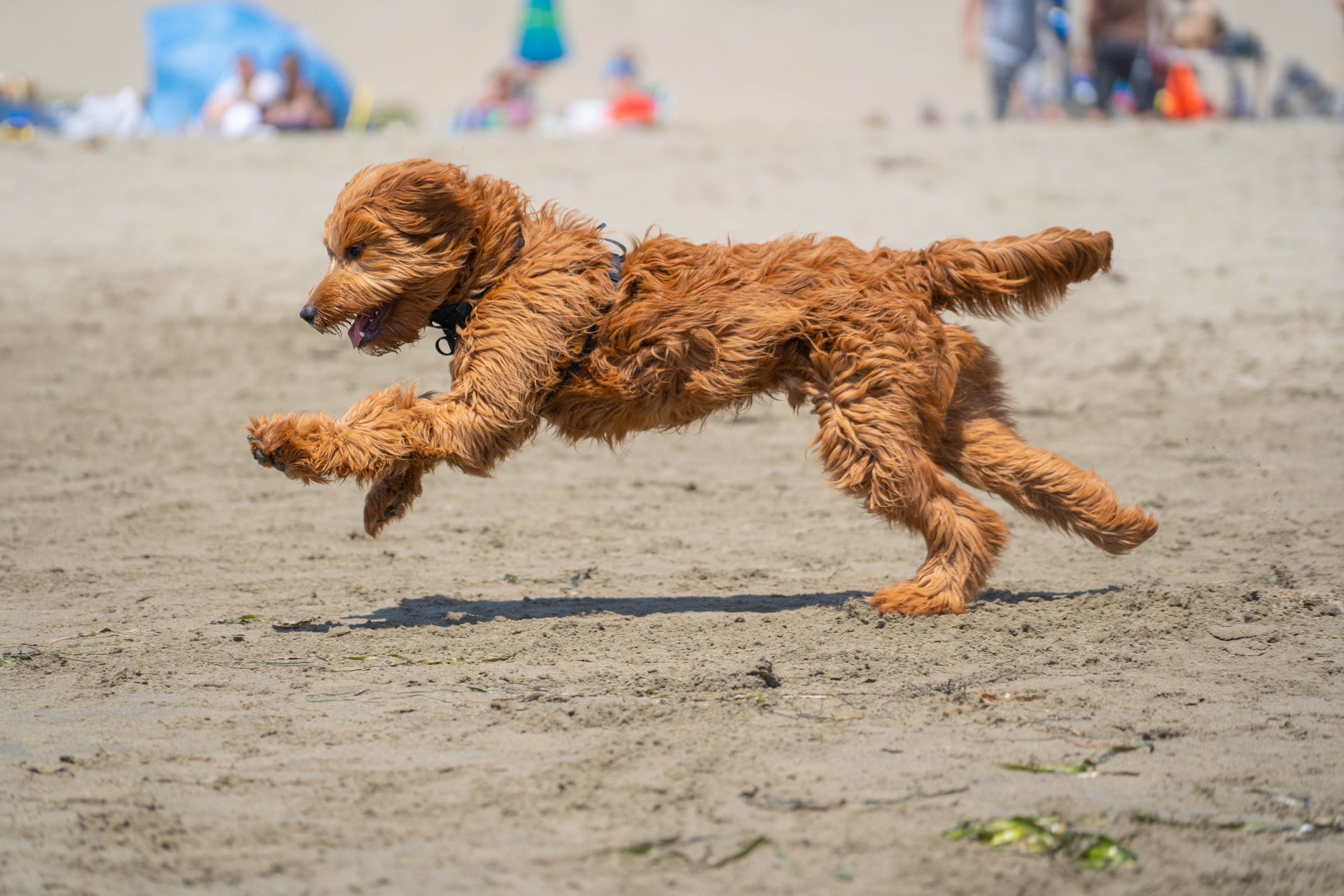 Cute Goldendoodle Dog Names
There is something exceptionally sweet about this breed – it might be their teddy bear stare, soft and unruly fur, and the brightest and warm of personalities. Any Goldendoodle would make a great match for the adorable and sweet names noted below.
Poppy
Petal
Oz
Yoshi
Monty
Honey
Finn
Alfie
Basil
Mabel
Olive
Scout
Ned
Clover
Milo
Teddy
Cleo
Mo
Fig
Chloe
Curly Goldendoodle Dog Names
Although not all have curly fur, it is the most common type among the breed. If your pup has an outstanding hairdo and you want a name to match, one from this next list might be suitable!
Cotton
Puffy
Cuddles
Harry
Charmin
Snugs
Fuzzy
Bunny
Bear
Velvet
Ruffle
Shaggy
Yeti
Ruli
Corky
Wooly
Cashmere
Rabbit
Service Dog Names for Goldendoodles
Compassion, genuine care, and boundless love are a few of the qualities that the Goldendoodle continually shows their owners, making them the perfect candidates for the service industry. They are highly trainable, are obedient, and are committed to their owners well being.
Haven
Bounty
Happy
Grace
Bond
Mercy
Faith
Noble
Lucky
Cozy
Ward
Gusto
Halo
Boost
Maverick
Spirit
Worthy
Foster
Harbor
Beige, Orange & Gold Goldendoodle Dog Names
Bright, airy, and sunny, a few things your pup has in common with this next set of names. A seemingly good fit, a Goldendoodle, with a golden name is the ultimate combination. If your pup shares this fury hue – keep reading!
Almond
Marigold
Garbo
Nacho
Yukon
Naples
Harlow
Noodle
Jude
Ochre
Honey
Waffle
Bowie
Pina
Nugget
Dolly
Yarrow
Banana
Corona
Meadow
Buff
Toffee
Sunny
Flax
Fawn
Black, Brown & Grey Goldendoodle Dog Names
Deep, rich, and oh so beautiful! Not as common as their lighter counterparts, the black, brown, and grey Goldendoodles are just as gorgeous. Matching their bold exterior with a sultry name is a unique idea.
Galaxy
Marron
Coal
Muddy
Bullet
Coco
Hickory
Pepper
Onyx
Cosmo
Mocha
Puma
Ember
Kona
Slater
Axel
Clove
Java
Rolo

Finding the Right Name for Your Goldendoodle
There are so many fun and adorable names to choose from for your new Goldendoodle. Of course, you'll want a name that you and your pup will both live, but rest assured, your new furball will appreciate whatever you decide on! If you are having a tough time selecting just one, here are a few things to consider:
Keep it short and sweet! Dogs are more receptive to short, simple names. You might choose a longer than but stick with a short nickname that you use regularly.
Learn your pup's personality. Once you bring your new addition home, give them a few days to get settled in and once they are comfortable – watch them blossom! Their true personality will begin to shine!
Test out your favorites on your pup! Try out a few of your favorite names on your dog. Their reaction may indicate whether they approve of it or not! A tail wag might mean they are smitten with this option, a whimper could mean its time to move on!
Hopefully, you were able to find a suitable match among our list of Goldendoodle names! If not, no stress! You may be able to find what you are searching for in one of the name posts below:
---
Feature Image Credit: litthouse, Pixabay