16 Golden Retriever Movies You Can Watch Today (With Trailers)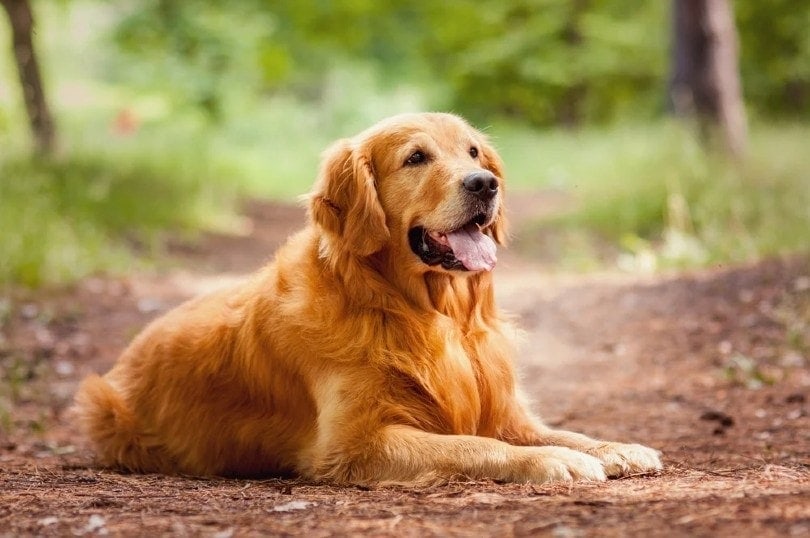 Golden retrievers are a popular companion because of their big hearts and loyal nature. Their enduring personalities have also brought them to the screen, and you can find several movies that include the popular dog as a character.
If you are looking forward to a movie night, there are several movies to choose from that a golden retriever lover can relate to. From heartwarming to heart-tugging, you can find yourself in fits of laughter, then suddenly reaching for the tissues when you view these films. They are mostly child and family-friendly pictures, with lighthearted options too. Turn down the lights and salt up your popcorn to enjoy some brilliant golden Retriever movies!

The Top 16 Golden Retriever Movies You Can Watch Today
1.

Homeward Bound – The Incredible Journey
Homeward Bound is a popular classic for the whole family. Heartwarming and sometimes jaw clenching, you will be captivated the entire film while you watch the story of three pets embark on an adventure to find their owners. Their owners set off to California on holiday, and these courageous and determined pets, thinking they have been abandoned, set off to find them. They meet new friends along the way and find themselves in some sticky situations that they navigate and overcome together. Shadow is the brave and wise golden retriever voiced by Don Ameche.
---
2.

Homeward Bound – Lost in San Francisco
They do it again in this sequel to the 1933 favorite, only this time they get lost in the city. Packed with comedy and adventure as they navigate their way back home, you will love this sequel as much as the original. The original cast reunites, but Ralph White takes over the voice of the beloved golden retriever Shadow.
---
3.

Air Bud Franchise
An athletic golden retriever will always make a great storyline for a movie, and Air Bud doesn't disappoint. Buddy is the character played by the golden retriever and is a real-life sport-loving dog! In this inspiring and entertaining movie, Buddy turns his owner's life around and helps him win the state championship basketball game. This movie will keep you enthralled and is a captivating and entertaining tale for children.
In the first movie, Josh meets Buddy and learns he can play basketball, and since then, four more films have been made, turning Air Bud into an exciting franchise.
In 1988, Air Bud Golden Receiver: Buddy learned to play football.
In 2000, Air Bud: World Pup Buddy's soccer skills were discovered.
In 2002, Ai Bud: Seventh Inning Fetch Buddy became a star player on the baseball team.
In 2003, Air Bud: Spikes Back Buddy pursued volleyball.
---
4.

Air Buddies Franchise
Air Buddies is a series of lighthearted films that follow the journey of the Air Bud puppies. Air Bud is the proud owner of five lovable and mischievous pups. These talking pups learn some valuable lessons while facing obstacles and band together through teamwork and adventure.
The franchise includes:
Snow Buddies (2008): The puppies are transported to Alaska, where they compete with a boy in a dog-sled competition.
Space Buddies (2009): The pups accidentally get stranded on a crewless space shuttle and head off to space for an intergalactic adventure.
Santa Buddies (2009): The Christmas spirit is high when the dogs end up at the North Pole and must save Christmas.
The Search for Santa Paws (2010): Santa Paws and his new canine friends head to New York to find Santa Claus and restore the Christmas spirit.
Spooky Buddies (2011): There are mysterious things going on at a mansion rumored to be haunted by the Halloween Hound, and the pups go off to investigate.
Santa Paws 2: The Santa Pups (2012): When the spirit of Christmas begins to disappear, the mischievous stowaways must help save Christmas.
Treasure Buddies (2012): The puppies are on the hunt in Egypt to find Cleocatra's lost collar.
Super Buddies (2013): Each dog earns a superpower when they discover mysterious rings at Fernfield Farm.
---
5.

The Parent Trap
Sammy, the golden retriever, is not the main attraction in this heartwarming film but is the beloved companion to Hallie. Hallie has a twin she discovers after many years at a camp, and they decide to switch places. Sammy is naturally skeptical when Hallie's twin, Annie, arrives home. These loyal dogs know when something is up, and Sammy's role helps save the day.
---
6.

A Dog's Purpose
This heartfelt and emotional story encapsulates the beautiful relationship between dog and human. The storyline sends a message of deep love as the golden retriever Bailey finds his purpose while living through four different lifetimes with humans and in different time periods. He journeys through wild adventures, where he gains additional insights, ultimately bringing him to realize that his purpose is to love and support his human. A Dog's Purpose is a heartwarming story that dog owners will relate to.
---
7.

The Retrievers
Pilot, a stray golden retriever, is adopted by a loving family who soon learns she is pregnant. The kids grow close to the growing pups knowing that they will need to be rehomed. Pilot is determined to get her puppies back and leads a quest with Lowry to retrieve them. The adventure is action-packed and comical and portrays lessons about life and what is truly important.
---
8.

Marley and Me
Marley and Me is a real tear-jerker but a beautiful story about a loyal golden retriever that experiences a married couple's journey of ups and downs. Marley is a mischievous pup that always manages to win the heart of his family, beautifully capturing the companionship of unconditional love. This true story will have you in hysterics and pull at your heartstrings as you learn to appreciate your furry friend a little bit more.
---
9.

The Art of Racing in the Rain
Through the eyes of a golden retriever named Enzo, you get a glimpse into his life and the valuable lessons he learns from his owner and the other humans around him. He gains insights into how life on the racetrack can be adapted and used to navigate life. You will find yourself laughing and crying through this uplifting and heartfelt story of companionship and love.
---
10.

The Trial of Old Drum
Based on a true story, Old Drum, a faithful golden retriever, gets wrongly accused of killing a local farmer's sheep, and his owner Charlie gathers evidence to prove his best friend's innocence. This is a fascinating story of devotion and bravery that will attract the interests of all dog owners. There are some heart-tugging moments that will likely induce tears, but a happy ending will make it worthwhile.
---
11.

Napoleon
Napoleon is an adventurous and adorable story about a golden retriever that wants to explore the world. When he accidentally flies off in a basket attached to helium balloons, he goes through some adventures to find his way home. He meets friends along the way and learns a valuable lesson that there is no place like home.
---
12.

Bailey's Billion$
Bailey is a sweet and smart-talking golden retriever that is left an inheritance by his multi-millionaire owner. Unfortunately, his new fortune gets him caught up in a dog-napping scheme, but his street smarts and loyal friends set off on an adventure to keep him safe. This movie is lighthearted and silly and will have the whole family laughing.
---
13.

A Golden Christmas
Even though the cover showcases a golden retriever, it is not the star of the show. This movie is a Christmas romance story where two childhood friends fall in love. It is thanks to Michael's retriever they remember Michael is the long-lost love from Jessica's childhood.
---
14.

A Golden Christmas 2: The Second Tail
When Lisa goes walking with her neighbor and his pups, they interrupt a wedding proposal where she learns it is her ex-boyfriend. Everyone knows they belong together, so with the help of the dogs, they try to get them back together. This is another lighthearted romance story involving retrievers, and the characters all share the same love for the dogs.
---
15.

For the Love of a Dog
For the Love of a Dog is based on a true story about a man's best friend. It involves a golden retriever that gets sick with cancer, and the community comes together to raise money for its expensive surgery. This is a wonderful and endearing family movie that shows how family and friends can pull together in hard times.
---
16.

The Gold Retrievers
In the Gold Retrievers, a 12-year-old boy and his mischievous golden retriever attempt to save their family home. Together they dig up a gold medallion that leads to a fortune, and with their neighbor Ana, they try to reclaim the treasure. On their quest through the woods with an ancient curse, they encounter booby traps and are tracked by two thieves trying to get their hands on the treasure. This fun movie is cute and comical, and kids will enjoy the cheesy sense of humor.

Conclusion
Golden retrievers make great Hollywood dogs! Even if they are not the stars of the show, their roles in movies clearly portray their loving, loyal, intelligent, and sweetly mischievous natures. They teach us how their love is unconditional and how much the phrase "man's best friend" rings true for so many. In these tales of bravery and adventure, love, and devotion, you will find yourself inspired to find a golden companion of your own.
---