100+ Golden Retriever Names: Ideas for Cute & Fun-Loving Dogs

Golden Retrievers are the third most popular dog in America, and it's easy to see why. One of their key characteristics is patience, which makes them excellent family pets. They are active and fun-loving, and at the same time, are the sweetest of cuddle buddies. As their name suggests, these social, joyous dogs are particularly good at retrieving – now all you'll need is a great name to call your pooch back.
We understand that finding the right name for your golden pup may be a bit of a challenge – not only will this name stick with them forever, but you'll also want to ensure that you find one that matches their unique and special personality. So where do you start? We have gathered our favorite ideas for males, females and puppies, cool and unique suggestions, and finally a list of famous golden retriever names for the rockstar dogs out there!
So what should you name the newest member of your family? Read on to find the only list of gold retriever name considerations you'll need and ultimately discover the one that will have your pooch barking in approval.

Female Golden Retriever Names
Bailey
Marigold
Sophie
Maggie
Cookie
Molly
Anna
Daisy
Rosie
Ginger
Amy
Jordan
Lilly
Ellie
Lucy
Eva
Chelsea
Marie
Grace
Emma
Lizzie
Marley
Nellie
Tess
Chloe
Summer
Riley
Male Golden Retriever Names
Javier
Blake
Teddy
Harley
Oliver
Scout
Charlie
Sammy
Buddy
George
Jack
Joe
Danny
Duke
Harry
Billy
Leo
Brad
Graham
Jamie
Jake
Max
Albert
Cooper
Golden Retriever Puppy Names
Of course, your golden retriever pup will outgrow their puppy phase, but that doesn't mean they can't hold on to an endearing name that reminds you, your family, or even your doggo of when they were just a wee pup! The names we have in this category are fitting for the tiniest of new babies, and evolve with your pup into their golden years, so to speak!
Barker
Chip
Piper
Biscuit
Dobby
Chewy
Pixie
Clooney
Koopa
Wilbur
Bono
Sonic
Havoc
Remy
Peppy
Pouches
Alvin
Shaggy
Stitch
Gus
Gizmo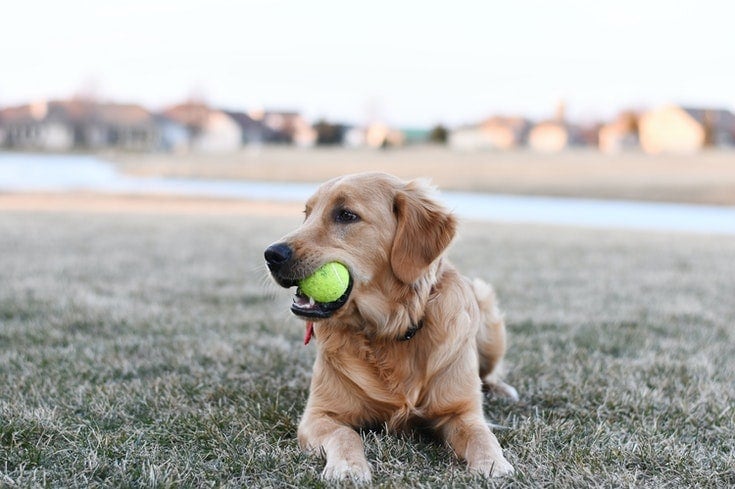 Cool Golden Retriever Names
There is something airy and badass about a golden retriever. They seem to be the chameleons of the dog world – easily the life of the party, your cuddle-up-and-watch-a-movie companion, in addition to them always being cool, calm, and collected. They get along with everyone – humans and other animals in the pet world – which makes them ideal pets! Here are our top picks for the coolest names you could give your golden retriever:
Sergeant
Drake
Hunter
Blue
Bones
Tsunami
Captain
Lightning
Alpha
Sawyer
Luna
Madonna
Tango
Vin Diesel
Tesla
Poppy
Buffy
Saratoga
Bono
Angel
Sleet
Malibu
Unique Golden Retriever Names
Now, in getting to know your golden retriever, you'll discover how incredibly unique and different they are from other pups. There is no one like your little buddy. Choose a name for them that celebrates their individuality and quirky character.
Ladybug
Bungee
Copper
Phoenix
Hobbes
Jabba
Mishmash
Snake
Whiskey
Karat
Lars
Stretch
Suri
Hermione
Nugget
Chai
Patches
Bagel
Freckles
Foxtrot
Clifford
Fetch
Letty
Spock
Bubba
Ogre
Sunny
Obiwan
Pongo
Knox
Famous Golden Retriever Names
You might be familiar with some of these dogs from our next list – they have made names for themselves in films, television, literature, and of course, the internet. If being a golden retriever wasn't legendary enough, maybe pairing your pooch with an iconic name will set them apart from the others at the dog park!
Tucker Budzyn (Social Media)
Levie (Television – Sue Thomas F.B.Eye)
Liberty ("First Dog" to President Gerald R Ford)
Golden Loutriever (Social Media)
Ray Charles (Blind Golden Retriever)
Pinkie (Show Dog)
Speedy (Television – Drew Carey Show)
Duke (Television Commercial Dog)
Brandon the Wonder Dog (Television)
Buddy the Dog (Airbud Movies)
Liberty ("First Dog" to President Ronald Reagan)
Alex (Advertisement Dog)
Comet (Television – Full House)
Bailey (Social Media)
We also noticed how popular this breed is among celebrities – below we have noted the names of these retrievers and their famous owners:
Coco (Conan O'Brien)
Ren (Emma Stone)
Billie (Ryan Reynolds)
Poker (Neymar)
Tucker (Denise Richards)
Birdie (Jennifer Garner)
Cooper (Chris Colfer)
Nash (Shawn Johnson)
Luke & Layla (Oprah Winfrey)
Elvis (Nick Jonas)
Rumpy (Lisa Vanderpump)
Howie (Erin Andrews)
Gary (Jimmy Fallon)
Waylon (Miranda Lambert)
Bambi (Kyle Richards)
JJ & Jones (Jackie Chan)
Emmie (Diane Keaton)
Moses (Mike "The Situation" Sorrentino)
Charlie (Adam Levine)

Finding the Right Name for Your Golden Retriever
Golden Retrievers are beautiful and lovable, so the pressure to find a suitable name for these incredible dogs can be overwhelming. Although there are no wrong answers, we want to ensure that you and your pup are happy with the name you choose as it will be with them forever. We hope that we have provided you with the inspiration and clarity you needed – and that our list of golden retriever names was informative and helpful on your journey. With classic suggestions for males, females, and puppies, and ideas for the coolest, most unique, and iconic dogs, we are sure that there is a match for every type of golden retriever. 
Tips for Naming Your Dog
If you are having a tough time narrowing down your search, or you haven't seen one that you find suits your pooch, take a peek at a few of our tips for naming a new pet. These are sure to assist you in finding a great match.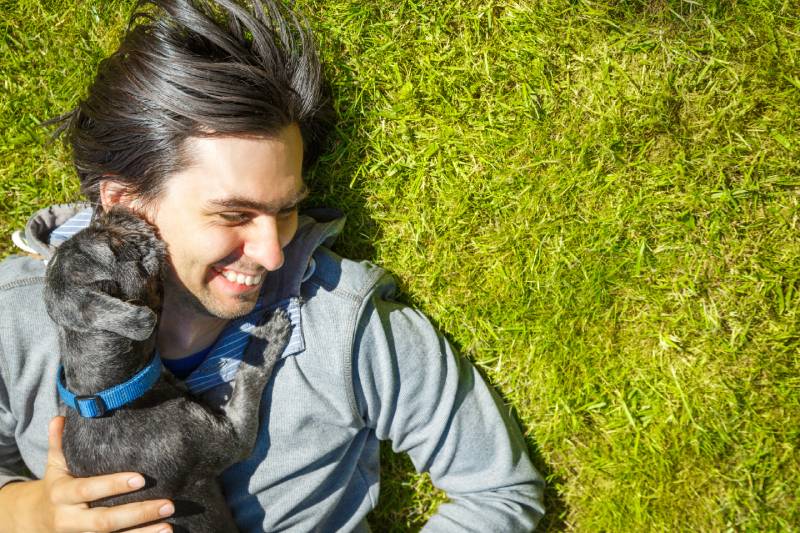 Love the name you choose

. Write down the ones you truly enjoy as you search. You can revisit these later and ultimately choose one that you love. If this is a family decision, have everyone choose their favorite, place the names in a hat, and leave the best name choice up to chance!
Names that end with vowels are easier for dogs to learn.

Similar to that of a dog whistle, your pooch may respond to names that end in a vowel as they have a higher frequency that is easier for dogs to distinguish. This means they will have a better time understanding and training might even a breeze!
One to two-syllable names are easier to say.

You want to avoid confusing your puppy, especially during the training process. While Princess Pancakes is adorable, you may want to stick with a name that is short and sweet – this will maintain their focus!
Avoid offensive or negatively connotated words for names. How would you feel telling a stranger on a walk your pup's name? Perhaps you are bringing your dog to the vet for the first time and need to register their name – maybe Poopy Paws wasn't a great first choice. You should be proud of your pup's name, and they should also be able to wear it with pride. Save the cutesy, or far-out-there names for nicknames. 
Do your best to avoid names that may be confused with commands.

Imagine naming your dog "Stray" – they could easily mistake this for the command "Stay". They won't know when to come, go, sit, and when to stay. You might consider training your retriever with hand signals rather than words just to be on the safe side!
Test out the name. Check out the different tones by saying the name sternly, sweetly, and excitedly. The more ways you say it, the more it might start to sound like the right fit. 
Think of the personality your puppy has (or is likely to have).

Let your pup get comfortable in their new environment so their personality can shine before picking out a name for them. You will definitely find the naming process will be a bit easier once you and you're pooch have formed that undeniable human to dog bond.
Pick a name and stick with it. The last thing you want to do is confuse your puppy. Once you have the name, don't change or replace it. Have your puppy learn their name before introducing any nicknames.
See how your pet reacts when you say it out loud

. Believe it or not, your pet could even have a hand, or paw, in choosing their own name. A simple tail wag or whimper could be the deciding factor when it comes down to the last few you love. Also, say them in different tones so your pup has a chance to get a true feel for it.

Still weren't able to land on one you love? Not to worry! We have many other name posts you can get additional inspiration from. Take a peek at one listed below:
---
Featured Photo Credit: Angeleses, Pixabay