350+ Wonderful Names for Great Pyrenees: Ideas for Mountaineer Dogs
Are you welcoming a brand new pup into your home soon? Congratulations! Bringing home a new dog is an exciting and overwhelming time. First, you must ensure you have all the equipment your dog will need—food, bowls, toys, beds, and leashes, to name a few. Once you have the essentials in hand, you can start thinking about the fun aspects of dog ownership, such as choosing the name for your new little fluffy family member.
Picking a name is a big task because it's something that's going to stick with your dog for its entire life. If you buy a bed your dog doesn't like, you can replace it down the line. Unfortunately, you can't really change your dog's name, especially after it's had time to get used to it.
If you're feeling overwhelmed at the prospect of naming your pooch, we can help. We've compiled a list of over 350 clever names for your Great Pyrenees inspired by its country of origin, coloration, personality, and size. Keep reading to see if you can find the perfect name for your dog on our list.

Tips for Naming Your Great Pyrenees
Picking your new pup's name is one of the biggest decisions you'll face when you bring it home. Of course, you could pick one of the most common dog names like Max, Luna, or Bella, but they're not that creative. In fact, you will probably run into a handful of other dogs named Charlie or Milo at the dog park, which could cause a lot of confusion for the dogs in question.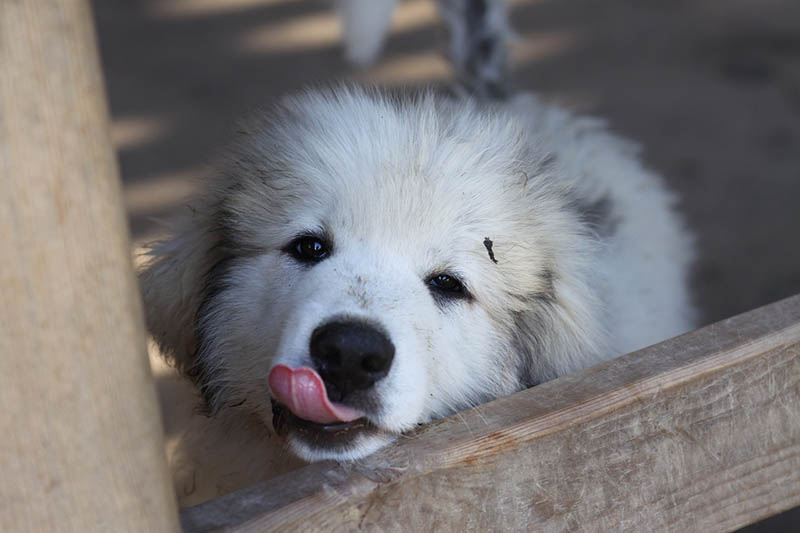 Your goal when choosing a name for your dog is to pick something that is:
Easy to pronounce/understand
Not easily confused with common commands
Not offensive
Unlike the names of your other pets
Let's take a quick look at some tips that should help you narrow down your choices to a few select options.
1.

Pick a name that is easy to say and simple for your dog to understand
While a name like Princess Fluffy Pants III is funny, it doesn't exactly roll off the tongue, does it? Your pup's name should be easy for you to say to make training much simpler. The best dog name will also have one or two syllables. Shorter names are easier for you to say and will make commands easier for your pup to understand. In addition, short and choppy names can make your dog respond faster. For example, Huck is a better name than Huckleberry Finn.
---
2.

Pick a name that doesn't sound like common commands
To help your dog pick up on commands faster, its name should sound vastly different from common commands. For example, "Mo" can sound like "no" to a dog's ears. Likewise, "Kit" can be confused with "sit."
---
3.

Pick a name without a negative connotation
You might think Poopy is a hilarious name for your new pup, but how comfortable will you be yelling this name at the dog park or telling your veterinarian's office? The name you settle on should be something you'll feel comfortable telling others. Keep names like Poopy as nicknames you use in your house only.
---
4.

Pick a name that's unique from others in your home
It might be cute to have human siblings named Abby and Gabby or Chloe and Zoe, but it's not a great idea to name your dog something too similar to another person in your household. Names that are too close can cause a lot of confusion for your pup and make training it much more challenging.
Now that you know how to choose the perfect name, let's look at 350+ fantastic names to consider for your Great Pyrenees.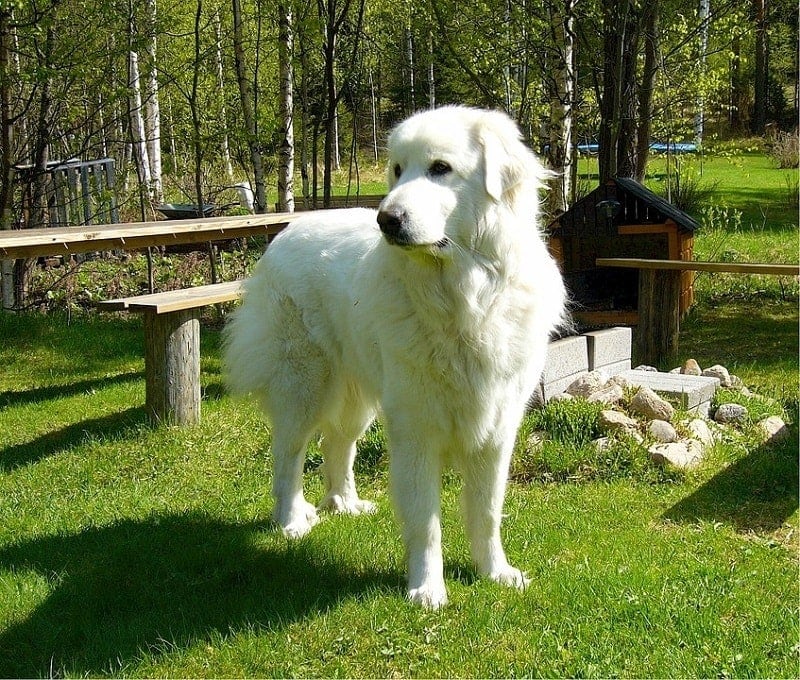 Great Pyrenees Names Inspired by Its Country of Origin
The Great Pyrenees is a traditional dog breed for the Pyrenees, a mountain range between France and Spain, though it originated on the French side of the range. The breed has long been a livestock guardian dog in France. You might consider using its French lineage as inspiration for its name.
Female French Names
Adrienne (dark)
Alair (cheerful)
Amie (friend)
Angeline (messenger of God)
Celine (moon)
Cherie (beloved)
Elle (she)
Eloise (healthy)
Felicite (lucky)
Fifi (God gives)
Fleur (flower)
Jolie (pretty)
Juliette (youthful)
Lulu (pearl)
Noelle (Christmas)
Parfait (perfect)
Penelope (weaver)
Rosalie (rose garden)
Sabine (woman of the Sabine people)
Soleil (sun)
Sophie (wisdom)
Sylvie (forest)
Violette (violet)
Male French Names
Andre (manly)
Archibald (genuine)
Armand (soldier)
Beau (beautiful)
Beauregard (beautiful gaze)
Enzo (conquering)
Felix (lucky)
Gaston (guest)
Hugo (mind)
Jacques (supplanter)
Louis (warrior)
Luc (light)
Noir (black)
Odie (mountain)
Pierre (rock)
Remy (the city Rheims)
Sebastian (revered)
Serge (servant)
Theodore (gift of God)
Names of Places in France
Beauvais
Cannes
Chapelle
Dijon
Eiffel
Fontaine
Geneva
Lille
Louvre
Lyon
Marseille
Montauban
Nice
Paris
Praline
Pompidou
Riviera
Tarte
Versailles
Names of French Foods
Bonbon
Brie
Brioche
Croissant
Custard
Éclair
Fondue
Ganache
Macaron
Madeleine
Meringue
Mousse
Pistache
Praline
Tart
Names of Famous French People
Auguste – Auguste Rodin, sculptor
Charles – Charles De Gaulle, army officer
Coco – Gabrielle Bonheur "Coco" Chanel, influential fashion designer
Curie – Marie Curie, Nobel Prize winning physicist and chemist
Descarte – René Descartes, philosopher and scientist
Edith – Édith Piaf, a singer and actress
Gerard – Gérard Depardieu, actor and businessman
Joan – Joan of Arc, military leader
Marie – Marie Antoinette, wife of King Louis XVI
Marquis – Marquis de Sade, a nobleman and writer
Monet – Claude Monet, painter and founder of impressionism
Napoleon – Napoleon Bonaparte, military and political leader
Victor – Victor Hugo, author of Les Misérables
Voltaire – François-Marie Arouet, a French Enlightenment writer and philosopher
Great Pyrenees Names Inspired by Its Size
The Great Pyrenees is a huge breed. Females can weigh up to 115 pounds, while males can tip the scales at 160 pounds. A dog of this size might call for a name inspired by its large stature. Below you'll find some of our favorite size-inspired names (and some ironic ones, too):
Atilla
Bug
Bunyon
Button
Chi Chi
Colossus
Diablo
Gidget
Hagrid
Half Pint
Hulk
Jumbo
Kong
Mammoth
Marmaduke
Maximus
Meatball
Medusa
Minnie
Monster
Munchkin
Petal
Pippin
Shamu
Shaq
Shrek
Shorty
Spartacus
Squat
Sumo
Teensy
Tiny
Whale
Whopper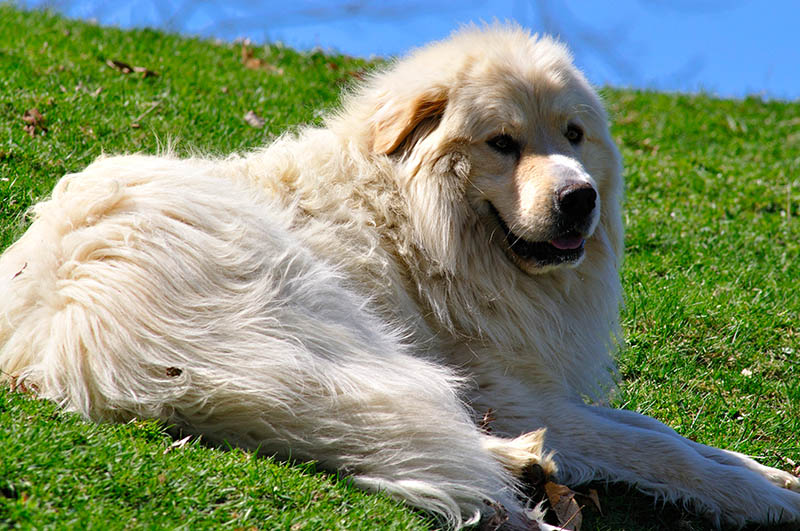 Great Pyrenees Names Inspired by Its Work Ethic
The Great Pyrenees is a powerful working dog initially bred to deter wolves and other predators from stealing sheep. This breed is still used as a livestock guardian throughout the French Alps and even in the United States today. You might consider using its guard dog origins to inspire your pup's name. Below you'll find some fantastic options for your tough working dog:
Ace
Admiral
Akira
Alexa
Apollo
Bailey
Blair
Blitz
Bomber
Boxer
Bruno
Brutus
Bullet
Buster
Captain
Chase
Chief
Clyde
Colt
Crusher
Diesel
Dragon
Drake
Duke
Earl
Estella
Fang
Flame
Flare
Flo
Goliath
Gotham
Gunner
Hank
Harley
Jax
Magnum
Major
Ninja
Pharaoh
Rambo
Remington
Sarge
Spike
Stryker
Tank
Trigger
Wolf
Zeus
Great Pyrenees Names Inspired by Its Coloring
The Great Pyrenees is typically white, but some have markings or patches of pale yellow, tan, or gray. You might use the unique coloring of your pup as inspiration to find its perfect name.
Pure White
Alaska
Alfredo
Arctic
Aspen
Avalanche
Blizzard
Blondie
Camellia
Casper
Charmin
Champagne
Coconut
Cotton
Crystal
Daffodil
Everest
Fleece
Fog
Frosting
Glacier
Ice
Igloo
Lacey
Lily
Marshmallow
Milky
Moonflower
Pearl
Polar
Powder
Puff
Quartz
Snowball
Sugar
Yeti
White with Pale Yellow
Amber
Apricot
Butter
Butterball
Buttercup
Butterscotch
Corona
Curry
Custard
Dandelion
Marzipan
Milkshake
Pineapple
Potato
Saffron
Sun
Sunflower
Sunny
Tapioca
Tangerine
Tequila
Waffles
White with Tan
Almond
Bagel
Bean
Buckwheat
Caramel
Coco
Dumpling
Graham
Hazel
Honey
Java
Muffin
Nacho
Noodles
Nugget
Rum
Shortcake
Snickers
Toffee
Truffles
Twinkie
Whiskey
White with Gray
Ash
Ashton
Carbon
Chrome
Cinder
Coal
Dove
Dusty
Ember
Gracie
Grayson
Mercury
Nickel
Onyx
Phoenix
Pewter
Shadow
Silverbell
Thunder
Great Pyrenees Names Inspired by Its Personality Traits
The Great Pyrenees is known for more than its guarding skills. This breed is independent, intelligent, loyal, and affectionate. They make fantastic family dogs because they are gentle and trustworthy but will not hesitate to protect their territory or family members. You might consider using its personality traits to inspire your pup's name. Here are some of our favorites based on the Great Pyrenees characteristics:
Independent
Amelia
Bear
Florence
Freedom
Frida
Indy (like independence)
Lawless
Liberty
Lincoln
Maverick
Rosa
Rebel
Rocky
Scout
Sovereign
Spirit
Togo
Intelligent
Albert
Atom
Beaker
Beta
Brain
Darwin
Dexter
Doc
Einstein
Genius
Freud
Newton
Nobel
Plato
Urkel
Whiz
Wisdom
Yoda
Loyal
Aladdin (Arabic for faithful)
Ally
Besnik (Albanian for loyal and faithful)
Buddy
Chewbacca
Clifford
Constance
Damon (Greek for loyal)
Dillon (Irish surname meaning loyal)
Duty
Fido (Latin for loyal)
Lassie
Leala (French for loyalty and faithfulness)
Mimi (French for faithful guard)
Pal
Rin Tin Tin
Scooby
Shiloh
Shylah (Irish for strong and loyal to God)
Waren (German for loyal)
Affectionate
Aphrodite
Bae
Bambi
Buttons
Bun Buns
Boo Boo
Booga Bear
Charmer
Cherie
Cherish
Cupid
Darling
Dear
Honey Bug
Lovebug
Poppet
Precious
Prince
Princess
Solace
Sugar
Sweet Pea
Sweets
Valentine
Vixen

Final Thoughts
We hope our blog has helped you narrow your list of prospective names for your Great Pyrenees. Remember, you don't need to have a name picked out before you bring your new dog home. Instead, take your time and get the whole family involved in choosing the best name.
---
Featured Image Credit: DTeibe Photography, Shutterstock