10 Best Guard Dogs for First-Time Owners (with Pictures)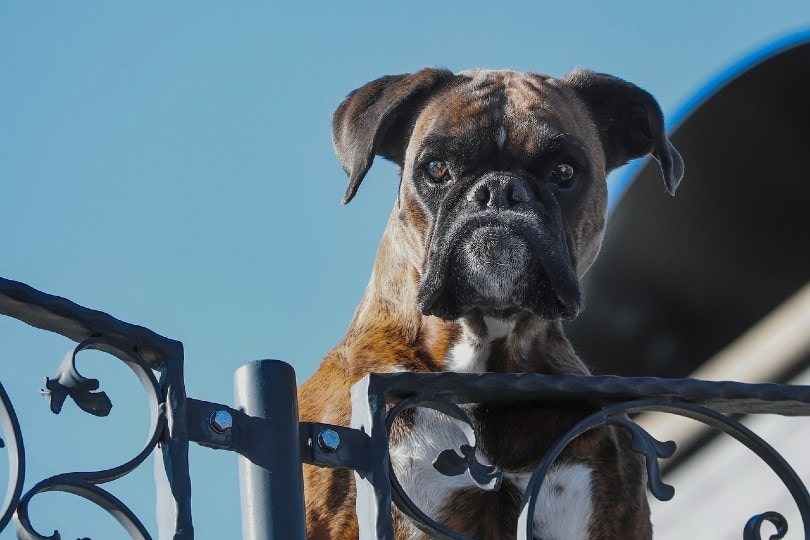 Guard dogs come in handy for protection and for making you feel safe, especially if you live alone. But before you buy one, especially if you're a first-time dog owner, you'll need to decide why you need a guard dog, as this will influence the breed that's right for you.
First, let's differentiate between guard dogs and watchdogs. Guard dogs are typically larger and have the strong jaws and strength to take a human down in the event someone is trying to hurt you. Watch Dogs will alert you to danger but don't possess the power or temperament to take a person down.
Now, all dog breeds have specific requirements and temperaments, and you'll want to ensure you pick the right breed for you and your family. In this guide, we'll list the 10 best guard dogs for first-time owners so that you can find the correct breed that suits you.

The 10 Best Guard Dogs for First-Time Owners
1.

German Shepherd
The German Shepherd is loving, loyal, and courageous, which are all wonderful traits for guard dogs. They are muscular and can stand an average of 26 inches in height. The average male weighs between 65–90 pounds, and the average female weighs between 50–70 pounds.
These dogs are easily trained thanks to their high intelligence and are affectionate with their humans. Because of the ease of training and their excellent guard dog abilities, the German Shepherd makes for a wonderful guard dog for the first-time owner.
---
2.

Doberman Pinscher
The Doberman Pinscher is fearless and loyal, making them superb guard dogs. The males range from 75–100 pounds, while the female ranges from 60–90 pounds. They are viewed as the world's best protection dogs, and they are alert and ready if danger arises.
They are protective by nature yet gentle with their families. Dobermans are gentle around babies, and they will protect their humans at all costs. They can be goofballs and love playtime, but if an intruder is messing around your home, they will become face-to-face with one of the best guard dogs in the world.
---
3.

Boxer
The Boxer is a fun-loving breed but also makes excellent guard dogs. The males average 65–80 pounds, with the females averaging roughly 15 pounds lighter. They are protectors by nature but understand the need to be gentle around children.
Boxers have an upbeat attitude and love playtime. They are intelligent but prefer mixing up the routine. In other words, you'll need to keep your Boxer on his toes when it comes to games and playtime to keep him from getting bored. Loyal and fearless, the Boxer is suitable for the first-time dog owner.
---
4.

Labrador Retriever
The Labrador Retriever is among one of the most popular dog breeds in America. Labs have a sweet and gentle disposition but also the courage to defend their home. These sweet and loving dogs really guard their home or territory more than they guard their humans, but that's OK. In the end, if someone is lurking around your home, your Lab will defend its territory.
If you're looking for a vicious guard dog, a Lab may not be your first pick, but with training, a Lab may be a good fit as a guard dog, depending on your needs. These dogs are not protective by nature but are loyal and extremely intelligent.
---
5.

Australian Shepherd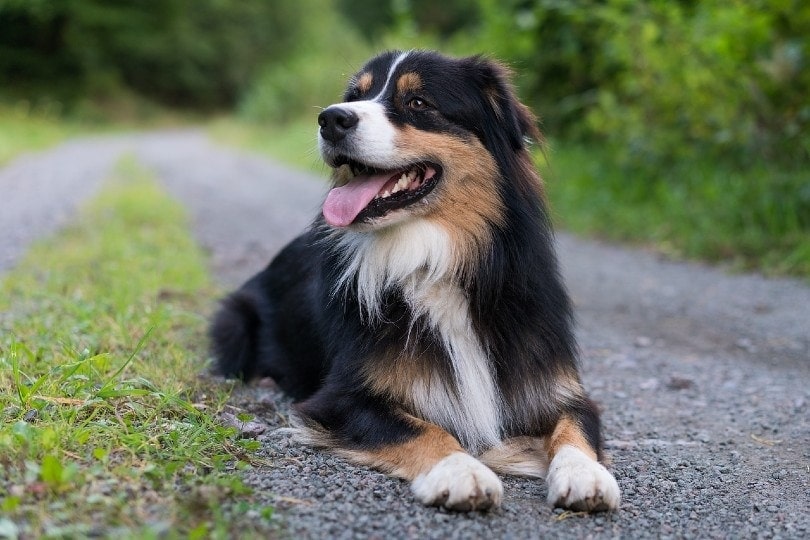 The beautiful Australian Shepherd is a medium-sized dog that can make a good guard dog. The males average 50–65 pounds, and the females average 40–55 pounds. They stand between 18–23 inches in height and are a smart, work-oriented breed.
This breed is protective of its owner and could be classified as more of a watchdog because they are not aggressive. However, their size is intimidating, and they love to bark. Aussies also have strong herding skills, which translates into keeping their herd safe and them being good guard dogs.
---
6.

American Staffordshire Terrier
The American Staffordshire Terrier is confident, smart, and good-natured. These dogs are loyal and trustworthy with a muscular, bull-type build. They are easy to train and are aware of their surroundings at all times. They are also fierce protectors of their families, making them exceptional guard dogs. Males range from 50–70 pounds, and females range from 40–55 pounds.
These dogs are calm and gentle with children, but they need early socialization to behave around other pets. Nonetheless, these guard dogs make an excellent addition to any family that is first-time dog owners.
---
7.

Boerboel
The Boerboel is a confident and intelligent dog breed that is part of the Mastiff ancestry line. They stand 27 inches high at the shoulder and weigh a whopping 150–200 pounds. Even though this breed may not be suitable for the first-time dog owner per se, they are easy to train and eager to learn. Because of their love for their families and being fierce protectors, we felt the breed was worthy of making our list.
One thing to know is this breed is massive in size and weighs as much as you do, so keep this in mind according to your house size. These dogs are not really barkers, so if they do bark, it's for a reason, meaning something is up and you should be on guard.
---
8.

Bull Mastiff
The Bullmastiff is another giant dog but not quite as big as the Boerboel. These gentle giants make excellent guard dogs, and they are affectionate and loyal to their families.
An outstanding trait about these dogs is their easy-going nature, yet they are fearless and fierce protectors of the home. Bull Mastiffs have no problem becoming part of the family, and rest assured your home is protected with this dog around. In fact, they would die for you.
Being a first-time owner may be a bit of a challenge with these dogs, but before you commit, ensure you understand proper training techniques while your Mastiff is a puppy to avoid any dominant behavior down the road. However, they shouldn't be your first pick as a first-time dog owner, but if you're up for the challenge, you'll have an exceptional guard dog.
---
9.

American Bulldog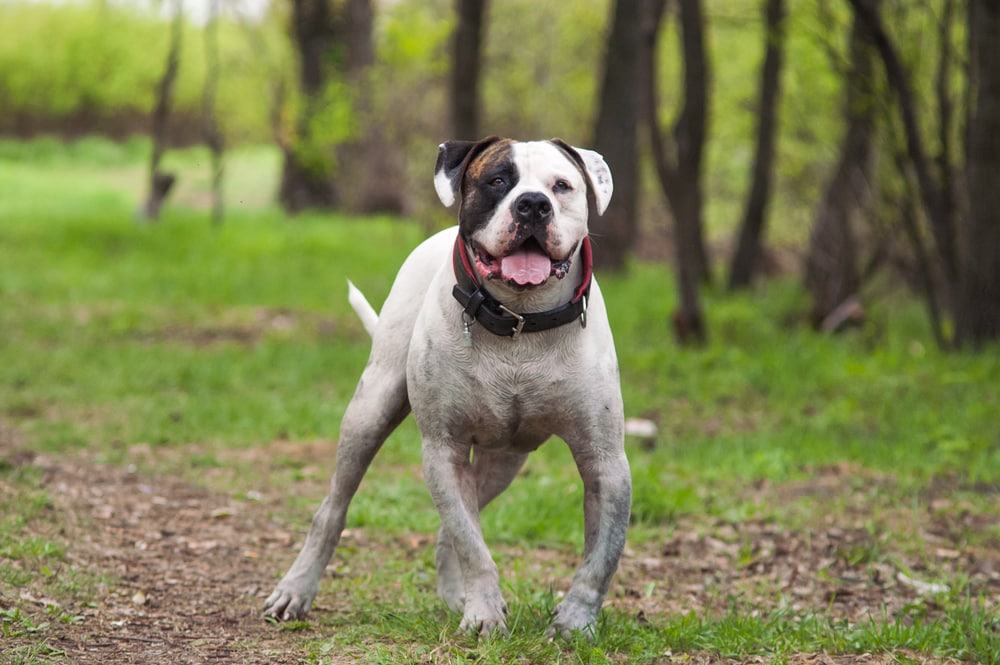 The American Bulldog is a bit bigger than its English cousin, coming in at around 100 pounds. They are intelligent and courageous and will not shy away from an intruder.
This breed has a natural guarding nature, and their muscular body makes them powerful guard dogs. They get along well with children, but they do require training and socialization early on to possess this temperament.
You'll need to exercise the American Bulldog to ward off disruptive behavior, but they love to play and are easy to train.
---
10.

Rottweiler
A bit of controversy surrounds this breed when it comes to them making good guard dogs for the first-time dog owner. Some experts claim the Rottweiler needs an experienced handler, but others claim they make great guard dogs without much trouble in training.
Rotties are very large dogs, with the males averaging 95–135 pounds and the females averaging 80–100 pounds. These dogs are strong, fearless, and loyal, with an intimidating appearance. Rotties are confident and brave and will investigate anything with no fear. They are extremely loyal dogs and love their families.
This breed is highly intelligent, making training relatively easy. You can train Rotties to know what's a threat and what isn't, and they get along well with children and other pets. In the end, we think Rotties can make excellent guard dogs for the first-time dog owner.

Conclusion
When it comes to guard dogs, you have options, even if you're a first-time dog owner. We recommend investigating any breed you may be considering, and you can even get advice from a veterinarian for even more guidance. Ensure the breed is good with children if you have kiddos, and ensure you understand the breed's training ability.
Guard dogs are wonderful to have in the home for protection, but they can also be part of the family, which is ideal.
We hope our list gets you on the right track, and we wish you happy searching for your first guard dog!
---
Featured Image Credit: Manfred Richter, Pixabay