200+ Hairless Cat Names: Our Top Picks for Your Adorable and Unique Cat

Welcoming a cat into your life is the easy part. Now you have to decide on a name! If you chose a hairless cat, their name could be something that suits their appearance or personality. Of course, popular cat names are always winners. However, coming up with a less common name requires a little bit of thinking outside the box. Your cat's name is an expression of your love for them, so this is an important decision to make.
Your hairless cat deserves a name as unique and special as they are. We are here to help with our top suggestions! Naming your cat is fun and exciting. First, we will take a look at our top picks for female hairless cat names and then move on to male names. We've even included a section for funny hairless cat names for you to browse. Let's get started.
Naming Your Cat
Your cat's name can be anything you want it to be! This is a name they will have for the rest of their life. You can choose from things you love, like your favorite characters or actors. Your cat's name can be influenced by things you enjoy.
You can also name your cat based on their appearance. When it comes to hairless cats, this can be fun to do. Your cat's personality is also something to consider. Remember that this is the name you'll be telling people for the rest of your cat's life, so make sure it's not too embarrassing for you to say. Naming them a joke name is funny, but the novelty can wear off quickly. Be sure your cat's name is something you'll be comfortable with for years to come.
Remember that it's up to you to choose your cat's name. Even if you think the name is perfect, it doesn't mean other people will, as well. You can always ask your friends and family for their opinions, but the final decision is yours to make. Have fun with it and choose the one you like the best.
Make sure that whatever name you choose is easy to say and for your cat to understand. Browse our choices below for the best name for your hairless feline.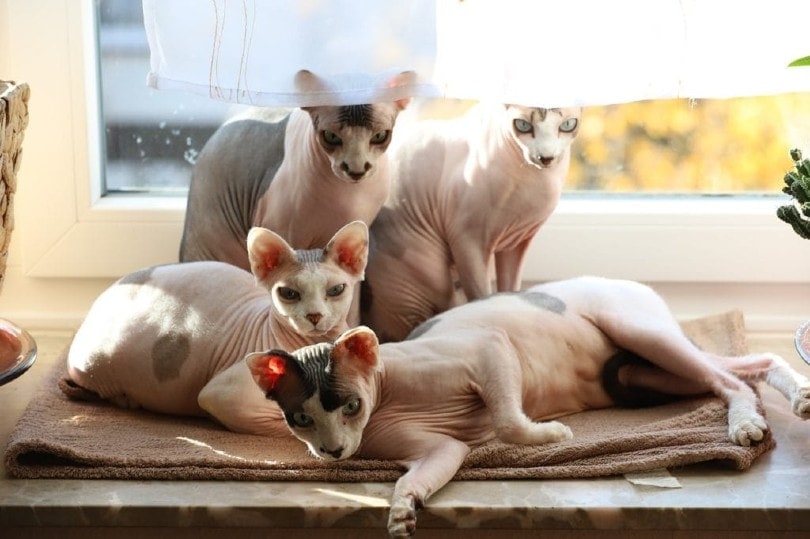 Female Hairless Cat Names
Adeline
Angel
Ariel
Astrid
Aziza
Beatrice
Belle
Betty
Biscuit
Boo
Camila
Chai
Charm
Chenille
Chloe
Clementine
Cleo
Coco
Dalilah
Darya
Demi
Domino
Elle
Ellesmere
Emma
Eve
Farrah
Femi
Fifi
Frida
Gazelle
Godiva
Goldie
Gracie
Harmony
Harper
Isis
Jasmine
Katniss
Kiki
Kira
Leia
Lexi
Lola
Lulu
Luna
Macie
Madonna
Magnolia
Matilda
Maya
Mirabelle
Misty
Molly
Nala
Nikita
Nina
Nova
Novi
Nyx
Olive
Opal
Patch
Peach
Peaches
Pearl
Pebbles
Penny
Pepper
Petal
Petunia
Phoenix
Pippa
Pixie
Polly
Primrose
Rain
Raven
Ringlet
Rosie
Ruby
Salem
Sangria
Sasha
Scarlet
Scout
Sinead
Skye
Sophia
Sparrow
Storm
Sushi
Tink
Velma
Velvet
Venus
Vera
Willow
Male Hairless Cat Names
Ace
Adonis
Aiden
Ajax
Aldo
Amon
Archie
Bane
Bear
Benny
Binx
Blade
Blueberry
Buddha
Buddy
Bullet
Buttons
Calvin
Charlie
Chase
Chuck
Cinder
Clyde
Cody
Comet
Cosmo
Dante
Dexter
Diesel
Elvis
Ernie
Felix
Finn
Garnet
Halo
Harry
Hercules
Heru
Igor
Jack
Jasper
Jax
Jet
Kelpie
Lenny
Leo
Leon
Lev
Lex
Loki
Louie
Lucky
Luigi
Marcel
Mario
Marley
Mau
Max
Merlin
Midas
Milo
Mittens
Nemo
Obi
Oliver
Onyx
Orion
Orson
Oscar
Paco
Percy
Popple
Rocky
Rogue
Romeo
Rune
Samson
Seal
Seti
Simon
Skywalker
Slash
Sprite
Stanley
Suede
Sylvester
Tao
Teddy
Theo
Thor
Thunder
Tiger
Tigger
Toby
Totoro
Tucker
Tux
Yuri
Zeus
Funny Hairless Cat Names
Alf
Balderdash
Baldwin
Butch
Buzz
Chiffon
Cotton
Cue Ball
Curly
Dobby
Fabio
Fade
Fleecy
Fluffy
Fringe
Fuzzy
Gillette
Goblin
Gollum
Gremlin
Lucille
Moon
Peachy
Pluto
Prunes
Raisin
Ringlet
Ringo
Shaggy
Silky
Slick
Spock
Squeaky
Wax
Whiskers
Winky
Wrinkles
Yoda
Final Thoughts
We hope you enjoyed this list of names and found one that is perfect for your hairless cat. Whether you need a male or female name or choose to go with a funny one, you can't go wrong with any of these. Naming your cat is part of the fun of cat ownership. Whichever name you pick, you and your cat will enjoy it for years to come.
Related Reads:
---
Featured Image Credit: Peterpancake, Shutterstock