Our Final Verdict
We give Hartville Pet Insurance a rating of 4 out of 5 stars.
Policy Coverage: 4/5
Customer Service & Reputation: 3/5
Claim Repayment: 3.5/5
Price of Policy: 4.5
Plan Customization: 4/5
Review Summary
If you have just purchased a new puppy, picking up insurance for it can go a long way towards reducing the cost of medical care later in life, which can help put your mind more at ease. It works like health insurance for humans. You pay an annual rate for a specific amount of coverage. Hartville has plans available for cats and dogs, so keep reading while we look at the quality of these plans so you can decide if pet insurance is right for you.

Hartville Pet Insurance – A Quick Look
Pros
Affordable plans
Comprehensive coverage
Unrestricted vet selection
Out of state coverage
Multiple pet discount
Cons
It does not cover pre-existing conditions
Coverage doesn't start until the 15th day after the policy's effective date.
Hartville Coverage
Hartville offers several insurance plans for dogs and cats. Their complete coverage plan is an all-encompassing plan that covers your pet in the event of illness, accidents, and hereditary issues. It also covers behavioral problems and alternative treatments, including acupuncture, and even covers chemotherapy to help ensure your pet gets the care it needs in the event of cancer.
You can also enroll your pet in a less expensive, accident-only plant. This plan covers your pet when it gets hurt and will take care of broken bones, toxic ingestions, dental disease, cuts and bruises, and more. You can also add more comprehensive services at any time.
Versatile Plan
Annual Limit
You can tailor your Hartville plant to your budget. The annual limit has five options between $2,500 and $10,000. The yearly limit determines how many times you can take your pet to the vet. A higher annual limit will increase the plan's cost.
Reimbursement
The reimbursement determines how much money you will get back after your pet receives treatment. You can select 70%, 80%, or 90%, and your selection will affect the plan's cost.
Annual Deductible
Another part of the plan that you can adjust based on your budget is the deductible. The deductible determines how much you will pay before the insurance kicks in. You can choose a $100, $250, or $500 deductible to get your plan's best monthly rates.
Limit
If you choose the complete coverage plan, you can select to remove the annual limit, which will allow you to take your pet to the vet as many times as you need to without worry about capping out.
Multiple Pets
You can add additional pets to the plan at a 10% discounted rate.

What Does Hartville Pet Insurance Cover?
Covered
Dogs
Cats
Accidental
Illness
Hereditary
Congenital
Cancer
Dental Illness
Not Covered
Commercial pets
Pre-existing conditions
Cosmetic procedures
Breeding costs
Customer Service
When you have Hartville insurance, you can file any claims online using the member's porthole. You can also file claims by mail or fax if you are not internet savvy. While we were using the insurance, we noticed it took about 2 weeks to receive our reimbursement check, which is a little long compared to other brands. A quick look online shows that Hartville could improve their customer service as several people complained it took even longer to receive theirs.
Pre-Existing Conditions
Unfortunately, Hartville will not cover pre-existing injuries, so we recommend getting this insurance as soon as possible before problems develop.  Hartville also does not cover cosmetic procedures or breeding costs, so you will need to make other arrangements for these services.
Waiting Periods
You will need to wait until your cat or dog is 8-weeks old to get them enrolled in Hartville insurance. Once enrolled, the preventative care will begin immediately, but it will take 15 days from the policy's effective date to cover accidents, illness, ligament issues, and knee conditions.
Pricing Quotes
| | | |
| --- | --- | --- |
| | Cat | Dog |
| Male or Female | Male | Male |
| Age | 4 Years | 1 Year |
| Location | Pennsylvania (18407) | Texas (73301) |
| Reimbursement Level | 80% | 80% |
| Annual Deductible | $250 | $250 |
| Annual Maximum | $5,000 | $5,000 |
| Price Per Month | $19.66 | $30.19 |

FAQ
How does pet insurance work?
Pet insurance works similarly to your health insurance with a slight difference. You pay a premium either monthly or yearly, and if your pet gets sick or injured, you can go to the vet, and if the insurance covers the problem, you can submit a claim. Submitting a claim is automatic when you go to the doctor, but you will need to manually log into the website to submit it for your pet. Once it's submitted, Hartville will process the claim and send you a check to reimburse you. You will need to pay for the procedure upfront and wait for the check to arrive.
Is pet insurance worth it?
While many people might consider pet insurance expensive, it's hard to deny that it could come in handy. Both kittens and puppies love to eat things they shouldn't and doing so can easily result in a bill of $1,500 or more without warning. Older animals can suffer serious illnesses like cancer that require thousands in cash. If your pet frequents the outdoors, several dangers can result in a trip to the vet and a huge bill. Insurance spreads these costs over the lifetime of your pet. Many people cannot pay the high costs of medical treatment, and without insurance, your pet might not get any.
How long does it take to get my check?
Once you return from the vet, you will need to submit a claim. This claim will ask for the details of the medical emergency as well as information about your vet. Hartville will then investigate the claim and most likely contact the vet which can take up to 2 weeks, after which they send you a check.
What the Users Say
We scoured the internet to find out what other people were saying about Hartville insurance, and this is what we learned.
Most people enjoy the peace of mind they have from owning insurance.
Most people feel that insurance is a benefit.
Most people say the app is easy to use.
Some people mentioned that it is easy to file a claim.
Several people complained that it takes much longer than 2 weeks to get their check.
A few people didn't like dealing with customer service over their claims.
A few people mentioned that Hartville insurance saved their pet's life.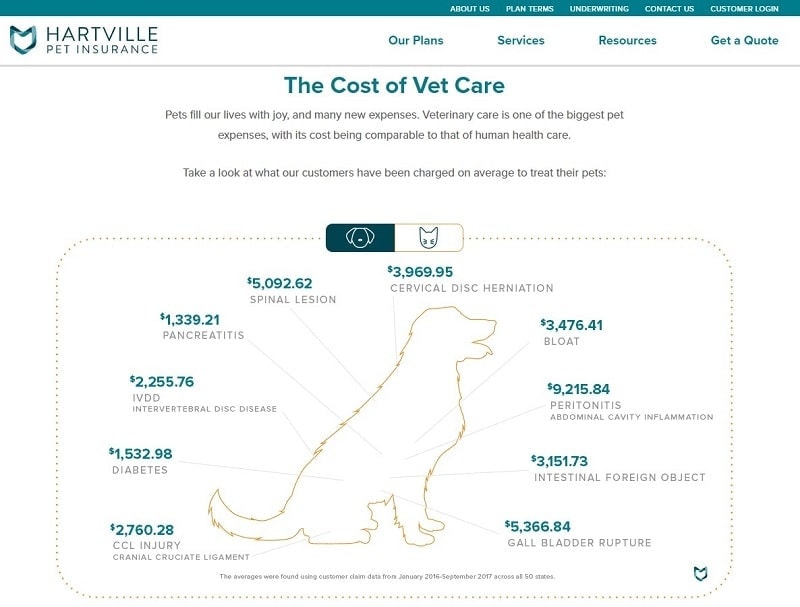 Our Verdict
We highly recommend Hartville pet insurance, especially for dogs and cats that go outside. Dogs are always chewing things, and they can get in a fight with another dog even if they are calm and unaggressive. We've also had cats that like to chew wires and could swallow things they shouldn't, like a sewing needle. Older pets develop dental disease and much more serious illnesses like kidney disease, cardiovascular issues, and cancer. Insurance will enable you to provide the best care for your pet without a big impact on your wallet. Hartville is one of the least expensive that we tried, and the app is one of the easiest to use. Their website makes it easy to determine the best plan, and the only downside we experienced was that it could take a long time to get your check. Waiting leads to anxiety while you worry if the claim will be accepted.
We hope you have enjoyed this review and found the answers you need. If we have helped convince you to give it a try, please share this Hartville pet insurance review on Facebook and Twitter.
Related Read: Bivvy Pet Insurance Review 2021 – Pros, Cons & Verdict