Horny Toad vs Bearded Dragon: Differences Explained (With Pictures)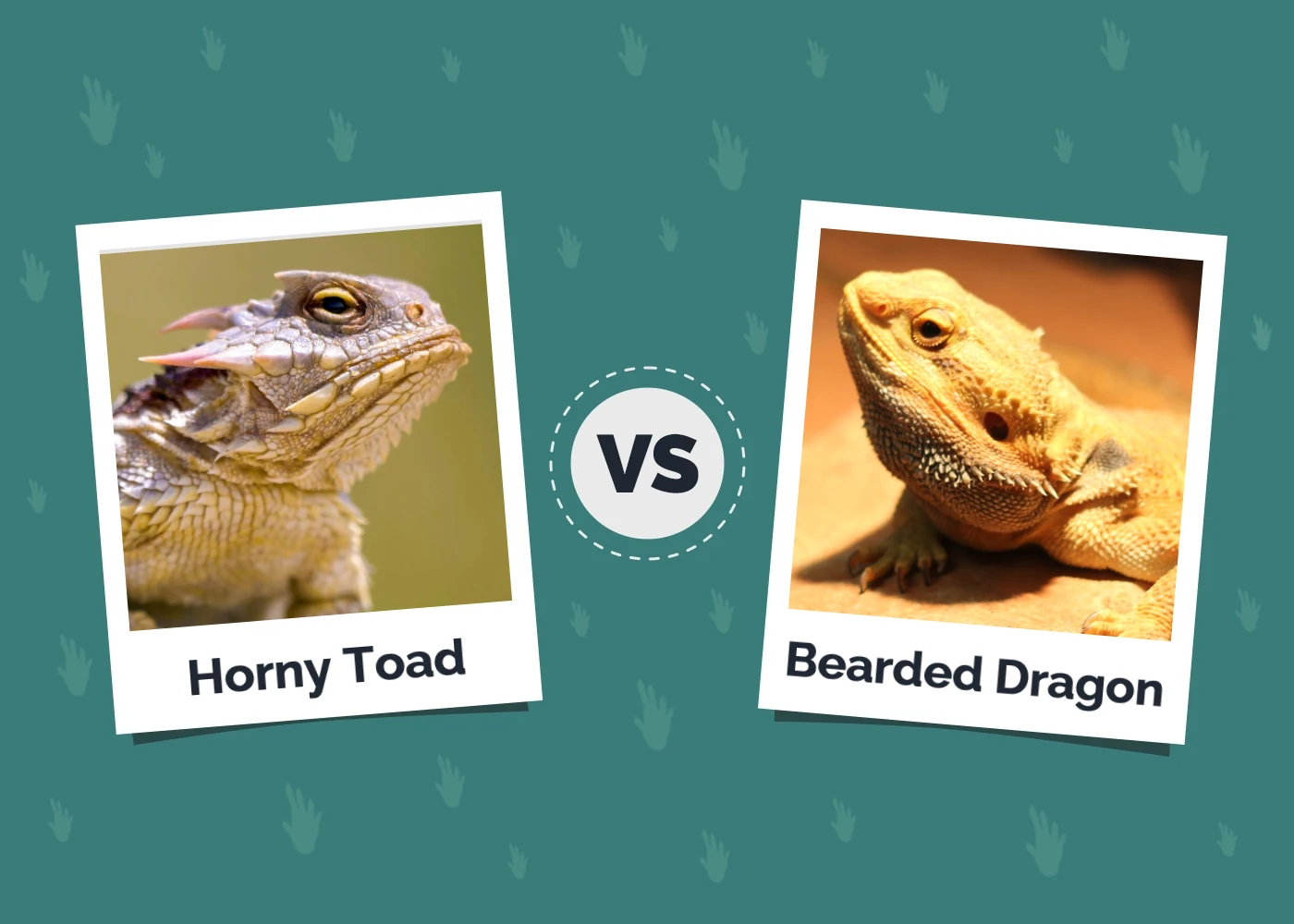 You're looking for a unique pet, and you've got your eyes set on a reptile. Awesome choice! But now, you're torn between the quirky horny toad and the ever-popular bearded dragon. Both are fantastic, no doubt. However, each of them has its own charm and requirements. Let's dive into the differences and see which one's going to be the best fit for you.
Visual Differences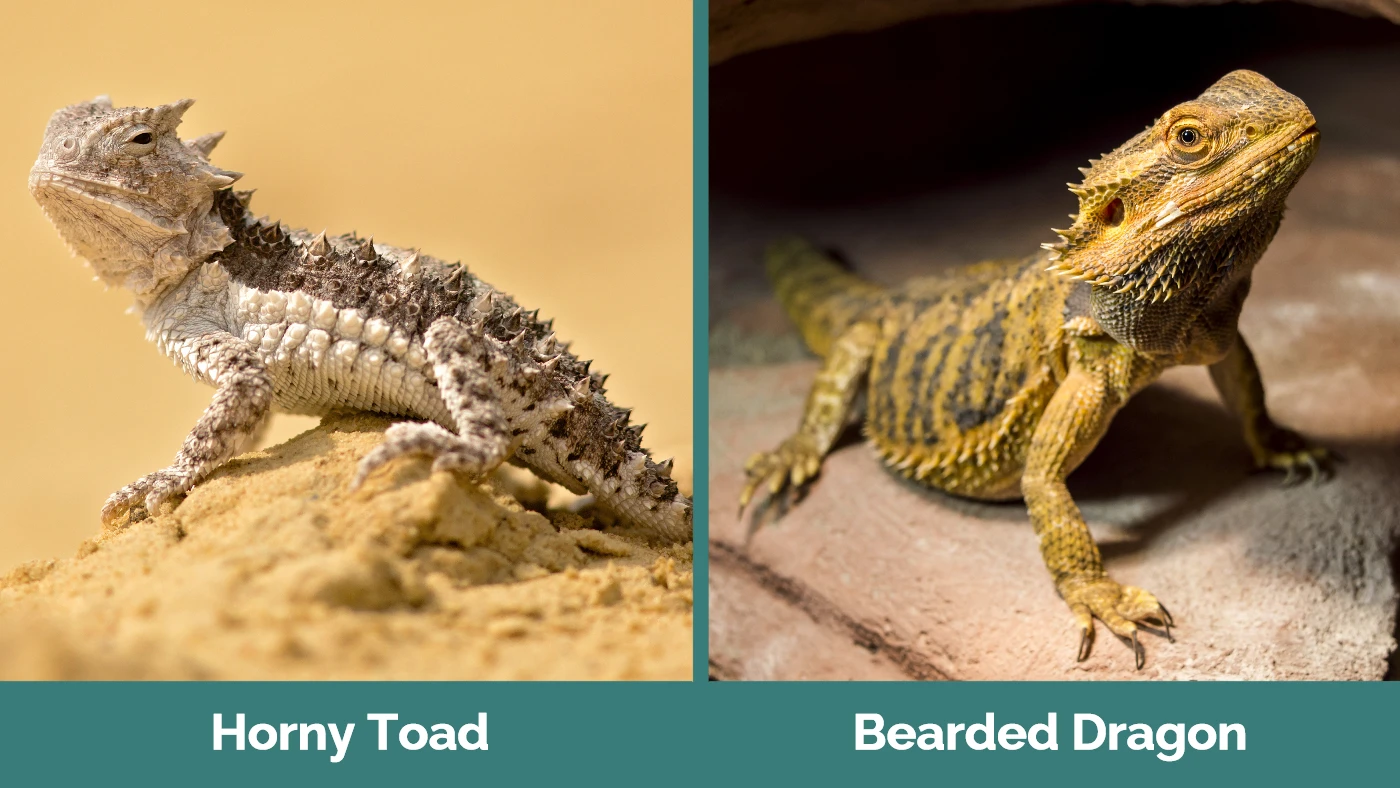 At a Glance
Horny Toad
Average length (adult): 3–5 inches
Average weight (adult): 1–2.5 ounces
Lifespan: 5–8 years
Exercise: Low
Grooming needs: Low
Family-friendly: Yes
Other pet-friendly: No
Trainability: Low
Bearded Dragon
Average length (adult): 18–24 inches
Average weight (adult): 10–20 ounces
Lifespan: 10–12 years
Exercise: Moderate
Grooming needs: Moderate
Family-friendly: Yes
Other pet-friendly: Sometimes
Trainability: Low
Horny Toad Overview
If you're thinking about getting a horny toad, these little guys are a fascinating pick in the world of reptiles. Native to the American Southwest, they've got this rugged, wild look about them, mostly because of their spiky appearance. But don't let that tough exterior fool you. Underneath, they're pretty relaxed creatures, content to lounge under the sun and munch on some ants.
But let's get one thing straight: They aren't really toads, they're lizards. The name's a bit misleading, right? When it comes to their living conditions, think desert vibes: sandy terrains, warm temperatures, and not too much fuss. If you're someone who appreciates the simpler, laid-back sides of nature, a horny toad might just be your kind of companion.
Personality / Character
Horny toads have a tranquil demeanor, largely content with just lazing around and soaking up the sun. They're not as interactive as some other reptiles, but they have a unique charm that's captivating to watch.
Training
While you can't train a horny toad to perform tricks or respond to commands, you can work on creating a stress-free handling routine. Slow, steady movements and a gentle approach can help them become more comfortable during occasional handling sessions.
Health & Care
As previously mentioned, to keep a horny toad healthy, it's essential to replicate their desert environment. They need sandy substrates, basking spots, and bright light. Their dietary staples? Ants. And they can't get enough of 'em.
Breeding
Breeding horny toads isn't the easiest task. It often requires a cooling period to simulate winter conditions, followed by a warm phase. Once laid, the eggs need specific humidity and temperature levels to successfully hatch.
Suitable For:
Horny toads are suitable for nature lovers who appreciate observation over interaction. They're great for those who enjoy a more hands-off experience with their pets but still value the beauty and intrigue of reptiles.
Low maintenance
Captivating appearance
Less interactive
Specific habitat needs
Dietary restrictions
Bearded Dragon Overview
Hailing from the arid regions of Australia, bearded dragons, affectionately known as beardies have quickly become a favorite among reptile enthusiasts worldwide. Their spiky "beard" and expressive behaviors, ranging from curious explorations to lazy basking sessions, give them a unique appeal. These creatures are a blend of charm and character, often engaging with their owners through gestures like the playful "head bob" or the occasional "wave."
Their adaptability makes them a standout choice for both reptile beginners and seasoned aficionados. A balanced diet of greens, vegetables, and insects keeps them healthy, and they're notably tolerant of handling, allowing for a meaningful bond between pet and owner. With their hardy nature and low susceptibility to common reptile ailments, beardies emerge as a relatively easy-to-care-for pet, ensuring they remain a top pick in the reptile world.
Personality / Character
Bearded dragons are sometimes interactive and expressive, but it depends on the individual. They can display a variety of moods, from curious to relaxed, and many owners feel a genuine bond with these creatures.
Training
Beardies can be conditioned to associate certain actions with rewards. For example, they can learn that coming to the front of their enclosure might lead to food or time outside. Patience, repetition, and positive reinforcement work wonders with these animals.
Health & Care
Beardies need a balanced diet of veggies and insects, combined with proper UVB lighting for calcium processing. Their tank setup should offer a gradient of temperatures with both basking and cooler zones.
Breeding
Breeding bearded dragons requires a specific setup. Females need a laying box filled with moist sand or soil. Once she's laid her eggs, they need to be incubated at precise temperatures for successful hatching.
Suitable For:
Bearded dragons are suitable for beginners and experienced reptile enthusiasts alike. They are adaptable and offer a highly interactive experience for those keen on forming a bond with their reptilian pet.
Interactive
Relatively easy care requirements
Expressive behaviors
Require a varied diet
Need more space than some reptiles
UVB lighting is crucial
Which Breed Is Right for You?
Are you at the crossroads of picking between the horny toad and the bearded dragon? Let's break it down to make the choice a tad easier.
Starting with the horny toad, this critter's all about the laid-back life. If you're someone who's into observing more and interacting less and just revels in the simplicity of watching a creature go about its day, the horny toad might be the right match for you. They're cool and captivating in their own unique way and don't really demand a ton of attention.
Regarding the bearded dragon, these are the social butterflies of the reptile world. They've got spunk, personality, and a penchant for interaction. If you're looking for a pet that some owners say offers genuine bonding moments and occasionally pulls off some amusing antics, then the bearded dragon could very well be your next companion. Their responsive nature often makes them feel more like a buddy than just a pet.
In the grand scheme of things, both reptiles have their merits, and neither choice is "better" than the other. It boils down to what you're seeking in a scaly friend. Are you into the observer role or keen on a more interactive experience? Reflect on your daily routine, your expectations, and your desired level of engagement. Whichever path you choose, remember that both the horny toad and the bearded dragon offer rewarding experiences in their own distinct ways. It's all about finding the right fit for your lifestyle.
See Also:
---