How Many Pet Cats Are There in the World? 2023 Updated Statistics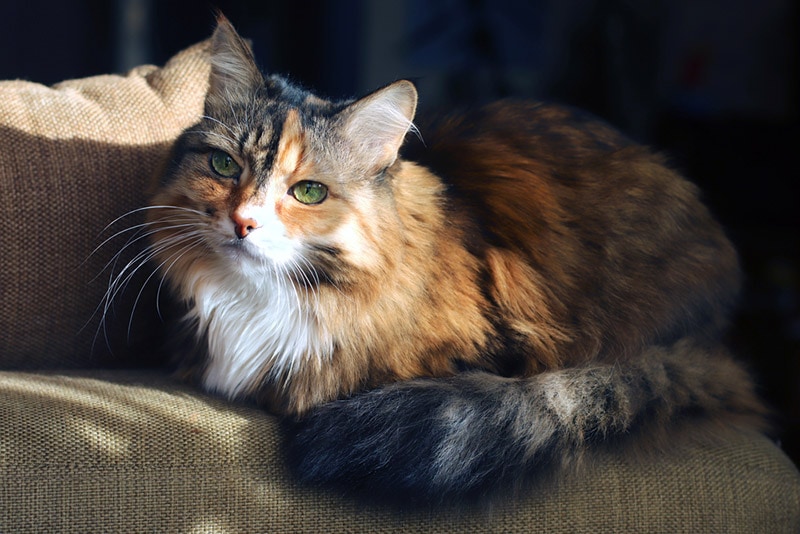 Note: This article's statistics come from third-party sources and do not represent the opinions of this website.
Cats are incredibly popular companion animals, with over 600 million pet cats in the world bringing love and laughter as they work their way into our hearts. Today, they're particularly common in the US, the UK, and China, but they've been prized as workers and companions for millennia. Cats are cute, fun, and engaging, and there is so much to learn about these amazing creatures. Read on for 15 incredible cat statistics and facts.
The 23 Statistics About Cat Populations Worldwide

World & European Cat Statistics
1.

There are around 600 million pet cats in the world.
(Scientific American)
Cats have been curling up next to humans for more than 10,000 years. Cats most likely domesticated themselves when humans began living in settlements and practicing agriculture. And cats are amazingly adaptable; many happily enjoy the companionship of humans, and others do just fine on their own.
---
2.

In 2020, there were 110,148,000 cats in European households.
(Statista)
In 2010, the number of cats in European households was 84,705,000 , so there were 25,443,000 more cats over the course of 10 years. Interestingly, cats outnumber dogs in Europe, with there being almost 90,000,000 dogs owned in 2020.
---
3.

The European country with the most cats is Russia, with 22,750,000 in 2020.
(FEDIAF)
Russia is followed by Germany with 15,700,000, followed closely by France with 15,100,000.
---
4.

Russia owns more cats than any other country in the world at 59% cat ownership.
(Quartz)
Since Russia tops the European charts with the most cats, maybe it isn't too much of a surprise that this is also worldwide. 59% of Russians own a cat, which is followed by Ukraine at 49% and the United States in third with 43% cat owners.
---
5.

Romania has the highest percentage of households that own at least one cat at 47%.
(FEDIAF)
In second place is Latvia with 38% households, and third is Hungary with 34% of households owning at least one cat.
---
6.

Southeast England has the highest population of cats in 802,000 households in the U.K.
(PFMA)
In the U.K. in 2019, Southeast England had 1,100,000 cats, which was the highest population of cats. North West England was second with 543,000 households.
---
7.

There were around 16.7 million pet cats in Germany in 2021.
(Statistica)
Pet cats are incredibly popular worldwide, including in several European Union nations. France, Spain, and Italy are high on the list of cat-loving countries. Overall there are around 110 million pet cats in the European Union. There were more than 11 million pet cats in the United Kingdom in 2022.
---
8.

Cat owners spent an average of $41 on toys in 2022.
(Insurance Information Institute)
Increasing numbers of pet parents are choosing to keep their cats inside to protect them from cars and other animals. But indoor cats require mental and physical stimulation to stay on an even keel. Toys and interactive games go a long way toward creating a comfortable and enjoyable feline-friendly environment.

North American Cat Statistics
9.

3 million U.S. households owned cats in 2021.
(APPA)
Cats are the second most popular pet in the United States, with 45.3 million cats in American households. 26% of cats are obtained from animal shelters.
---
10.

The Ragdoll happens to be the most popular cat breed in the U.S. in 2020.
(CFA)
The Cat Fancier's Association pegged the Ragdoll as the most popular cat breed in 2020, which was the second year in the row for this cat to snag this honor. It's followed by the Exotic in second and the Maine Coon in third place.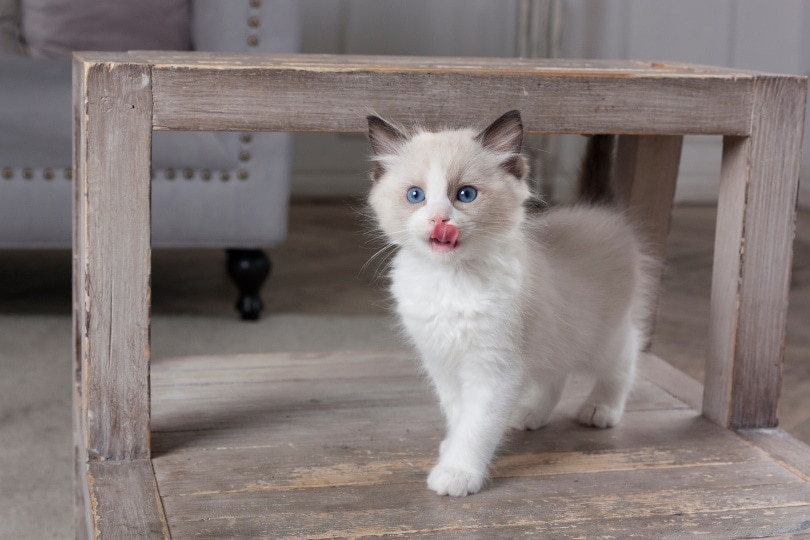 ---
11.

Between 60 and 100 million feral cats live in the US.
(PETA)
It's almost impossible to calculate a precise feral cat population count. Determining whether a cat is feral or simply an outdoor pet can be virtually impossible. Feral cat colonies vary in size depending on how much food is available, and it can also be challenging to locate and count solitary feral cats.
---
12.

There were 8.1 million pet cats in Canada in 2020.
(CAHI)
Interestingly, the number of cats owned in Canada outnumbers the number of dogs, which was 7.7 million in 2020.
---
13.

31% of Canadian households own at least one cat.
(Abacus Data)
A minimum of 56% of Canadians say that they own at least one pet, with dogs and cats usually being the most popular.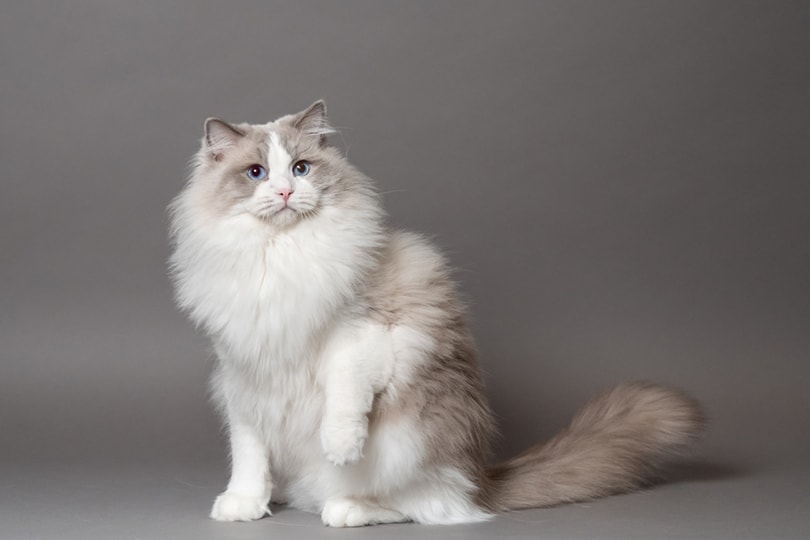 Shelter Cat Statistics
14.

About 3.2 million cats enter U.S. animal shelters every year.
(ASPCA)
The good news is that it's thought that the number of pets entering animal shelters has been declining since 2011. In 2019, shelters brought in 6.3 million animals, and in 2011, it was 7.2 million.
---
15.

About 530,000 cats are euthanized every year.
(ASPCA)
Unfortunately, approximately 920,000 animals in U.S. shelters are euthanized every year. The numbers have decreased a little when in 2011, 2.6 million animals were euthanized.
---
16.

About 2.1 million cats are adopted every year.
(ASPCA)
Statistics show that 4.1 million pets are adopted every year, with 2 million of those being dogs. This means more cats are being adopted.
---
16.

27% of cats adopted in 2019 were strays.
(ASPCA)
This number was higher in 2012, when 35% of cats were adopted as strays.
---
17.

Close to 2.2% more cats were adopted from shelters in 2022 than in 2021.
(Shelter Animal Count)
Cat lovers are increasingly adopting their companions from shelters! Cat owners rarely buy pets from breeders. Most adopt their cats from shelters or start caring for a stray who ends up staying for life. Close to 64.6% of cats who entered shelters in 2022 were adopted.
---
18.

Approximately 26.1% of cats entering shelters in 2022 were relinquished by owners.
(Shelter Animal Count)
Strays make up the vast majority of the US shelter cat population, but the percentage of stray cats entering shelters has dropped in the last few years. In 2019, strays made up around 54% of feline admissions, which had fallen to just over 50% by 2022.

Cat Anatomy Statistics
19.

Adult cats have 30 teeth.
(PetMD)
Healthy adult cats have 30 teeth. Kittens are born without teeth; most start teething when they're around 6 or 8 weeks old. Cats' baby teeth drop out when they hit 3 or 4 months old. Cats need regular tooth brushing, or they risk developing gum disease, which can result in tooth loss and difficulty eating.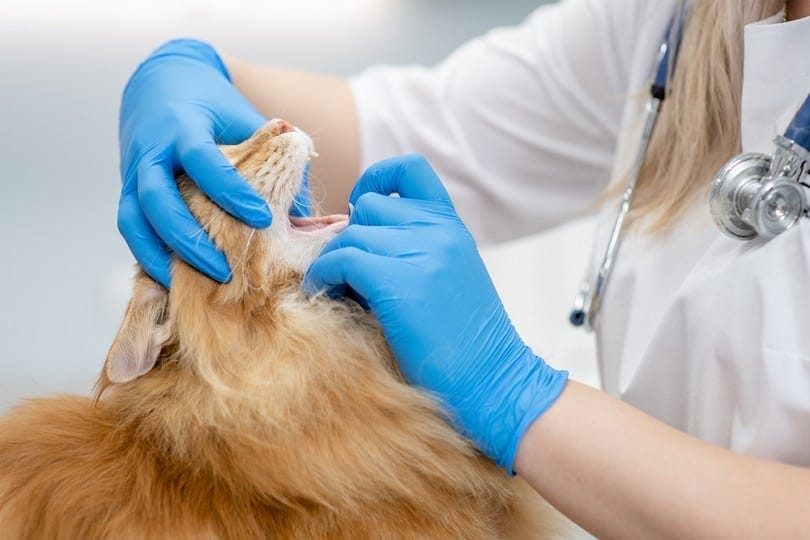 ---
20.

Cats have between 240 and 245 bones.
(Cat World)
Cats have several bones in their tiny bodies, which is one reason they're so flexible. Adult humans usually only have between 206 and 213 bones. Feline spines are particularly flexible, thanks to special cushioning disks that increase cats' range of motion. Cats are fast runners due to their spinal flexibility, which allows them to cover close to three times their body length with each stride.
---
21.

Cats' average body temperature is between 101.0 to 102.5°F.
(VCA)
Pets that are too hot often pant to cool off. Cats have sweat glands, but many are covered by fur and don't work efficiently. Signs of hypothermia often include shaking or shivering. Older and thin pets often become cold at relatively warm temperatures.
---
22.

Cats have 12 cheek whiskers spread into four rows.
(VCA)
Cats' whiskers are incredibly sensitive since they grow from follicles filled with nerve and blood endings. Cats use their whiskers for balance and even to "see" in the dark by reading air current feedback. Kitties even use whiskers to determine if they can safely fit into tiny spaces.
---
23.

About 10% of cats are ambidextrous.
(PetMD)
Some cats have a dominant paw and prefer to bat things with either their left or right paw. According to one study, around 40% of cats are left-pawed, and around 50% prefer to use their right paw. To figure out if your pet has a dominant paw, hide a treat somewhere (like just under the couch) and watch to see which paw your cat uses to retrieve their snack.

Frequently Asked Questions About Cat Ownership
1.

How much money do cat owners typically spend on medical care?
In 2018, owners spent around $98 per animal or $182 per household on veterinary expenses for cats. Dogs generally cost more than cats to own, with dog owners usually spending more on most all expenses, including medical care. Dog owners spent $253 per pet on medical care. (AMVA)
---
2.

How many pets adopted during the COVID-19 pandemic are still at home?
At least 85% of cats adopted during the COVID-19 pandemic are still with the families that brought them home. The numbers are even higher for dogs; close to 90% of dogs adopted during the lockdown are still with the families that took them in. Few, if any, of these new pet owners have plans to rehome their companions. (ASPCA)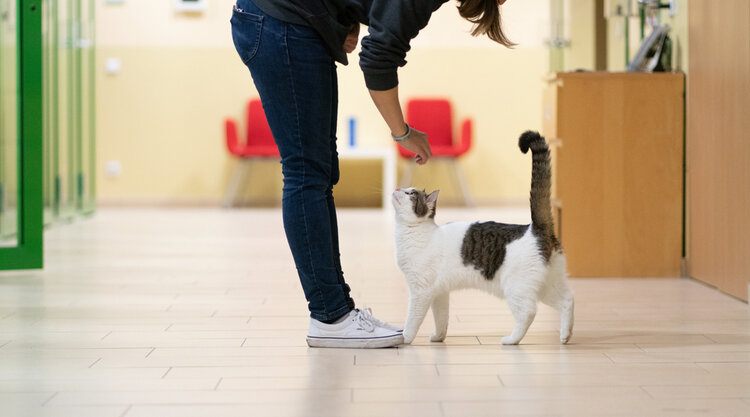 ---
3.

How much do cat owners generally spend on their pets?
Cat owners typically spend around $650 per year on their pets, including food, pet insurance, toys, and medical care. Food is usually the largest expenditure for cat parents. In 2020, most spent around $329 on cat food. (Statistica)
---
4.

Where do most people adopt cats?
Cats are often adopted through shelters, and a sizable number of strays are adopted every year. Large numbers of cat parents find their feline companions through informal channels. Only around 3% of cats are purchased from breeders. (ASPCA)
---
5.

What are the most common reasons for rehoming animals?
Common reasons for rehoming animals include pet behavior problems such as aggression or a refusal to use the litter box. Pets are also sometimes rehomed due to housing issues, such as difficulties finding pet-friendly apartment complexes. Health issues such as allergies can also motivate families to rehome pets.
---
6.

How many small animals and birds do cats kill?
While it's challenging to come up with precise numbers, studies suggest that cats routinely kill around 1.3–4.0 billion birds and 6.3–22.3 billion small mammals in the US each year. However, it appears that feral cats are responsible for much of the destruction. (Nature)
---
7.

How long do most cats live?
Outdoor cats typically live for anywhere from 2 to 5 years. Indoor cats usually live longer, with lifespans generally ranging from 10 to 15 years. Some cats, including Siamese and Burmese, tend to live longer than most other breeds. (UC Davis, Newsweek)
Conclusion
Cats are incredibly popular companion animals worldwide, and pet ownership rates are on the rise. Many consider cats family members and spend significant amounts of money on food, health care, and toys to keep their feline companions happy and healthy. Pet adoptions soared during the pandemic, and most cats that found a new home during the lockdown are still living happily with their human families.
---