How Much Exercise Does a Bernese Mountain Dog Need? The Interesting Answer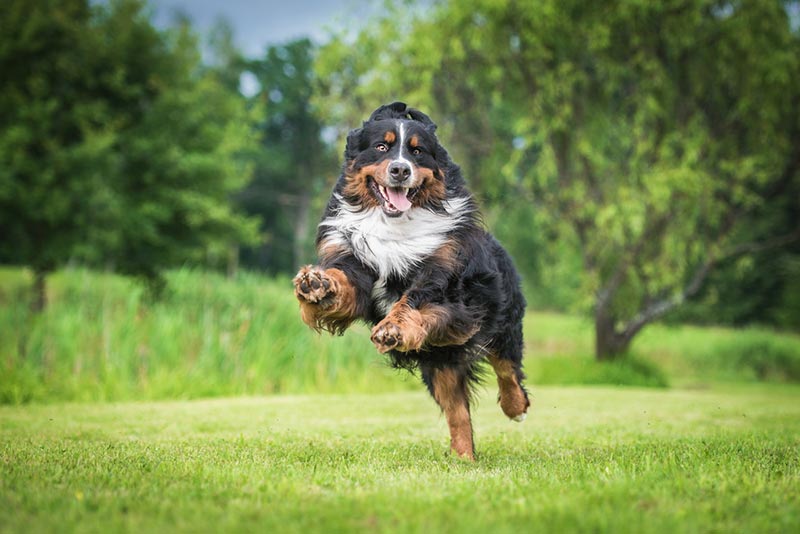 The Bernese Mountain Dog is a special family companion compatible with so many different personalities. However, because of breeding purposes, they tend to do better in some environments over others.
Because they are a herding breed, they require a bit more exercise than your average dog. Living in a location and having a schedule where you can provide the correct physical activity is essential.
So if you're thinking about getting this breed but need to know if you have matching activity levels, this article is the one for you.

Bernese Mountain Dogs Are Herding Dogs
A Bernese Mountain Dog is a herding breed whose sole purpose is to be on the go. Back in the day, these dogs were elected to manage livestock, being a farmer's right-hand pooch. Some of these instincts still bleed through today, especially in areas of physical activity.
Originally, the Bernese was one of the four types of Sennenhunds in Switzerland. Large, capable, patient, and obedient, this breed was the right dog for the job. They accompanied herders and dairymen on the daily rounds.
Bernese Mountain Dog Exercise Requirements
This breed requires a good outlet, needing at least 120 minutes of exercise per day. That means there will be walking, jogging, backyard visits, Frisbee in the park, and other outings to keep them physically satisfied.
Your Bernie will love long walks, brief jogs, playing fetch, and helping you outside with morning chores. But they will also be ready to cuddle up in the cozy house once the day is through.
Fun Activities for Bernese Mountain Dogs
These dogs love a few things—adventure and learning being at the top of the list. So, having a variety of exercise styles in your regimen helps keep your Bernie fit, healthy, and happy.
You should be able to tell pretty quickly what your pup's play preferences are. But here are some really common activities Bernies (and so many other pups) seem to love.
Hiking
Light jogging
Puzzles
Balls
Interactive and self-play toys
Bernese Mountain Dogs Need Lots of Space
If you live in a home with lots of acreage, you can let your Bernese Mountain Dog explore independently. If it is safe, you can let your dog come and go as they please, essentially making exercise.
However, this isn't feasible in most cases.
Activity Levels Vary
Activity level can vary from dog to dog. Some dogs will be much more on the go than others. Therefore, you are the responsible party for providing the amount of physical release they require. Other factors come into play here too, in areas like age and whether the animal has been spayed or neutered. For example, a young pup is much more likely to have an exuberant amount of energy, whereas a dog nearing seven and older will have significantly fewer exercise needs.
Bernese Mountain dogs have incredibly, and unfortunately, short lifespans. These dogs generally only live between seven and ten years, though ever so recently that the lifespan has been on the rise.
Bernese Mountain Dog Health Issues
Since your Bernese Mountain Dog is potentially  prone to health issues, especially from obesity, you must keep up a proper exercise regimen. These dogs need plenty of exercise and thrive best when they get it. Behaviorally and structurally, these big guys and gals need an outlet for their energy.
There can be certain health conditions impacted by exercise or physical activity. Hip and elbow dysplasia and arthritis can impact this breed, meaning you may need to modify your exercise regime.. Also, note that if your Bernie exercises right after eating, conditions like bloat are a genuine concern—a deadly condition caused by gas, food, and fluid filling the stomach and twisting.
Bernese Mountain Dogs Get Along with Others
You can do lots of activities with your Bernese Mountain dog at home and take them on the go with you too. They are amiable enough to get along with strangers and loyal enough to be content with just your company during playtime.
These dogs make excellent candidates for dog parks because they are very canine-friendly most of the time. So, these pups usually can't wait to play with new friends if you have any public outings. If you want a family dog that is excited about company, they couldn't be a better pick.
These gentle pups can work well with kids of all ages. Also, they match a child's energy level with ease. However, due to their size, you should always supervise interactions between small kiddos and your pets.
Bernese Mountain Dogs Make Excellent Guard Dogs
Don't let their domestication confuse you. The Bernese Mountain Dog is more than capable of doing what they were intended to do: guard. This is the perfect dog to have on hand if you have livestock.
Dogs that have tasks to do typically thrive the most. They will absolutely benefit from the amount of physical work it takes to keep farm animals in line. This also keeps their mind busy and their steps meaningful.
While this breed is superb at keeping livestock safe and sound, they aren't inherently aggressive. So, if a stranger breaks into your home, they will alert you—but might not act.

Conclusion
The Bernese Mountain Dog is perfect for farms, growing families, and fenced-in yards. They have exuberant personalities and tend to love all those they encounter. These cheerful pups are charming additions to so many lifestyles around the globe.
So, now you know what to expect when you own a Bernese Mountain dog as far as action and exercise is concerned. They require quite a bit of exercise and love adventures! So, make sure you live in an area where you can accommodate their needs accordingly.
---
Featured Image Credit: Rita_Kochmarjova, Shutterstock