How Often Should You Bathe Your Dog? Can You Bathe Them Too Much?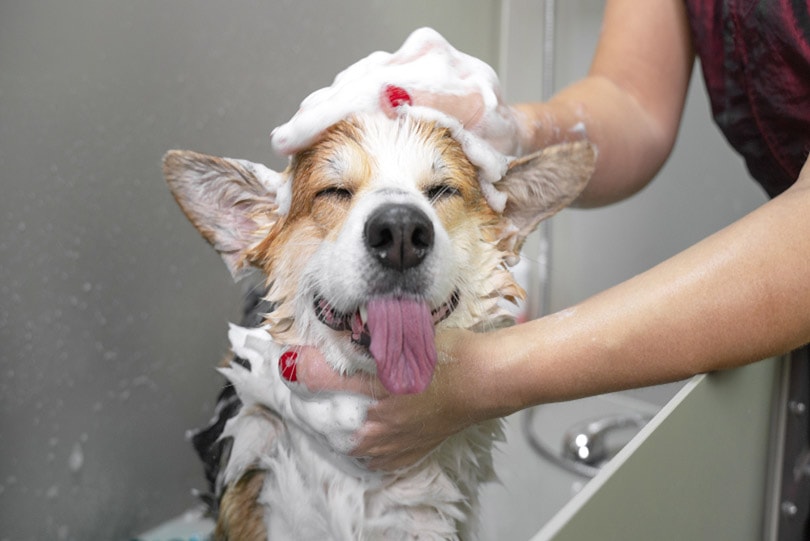 It's hard to tell if the worst smell is a wet or unbathed dog; both smells are rancid if you ask us. However, when your dog's smell becomes unbearable, you may wonder if it's possible to bathe a dog too often. It is possible to over-bathe your dog, but the answer isn't a clear-cut timetable like you might want.
How often you should bathe your dog is based on factors that determine the answer to the age-old question, "Does my dog need a bath?" Here's the scoop on knowing when your dog needs a bath. The general rule is to avoid bathing your dog more than once a month, but there are many factors to consider. Keep reading to learn more!

Why Should You Bathe Your Dog?
There's an element of uniqueness to a dog's bathing needs. While breed plays a factor in the needs for a bath, environmental factors and individual factors need to be considered when choosing to bathe your dog. Most dogs don't have a particular affinity for baths and count the seconds until the experience is over. Some may even fight you to the point where you both are dreading bath time.
However, baths are necessary occasionally for a dog despite their sometimes-vocal resistance. Dogs don't keep themselves as clean as cats do, and without proper grooming, your dog may start to become grotty and get matted fur. Additionally, some breeds also have naturally oily skins that can cause them to smell naturally musky and frankly gross if left to their own devices.
In addition to smell and appearance factors, fleas, ticks, and other parasites will have a much more difficult time infesting your dog if you bathe them regularly. Dogs especially love romping around the outdoors during the warmer months when fleas and ticks are most active. Bathing your dog regularly during the warmer months can help prevent an infestation of bugs before it ever starts.
Keeping your pet's skin and coat clean and healthy is very important, but finding a great shampoo can be harder than the actual grooming! We love our Hepper Colloidal Oatmeal Pet Shampoo because it makes grooming so much easier. This pH-balanced formula is made with natural ingredients like oatmeal, cucumber, and aloe. It's free of phthalates, sulfates, and soaps and very gentle on your pet's skin.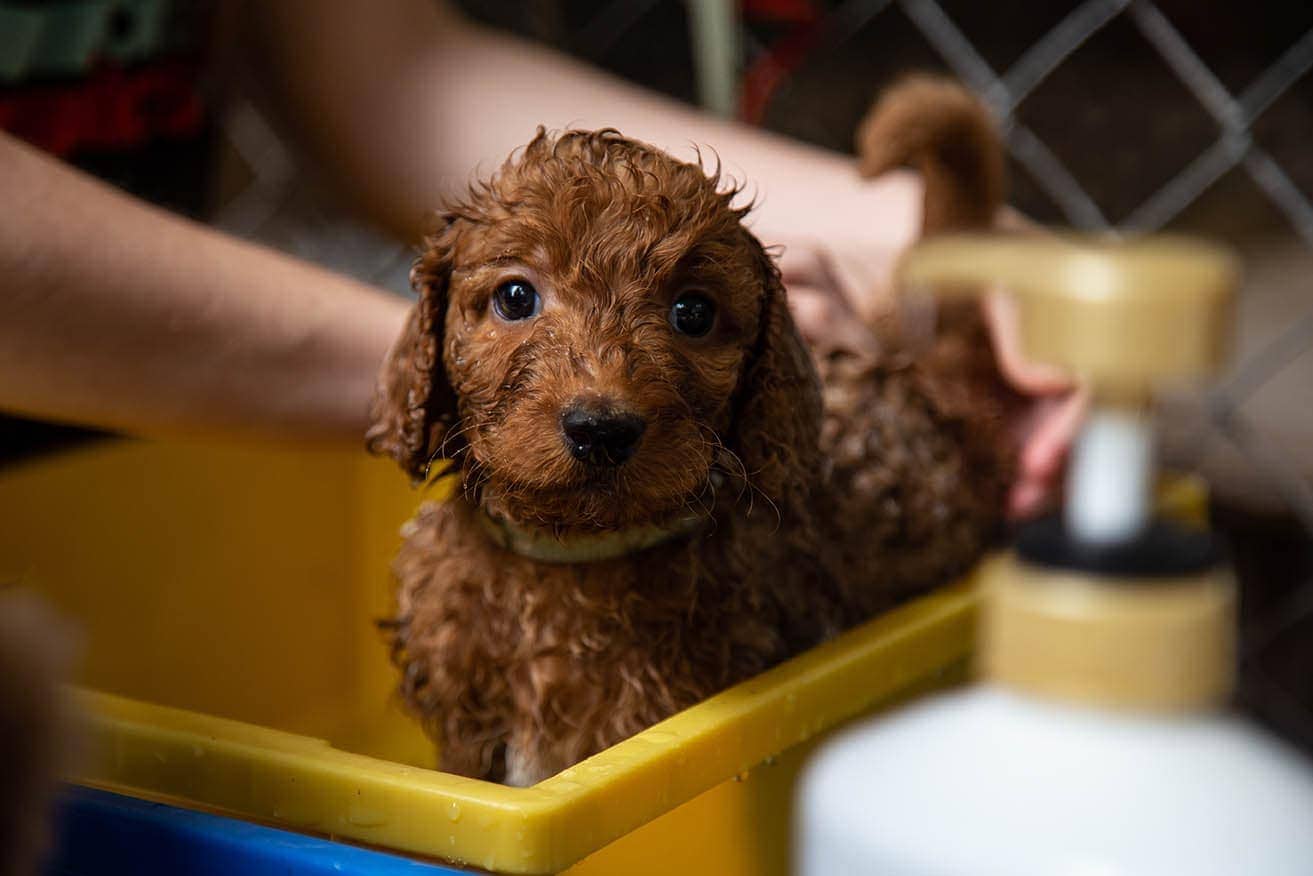 Factors That Influence How Frequently Your Dog Needs to Be Bathed
You'll want to consider all the factors influencing your dog's cleanliness when deciding how long to wait between baths. Considering all the elements will help you bathe your dog enough to keep them from getting gross without overbathing them and harming their skin.
Dogs with longer coats generally need to be bathed more frequently than short coats. However, that's not the only thing that coat type influences. Longer or curly coat types are more likely to become matted.  Dogs with a lot of facial hair may need their beards and eyebrows trimmed to keep them hygienic. Dogs that drool a lot may need regular bathing to remove the saliva.
Some dog breeds also produce more natural oils than others. Basset Hounds, Labrador Retrievers, Chesapeake Bay Retrievers, and Italian Spinone tend to have naturally oily coats that may need to be washed more often to keep them from becoming greasy.
However, these natural oils are a double-edged sword since those natural oils are also what keep the dog's coat looking shiny and healthy. Overbathing your dog could result in a deficit of natural oils and cause the skin to become dry and irritated.
Active dogs will generally need to be bathed more often than passive ones. Active dogs typically get a lot of outdoor fun that can bring home more dirt and grime than lapdogs. They'll need to be brushed and bathed more often to prevent them from retaining the evidence of the outdoors when they come back inside.
You will also need to adjust their bathing schedule for environmental factors. These are individual to the dog and environment around them. So, there's no way to give you a definite schedule that accounts for all environmental factors.
For instance, if you take your dog hiking and trudges through a giant mud puddle, he'll probably need a bath to get all that mud out of his fur when he gets home. If it is hot and your dog likes to cool down in the doggy pool they may end up smelling musty and need a shampoo to freshen them up.
Use your best judgment when determining whether environmental factors mean that your dog needs a bath.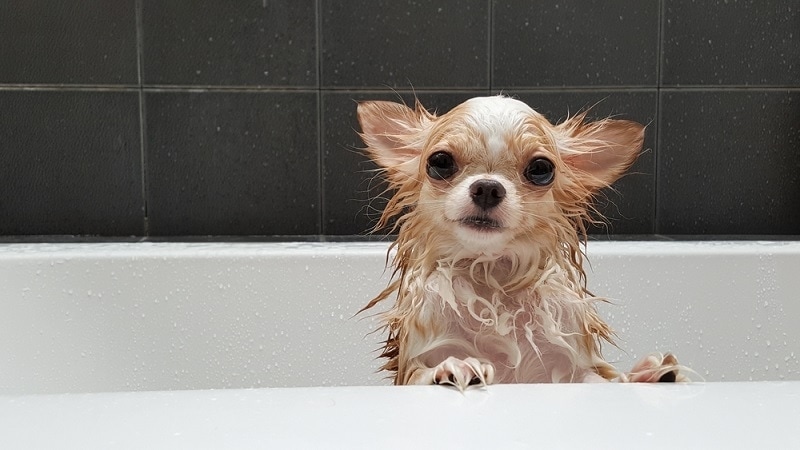 The Rule of Thumb for Overbathing
When it comes to overbathing, you'll have to exercise your best judgment for your dog or ask your vet or local groomer. Occasionally giving your dog an extra bath because you went hiking won't affect your dog. However, chronic overbathing can result in irritated, dry, or cracked skin since bathing washes away the skin's natural oils.
Routine deep cleansing should be limited to about once per month. If your dog is a short-haired lap dog, they may be able to go even longer before they start to smell funny, say 3 months.
Dogs with skin conditions may need more regular bathing even up to twice weekly as directed by your vet.
Dogs who are more active and engage in more outdoor sports may need more frequent baths and brushing to keep their coats from getting matted or grimy.

Final Thoughts
Bathing your dog is an integral part of being a dog owner. Knowing how often you need to clean your dog is important to ensuring that your dog lives a long, happy life in your care. In general, they need a bath if they are dirty or smelly.  This could be anything from monthly to every 6 months depending on the dog and their lifestyle. Luckily, choosing a bath schedule that works well for you and your dog won't take long and will help contribute to your dog's ongoing health and happiness!
Related Read:
---
Featured Image Credit: Masarik, Shutterstock