How Stressful Is Flying for Dogs? Vet Approved Facts & Tips to Help Your Pet
Flying in an airplane is not a natural thing for a dog to do. That said, many people are afraid of flying because it isn't natural for humans either. However, sometimes the experience is not avoidable. So, just how stressful is flying for dogs? Is there anything that we dog owners can do to keep our pets' stress levels low? It turns out that flying tends to be extremely stressful for dogs. Fortunately, there are a few things that you can do to relieve the stress — at least a little. Here's what you need to know.

The Stress Is Real When It Comes to Flying
Unfortunately, flying is not typically fun for dogs. They have no idea what is going on, they have no control over the situation, and whether they are in the cabin with you or not, they don't feel safe in such an unknown environment. Changes in air pressure and temperatures can make the travel experience even more stressful for your dog.
There is no way to reassure your dog that everything is under control and that they will be okay when all is said and done. Dogs cannot help but feel apprehensive and stressed out when they're cooped up in a kennel and not allowed to get out when changes in the environment are constant. No owner should ever overlook the stress factors that come into play when a dog must fly on an airplane.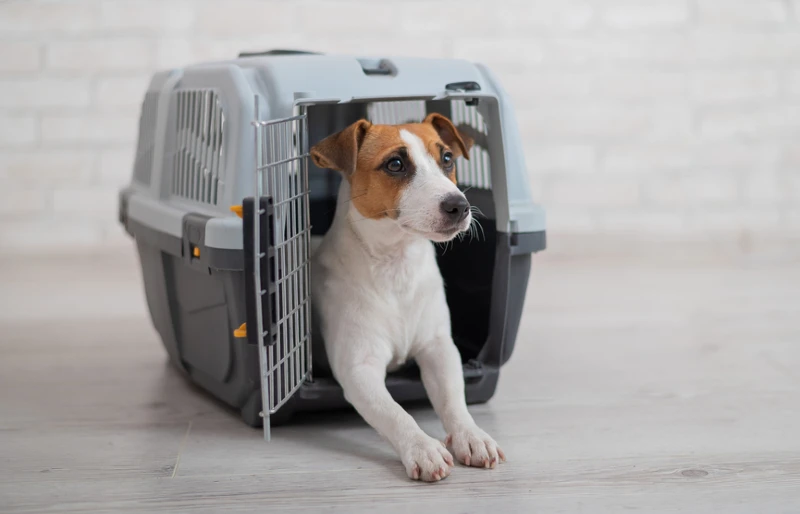 Ways to Reduce Stress Levels for Everyone Involved
Your dog does not have to suffer in silence while flying on an airplane if you prepare and take precautions beforehand. The first thing that you should do is schedule an appointment with your veterinarian. Your vet will ensure that your pet is healthy enough to fly and identify any issues that might arise during travel so they can be addressed beforehand. They may also prescribe medication that will help keep your dog calm and relaxed while they are on the plane.
Here are other things that you can do to keep stress levels low during air travel with your dog:
Contact the airline to verify their pet travel policies and procedures well before you plan to fly with your dog. This will help ensure that the kennel and everything else is properly prepared and minimizes the chance that you will face delays or be denied entry onto the plane.
Fill your dog's kennel with a blanket or shirt that smells like you, their favorite toy, and a food bowl that they are familiar with to make the space feel safer and more comfortable.
Take your dog for a long walk before you head to the airport so they can get rid of any pent-up energy that could turn into stress while they travel.
Practice with your dog by putting them in their kennel and driving around to new places so they can get used to traveling inside their kennel.

In Conclusion
Traveling on an airplane with a dog is never fun and games, but there are a few things that you can do to keep stress levels to a minimum. The less stress everyone involved has, the better the experience will be. If you're in doubt about traveling with your dog by air, talk to your veterinarian or consider a different form of transportation.
---