How to Become a Dog Groomer in 2023 (Steps, FAQs & Salary)

Dog grooming is big business, and if you have ever owned a high maintenance pet, you know what a struggle it can be to keep your pet looking good. Many dogs are afraid of the tools used for grooming, and they often don't like people pulling on their hair, especially strangers, so a dog groomer will need a lot of patience and a knack for making dogs feel at ease. There are more qualities a dog groomer needs as well, and we are going to look at everything you'll need to know to become a qualified dog groomer.
Join us while we take a look at income, education, certification, duties, and more to help you make an educated decision about your future.

How much money do dog groomers make?
Naturally, the first thing you will want to look at is how much money you will make. The actual amount will vary depending on where you live, but the national average is about $36,602 per annum ($703 per week).
Average Annual Income for the Largest Three States
Alaska = $40,702
Texas = $36,002
California = $41,102
Average Annual Income for the Smallest Three States
Connecticut = $39,702
Delaware = $38,602
Rhode Island = $38,602
While dog grooming is a decent paying job, it will not make you rich, so you will need to get your rewards by enjoying your time with the dogs that come into your shop. If you don't like dogs, you will likely feel that dog grooming doesn't pay enough.
How to Become a Dog Groomer:
1.

What education do I need?
Most people think you need to go to a dog grooming school before opening a business, but it is unnecessary and such schools are often expensive and ineffective. We are not trying to suggest you open a dog grooming business without any training. Instead, we suggest getting a job at an already established dog grooming business where you can get hands-on training doing what you love and get paid for it at the same time. It should not be difficult to find a job at a local dog groomer as many of them are understaffed and will welcome the help. They will have no problem training you as well as any school or online course.
Once you have your foot in the door, are happy with the work you do, and can recognize a school that teaches what you want to know, by all means, pick up some extra education to get ahead of the competition and get bragging rights via certification.
---
2.

Do I need certification?
You do not need to be certified as most certifications come from a school. It's often the main selling point, getting you to spend your money instead of earning it. Word of mouth is how you grow your dog grooming clientele. If the customer likes the way you groomed their dog, they will be back and tell their friends. Loyal customers are another reason to start working in the field immediately. You will make friends with both the dogs and their owners, and they will likely follow you if you strike out on your own.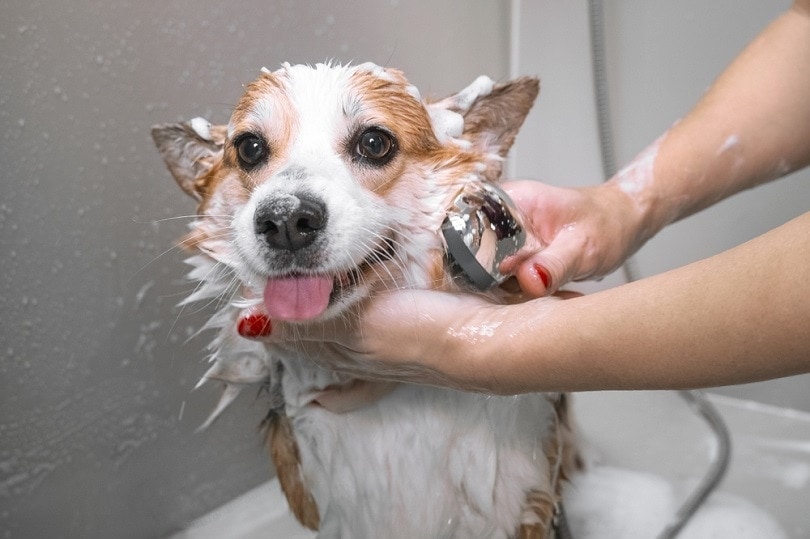 ---
3.

Is dog grooming right for me?
The best reason to start working at an established local dog grooming shop is that you'll see if you like the job before spending any money. We all know someone who spent a lot of money on schooling only to wind up doing something completely unrelated. You can save yourself from this headache and the financial impact it creates by getting to work now. If you don't like it, you will know in a few days, and you will have more money than you did when you started.
Requirements to Be a Dog Groomer:
To get a better idea of what the dog grooming world is like, we can look at some of the duties you will need to perform.
You will need to bathe dogs of all sizes
You will often need to trim the hair
You will need to style the hair as per request, which may include curling and dyeing
You will need to detangle the hair
You will trim nails
You may need to brush teeth
You will need to deal with customers and their odd requests
You will need to work with very uncooperative and unhappy dogs
You will need to be gentle but firm
You will be continuously learning
You may need to deal with unhappy customers
If these sound like fun things that you are willing to spend your life doing, you are looking at the right occupation. A job in the field will put your beliefs to the test.

Conclusion
Becoming a dog is a great way for animal lover to spend their days making a decent living. You will not get rich, but you will live a rewarding life providing a necessary service, and the dogs that leave your shop will look amazing, shed less, and be cooler. You will also get to experience many different breeds up close and personal in a way that few others do.
We hope you have enjoyed reading over our look at the dog grooming profession and what you need to get started. If we have answered your questions, please share this guide to becoming a dog groomer on Facebook and Twitter.
Want to work with dogs but grooming isn't for you? Check out some of our other how-to guides to help you get a career with dogs:
---