How to Clean Corgi Ears (7 Simple Steps)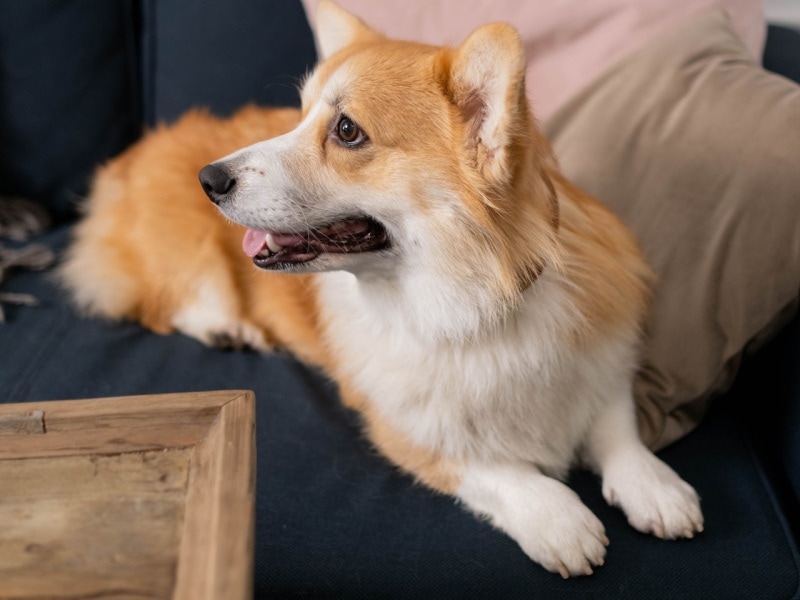 A Corgi's ears are one of its most adorable and defining features. They're born with large, floppy ears that fold down, but as they grow older, the ears will start rising until they stand upright. These larger-than-life ears may be charming, but, like all dogs, they can be prone to infection.
One of the best ways to stave off any ear infection is to check your dog's ears periodically. When they appear dirty or smelly, it's time to clean them to ensure no infections can occur. Thankfully, cleaning your dog's ears at home doesn't require any fancy equipment or supplies.
Keep reading to find our tips for cleaning your Corgi's ears.

Before You Begin
Before you start cleaning your dog's ears, there are some essential supplies you'll need to gather first.
Ear wash solution
Cotton balls/pads
Towel
Treats
Once you have your supplies on hand, pick a time of day when your Corgi is its calmest. You don't want to try to clean its ears when it's hyper, anxious, or about to set off on a 10-minute zoomie session.
We recommend performing the ear cleaning in a small room, such as a bathroom. Your dog will inevitably shake its head during the cleaning process, so you can expect ear debris and solution to launch out of the ears and onto your walls.
Step-By-Step Instructions for Cleaning Your Corgi's Ears
1.

Get comfortable
Sit down on your floor. Have your Corgi sit before you with its bum between your legs. If possible, having an assistant will help greatly.
---
2.

Use the ear wash solution
Hold one ear by the flap vertically, and with the other hand, fill the ear canal with a dog ear cleaning solution. Two or three small squirts should be enough. Do not allow the tip of the bottle's applicator to touch your dog's ear, as it can introduce bacteria.
Only use a cleaning solution your vet has recommended if they have ear troubles. Cleaners containing hydrogen peroxide or alcohol can irritate the ear canal, especially if it is inflamed. Some cleaners have antibacterial or antifungal properties to prevent ear infections, while others are best used to remove wax build-ups. Your vet will recommend the best solution for your Corgi's needs. If your Corgi has no other ear problems a gentle ear cleansing solution will be sufficient.
If your Corgi will not let you pour the cleaner into its ears, soak a cotton ball with the solution and gently place it inside the ear. Do not push it fully inside, as it can force debris inside the ear. Gently squeeze the solution in or use the cotton ball to apply the solution.
---
3.

Massage the ear bases
Keep holding the ear flap vertically. Next, massage the bottom of your dog's ear next to its head for 30 seconds. You'll probably hear a sound as the cleaner dislodges any debris.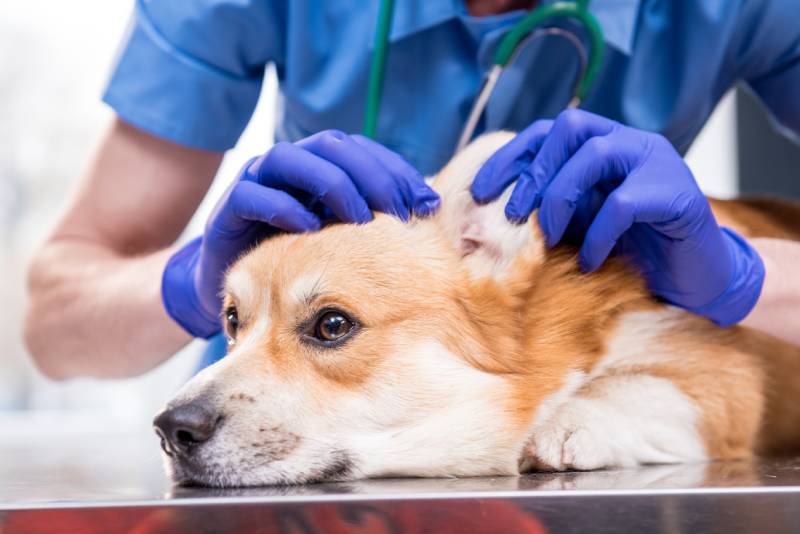 ---
4.

Wipe away debris
With your dog's ear still in your hand, use a cotton ball to wipe away any ear wax from the inner flap as well as the upper canal.
---
5.

Let your dog shake it off
After the solution has been squirted into your dog's ear, it will reflexively want to shake its head. Let it do so, as this will help the solution spread evenly. The head shaking will also allow any remaining cleaning solution and ear junk to move to the outer opening.
Use a towel to protect yourself from the spray that occurs when your dog shakes its head.
---
6.

Remove loosened debris
After your dog has had a chance to shake its head, hold the ear flap again and remove any debris that the shaking loosened. Again, wipe away any loosened debris and cleaner from the ear canal's opening with a clean cotton ball.
Never use a Q-tip during the cleaning process; doing so can injure your dog's ear drum and push debris deeper inside.
---
7.

Provide praise and treats
Once you've done both ears and finished cleaning, give your Corgi a ton of praise and treats for a job well done. This will help it create a positive association with ear cleaning so it won't be afraid the next time it sees you pulling out the ear wash solution.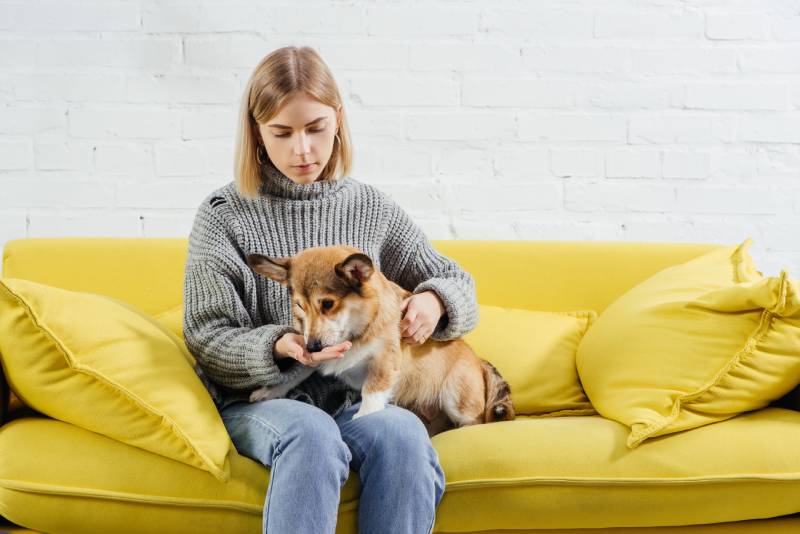 Do I Really Need to Clean My Dog's Ears?
Yes, but only if your dog's ears are dirty. Some dogs may always have healthy and clean ears and may never need to have them cleaned. You should, however, periodically check your dog's ears for any signs of discharge or odor, even if your Corgi has historically always had clean ears.
A dog's ear canal structure is designed so that little hairs called cilia help to move wax and debris up and out of the ear. However, if there is a larger volume of wax being produced it is difficult for the ear to clean itself without assistance. This lodged material can result in infections and extreme itchiness if it does not get removed.
Canine ear infections can also be caused by things such as:
Excess moisture
Hairy ear canals
Allergies
Ear mites
Wax build-up
Foreign bodies
Ear canal injuries
Endocrine disorders
Signs of an ear infection include:
Ear discharge
Odor
Consistent head shaking
Itchy ears
Rubbing ears on furniture or carpet
Redness or swelling of the ear canal
Pain
Crusting in the ears
Isn't This Job Best Left for a Vet?
Your vet certainly can clean your dog's ears for you and groomers may offer this service too. If your Corgi has any signs of ear infection you should take them for a check up before attempting ear cleaning.
Your vet will check out your dog's ears during its annual wellness exams. This is something you shouldn't skimp out on. First, they will look for any signs of injury, inflammation, or trauma outside the ear. Then, the vet will examine your dog's ear canal using an otoscope.
If your dog's ears are healthy doing it yourself doesn't require specialized equipment and many dog owners feel they can take on the task themselves.

Final Thoughts
Your Corgi's ears are one of its most adorable features, so you must do your due diligence to ensure its ears are in peak shape. Regular grooming can prevent issues and infections, so be proactive regarding the health of your dog's ears. Check them every few weeks to see if they are due for a cleaning. If you notice any signs of infection, a visit to the vet is in order.
---