How to Clean Dog Vomit on Hardwood? A Step-by-Step Guide
There are times as a dog owner when you're faced with unpleasant clean-up tasks. While cleaning up dog vomit may be one of the worst, there is an effective way to clean it up, to make your job a little easier.
This article will guide you on cleaning dog vomit on hardwood floors.
Click to skip ahead:

Cleaning Materials
Before you get started, make sure you have the materials necessary for your clean-up job. These include:
Paper towels
Soap and water (dish soap will work fine)
Disinfectant oil spray, preferably one containing tea tree oil
Baking soda
Dry cloth for polishing
The cleaning solution that you normally use to wash your floor
Mop

The 5 Steps to Clean Dog Vomit From Hardwood Floors:
1.

Use Paper Towels to Mop Up the Vomit
Use paper towels to scoop up your dog's vomit. This will get the bulk of the mess off your hardwood before smells and stains can set in. The faster that you complete this step, the easier the rest of the cleaning process will be.
---
2.

Clean With Soap and Water
Once you've picked up most of the vomit, mop the floor using liquid dish soap and water. Avoid using vinegar, as it can alter the shine on your hardwood.
---
3.

Use Disinfectant Spray
Spray the vomit-affected area of your floor using a disinfectant spray, preferably one containing tea tree oil, as it will nourish your hardwood while getting rid of bacteria and stains. Use it sparingly, and follow the directions on the bottle to apply the product correctly.
The disinfectant spray will ensure that vomit smells don't permeate your floor, so it's important not to skip this step.
Having a pet means cleaning up smells, stains, hair, vomit, and more...and you can add to your pet clean-up routine with the Hepper Advanced Bio-Enzyme Pet Stain & Odor Eliminator Spray.
It's our product, and we love it so much, we just have to share! It permanently removes the very worst smells and stains, and we offer a 100% satisfaction guarantee! 
---
4.

Dry the Floor
Once you're done disinfecting the vomit-affected area, dry the wet spot with a polishing cloth or paper towel.
---
5.

Clean Your Floor as Normal
This step isn't always necessary, but there is often a noticeable "clean spot" on your floor where you've cleaned up the vomit. To get your floor looking uniform, clean the entire surface as you normally would.
This ensures that the once-vomit-affected area isn't noticeable compared to the rest of the floor.

How to Remove Dog Vomit Smells From Hardwood
Occasionally, the smell of dog vomit persists long after you've cleaned up the stain. This is especially true if you weren't able to clean it up right away, like if your dog vomited while you were away at work.
Here are the steps to get the vomit smell out of your hardwood.
1.

Use Baking Soda
Baking soda is an odor remover that is safe to use around pets. It also won't cause damage to your hardwood.
Note: There are enzymatic cleaners available for removing pet odors that are as effective as baking soda. Not all these cleaners are safe for use on hardwood, though, and many will damage your floor. If you choose to use an enzymatic odor remover, make sure you choose one that is safe for hardwood floors.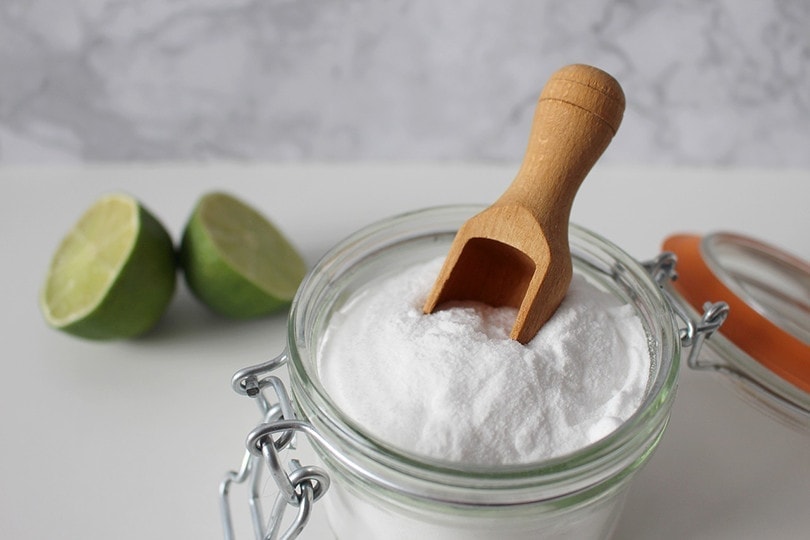 ---
2.

Make a Paste
Mix the baking soda with water until you form a paste. Apply the paste to the vomit-affected area of your floor.
---
3.

Cover the Area
Leave the baking soda paste on your floor, and cover the area with paper towels or cloths. Leave the paste to sit on the floor for several hours or until the paste is dry. This will allow the baking soda to do its job and draw out the odor.
---
4.

Vacuum and mop
Remove the cloths or paper towels from the affected area. The baking soda will be dry at this point, so you can vacuum it up off the floor. Follow up by washing your floor as usual.

Common Mistakes When Cleaning Up Dog Vomit
Not Testing Cleaners Before Use
There are tons of cleaners available to remove pet stains and odors. While many of them work, not all of them are safe for use on all materials and surfaces. Hardwood floors can be particularly sensitive to damage, so it's important to ensure that your cleaners won't damage your floor. To avoid this, apply any new cleaner to a small, unnoticeable area of your floor before using it to clean up stains.
Not Calling a Professional
Most of the time, you can clean up dog vomit quickly and easily using these steps. But if you have completed the clean-up process and your floor is still stained or there are remnant smells, it may be time to call in a professional. Attempting to use stronger cleaners on your hardwood risks damaging your floor, so if you're dealing with a particularly stubborn stain, it may be time to call in help.
Using Abrasive Cleaning Materials
Wood floors scratch easily. To avoid scratching your floor, always use non-abrasive materials while cleaning and scrubbing. Scrub gently to reduce the likelihood of damaging your floor.

Final Thoughts
Cleaning up dog vomit is a nasty job, so you want to make sure you clean it properly the first time. Following the steps outlined in this article will help you quickly and easily clean up vomit stains from your hardwood floor. Make sure all materials that you use are safe for your floor, and be patient and gentle throughout the process. In most cases, your floor will be clean smelling and shiny in no time!
---