How To Introduce a Puppy to Cats: 10 Expert Tips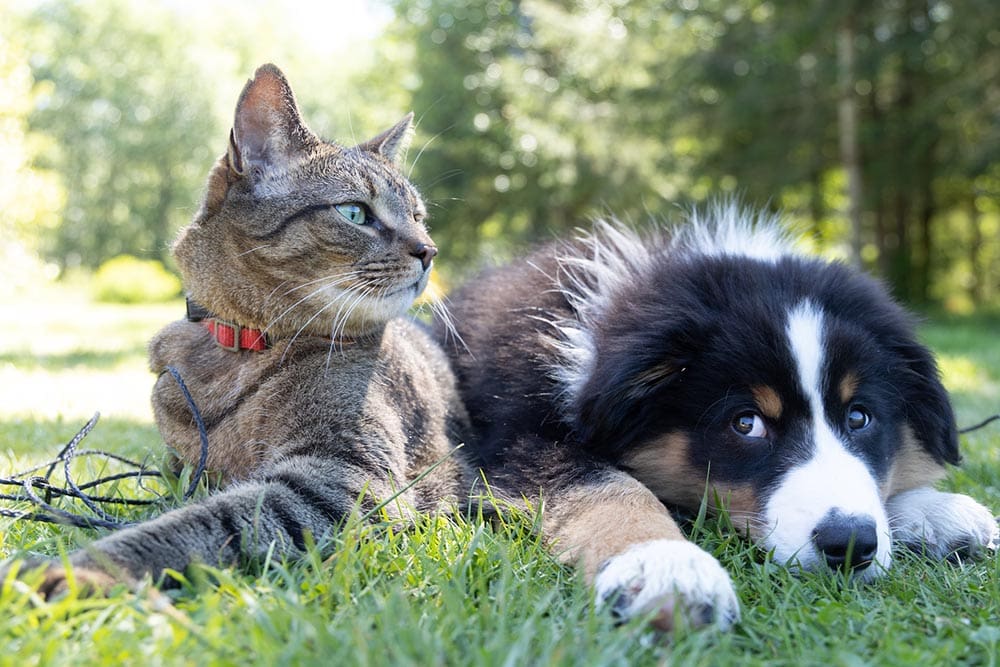 Introducing a new puppy into your home can be scary when you already have cats. Cats are creatures of routine, and a new puppy barreling into their lives can be stressful at best and end in disaster at worst. However, introducing them properly can make all the difference and help build a lasting positive relationship without too much fuss.
We've gathered ten expert tips on how best to introduce a puppy to cats and split them into three groups: before you collect your pup, when you bring them home, and the relationship afterward. You can use our guide to be prepared when the time comes to collect your new puppy!
We divided this guide chronologically. Click below to jump ahead:

The 10 Tips for Introducing a Puppy to Cats
Before Your Puppy Comes Home
1.

Prepare Your Home
Before you adopt your puppy, there are a few things you should do to prepare your home for its arrival. Aside from getting everything a puppy needs ready, you should create safe spaces for the puppy and your cats. Your cats will likely be very stressed with this sudden intruder in their home, so making an area for them to be comfortable can help them to feel secure.
Scent soakers, such as beds and blankets, can be distributed around the home. Providing vertical spaces to jump onto can also help them feel safe. Pheromone diffusers such as Feliway are an excellent option for helping your cats stay relaxed. Finally, make sure they have everything they need close to hand, such as litter boxes, food, water, and scratching posts. The aim is to give them a safe haven to retreat to when your puppy comes home.
Equally, creating a similar space for your puppy is essential. Include their crate in the area so it can rest and seek solace if overwhelmed. Don't allow your cats or puppy to intrude on each other's space yet; those face-to-face introductions will come later.
---
2.

Introduce Their Scents
Another great way to slowly introduce your cats and puppy is by scent swapping. When you visit your puppy before you bring them home, rub a fresh, clean, dry cloth over them to collect their scent. You can take it back to your cats and allow them to sniff it.
This allows your cats to get used to one change at a time before moving on to having the puppy in the house when the scent will be much stronger! You can do the same thing for your puppy, particularly if they are not used to living with cats.

When You Bring Your Puppy Home
3.

Start the Meeting Through a Door
Once you've given your cats and puppy a chance to settle, the next step is to introduce them through a closed door. This might seem silly, but allowing your cats to hear your puppy in the home (and visa versa) before seeing them will mean they get less stressed when they meet face to face.
It's almost like introducing each sense at a time: first, the smell, and then the smell and sound. Of course, there will likely be a lot of sniffing at the door and jumping away, but that's okay! It's your pet's way of identifying what's making all those interesting new smells and sounds.
---
4.

Feed Them at the Door
The next step is to make positive associations between the pets in the home. The best way to do this is by feeding your puppy and cats simultaneously on opposite sides of the door. Keep the door closed, and start by feeding them away from the door. Day by day, slowly move the bowls closer to the door. By the end of this phase, your cats and puppy should be eating quite happily with only a door between them!

When You Begin Face-to-Face Meetings
5.

Stay in Control
When it is time for your cats and puppy to meet, remember to stay in control. Make sure any meeting places are in "neutral" ground and aren't in your cats' or puppy's safe space. Don't lock the doors or trap your cats in the room, and always have your puppy on a leash. Your cats will likely have a visible and audible reaction to the puppy (such as hissing), but that is normal.
Keep everyone calm and allow your cats to approach at their own pace, keeping the puppy controlled on a leash and asking it to sit. End the session as soon as you feel everyone has calmed or if the cats or puppy seems stressed. Keeping meetings as positive as possible is essential, but it takes time.
---
6.

Give Your Cats Space
Remember to give your cats space when your cats and puppy are having a "meet and greet" session. Most cats will feel safe if they have a nearby area to retreat to, and providing cat caves or cardboard boxes is an excellent way of helping them feel secure when first meeting your puppy.
Also, you can hold the meetings in a place with shelving your cats can jump on, high tables, or stools. This will give your cat the option of a quick exit if they get too stressed.
---
7.

Remember That a Puppy Is a Puppy
As much as we can prepare our puppies (and ourselves) for a meeting with other pets, remember they're still young. Your pup will likely become excited and jump around when it sees your cats; reactions like that are normal puppy behavior. Don't let your puppy chase your cats, and keep it on a tight leash until it's calm and less interested in them. Be alert for any signs of aggression from either party and intervene before they escalate.
---
8.

Reward any good behavior
Any time your cats or puppy exhibit calm, curious, and friendly behavior within the room, reward them. It's important to continue the positive association you built up in step four by rewarding good behavior, as it'll help your puppy and cats feel positive towards each other. However, this doesn't mean punishing "bad" behavior! If you're concerned the meeting is getting too tense, or you see aggression, remove the puppy from the situation and try again later.
---
9.

Don't leave them alone
One of the most important tips when introducing your puppy to your cats is not to leave them alone. An unsupervised meeting almost always goes badly, with one or both parties possibly even getting injured (or worse). In many cases, cats and dogs will barely tolerate each other, and your absence can spark a fight between them.
---
10.

Recognize signs of aggression
Lastly, recognizing the warning signs of aggression and knowing when to end the introductory meeting is also very important. There will be tension between your puppy and your cats, and remember that it will likely come from fear. Not every cat will be bothered by a puppy's presence, but many will be uncertain at the very least.
Some cats will hiss or show defensive body language, but that is because they're scared. However, true aggression can sometimes occur, even if it's anxiety or fear-driven, and you must intervene before it escalates that far.
The signs of impending aggression in puppies include:
Freezing or becoming rigid
Staring intently
Lip lifting
Growling
Snarling
Lunging
The signs of impending aggression in cats include:
Ears flattened
Back arched
Hair standing on end
Tail swishing
Pupils dilated
Hissing
Growling
Swatting
It's worth mentioning that aggressive behavior and fearful behavior can look very similar (particularly in cats), and not all the signs of intent to harm may be there. For example, it's unlikely that a very young puppy will be overly aggressive toward your cats, but some breeds with a higher prey drive might be unable to resist the urge to chase and grab.

What Should I Do If My Cats and Puppy Hate Each other?
If you have tried to introduce your pup and cats in a slow, calm way and it's ended in screeching and barking, don't panic. The best thing to do is to watch for signs of stress, anxiety, or fear in both parties. If you notice anything, take a step back. Some cats and puppies will need longer to adjust to the change than others, and allowing them the time to get accustomed to each other is vital.
However, if you have tried to introduce them many times and it's not working, or either party is showing signs of continued or severe stress, you may have to think about getting one of them rehomed.
The signs of stress in dogs include:
Yawning
Lip licking
Panting
Pacing
Rapid blinking
Whites around the eye showing
The signs of stress in cats include:
Dilated pupils
Hiding
Not eating/drinking
Eliminating away from the litter box
Overgrooming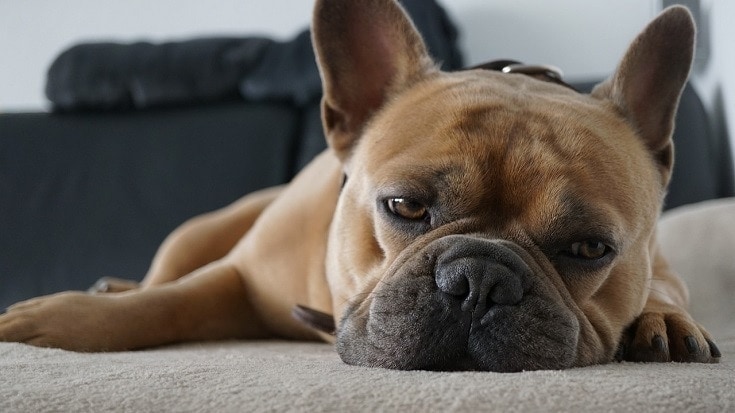 Conclusion
Introducing a lively puppy to your cats can be nerve-wracking for everyone involved, but taking it slow and allowing your pets to adjust to the other's presence can go a long way in helping them cope. It may not end up that your puppy and cats become best friends, but the aim is for everyone to live together in harmony without stress or fear.
If you notice that any of your pets are stressed during the process we outlined above, separate them and go back a step once they've calmed down. If you're concerned about your cat's or puppy's behavior, you can speak to your vet about seeing a veterinary behaviorist.
---