How to Take Care of a Bearded Dragon: Vet Approved Tips
Bearded dragons make fantastic pets as they're very docile and are considered relatively easy to care for among reptiles. But they're only easy to care for once you understand how to provide the appropriate level of care. Unfortunately, many well-meaning people adopt beardies without first learning their highly specialized care requirements. Not knowing what you're getting into can spell trouble for your pet and could even kill them.
Read on to find our thorough care guide for raising bearded dragons.
The 5 Tips for Taking Care of a Bearded Dragon
1.

Appropriate Diet
Your beardie's diet and meal frequency will depend on its age, as its nutritional needs and tastes will shift as it grows. Hatchlings (0 to 6 months) and juveniles (6 to 12 months) will need more protein than their adult counterparts.
Insects
Young beardies need more dietary protein in their diet as it's necessary for proper growth. It's not unusual for them to eat up to 80 crickets a day!
The best feeder insects include:
Black soldier fly larvae
Crickets
Dubia roaches
Hornworms
Silkworms
You should gut load your beardie's insects for at least a full day before feeding them to your pet. Gut loading is when you allow your feeder insects to gorge on nutritious foods before offering them as prey. This will boost the nutritional value of your pet's meal.
You can offer other insects occasionally as treats.
These include bugs like:
Superworms
Butterworms
Waxworms
Do not catch wild bugs and offer them to your beardie. They may be coated in poisonous chemicals or naturally toxic.
Vegetables
Salads of nutritious greens and veggies should be a part of your beardie's diet immediately. It's not unusual for hatchlings and juveniles to turn their noses up at veggies, so don't be offended if that's the case. However, greens will grow on them eventually, and offering them right away will make the transition to a diet consisting mainly of vegetables in adulthood easier.
Feeding various vegetables will give your pet a good balance of nutrients to keep it healthy and strong.
Staple vegetables you should feed every day include:
Arugula
Dandelion leaves
Cactus pads
Collard greens
Mustard greens
Spring mix
Feel free to add in the following vegetables and herbs to spice things up:
Bok choy
Basil
Cilantro
Watercress
Kale
Parsley
Spinach
Raw squash
Pea shoots
Thyme
Fruits
Fruit should be used as an occasional treat and not something you routinely offer your beardie. Fruit is high in sugar, which can cause health problems like obesity and dental disease.
Offer fruit once or twice a month as a special treat.
Some fruits that beardies can enjoy include:
Apples
Apricots
Figs
Mango
Strawberries
Melons
Grapes
Blueberries
---
2.

Lighting & Heating
Your beardie's lighting and heating set-up is integral to its health. Wild bearded dragons in the desert receive ultraviolet light and heat from the sun. Your goal is to mimic this environment the best you can with lightbulbs.
UVB Lighting
UVB lighting can be challenging. To get the right strength, you'll need to consider the distance of your light from your beardie and potential enclosure obstructions. Some UVB bulbs need to be placed inside your enclosure to provide the right level of UVB. Some can be placed on top of mesh lids. Carefully follow the manufacturer's guidelines for the UVB light, regarding positioning and the distance it should be from your bearded dragon. We recommend the Zoo Med Reptisun T5 HO 10.0 UVB Lamp as it provides a stronger UVB and brighter light than standard T8 bulbs.
Full-Spectrum LED Lighting
Beardies love bright white light in their enclosures, but they will not get this kind of lighting from their UVB bulbs alone. Most experts recommend a 6500K LED or fluorescent bulb as part of your pet's lighting set-up. Beardies with extra "daylight" lighting tend to be more active and alert than those without it.
Heating
Beardies need a temperature gradient in their enclosures to regulate their body temperature better. You'll need to create a warm and cool side through light bulbs.
Bearded dragons love to bask, which is good because basking is essential to processes like digestion. A wild beardie will bask in the sun's heat, but you can do the same by providing a heat lamp and a rock or log for it to bask on.
A high-wattage (90W should do it) halogen bulb and a dome heat lamp are often recommended to get the perfect temperature gradient.
Humidity
Your beardie's enclosure should have ambient humidity somewhere in the 30 to 40% range during the day. Going high or lower than that could cause respiratory issues and problems with your beardie's skin and scales.
Tools Require to Get the Lighting & Heating Right
As you can tell, nailing the lighting and heating in your beardie's enclosure can be complicated. But with the right tools at your disposal, anything is possible! Consider investing  in the following equipment so you can double-check that the enclosure is perfectly heated and lit to optimize your beardies' health:
Infrared temperature gun to check surface temperatures, such as basking spots.
Probe digital thermometer to check that the air temperature is optimal.
Humidity gauge to check that the humidity levels are optimal.
You'll also need a timer as lights should be turned off at night, generally they should be on for 12 hours in the day and off for 12 hours at night.
Also make sure that all lights are inaccessible to your bearded dragon and guarded to prevent burns or injuries.
---
3.

Terrarium Size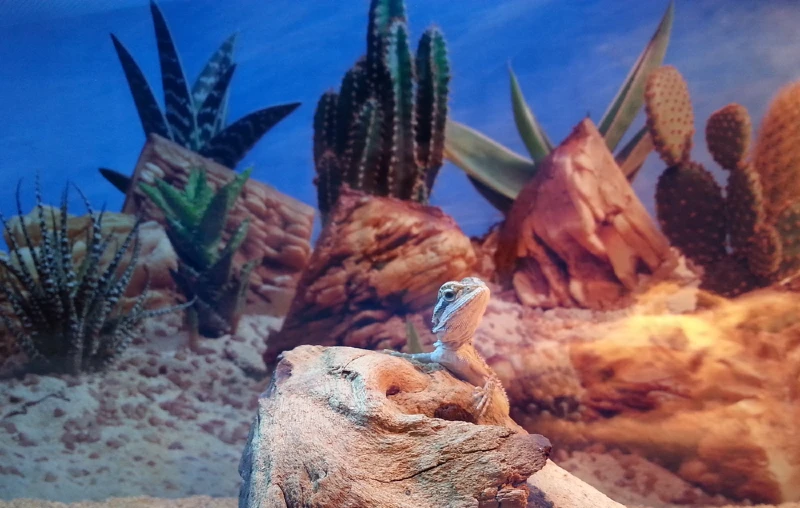 Your beardie's enclosure needs to be big enough to provide space for physical activity while also allowing for the ideal temperature gradient.
The absolute minimum enclosure size for your beardie is 48 inches x 24 inches x 24 inches. Though this is the minimum size recommendation, we advocate for bigger being better. The bigger your cage is, the more space your beardie will have to be active and demonstrate its natural behaviors.
---
4.

Substrate
Substrate refers to the material in the bottom of your beardie's enclosure. This is a point of contention in the reptile world, as no one can agree on the best bedding material. Thankfully, there are many choices, so we recommend picking one that suits your lifestyle best. Let's take a quick look at some of your options.
Sand
For healthy adult dragons sand can be one of the best substrate options, mimicking a beardie's natural environment in the desert. It's easy to burrow into, giving your pet a fun enrichment activity that plays into its instincts.
Sand is often labeled as dangerous for bearded dragons as some believe it poses an impaction risk if ingested. The key is choosing the right kind of sand. JurassicNatural Australian Desert Habitat substrate is a suitable option, and is ethically sourced from Central Australia, your beardie's natural environment.
Many people recommend avoiding sands for baby and juvenile bearded dragons though.
Tile
Slate tile is another popular substrate option as it's easy to find and clean. It doesn't need to be replaced like sand and poses no impact risk.
Some tiles are porous, which can lead to stains and bacteria growth. Tiles can also retain heat, making getting the right temperatures a challenge.
Paper Products
Some beardie owners swear by simple paper towels or newspapers as the perfect substrate. They're very cheap and sterile but don't make the best choice for long-term housing. These materials will shred easily under the nails of adult beardies, making a mess. Also, they're not eco-friendly as they'll need to be changed more often and just don't look as good as other substrate options.
Substandard Substrate Options
The following substrate options are substandard and not recommended as they may pose a health risk to your pet.
Calcium and vitamin sand can lead to impaction
Bark chips and walnut shells can lead to impaction
Sawdust can cause respiratory issues
Gravel is hard to move on and can lead to impaction
Reptile carpet harbors bacteria and smells
---
5.

Health
Before bringing home your beardie, there are some things you need to know about its general health and well-being, so you're prepared when it starts exhibiting strange behaviors.
Brumation
Brumation is a hibernation-like state marked by reduced appetite and activity levels. Some beardies will brumate yearly like clockwork, while others won't even do it once. It's very unpredictable, but when your pet goes into brumation, you'll know it. You should expect it to happen after its first birthday.
This dormant period is perfectly natural, but it often scares first-time beardie owners. Some of the signs are similar to your pet being unwell so it is important to keep a close eye on them. When your bearded dragon bromates, it will eat less, sleep more, and spend more time in its hide or in the enclosure's darkest and coolest part.
While your beardie is in brumation, it's a good idea to bring it out to weigh it occasionally to keep tabs on its weight. If it loses more than 10% of its pre-brumation weight, it could be ill and at risk of dying during brumation. This requires a visit to the exotic vet as soon as possible.
Shedding
Shedding is a natural process that happens to all reptiles. They shed their skin as they grow and will continue to shed throughout their lives. You'll know your beardie is about to start shedding when its skin looks pale and white patches form.
This process can be uncomfortable for beardies, so don't be surprised if your pet is a little more irritable than usual during this time. However, you can help it slough off the dead skin faster by giving it warm baths until the skin comes off. Beardies also need some rough surfaces in their enclosure to rub up against to help them shed ( avoiding anything sharp).
Never pull the shedding skin yourself, as you may remove scales that aren't yet ready to come off!
Metabolic Bone Disease
Metabolic bone disease (MBD) is typically caused by an improper diet that is high in phosphorus and low in calcium and/or Vitamin D3, or lack of exposure to UVB lighting. This complex disease is much easier to treat and won't have as debilitating side effects if caught in the early stages.
Symptoms of MBD include:
Weakness and lethargy
Bumps on the bones
Curved or swollen limbs
Soft bottom jaw
Tremoring legs
Twitching and seizures as the disease progresses
Your vet will provide treatment options if your beardie is diagnosed with MBD. Getting the right diet, temperatures and appropriate UVB lighting will go a long way.
Final Thoughts
Though you might feel overwhelmed with all the information you learned today, being here means you've taken the right first step into responsible bearded dragon ownership. It's essential to completely understand the ins and outs of beardie husbandry before you sign those adoption papers. Hopefully, our blog has helped clear any confusion and provided you with the information you need to provide your new pet with the best life possible.
See also:
---