Iams Puppy Food Review 2023: Recalls, Pros & Cons

Iams has been a trusted dog food company since the company was founded in 1946 by Paul F. Iams with the mission to develop an innovative dog food. Throughout the decades, Iams grew as a company and earned a well-respected reputation for being an industry leader. Although the company has been sold to different corporations, Iams remains a widely available, affordable choice for dog owners.
With a broad selection of recipes, Iams produces a line of puppy food of four options: three dry dog food and one wet dog food. You can further specialize your puppy's food based on your puppy's size.
How does Iams puppy food compare to other puppy food brands? We've listed the four recipes and provided you with a few in-depth reviews. We go over the quality of puppy food made by Iams and why we rated Iams puppy food three and a half out of five stars.

At a Glance: The Best Iams Puppy Food Recipes
Rating
Image
Product
Details

Our Favorite

Iams Proactive Health Puppy Chicken Dry Dog Food, All Breed Sizes

Real farm-raised chicken as the first ingredient
Features 22 key nutrients
Premium-sourced protein
Check Price

Iams Proactive Health Smart Puppy Small & Toy Breed Dry Dog Food

Supports needs of small-breed puppies
Includes omega 3 DHA
Features 22 key nutrients
Check Price

Iams Proactive Health Smart Puppy Large Breed Dry Dog Food

Supports needs of large-breed puppies
Helps cognition
Real farm-raised chicken as the first ingredient
Check Price

Iams Proactive Health Puppy & Senior Wet Dog Food

Suitable for puppies 1 to 12 months
High-quality animal proteins
Contains vitamin E
Check Price
Iams Puppy Food Reviewed
Although Iams is a popular company, you may not know much about the quality of its puppy food. In this review, we'll take an informative look at the quality and the ingredients used in Iams puppy food. Hopefully, we can help you make a knowledgeable decision about whether Iams puppy food is right for your puppy.
Who Makes Iams Puppy Food and Where Is It Produced?
Iams is manufactured in the United States in three locations: Ohio, Nebraska, and North Carolina. The North American region, which also includes other areas, is owned by Mars Incorporated, which took over the business in 2014. The European division of Iams is run by Spectrum Brands. Before this ownership, Iams's founder, Paul Iams, retired in 1982, leaving the business to his partner for many years, who then sold the company to Proctor & Gamble in 1999.
Which Types of Puppies Is Iams Best Suited For?
With its main puppy food marketed for all breed sizes, Iams is suitable for all types of puppies. Although not as widely available, there are selections for small or toy-size puppies and one for large breed puppies. We found that these two options were not currently available on Amazon. If your puppy prefers or requires wet dog food, Iams provides canned food options formulated for puppies and senior dogs.
Which Types of Puppies Might Do Better With a Different Brand?
If your puppy has a sensitive stomach, you may want to try Wellness Complete Health Natural Dry Puppy Food, Chicken, Salmon & Oatmeal. Unlike Iams, this puppy food does not contain meat byproducts, fillers, or artificial preservatives. However, it is more expensive than Iams puppy food.
Natural Balance L.I.D. Limited Ingredient Diets Dry Puppy Food has a more budget-friendly price with limited high-quality natural ingredients, no corn or wheat fillers, and no meat byproducts.

What Are the Primary Ingredients in Iams Puppy Food?
Iams uses chicken, whole grain corn, ground whole grain sorghum, beet pulp, fish oil, dried egg product, fruits, and vegetables in its puppy food, as well as throughout its adult recipes. We'll focus on the most common ingredients found in Iams puppy food and determine its level of quality.
Chicken as the First Ingredient
Real chicken is the first ingredient in all three Iams dry puppy foods. An excellent source of protein, chicken also contains chondroitin sulfate and glucosamine to encourage better joint health in your growing puppy.
In addition to the real chicken, the third ingredient listed is chicken byproducts meal. While not harmful to your puppy, chicken byproduct meal is a lower-quality ingredient. Iams most likely uses byproducts to lower the cost of its food. However, in doing so, the quality decreases.
Whole Grain Corn
Listed as the second ingredient, corn offers much-needed carbohydrates to help with your puppy's energy levels. However, corn only has limited benefits and may only act as a filler. Puppies who have difficulties digesting grains or related allergies may not react well to the corn in this puppy food.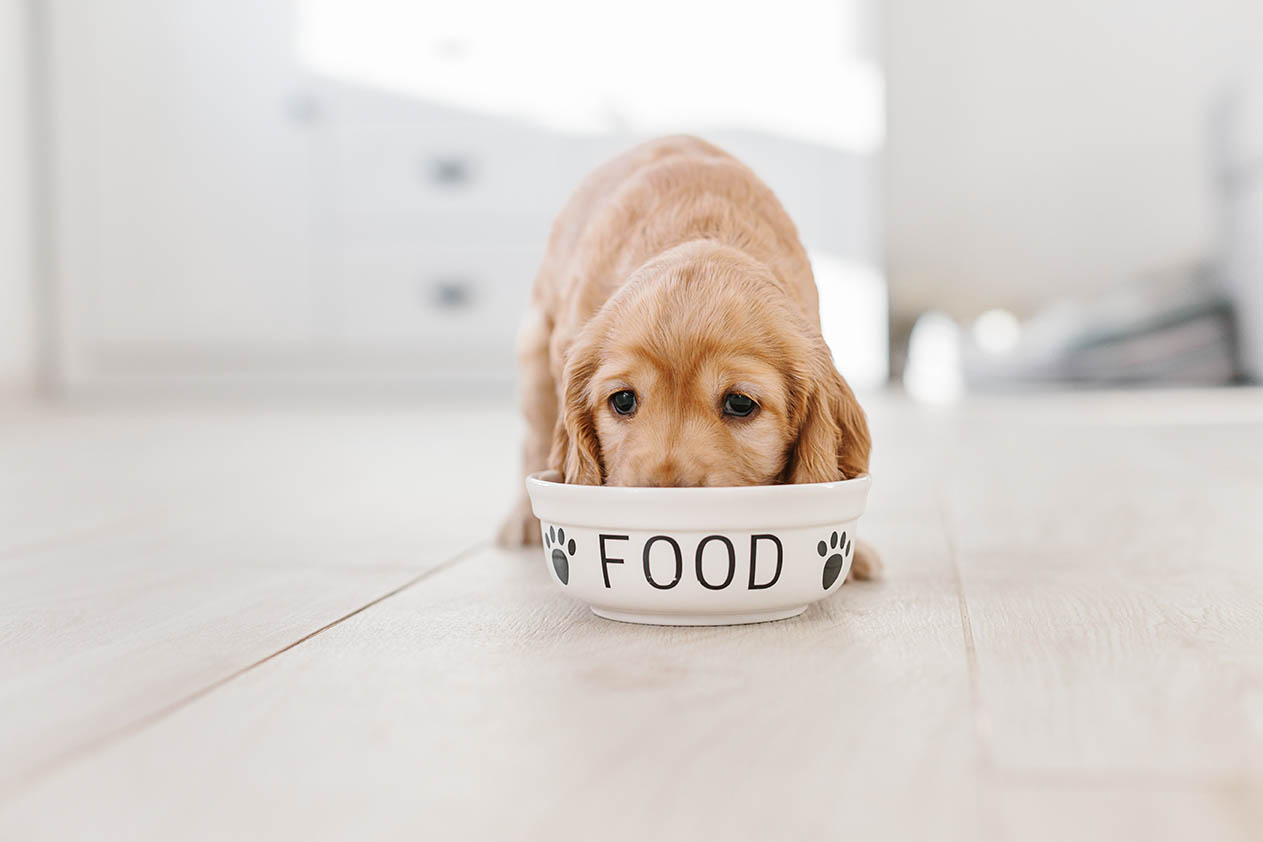 Ground Whole Grain Sorghum
You may be wondering what whole-grain sorghum is and if it is good for your puppy. Sorghum is a gluten-free grain that's high in antioxidants, vitamins, and nutrients. It provides a source of protein, some fiber, and is low in sugar.
Dried Beet Pulp
While it may not sound appetizing, dried beet pulp can be a helpful ingredient for adding fiber to your puppy's diet. It's also known to add bulk to stools and may promote energy. Iams adds it to its puppy food to aid digestion and improve vitamin absorption.
To make dried beet pulp, all the sugar is extracted from the beets, and the remaining pulp is dried. Because it's processed, dried beet pulp may be considered an unnatural byproduct and could act as only a filler. In some cases, puppies may experience bloat after consuming this ingredient.
Fish Oil, Dried Egg Products, Fruits, and Vegetables
The remaining ingredients of fish oil, dried egg product, fruits, and vegetables all provide healthy benefits for your puppy. Fish oil is an excellent source of omega-3 fatty acids that enhance your puppy's cognitive development, as well as help your puppy have healthy skin and a lustrous coat. Dried egg product offers protein, along with nutrients and fat for energy. Fruits and vegetables supply essential antioxidants and vitamins.
A Quick Look at Iams Puppy Food
Iams is a well-known, trusted company
Affordable
Dry and wet puppy food
Different recipes for small and large breed puppies
Provides sufficient nutrients for growing puppies
Offers several beneficial ingredients
Made with meat byproducts and fillers
Some processed, unnatural ingredients
No gluten-free option
May cause stomach upset or bloat
---
Ingredients Analysis:
Guaranteed Analysis:
| | |
| --- | --- |
| Crude Protein: | 29% |
| Crude Fat:  | 17.5% |
| Moisture: | 10% |
| Fibre | 4% |
| Omega 6 Fatty Acids: | 2.25% |
Directly from the Iams website, here is a percentage breakdown of the essential nutrients in Iams Proactive Health Puppy Chicken Dry Dog Food, All Breed Sizes. The percentage of the remaining nutrients includes 0.10% docosahexaenoic acid, 1.2% calcium, and 1% phosphorous. There are 0.35 mg/kg of selenium and 60 I.U./kg of vitamin E. With 399 calories per cup.
Ingredient Breakdown:
Recall History of Iams Puppy Food
Fortunately, Iams has not had a recall on its puppy food in several years. The last recall occurred in 2011 when the F.D.A. issued a recall of Proactive Health Smart Puppy dry food due to aflatoxin contamination.

Reviews of the Top 3 Iams Puppy Food Recipes
1.

Iams Proactive Health Puppy Chicken Dry Dog Food, All Breed Sizes
Formulated for your puppy's specific nutritional needs and overall wellness, this Iams puppy food is suitable for all breed sizes. It promotes healthy skin and coat, strong muscles, better digestion, vibrant energy levels, improved cognition, and a robust immune system.
This formula contains all 22 key nutrients that are found in a mother's milk, important omega-3 D.H.A. for brain development, and real chicken as its protein source and first ingredient. Unfortunately, this recipe contains byproducts and fillers. Some puppies experience intestinal issues after consuming this food.
Created for your puppy's growing needs
Promotes healthy skin, coat, energy levels, cognition, and immunity
Contains 22 key nutrients
Omega-3 for cognitive development
Protein supplied through real chicken
Affordable
Contains byproducts and fillers
Some puppies experienced intestinal issues
---
2.

Iams Proactive Health Smart Puppy Large Breed Dry Dog Food
Iams offers puppy food tailored for large-breed and small-breed dogs. This size-specific puppy food is not widely available. We could not confirm if this product is in the process of being discontinued by Iams or if there is an unknown, temporary delay in production.
Much like the dry puppy food intended for all breed sizes, this large breed version does not vary greatly in ingredients or benefits for your puppy. The ratio of nutrients may be more tailored for a large breed dog. This large-breed puppy food contains a complete and balanced formula for the wellness of every part of your puppy.
Your puppy will benefit from cognitive-boosting D.H.A., lean protein, and essential vitamins, minerals, and nutrients. It does contain byproducts and fillers. Some puppies may encounter stomach distress or diarrhea after eating this puppy food.
Specific recipe for large breed puppies
Complete and balanced formula
Cognitive-boosting D.H.A.
Lean protein ingredients
Essential vitamins, minerals, and nutrients
Affordable
Not widely available
Contains byproducts and fillers
May cause stomach issues or diarrhea
---
3.

Iams Proactive Health Puppy & Senior Wet Dog Food
If your puppy prefers or requires wet dog food, then Iams has an option that's ideal for both puppies and senior dogs. The classic pâté meal is packed with protein, vitamins, and minerals, along with omega fatty acids.
This complete and balanced wet dog food supports your puppy's skin and coat health, energy level, cognitive development, and muscle strength. Puppies seem to enjoy the slow-cooked taste of real broth.
Unlike the dry dog food, real chicken is not the first ingredient. This wet dog food primarily gains its protein through lower-quality chicken and meat byproducts. It does contain a safe amount of sodium nitrate for color retention. However, some dog owners prefer to avoid this potentially harmful ingredient.
Wet dog food
Specially formulated for puppies
Complete and balanced meal
Includes essential protein, vitamins, and minerals
Contains omega fatty acids
Supports healthy skin, coat, energy, cognitive, and muscles
Puppies enjoy the taste
Contains meat byproducts
Includes sodium nitrate

What Other Users Are Saying About Iams Puppy Food

Conclusion
For an affordable price, Iams offers your puppy complete and balanced nutrition. As a company, Iams has a reliable and trustworthy reputation with no recent recalls. When it comes to feeding your puppy, you can rest assured that both the dry puppy food and the wet puppy food contain all the essential nutrients for your growing puppy. The addition of omega-3 D.H.A. in Iams puppy food is vital to your puppy's cognitive development.
However, we rated Iams three and a half out of five stars for its lower-quality ingredients of meat byproducts and fillers. While most puppies do well with digesting Iams puppy food, some puppies do experience stomach upset.