100+ Indian Dog Names: Bollywood & Food Ideas For Your Pet
When we think of India, we are reminded of its vibrant culture, authentic and spicy cuisine, and traditions that are uniquely and distinctly Indian! Although India has so much to offer, a few other notable and popular ideas include Bollywood, henna, and the Taj Mahal. 
So when looking for your pup's new name, you may be interested in ideas that are naturally Indian and rich in history! We have listed our favorite and the most popular suggestions for females and males, names influenced by Indian cuisine, and the iconic Bollywood scene, as well as a few meaningful options. 

Female Indian Dog Names
Barkha
Eswari
Padma
Vineeta
Sakshi
Jasmit
Roshni
Hemani
Zoya
Aditi
Diya
Urmi
Nadira
Gargi
Kanti
Omisha
Sheetal
Harini
Pavani
Indu
Akshara
Deepali
Kushi
Bimala
Ekani
Bodhi
Tanvi
Indira
Sweta
Dalaja
Banhi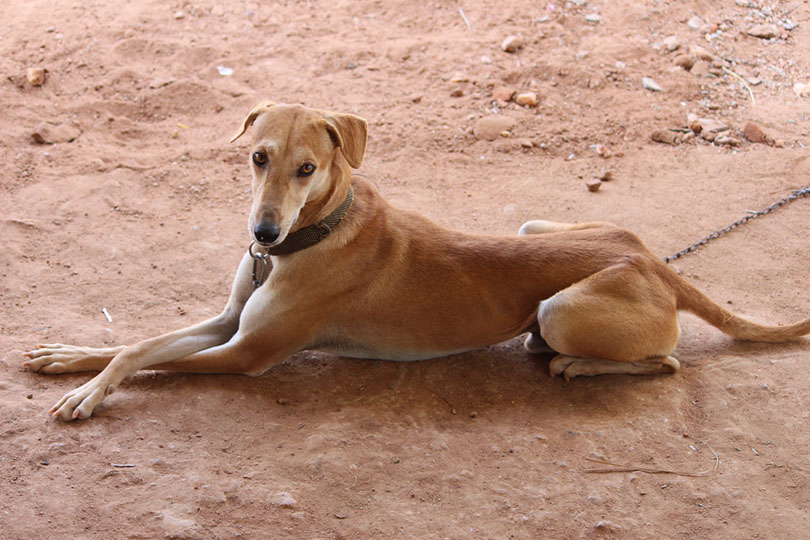 Male Indian Dog Names 
Daiwik

Aarav

Parag

Indra

Malhar

Kamal

Sujal

Yahsvir

Parth

Rajat

Bharat

Deepak

Vishal

Nakul

Sanjay

Prateek

Hari

Lavish

Rajesh

Advik

Jeet

Darsh

Gurdeep

Veer

Chetan

Rohan

Tarak

Akshant

Harshad
Indian Food Dog Names 
Indian food is not only delicious, it's an experience! You may be interested in giving your pup a name inspired by one the following because they are bright and vibrant, or maybe they appreciate a bit of spice in their food now and again. Either way, these all double as excellent and different pet names!
Baati

Masala

Vada

Basundi

Bhatura

Kanji

Tikka

Paneer

Curry

Puri Puri

Churma

Biryani

Kofta 

Papadum

Tej Patta

Dalachini

Panjeeri

Daal Makhni

Samosa

Garam

Amchoor

Tandoori

Dosa

Cardamom

Kachori 

Amritsari
Indian Bollywood Dog Names
Deciding on a name with a meaning is incredibly special. You can choose to share the meaning with others, or it can remain a secret between you and your pup, truly solidifying your bond! These names are unique, fun, and most importantly authentically Indian!
Sonam Ahuja (Actress)

Malang (Movie) 

Akshay Kumar (Actor)

Kareena Kapoor (Actress)

Tanhaji (Movie)

Kangana Ranaut (Actress)

Baaghi (Movie)

Ranbir Kapoor (Actor)

Salman Khan (Actor)

Vidya Balan (Actress)

Panga (Movie)

Anuska Sharma (Actress)

Shahrukh Khan (Actor)
Indian Dog Names with Meanings
Bollywood is an increasingly popular Indian-Hindu film industry based out of Mumbai, India – this place was formerly known as Bombay, so naturally, they combined Bombay and Hollywood to form Bollywood! Is there a more perfect way to pay homage to a great cultural phenomenon than to name your puppy after it? 
Adya (Goddess)

Jangalee (Wild)

Hoshiyaar (Smart)

Motee (Fat)

Meharabaan (Kind)

Thoda (Little)

Pyaara (Cute)

Barish (Rain)

Goa (Sign)

Jigyaasu (Curious)

Tej (Fast)

Sharaabee (Fluffy)

Yoddha (Fighter)

Ravi (Sun)

Dheere (Slow)

Badaboo (Stink)

Goonga (Dumb)

Bandar (Monkey)

Majedaar (Funny)

Nadee (River)

Chanchal (Playful)

Conclusion
We know that when it comes to naming your dog, you'll want to ensure that you find one that fits them perfectly. You should find comfort in knowing that your pooch will love whatever name you give them, as long as you love it too! 
We hope that you were able to find a match among our list of 100+ Indian dog names. With some cuisine suggestions and a few famous ideas including names with meanings, we are sure that there is one suitable for all dogs!
If these weren't quite what you were searching for, take a peek at one of our other dog name lists below: 
---