500+ Amazing Names for Irish Setters: Ideas for Gorgeous Ginger Dogs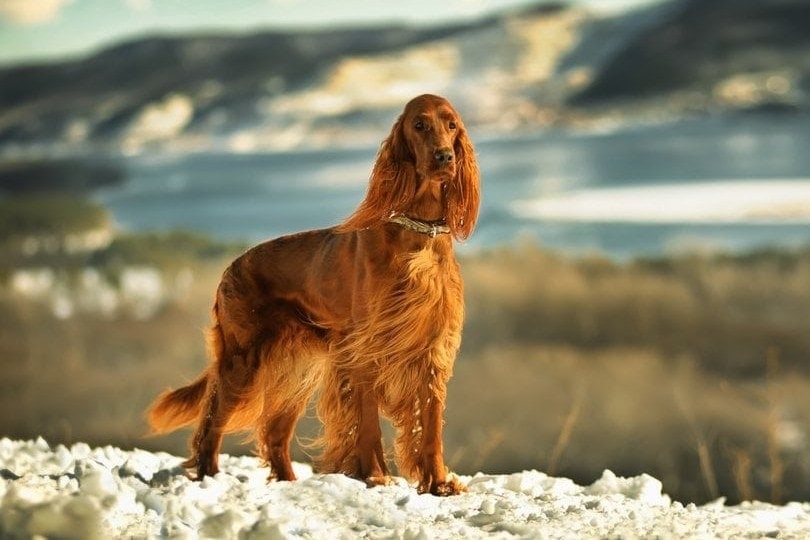 Thinking of a name for your new four-legged Irish Setter friend? It can feel like the most impossible task. After all, you want something that matches their temperament and is easy to call out when you're outdoors. If you're struggling to find the perfect name, don't panic! Naming pets isn't always easy, but it doesn't have to be stressful either.
Think about some of your favorite things: fruits, flowers, famous people… Whatever comes to mind is fair game for naming your pup! But getting that first name out of the way can be a challenge. So, we've prepared a list of 500 names for your dog to consider. We'll also include 10 tips to help you choose the perfect dog name with ease!

250+ Boy Names for Irish Setters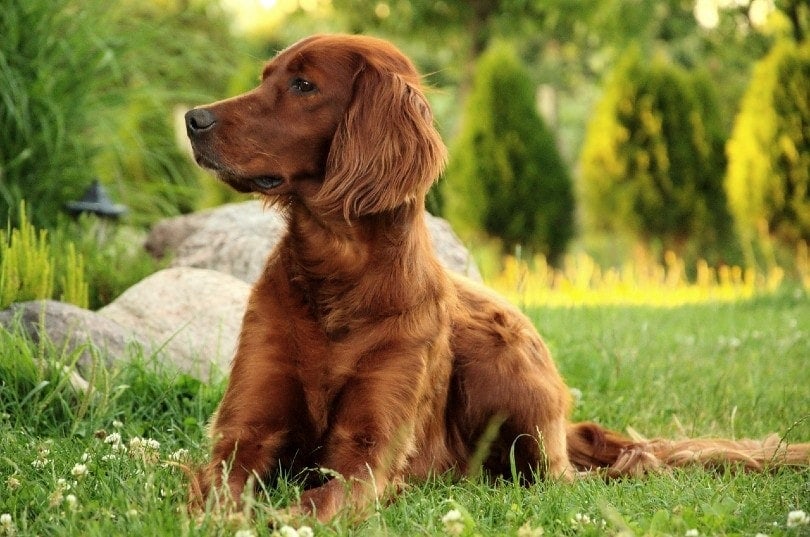 Duke
Udin
Uncle
Marcus
Yearly
Idris
Quigley
Larry
Jake
Zoom
Xador
Phoenix
Logan
Hank
Dallas
Edward
Jerry
Lincoln
Lester
Marlo
Quatro
Zeal
Bozo
Julius
Pepper
Quaker
Henry
Yeti
Rocket
Paco
Cletis
Gabe
Ghost
Murphy
Luca
Zippo
Santana
Bailey
George
Parker
Charlie
Gus
Orion
Ike
Uris
Nico
Hector
Skippy
Banjo
Buddy
Jasper
Isaac
Otis
Umbro
Ember
Neo
Blue
Nash
Nemo
Denver
Floyd
Quarantine
North
Harley
Lane
Xylo
Valerian
Maximus
Smalls
Dexter
Uno
Ziggy
Walter
Digger
Quincy
Gumby
Venture
Quentin
Toby
Vinnie
Gandalf
X-Ray
Casanova
Andy
August
Oden
Xian
Ollie
Tony
Flynn
Yancy
Dude
Scout
Chester
Vector
Wyatt
Champ
Arlo
Fred
Joey
Quinn
Warrior
Urban
Xirus
Atlas
Kody
Hulk
Peanut
Hades
Benji
Yang
Yaris
Tack
Inman
Loki
Barry
Bruno
Gino
Roman
Vito
Artie
Baxter
Willy
Kona
Fargo
Jack
Yukon
Galant
Ibis
Jax
Upton
Eliot
Picasso
Lucky
Enzo
Major
Cash
Obi
Zeke
Ned
Ian
Mack
Pablo
Kevin
Xander
Frodo
Iggy
Forest
Jagger
King
Quartz
Sparky
Peyton
Zander
Yodel
Nelson
Victor
Land
Robin
Steve
Gary
Zeus
Watts
Valant
Prince
Einstein
Rocky
Shadow
Earl
West
Quest
Titan
Archie
Fletcher
Kool
Wags
Van
Kai
Edgar
Diesel
Dash
Starsky
Nate
Tiger
Edison
Wander
Terry
Kennedy
Oakley
Marshall
Noah
Ace
Mickey
Cooper
Carl
Alfie
Jet
Oslo
Vader
Quirk
Zorro
Xenon
Yeller
East
Milo
Clyde
Ringo
Utah
Riley
Kirby
Oscar
Kobe
Hickory
Valor
Ozzie
Maverick
Newton
Ivan
Falcon
Kalypso
Theo
Ezra
Rooster
Hansen
Reece
Xerxes
ZigZag
Yak
Yale
Deputy
Wallace
Ulrich
Buster
Jupiter
Hugo
Tex
Sabin
Frank
Zero
Pongo
Gregory
Levi
Xavier
Ralph
Harry
Ximenes
South
Tank
Como
Atari
Asher
Igor
Fidget
Trevor
Oreo
Ink
Radio
Wishbone
Denzel

250+ Girl Names for Irish Setters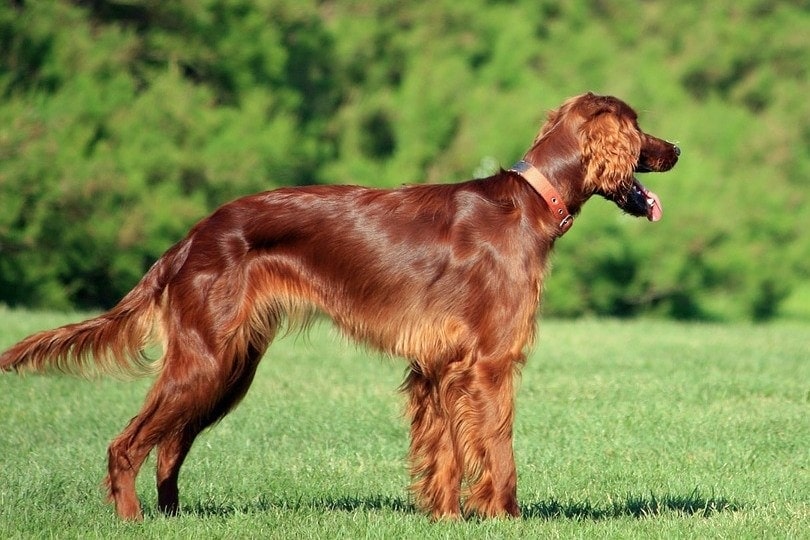 Daisy
Natasha
Zany
Genevier
Yasmin
Raven
Henrietta
Ariel
Sasha
Violet
Zelda
Qamra
Kinley
Nina
Mabel
Abby
India
Tatum
Hazel
Pepper
Nova
Emmy
Hope
Olympia
Riley
Kiki
Tina
Elsie
Yuliana
Tori
Valor
Mackenzie
Raisin
Jinx
Peaches
Pebbles
Layla
Mischief
Payton
Deloris
Yola
Quigley
Sharon
Ritzy
Rosemary
Wilma
Veronica
Heaven
Tamara
Sydney
Rivka
Unis
Bonnie
Quartney
Dixie
Vespa
Ella
Dakota
Addie
Seven
Laura
Xella
Anna
Jennifer
Ireland
Oprah
Nikki
Olive
Laika
Nancy
Duchess
Gigi
Ruby
Ibiza
Shelby
Xiadani
Iggy
Peanut
Kayla
Parsley
Mocha
Adele
Indigo
Trudy
Emiko
Iris
Utah
Cookie
Jada
Maggie
Constance
Tabitha
Canyon
Freckles
Oreo
Opal
Wynette
Elsa
Ginger
Saffron
Navi
Tootsie
Cleo
Lexi Liberty
Kiwi
Utopia
Ember
Yuba
Stella
Jersey
Josie
Gidget
Winona
Elana
Yumi
Lizzy
Zena
Xena
Pumpkin
Diva
Abby
Ivy
Zipper
Twiggy
Westlyn
Bella
Alexis
Jamie
Yosemite
Rita
Blossom
Biscuit
Yoko
Penny
Winter
Nikita
Jessie
Vicky
Trixie
Egypt
Twinkie
Sandy
Rylie
Xandra
Yeardley
Flora
Fantasia
Natoya
River
Birdie
Demi
Kenya
Dora
Quinn
Willow
Lady
Paige
Brooklyn
Esmerelda
Whisper
Faye
Gretel
Haley
Roxie
Phoebe
Kahlua
Tenley
Winnie
Lily
Lacy
Kenna
Sally
Wanda
Ivory
Jolene
Cricket
Karma
Luna
Oki
Clover
Suki
Kallie
Vera
Muppet
Coco
Juno
Mckenna
Nola
Queenie
Moki
Atari
Gypsy
Willa
Gabby
Frida
Vixen
Harley
Lola
Zara
Bailey
Goldie
Ursula
Tessa
Oxana
Georgia
Eden
Koko
Pipsqueak
Bambi
Yeska
Uinta
Zadie
Tilly
Zuri
Zola
Xanti
Dottie
Zoe
Yellow
Raina
Viper
Nori
Mika
London
Haven
Minnie
Sierra
Quizzie
Piper
Fifi
Casey
Shadow
Edie
Kelsey
Yara
Allie
Skye
Cora
Amber
Scarlet
Quitara
Becky
Ocean
Rosie
Indie
Gia
Fiona
Macy
Aspen
Waynoka
Carmella
Honey
Venus
Ink
Susan
Jasmine
Onyx
Cherry
Unity
Holly
Una
Kimono
Billie
Qunita
Risa
Moxie

Tips for Choosing the Perfect Name for Your Irish Setter
Naming your dog can be as easy as pie – especially when you have a more structured approach to the brainstorming process. Here are a few tips to help you come up with the perfect name for your Irish Setter in no time.
Think About Your New Puppy's Personality
First of all, think about your new puppy's personality. There are lots of different traits to choose from, like playful, calm, energetic, friendly, goofy, shy, serious… Think about what your puppy's personality is like and try to match it with a name. For example, if your pup is outgoing, playful, and super social, naming them Poppy or Twinkle would be a great fit.
Alternatively, if your pup is a bit shier and more reserved, naming them Waggles or Boomer would be a good choice. For more tips, make a list of all the things you love most about your new pet. This can help you come up with creative names that match their special qualities. From there, you should be able to narrow down your list and find a name that feels right.
Go With Your Instinct
If you're having a hard time coming up with names, try and go with your gut. Think about your favorite things at the moment: the latest Netflix series, the new ice cream flavor in town, the new song on the radio… You can even name your dog after something that makes you laugh: Waffles, Toes, or Pancakes are all silly names that would make any pet owner smile.
Whatever comes to mind that makes you happy is the perfect fit for a name. Once you've come up with a couple of names that work for your dog, ask friends and family for their input. They might be able to offer a fresh perspective and help you settle on the perfect name. Plus, if you end up liking a name from a friend or family member, you can give them credit for coming up with the perfect name for your new four-legged friend.
Check Out Name Registries
Once you've narrowed down your list of names and you're still having trouble choosing, check out name registries to help you make a decision. Name registries are online databases that collect all kinds of information on dog names.
They can offer tons of info like where the name came from and how it's been used in the past. Alternatively, you can ask your vet or visit local shelters online to see some of their dogs' names. They'll likely be able to tell you what traits the name holds and why they chose it. The staff will likely be familiar with the names of the other dogs currently in their adoption program, too.
Decide on a Theme, Like Food or Colors
If you don't want to choose a name based on a trait or special memory, another way to choose the perfect name is to decide on a theme. For example, you can name your puppy after a different type of food: Peanut, Maple, Jam, Sugar, Apple, or Blueberry are all great options! You could also name your puppy after colors: Crimson, Ruby, or Slate are all beautiful options.
Consider Your Pet's Gender and Age
As you're deciding on a name, you also want to consider your pet's gender and age. Male and female names are a bit different. For example, female names tend to be more melodic and softer while male names are shorter and sharper.
This is just generalized but it's a good rule of thumb while naming your pet. You also want to keep your pet's age in mind. This is mostly relevant if you're naming your puppy. You don't want to name your puppy after something that makes them seem older than they really are in most cases or won't grow well with your puppy.
Naming Traditions
There are tons of naming traditions that can help you pick the perfect name. For example, if you're naming your puppy after a family member, you can follow naming conventions to find the right fit. If your puppy's name starts with a vowel (like "Alfie" or "Earl"), it's often used for the first-born son in a family. Think about interesting things in your own family for example. Do you have a cousin whose name you adore? Why not name your pup after him or her?

Wrapping Things Up
Finally, when you're deciding on a name, think about your puppy's future. Does the name fit their lifestyle or personality? Will it be something they're happy with as they grow? Also, think about how the name will fit them when they're an adult. If you're naming your puppy and they're very young, it's best to pick a name that will grow up with them.
---