Is It Safe for Dogs to Fly? What to Know Before You Go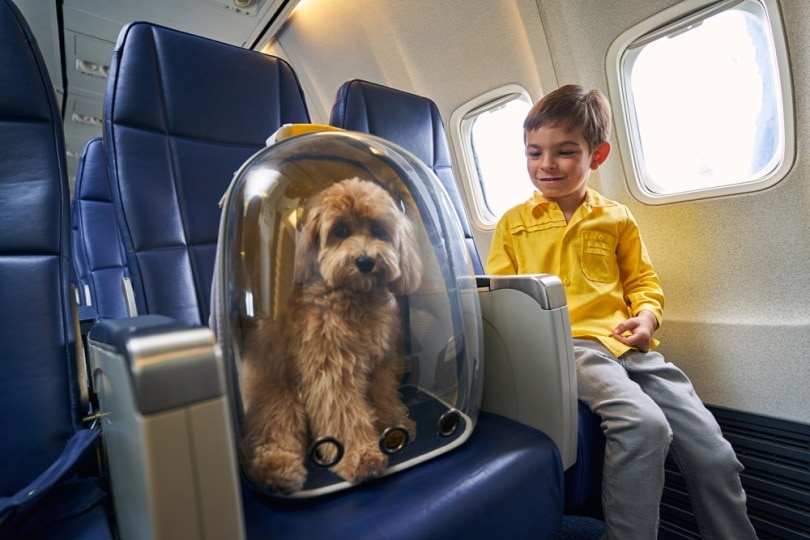 If you're a dog owner about to go on a place for vacation or to move to a new location, you may be wondering if it's safe to take your dog along with you. Many people travel with their pet dogs on airplanes, but is it a good idea for all dogs? It depends on the specific situation. There are two ways for a dog to fly in an airplane: in the cabin – a safer option, or in the cargo area – less safe. Here's what you should know about each of these options.

Flying in the Cabin
Your dog may be able to fly with you in the airplane cabin if they can comfortably lounge in a carrier that will fit under your seat. Each airline has specific rules about the size of the carrier that must be used and the amount of space that your dog must have inside the carrier. Some airlines allow service animals to travel outside of their carriers, while others require that even service animals stay in their carriers.
This type of airline travel is typically safe because you can be there with your dog and ensure their comfort and safety. It is important to keep in mind, though, that even when in your presence, your dog may find traveling on a plane to be stressful. Just because it's easy and safe to travel in an airplane cabin does not mean your dog will enjoy it.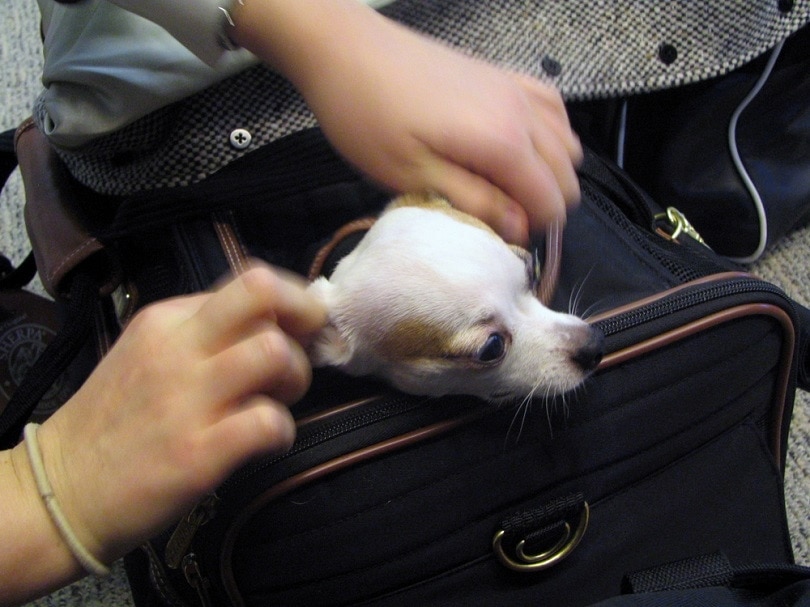 Flying in the Cargo Area
Dogs that cannot fit under the seat in an airline cabin may be eligible to travel in the cargo area. However, not all dogs are allowed to fly on a plane, even in the cargo area. For instance, many airlines have banned short-nosed dogs — referred to as brachycephalic breeds — due to the health risks. For the dogs that can fly in the cargo area of an airplane, it is important to understand that a few risks come with the experience.
Temperatures in the cargo area can fluctuate while an airplane is in the air, which can be dangerous for any animal in the area. Drops in air pressure can also be a problem. Unfortunately, pets can die while in transport in the cargo area of an airplane, though the odds of that happening are very low. Deciding whether to allow your dog to travel in the cargo area should be done with the help of a trusted veterinarian.
Preparing for a Flight With Your Dog
The first thing that you should do when preparing to fly with your dog on an airplane is to make an appointment for a check-up and consultation with your veterinarian. This should be done whether you will be traveling together in the cabin or if your dog will be alone in the cargo area. Your vet will ensure that your dog is healthy enough to fly and provide you with tips and tricks that can be used to make sure the flight is a decent experience for everyone involved.
The vet may also be able to prescribe medication for your dog that will help keep them calm and feel safe while in flight. You should also contact the airline that you'll be flying with and request to be emailed a complete list of its pet travel policies so you can be sure that nothing important is overlooked that could keep you from boarding the plane when it comes time.

A Quick Recap
Traveling with a dog on an airplane can be safe, but many preparations must be done and precautions made. Depending on the breed, age, and health of your dog, it may not be the best idea to fly with them even for short distances. It is important to consult with your veterinarian before making a decision about flying with your pet.
---
Featured Image Credit: Svitlana Hulko, Shutterstock