Just Right Dog Food Review 2023: Recalls, Pros & Cons

Review Summary
Our Final Verdict
We give Just Right Dog Food a rating of 4.5 out of 5 stars.
In the past decade, home delivery meal companies, such as Blue Apron, have revolutionized the grocery shopping, meal planning, and cooking space for people at home. The revolution has now extended to pet food, allowing health-conscious dog owners to order personalized, custom blends delivered right to their door. Just Right Pet Food is a kibble-based brand owned by Purina and is a leader in creating reasonably priced personalized pet food subscriptions for direct delivery at home.
Purina has been a standard-bearer for quality pet food over the past ninety years. In recent years, they have developed more specialized, health-conscious options within their brand family to keep pets happy and healthy. Just Right Pet Food is a natural outcome of this forward-thinking momentum toward tailored pet care but takes it a step further. After a brief but thorough quiz on their website, they customize a unique kibble blend, including recommended portion size, made to meet the needs of your furry companion.
This article will examine some of the benefits of customized pet food. Just Right offers a good solution if you have a dog with special dietary needs, are concerned about what to feed them as they age or gain weight or are simply interested in pet health. We will investigate Just Right and evaluate the brand's pros and cons.
Click to skip ahead:

At a Glance: The Best Just Right Dog Food Recipe
Rating
Image
Product
Details

Just Right Dog Food Recipe

Personalized
Precise portion sizes
Focuses on your pet's unique health goals
Click to Save 50%!

+ Free Shipping!
Just Right Dog Food Reviewed
Who Makes It and Where Is It Made?
Just Right is made by Purina and is custom blended and shipped from their facilities in Clinton, Iowa. Purina has a long track record of making quality pet food and pet care products and is a go-to option for many dog owners. As we will explain more in detail, Just Right focuses on using high-quality ingredients with a high nutritional density.
Which Type of Dog Is It Best Suited For?
Just Right works well for a majority of dogs, specifically because it is blended by taking into account so many factors impacting a dog's health and behavior profile. The food may be of particular interest to people who struggle with food sensitivities in their pets and have difficulties finding foods without these ingredients. It also appeals to people whose dogs have specific concerns, like hip pain, arthritis, or a dry skin condition that has developed over time. Weight management for overweight or underweight dogs is another common reason pet owners may seek tailored solutions.
Which Type of Dog Might Do Better with a Different Brand?
Your dog might not be a good candidate for this brand if it does not eat kibble. Older dogs with sensitive digestion, dental issues, or dogs needing extra hydration may prefer a wet-food diet. Dry food is generally the best option because it is easy to store, tends to last longer, and can be left out for your dog to eat at his convenience. Nonetheless, it is not always a viable option for every pet, and you can observe what works best for your dog or discuss your options with your vet.
If your dog prefers wet food and their health needs run to the extreme, customized fresh food blends are another good option. Take, for example, the highly rated custom-blend, The Farmer's Dog, which provides freshly prepared pet meals shipped to your home every two weeks. Comparing the kibble to the wet food option can be helpful when deciding what fits you and your pet best.
Discussion of the Primary Ingredients (Good and Bad)
The main promise of Just Right is that the primary ingredient is real meat. They have a range of meat options, from salmon to chicken, lamb, and beef. They also supplement the main protein with plant-based proteins. As a supplement to the overall nutritional profile, animal by-products, such as nutrient-rich organ meats, are included to enhance vitamins and minerals for your pet.
They offer a range of carbohydrate options in the food and let you tailor it to your dog's needs, such as a wheat allergy, etc. Barley, oatmeal, beet pulp, or lentils are amongst the many healthy options available to personalized into your blend.
Oils, vitamins, minerals, and other supplements are also included in the mix to ensure all aspects of your dog's health and body type are well balanced.
When designing your personal blend, they offer a variety of color and texture options to bring more interest and diversity to your dog's food bowl. Carrots, peas, or meaty pieces create a varied palate inside of the blended kibble. This is especially tempting for picky eaters and dogs who have consistently rejected other food brands in the past.
How Just Right Works
With Just Right, you can customize your dog's food and ask any nutrition or diet questions you have about the food plans they offer. The food is only available from their website and cannot be found on Amazon, Chewy, or in any brick-and-mortar store. It is also not possible to order a one-off bag of the food; instead, owners need to sign up for a recurring monthly subscription.
They ask a range of questions about your pet divided into four categories. The first questions cover the basic aspects of their breed, age, size, and allergies. The most important question they ask first is about your pet's specific health goals, such as skin & coat concerns, joint & mobility issues, digestive health, ingredient sensitivities, and immune support needs.
The second category, health, asks about activity levels, skin conditions, and eating habits (how picky vs. insatiably hungry they are at mealtimes). The category of diet gives you recommendations of proteins based on your previous answers and then allows you to choose what type of meat from these options you want to center the blend around. It also lets you choose veggies and other ingredients to add.
The last section, personalization, is the most fun. Here you get to customize your dog food bags with a picture of your pet and have their name emblazoned across the front. Your subscription also comes with a custom scoop that allows you to measure exact portion sizes based on their recommendation. This means you don't risk overfeeding or underfeeding and can time exactly how many days each bag of food will last.
What We Love About Just Right
It can be a challenge to understand your pet's evolving nutritional needs, especially as they age, their behavior changes or mysterious ailments crop up. It is a lot of work to interpret various forms of advice with your pet's changing needs and then go to the store and stare at an endless aisle of pet foods all touting various health benefits and other aspects of pet nutrition. Honestly, at some point, it can all blend together and leave you feeling dubious about the efficacy and rightness of any option.
Just Right takes so much guesswork out of this process and anticipates your preferences and the choices you wish you could make to craft the perfect dog food recipe. Since they account for specific parameters like your dog's breed, any potential health issues for that breed are also taken into account. Using this diet option gives owners a greater sense of security regarding their dog's long-term health, especially since the blend can be updated as the dog ages.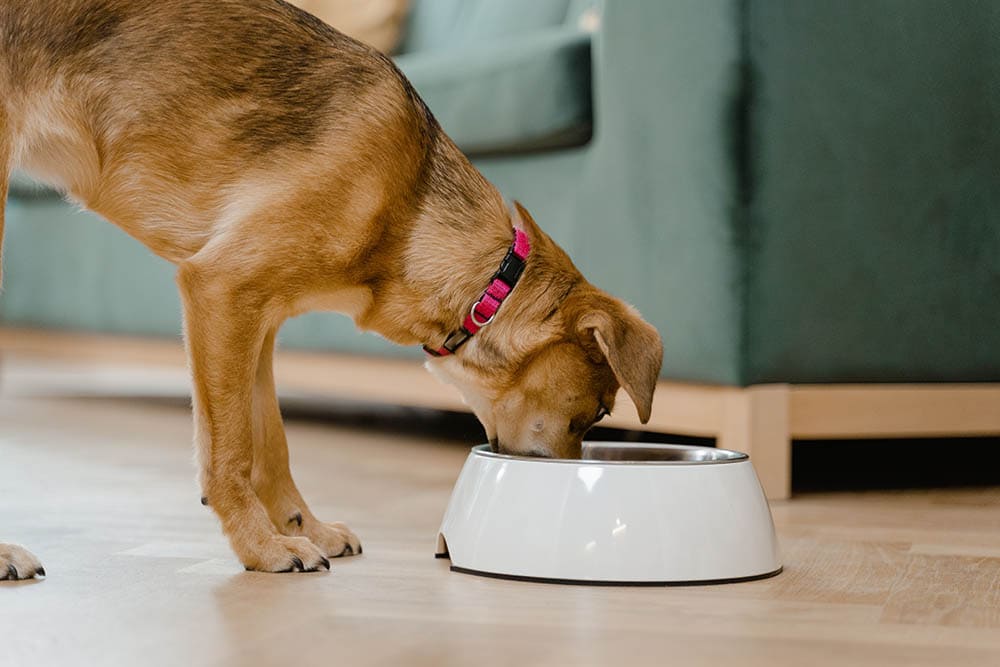 Cost
Another positive for Just Right is its cost. As a custom option, it is not a budget offering, and its cost is more on par with off-the-shelf premium options. Nonetheless, compared to the other custom foods being offered on the market, which are often quite expensive, Just Right is a more affordable option.
The amount you will spend per month mostly depends on your dog's size, as well as any special nutritional concerns. Toy dogs will run about $25 per month, medium-sized breeds around $40–50 per month, and extra large-sized dogs, who eat considerably more, will consume approximately $80 per month worth of food.
The Just Right site is upfront transparent about cost, and they offer clarity on both the monthly cost of the food, as well as the daily cost of feeding your pet. This information gives a quick and precise sense of whether this option will work for your home budget or not.
Shipping is included in the price of the food, which saves on gas and time as it is delivered directly at home. For first-time customers, they offer a 50% discount on the first month's order so that you can try it out and see how you feel.

A Quick Look at Just Right Dog Food
Personalized
Precise portion sizes
Focuses on your pet's unique health goals
Delivered directly to your door
Subscription-based so you never have to reorder
More affordably priced for a custom option
Not for dogs who need wet food diets
Not organic
Recall History
As of the time this article is written, the US FDA has no listed recalls involving Just Right Pet Food. The brand lists its reviews via TrustPilot on its site, and no other controversies involving the food have been flagged on the internet. They offer transparency through a FAQ section on their site and offer their customers a 100% satisfaction guarantee.

What Other Users Are Saying
Just Right is a direct order subscription service and all points of purchase run through their freestanding website. To ensure fair and transparent reviews, they offer their customers a chance to review the product on their site through TrustPilot. Their overall rating on TrustPilot was 4.5 stars out of 5.
The majority of reviews were five stars, and commentary by dog owners focuses on how much their dogs enjoyed the food and how some of their health-related issues appeared to improve after switching them to a Just Right diet.
On the other end of the scale, we investigated the relatively few one-star reviews to see what types of issues arose for those dog owners. The majority of these focused on how the food didn't quite 'click' with their pet's tastes and so they moved on to other brand options. The surprising thing was that in the one-star category, many of these owners still praised the customer service and responsiveness of the brand in offering quick help and refunds.

Conclusion
In conclusion, Just Right Dog food is a great option for ordering personalized food for your dog. It can help owners to manage their dog's health conditions, promote a thriving and happy pup, and is a step in the right direction for better canine health.
It is one of the most affordable custom pet food options on the market, and they help you to calculate the daily costs of the food on their site. The food comes with a scoop for pre-measured portion sizes. With a subscription service you don't have to think about purchasing food every month; the proper amount arrives on time directly at your door.
Custom pet food is a great way to ensure that your pet gets the best possible nutrition. If you are ready to explore personalized pet food, Just Right is a great place to start.
See Also: