Kibbles and Bits Dog Food Review 2023: Recalls, Pros & Cons
Review Summary
Our Final Verdict
We give Kibbles and Bits Dog Food a rating of 4.0 out of 5 stars.
Kibbles and Bits is a well-known, affordable, and widely available dog food brand with a taste that most pups can't seem to get enough of. While it contains ingredients that some owners would call questionable, the recipes are nutritionally-balanced and quite popular. Kibbles and Bits recipes are known for their unique combination of textures: crunchy kibble and soft, meaty bits in the same bag. They produce only dry, adult dog foods. This brand appeals to those looking for a cost-effective diet for healthy dogs.
Click to skip ahead:

At a Glance: The Best Kibbles and Bits Dog Food Recipes
Rating
Image
Product
Details

Our Favorite

Kibbles and Bits Original Savory Beef and Chicken Flavor

Made in the USA
Contains antioxidants
Dual texture and dual flavor
Check Price

Kibbles and Bits Small Breed Mini Bits Savory Beef and Chicken

Extra-small kibble for small mouths
Same big flavor as the original recipe
Check Price

Kibbles and Bits Bistro Oven Roasted Beef Recipe

Beef, apple, and vegetable flavor
Contains 23 vitamins and minerals
Check Price

Kibbles and Bits Meaty Middles Prime Rib Flavor

Easy to eat for dogs with bad teeth
Hard and soft texture in the same kibble
Check Price
Kibbles and Bits Dog Food Reviewed
Who makes Kibbles and Bits and where is it produced?
Kibbles and Bits was originally created in 1981 by a company called Big Heart Pet Brands. In 2015, the J.M. Smucker company purchased the brand, which is best known for human products like Smucker's jam and JIF peanut butter. The company also owns other well-known pet brands like Milk-bone, Meow Mix, and Nature's Recipe. Kibbles and Bits is made in the United States, primarily at a plant in Kansas, with ingredients sourced from around the world.
Which type of dog is Kibbles and Bits best suited for?
Kibble and Bits is best suited for healthy adult dogs with no food sensitivities. It is especially ideal for picky eaters and pups with dental disease or missing teeth because of the soft textures.
Which type of dog might do better with a different brand?
Kibbles and Bits does not manufacture puppy food, and dogs under a year old should be fed a different brand. Purina Puppy Chow is a similar reasonably-priced, widely available option to consider.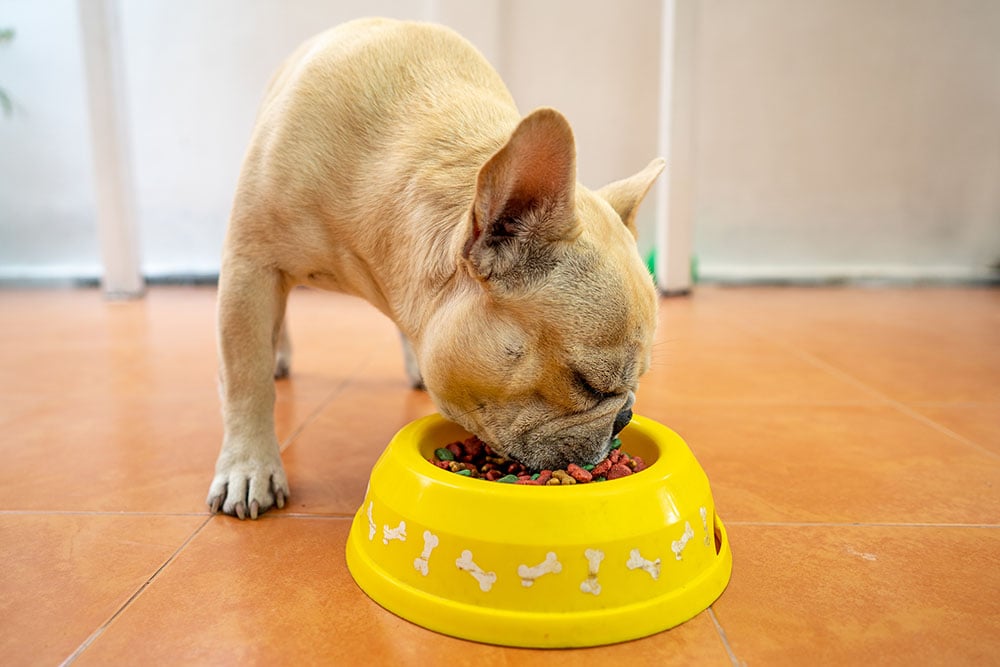 Discussion of the Primary Ingredients (Good and Bad)
Corn: The first ingredient in most Kibble and Bits recipes is corn. While some dismiss corn as simply a "filler" ingredient, it actually contains several nutrients beneficial to dogs. Corn provides an easy-to-digest energy source for dogs, as well as protein, amino acids, fatty acids, and antioxidants.
Soybean Meal: This ingredient serves as a protein source and also contains amino acids, fiber, fatty acids, B vitamins, and minerals. Soy is sometimes a trigger for food allergies in dogs.
Beef and Bone Meal: Meat meals, in this case beef, are products made from ground bone and flesh, usually from parts discarded after the animal is processed for human food. It cannot be made of hooves, horns, skin, manure, or stomach contents. Because meat meal is concentrated, it contains more protein in smaller quantities than whole meat.
Whole Wheat: Wheat is a grain often used in dry pet food because it helps hold the form. It also serves as an inexpensive protein source. Wheat is another possible allergen in dog food, however.
Animal Fat: Generalized animal fat is used to make food taste better and as a concentrated source of energy and calories. In this case, the animal fat used by Kibbles and Bits contains an artificial preservative, BHA.
Corn Syrup: Corn syrup is a sweetener often found in human food. It serves no nutritional purpose but might be part of the reason dogs seem to love eating Kibbles and Bits.
Animal Digest: This product is the result of degrading animal tissue (in this case, chicken) chemically or enzymatically. It is a flavor source in Kibbles and Bits, but like all animal products, it also contains protein and amino acids.
Peas, Carrots, Green Beans: These vegetables are a source of many nutrients, including protein and vitamins. Peas, along with other legumes, are under investigation by the FDA regarding whether they play a role in the development of a certain heart condition. Kibbles and Bits doesn't contain a large number of legumes.
Artificial Colors: Kibbles and Bits contains several artificial colors, which serve no nutritional purpose but are considered safe by AAFCO (pet food safety regulators) as long as only FDA-certified colors are used.
Can Dogs Process Protein From Plant Sources?
As you probably noticed, Kibbles and Bits contains many plant protein sources instead of "real meat" like many more expensive brands advertise as their main ingredient. Dogs are commonly thought of as carnivores, like their wolf ancestors, that should only be eating meat. However, dogs are more properly classified as omnivores because they have adapted to eating more plant foods since they were domesticated. Plant protein tends to be cheaper than meat, and lower-cost brands like Kibbles and Bits rely more heavily on it. Unlike cats, which are true carnivores, dogs can process plant protein effectively.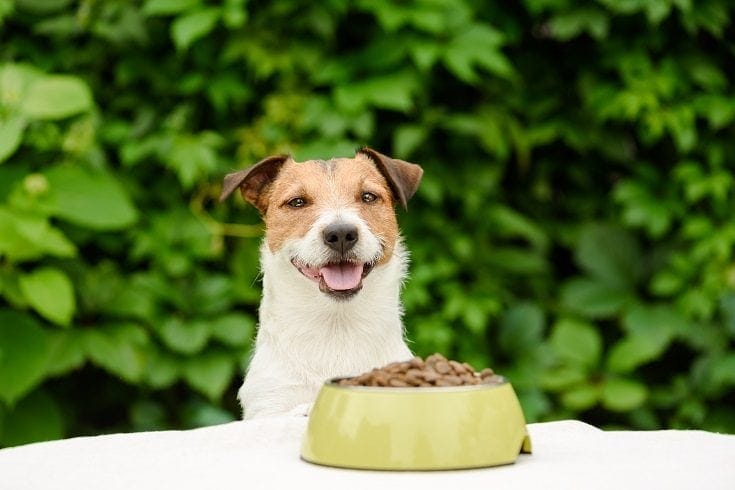 Isn't Real Meat Better Than Meat Meal?
Real meat sounds tastier and healthier to humans, who are the ones actually buying the food, which is why so many more expensive brands feature it prominently in their advertising. However, meat meal still contains plenty of protein, as we discussed. Production of meat meal for pet food reduces waste in the meat industry as well, since it uses parts of the animal that humans won't eat. Dogs aren't nearly as picky, given their tendency to snack on roadkill and litterbox material.
Okay, but What About The Artificial Colors?
Although technically safe, we don't love artificial colors because they don't serve much of a purpose. Also, there's controversy over the safety of some of the dyes consumed by humans, but the impact on dogs has not been studied extensively.

A Quick Look at Kibbles and Bits Dog Food
Flavorful
Cost-effective and widely available
Mix of textures is ideal for older dogs or those with bad teeth
Enticing especially to picky dogs
Made in the USA
Contains artificial colors
Not suitable for dogs with food sensitivities
Only available in adult formulas, no puppy or senior
Recall History
In 2018, Kibbles and Bits, along with other Smucker pet food products, were recalled after testing showed the presence of pentobarbital: the drug used to euthanize animals. Although the levels were considered too low to harm pets, the drug is not allowed in pet food in any amount, hence the recall.

Reviews of the 3 Best Kibbles and Bits Dog Food Recipes
Let's take a closer look at three of the most popular Kibbles and Bits dog food recipes.
1.

Kibbles and Bits Original Savory Beef and Chicken Flavor
Original Savory Beef and Chicken Flavor contains Kibbles and Bits' signature mix of hard and soft textures and two meaty flavors. It's nutritionally balanced and contains antioxidants. It's available in three bag sizes, including a value size. The recipe contains artificial colors and preservatives and features a relatively low protein content of only 19%, although it is still above the recommended minimum of 18%.
Appealing mix of textures and flavors
Three sizes available, including a large value size.
Relatively low protein content
Contains artificial colors and preservatives
---
2.

Kibbles and Bits Small Breed Mini Bits Savory Beef and Chicken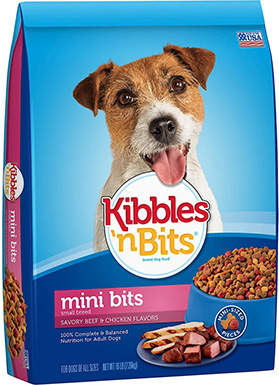 This recipe is nearly identical to the original, except the pieces are extra small, designed to be easier for small dogs to eat. Like the original recipe, this one contains two flavors and the signature dual textures of this brand. The small bites and big taste of this diet make it ideal for picky, pint-size pups or big dogs missing more than a few teeth. This recipe has a better protein content than the original at 21%, but still contains artificial colors and preservatives.
Small kibble designed to be easier on little mouths
Appealing textures and flavors
Better protein content
Contains artificial colors and preservatives
---
3.

Kibbles and Bits Meaty Middles Prime Rib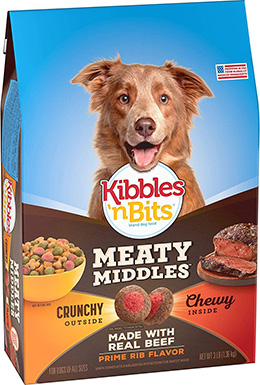 As a newer addition to the Kibbles and Bits food family, this recipe adds a new twist to the signature hard and soft textures. Meaty Middles combines the dry kibble and soft bit into one piece: a crunchy bite with a chewy center. Unlike other recipes, this one contains both beef and beef stock, in addition to the usual beef meal, bumping up the flavor profile. Unfortunately, it still contains artificial colors and preservatives, and the meat doesn't improve the protein content, which is 19%.
Extra flavorful due to real beef and beef stock ingredients
Appealing dual texture
Good for dogs with dental disease
Contains artificial colors and preservatives
Lower protein content

What Other Users Are Saying
Chewy – "Our bunch range from Pit to Great Dane to Greyhound mix, and they all love it"
"Very well-priced, and I love their large bags"
"Dogs love it!"
"Look for other cheap options that are healthier for your pet!"
Kibblesnbits.com "My dog is 13 years old. He loves Kibbles and Bits!"
"Dogs pull the green bits out and don't eat."
"My dogs can't get enough of this flavor."
"Bought another food to mix in because of the low protein content."
Amazon – Amazon reviews can be a good source of information for pet owners. You can read these by clicking here.

Conclusion
Kibbles and Bits has been around for a long time and is popular among many dog owners. It is a low-cost diet with cheaper ingredients to keep prices down. Most of the ingredients still provide nutrition and are safe, although some, like corn syrup and artificial colors, aren't very useful. The brand makes only adult dog food: nothing for puppies, overweight dogs, or dogs with allergies. Most recipes contain a lower (although still adequate) amount of protein. Healthy adult dogs, especially those with picky appetites, are best suited to eating this brand. It's also an adequate choice for pups that need softer textured food. Dog owners who value the taste and enjoyment of food for their pups, as well as their budget, more than "premium" ingredients will find the most to like about the Kibbles and Bits brand.
See Also:
---