Kirkland Signature Puppy Formula Dog Food Review 2023: Recalls, Pros & Cons
Our Final Verdict
We give Kirkland Signature Puppy Formula Dog Food a rating of 4.5 out of 5 stars.
When it comes to providing optimal nutrition for our furry little companions, many pet owners strive to find the perfect puppy food that supports their pup's growth and development and caters to their taste preferences. Kirkland Signature Super Premium Puppy Food is a contender in the competitive puppy market. With a 4.5-star rating out of 5, this product has a lot to explore regarding its ingredients, sourcing, suitability for various breeds, and nutritional content. So, let's dive in to see whether this puppy food lives up to the hype and can be the answer to your pup's dietary needs.

Kirkland Signature Puppy Formula Dog Food – A Quick Look
This food has high quality ingredients
The food was well packaged and was appetizing
It has not caused digestive upset
This food is frequently out of stock
Some puppies may have allergies that cause them to not tolerate this food

Kirkland Signature Puppy Formula Dog Food Reviewed
About Kirkland Signature Puppy Formula Dog Food Products
Who Makes Kirkland Signature Super Premium Puppy Food and Where is it Produced?
Kirkland Signature Super Premium Puppy Food is produced and manufactured by Diamond Pet Foods, a reputable, family-owned company based in the United States. This puppy food is made in the USA, ensuring adherence to strict quality and safety standards for pet foods.
Which Types of Dogs is Kirkland Signature Puppy Food Best Suited For?
This food is specifically tailored for puppies, making it ideal for young canines during their vital growth and development phase. Although it does not cater to any specific breed, Kirkland Signature Super Premium Puppy Food offers a balanced formula that supports various puppy breeds and sizes, ensuring essential nutrients are provided to all growing pups.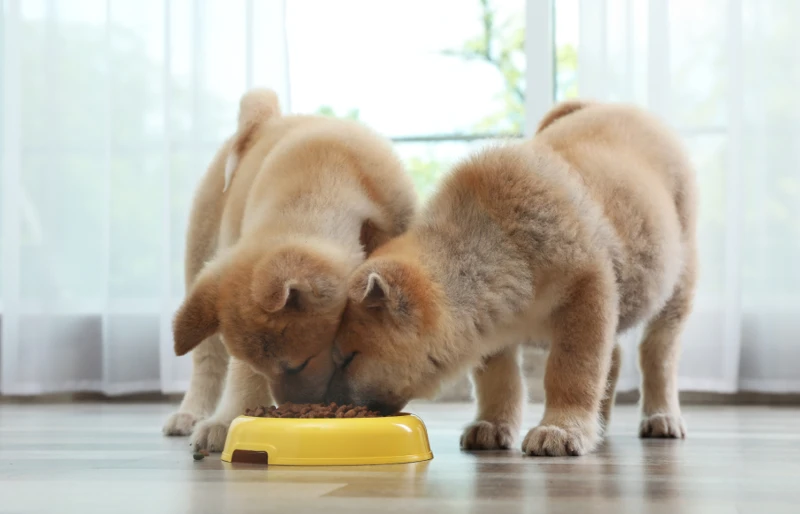 Which Types of Dogs Might Do Better with a Different Brand?
While Kirkland Signature Super Premium Puppy Formula Dog Food is an excellent choice for almost any four-legged canine friend, there may be occasions when puppies with special dietary requirements may benefit from another type of food. For instance, certain dogs need grain-free options. Suppose this is the direction that you and your veterinarian find is in the best interest of your puppy. In that case, we can also strongly recommend Blue Buffalo Freedom Grain Free Natural Puppy Dry Dog Food.
Recall History
While it is common knowledge that there has been numerous pet food recalls over the years due to occurrences of bacteria such as salmonella or contamination of ingredients that could cause your furry pal harm, we are happy to let you know that there has never been a recall needed for Kirkland Signature Super Premium Puppy Formula Dog Food.

The Scoop on Ingredients
It's no secret that the quality of ingredients in pet food plays a significant role in determining the product's overall health benefits. Let's take an in-depth look at the primary ingredients found in Kirkland Signature Super Premium Puppy Food. We will list them in order of prominence by weight.
The Good:
Chicken – As the first ingredient, chicken is an excellent source of protein that promotes healthy muscle development in puppies. It is important to note that raw chicken is primarily made up of water; therefore, when it is cooked, the moisture content is significantly reduced and can affect the ratio of this ingredient in the final product.
Whole Grain Brown Rice – A healthy and wholesome source of carbohydrates, whole-grain brown rice offers a great energy source. It also supports digestive health by giving your puppy a proper dose of fiber. Brown rice also contains needed vitamins and minerals such as calcium, riboflavin, and iron.
Cracked Pearled Barley – This ingredient is another good source of fiber and contributes to energy.
Chicken Fat – As mentioned above, raw chicken is cooked when prepared for this puppy food recipe. Part of this cooking process renders the fat from the chicken meat. This rendered fat contains the omega-6 fatty acid, linoleic acid. This omega-6 acid is essential in promoting strong bones and muscles as well as healthy skin and fur.
Dried Beet Pulp – Another critical ingredient high in fiber is dried beet pulp. It acts as a prebiotic, supporting healthy gut bacteria for a happy dog.
Potato – If you are looking for a great source of energy that is easy for your four-legged pal to digest, look no further than potatoes. Now, like any ingredient, there is a chance that your puppy may not tolerate potatoes, but this is rare. In most cases, potatoes are a reliable source of vitamins A, B6, and C, as well as potassium, magnesium, calcium, and iron. Additionally, potatoes are gluten-free!
Fish Meal – This is another concentrated protein source of various fish parts high in healthy omega-3 fatty acids.
Flaxseed – This ingredient may be far down the list. Still, it is an integral part of the Kirkland Signature Supreme Puppy Formula recipe. Flaxseed is proven to lower blood pressure, improve kidney function, and aid in the prevention of joint pain and arthritis. Additionally, it is another beneficial ingredient for skin and fur health.
Chelated Minerals – This additive is a sign of a high-quality dog food product. Chelated minerals are attached to proteins. They make it easier for your dog to absorb all the trace minerals in their diet needed for optimum health.
Controversial Ingredients:
Chicken Meal – Chicken meal is another quality source of protein, providing essential amino acids and added flavor. In fact, chicken meal has nearly 300% the amount of protein compared to whole chicken. It is important to note that chicken meal consists of some not-so-appetizing parts of the chicken, including blood, hide trimmings, hair, stomach contents, and rumen. While this would not be considered human-grade food, this component is common in many dog food products.
Egg Product – Although a good protein source, some argue that whole eggs would be a better option for pet food. However, the egg product used in Kirkland Signature's formula is pasteurized and carefully processed to remove any potentially harmful pathogens.
Brewer's Yeast – This ingredient has two sides. On the one hand, it can help promote a healthy immune system and good digestion for your dog, including keeping runny stools at bay. It is also full of antioxidants for a healthy coat and great skin. On the other hand, some pups are quite allergic to brewer's yeast and should avoid it at all costs.
Peas – These lentils are considered a good source of carbohydrates and fiber. Yet, peas can impact your dog's kidney function. This is because the purines in peas produce uric acid. Like many substances, this acid is filtered through the kidneys and can cause kidney stones if too much is ingested. When it comes to peas, less is more.
Our Final Assessment
While this food may not appear as fancy as some puppy formulas on the shelves of your favorite pet food retailer, where you can see dehydrated vegetables and varied styles of kibble, we can assure you that this is a quality product. Overall, the primary ingredients in Kirkland Signature Super Premium Puppy Food present an impressive foundation of high-quality proteins, grains, and fiber sources. The Kirkland formula effectively balances these components to cater to growing puppies' nutritional requirements.

Kirkland Signature Puppy Formula Dog Food Review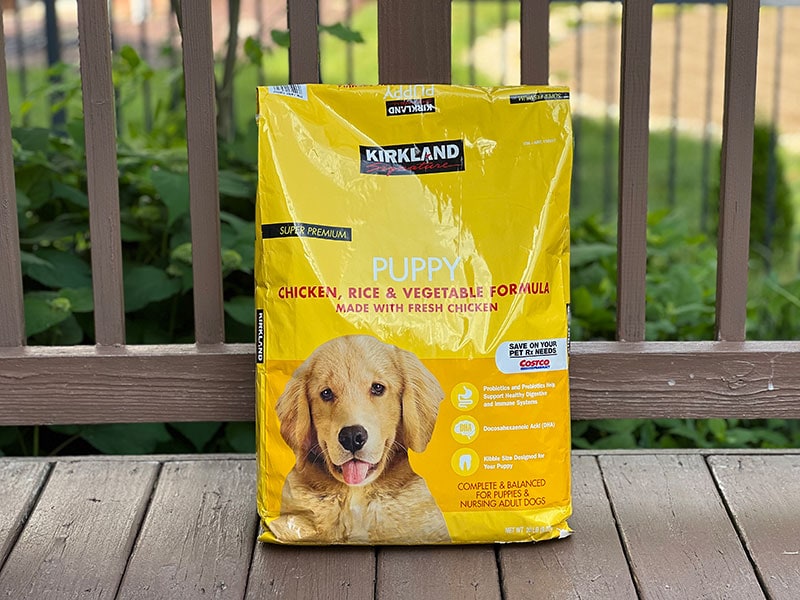 As pup parents, we want the best for our beloved furry family members. That includes providing the proper nourishment for growth and development, especially during the first year of their lives when their little bodies are maturing at an unprecedented pace. That's why we put Kirkland Signature Super Premium Puppy Formula Dog Food to the test. We are thrilled to report that it's one of the best-performing choices on the market. Here's what we found.
The product packaging arrived pristine and exceeded expectations with its eye-catching design. The vibrant colors and captivating visuals ideally introduced this premium dog food. Additionally, all essential ingredients and serving portion information were clearly located and easily comprehended.
We believe that upon opening a bag of Kirkland Signature Super Premium Puppy Formula, you will find it evident that this dog food is made from high-quality components. It smells fresh and flavorful, and puppies go crazy waiting to dive in for a meal. Additionally, the texture and size of the kibble seemed just right for a growing pup, making it easy for them to chew and digest.
We have noticed that this puppy food tends to go out of stock quite frequently, which can be inconvenient for those looking to establish a consistent feeding routine for their little pal. Hence, we recommend keeping an eye on the stock and purchasing in bulk.
Our overall experience with the Kirkland Signature Super Premium Puppy Formula Dog Food has been very positive. We rate the product 4.5 out of 5 stars and highly recommend it to fellow puppy owners. With its high-quality ingredients, attractive packaging, and competitive pricing, this dog food is an excellent option for those looking to provide optimal nutrition for their growing puppies.
Ingredients Analysis
| | |
| --- | --- |
| Crude Protein: | 28% |
| Crude Fat: | 17% |
| Crude Fiber: | 3% |
| Carbohydrates: | 42% |
| Moisture: | 10% |
| Vitamin E: | 250 IU/kg |
Calories per cup Breakdown
Please breakdown how many calories are in the food so the person formatting post can create a graphic like the one below
| | |
| --- | --- |
| ½ cup: | 195  calories |
| 1 cup: | 390 calories |
| 2 cups: | 780 calories |

Our Experience With Kirkland Signature Puppy Food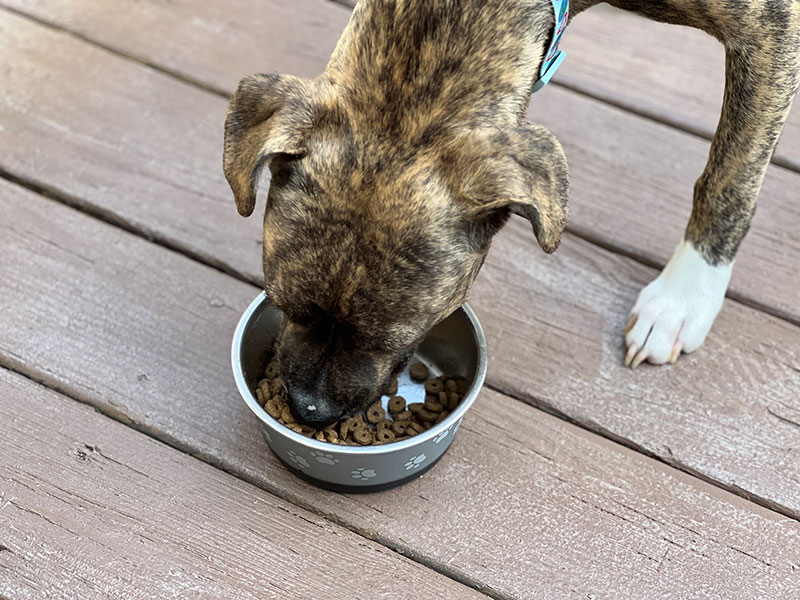 When our shipment of puppy food arrived, we were happy to see the food bag was in perfect condition. The packaging was bright and eye-catching, and we were able to quickly locate the ingredients, nutrient breakdown, and feeding guidelines. When Shannon cut into the bag, the kibble was made up of nicely sized Os that smelled fresh and were crunchy. She also noticed that there were very few pieces that were crumbled and that almost all of the food was completely intact after shipping. The bag was also full and was not overly full of air.
Now, we're only human and we may think this puppy food is the most outstanding choice on earth for our fur child. However, that doesn't matter if our sweet girl doesn't like it. Therefore, we knew the true test of the Kirkland Signature Super Premium Puppy Formula would come when we brought our 6-month-old boxer mix puppy over to check it out. As soon as the bag was opened, Kala was sticking her snout in the bag with her tail at full wag. We were even venturing into the territory of the full-on butt wiggle. This was a good sign.
We got her food bowl and filled it with half a serving since we were switching her to this from another puppy food. We planned on working her up to a whole serving over a few days to ease her transition. While Kala can be discriminating about her food, she quickly sniffed the new kibble and dove right in, happily chomping down every last morsel and licking the bowl. When her bowl was empty, she went back over and tried to stick her head back in the bag for more, but much to her chagrin, we had to cut her off.
Over the next five days, we transitioned our puppy to the Kirkland Signature Super Premium Puppy Formula entirely and couldn't be happier. Kala has had no problems with the switch and seems to love her new food. She anxiously awaits me to put her dish down with happy cries, paw taps, and nose nudges. In the past, certain foods have caused her tummy upset and even diarrhea. We are delighted that this was not the case with the Kirkland puppy food. She has not had excessive gas, vomiting, or loose stools. Her coat looks shiny, and she has great energy. We may have found my new go-to puppy food.

Conclusion
We hope you have found this deep dive review into Kirkland Signature Super Premium Puppy Formula dog food helpful as you choose the best nutrition source for your sweet pup. We are confident in recommending this product to you for any breed of puppy. We are quite impressed with the quality ingredients and nutritional soundness at a great price point. All in all, we can say that this product gets our seal of approval, and we feel it will meet and exceed your expectations as well.
See also: