Kirkland vs Blue Buffalo Dog Food: 2023 Comparison

One of the primary questions many pet owners ask themselves when shopping for their animals is, "Are the premium foods really worth it?"
After all, some of the high-end foods can easily cost twice as much as the kibble you get from big box stores. Many owners are willing to pay premium prices if it means that their dogs will be healthier and happier, but they wouldn't want to spend that additional money if it wasn't worth it.
Today, we're going to try to answer that question by comparing Kirkland Dog Food, a budget-friendly kibble, with Blue Buffalo, which is at the higher end of the price spectrum.
Did the premium food prove that it's worth the price, or did the inexpensive upstart pull off the upset? Read on to find out.

A Sneak Peek at the Winner: Kirkland Dog Food
We should get something out of the way upfront: Kirkland is not really better than Blue Buffalo. However, it's such high-quality food at such a low price that we think it's a better deal than Blue Buffalo, and we'd recommend purchasing it over the premium brand.
Rating
Image
Product
Details

Best Overall

Kirkland Turkey and Sweet Potato

Excellent budget food
No fillers or animal by-products
Traditional flavors and ingredients
Check Price

Runner-Up

Blue Buffalo Chicken and Brown Rice

No corn, wheat, or soy
Enriched with vitamins and antioxidants
Wider array of ingredients
Check Price
The winner of our comparison:
Also, there have been a few safety issues with Blue Buffalo that concern us.
These are our favorite Kirkland recipes:
This was a very close competition, though, and Blue Buffalo certainly put up a fight. In fact, it even won a few rounds — but more on that in a bit.
About Kirkland Dog Food
If you're a Costco member, then you're likely already familiar with the Kirkland brand. This is the chain's in-store brand, and they offer generic, low-cost versions of many of the products inside the store — dog food included.
Kirkland is Made by Diamond Pet Foods, Inc.
Diamond Pet Foods is a manufacturer that has been around for quite a long time, so this is hardly a brand-new food. However, for most of Kirkland's history they were limited to only being distributed within a 100-mile radius of the company's headquarters in Missouri.
That all changed when they partnered with Costco, and that deal has opened Kirkland (and, by extension, Diamond Pet Foods) up to virtually the entire nation.
This is a Surprisingly Good Food
You might expect that Costco's store brand would cut corners at every opportunity to keep expenses down, but that doesn't seem to be the case with this food.
Real meat is the first ingredient in many of their foods, and you won't find a ton of cheap fillers or animal by-products. They even have several grain-free options.
We don't know how high-quality the food is, given that they do manage to be cheaper than many other kibbles, but it's definitely not trash.
Kirkland Sticks to Largely Traditional Foods
Don't expect to find exotic meats or strange veggies in Kirkland's bags. This brand sticks to the basics, as most of their recipes use chicken, beef, turkey, or similarly common meats, as well as traditional vegetables like peas and sweet potatoes.
If your dog has a taste for the new and unusual, this may not be the best food for him, but most pups will do just fine with the flavors they offer.
The Food is Not Always Easy to Find
Unless you're a Costco member, you may have trouble tracking this food down. It's available on many online merchants' websites, but the food sold there is often being offered by third parties and may not be as cost-effective as the stuff you buy in the store.
Excellent budget food
Surprisingly high-quality ingredients
Doesn't use fillers or animal by-products
Limited number of recipes
Sticks to traditional ingredients
Can be hard to find

About Blue Buffalo
Although it may be more well-known than Kirkland (for non-Costco shoppers, anyway), Blue Buffalo is the new kid on the block here, having been founded in 2003.
The Brand is Known for Its LifeSource Bits
If you open up a bag of Blue Buffalo, you'll see small, dark chunks mixed in with the kibble. They look like different (possibly overcooked) pieces of kibble, so you may do a double-take.
Don't worry, though — they're supposed to be there. These are their proprietary LifeSource Bits, which are chunks of vitamins and antioxidants they mix in with the food to up the nutritional value.
All Their Recipes are Corn-, Wheat-, and Soy-Free
You won't find any cheap fillers in here. Corn, wheat, and soy are used by many companies to bulk up the food cheaply, but the problem is that a lot of dogs have trouble digesting them.
Blue Buffalo doesn't use any of those fillers, relying on higher-quality carb sources that are generally easier for dogs to stomach.
That doesn't mean that all their ingredients are controversy-free, though (more on that later).
They Use a Few More Ingredients Than Kirkland
Blue Buffalo has a wider array of meat choices than does Kirkland, including less-traditional options like trout, rabbit, and bison.
However, you won't find some of the exotic flavors that other specialty brands offer (kangaroo, anyone?), so most of the recipes are still basic.
Blue Buffalo is Pricier Than Kirkland
Many of the company's products are less expensive than other high-end foods, but they're still going to cost more than basic kibbles like Kirkland.
The food represents a good starting point for owners trying to transition feeding their dog more premium food, and it's at the shallow end of the pricey-kibble pool, but it's still going to be somewhat expensive.
Doesn't use corn, wheat, or soy
Has a wider array of ingredients than Kirkland
Adds chunks of vitamins and antioxidants to kibble
Pricier than Kirkland
Less meat options than many other specialty brands
Still uses some controversial ingredients

3 Most Popular Kirkland Dog Food Recipes
1.

Kirkland Signature Nature's Domain Turkey Meal and Sweet Potato
Part of the reason why this food is so inexpensive is because it uses turkey meal as the first ingredient instead of just plain turkey.
This isn't necessarily bad — turkey meal has plenty of important nutrients that you won't find in turkey breast. However, it also shows that they're trying to cut costs wherever possible, which is understandable in a budget food.
It also limits the overall amount of protein you'll find in the bag (at 24%, this food is on the lower end of average).
After the turkey meal, there's a long run of starches and veggies before you get to any more animal-based ingredients. Many of these are fine — we like sweet potatoes and flaxseed — while others are somewhat useless (regular potatoes and tomato pomace, for example).
The only other animal-based product we can find is salmon oil, which is fantastic for dogs, as it's chock-full of omega fatty acids. It doesn't really add much in the way of protein, though.
Turkey meal is full of important nutrients
Has salmon oil for omega fatty acids
Sweet potatoes and flaxseed are great for dogs
Limited amount of protein
Includes mediocre ingredients like regular potatoes
Only one meat inside
---
2.

Kirkland Signature Healthy Weight Formula Chicken & Vegetable
Aimed at pups who need to lose a few pounds, this formula has a bit more meat inside it than the one above.
The first ingredient is still a meal — chicken meal, in this case — but you'll also find lean chicken, chicken fat, fish meal, and egg product inside. This adds more protein without packing on a lot of extra calories. Indeed, this is a low-calorie food, with only about 275 calories per serving.
It's also packed with probiotics, so that should help your dog digest it well and absorb all the nutrients inside. There are even "superfoods" like kelp and cranberries in here, which you wouldn't expect at this price range.
It's not perfect, of course. The egg product may give your dog some tummy trouble, and there's still not as much protein as we'd like to see.
Overall, though, this is an extremely good food, given the price.
Limited amount of calories
Diverse array of meats inside
Includes superfoods like kelp and cranberries
Still low in protein
Uses egg product that many dogs have issues digesting
---
3.

Kirkland Nature's Domain Grain-Free All Life Stages Salmon Meal & Sweet Potato
This is probably the brand's highest-end food, as it's completely grain-free. This makes it an excellent choice for dogs with sensitive stomachs.
The protein levels are still low (24%) and there's not much fiber (3%), but it's packed with omega fatty acids, thanks to foods like salmon meal, ocean fish meal, and flaxseed. There are excellent foods like raspberries and blueberries in here too, as well as a wide range of probiotics.
If we could change anything,  we'd cut down the salt content a bit, and swap out some of the plant proteins for animal sources. That might drive up the price, though, which could defeat the purpose (not to mention demonstrate why nobody puts in charge of making dog food).
Absolutely grain-free
Great for sensitive stomachs
Lots of omega fatty acids
High in salt
Limited amount of protein
Uses lots of plant protein

3 Most Popular Blue Buffalo Dog Food Recipes
1.

Blue Buffalo Life Protection Formula Natural Adult
This is the brand's flagship formula, and one of its most basic. However, its claim to fame is due as much to what's not inside as to what is.
This food came along at a time when being corn-, wheat-, and grain-free was enough to set you apart, but nowadays many brands (including Kirkland) have grain-free options.
The level of protein is as low as in most Kirkland foods, although it does have a bit more fiber (5%). There's more meat in here, too, as chicken, chicken meal, and chicken fat are all among the primary ingredients.
You'll find quite a bit of plant protein in here too, though, and quite a bit of salt. Of course, you'll also see high-quality foods like kelp, blueberries, and cranberries, so that balances things out a bit.
All in all, Blue Buffalo's most basic food is probably slightly better than what you'll find from Kirkland, but we don't know if it's enough to justify the extra cost.
Real chicken is first ingredient
Early adopter of the grain-free philosophy
Includes foods like kelp, cranberries, and raspberries
Low in protein
Has quite a bit of salt
A bit pricey for what you get
---
2.

Blue Buffalo Freedom Grain Free Recipe Adult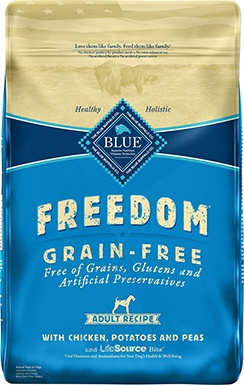 While all Blue Buffalo's foods are free of corn, wheat, and soy, this one takes things a step further by eliminating all gluten-containing grains.
This makes it ideal for dogs with allergies or sensitive dispositions, and there's plenty of omega fatty acids in here that should help with stomach and skin irritations.
There's still not much fiber inside, but at least it ups the fiber to compensate. Part of that comes from the starches it uses to replace the grains, which are mainly made from peas and tapioca.
The only questionable ingredient we see is white potatoes, which aren't bad for your dog necessarily, but they will give many pooches gas. It's up to you whether you're willing to tolerate that.
Contains absolutely no grains
Ideal for dogs with allergies
Lots of omega fatty acids
Low in protein
Potatoes may cause gas
---
3.

Blue Buffalo Wilderness High Protein Grain Free Natural Adult
We've talked quite a bit about the amount of protein in most of these foods, but this formula leaves us no room to complain.
It's 34% protein, and it reaches that number by using chicken, chicken meal, fish meal, chicken fat, dried egg product, and pea protein. We could do without the pea protein, and the egg product may cause some digestive issues, but they clearly left no stone unturned in the search for protein.
There's quite a bit of fiber in here, largely due to the inclusion of pea fiber, dried chicory root, and sweet potatoes.
We also like how much glucosamine is inside, as that can help your dog's joints stay healthy well into her senior years. That plus all the protein make this a good choice for overweight dogs, too.
Very high in protein
Good amount of fiber
Includes lots of glucosamine
Gets some of that protein from plant sources
Egg product may cause digestive issues

Recall History of Kirkland Dog Food and Blue Buffalo
Kirkland has had a couple of recalls in the past few years. The biggest was in 2007, when they were part of what was known as "The Great Melamine Recall."
Over 100 brands were affected by the recall, in which foods that were processed in a facility in China were tainted by melamine, a chemical found in plastics. Thousands of pets were killed as a result, but we don't know if any of those animals were harmed as a result of eating Kirkland specifically.
They also had a Salmonella scare in 2012, but there were no injuries reported.
Blue Buffalo has had quite a few more recalls to deal with. They were also a part of the Great Melamine Recall, but again, we don't know if any animals were affected by Blue Buffalo's products.
There was an issue with vitamin D levels that caused a recall in 2010, and they took back some chew bones in 2015 over Salmonella concerns.
2016 saw them recalling canned foods due to mold, while the next year they recalled other canned foods because they might have metal in them. They also recalled some other canned foods that same year due to the presence of elevated beef thyroid hormone levels.
Blue Buffalo has also been named by the FDA as one of 16 foods that could potentially be linked to heart disease. The evidence is far from clear, but it's worrisome all the same.
Kirkland Dog Food VS Blue Buffalo Comparison
Now that we've given you a broad overview of both foods, it's time to see how they stack up against each other in several key categories:
Taste
This is a very close competition, as they both use many of the same ingredients.
However, Blue Buffalo is more likely to include a variety of meats in their recipes, whereas Kirkland often relies on protein meals. As a result, we think your dog might prefer Blue Buffalo a bit more.
Nutritional Value
For the most part, these foods are dead even in terms of nutritional value.
However, Blue Buffalo has a few options that are superior to anything Kirkland has to offer (especially their high-protein formulas). Of course, you'll pay quite a bit more for these, so it may not be as big of an advantage as you'd think.
Price
Kirkland is the clear winner here. It's a very budget-friendly food, and quite frankly we're shocked that a food this cheap could be this nutritious.
Selection
Blue Buffalo doesn't have the widest selection of foods we've seen, but it has more than Kirkland.
That makes sense, since Kirkland is primarily meant to be sold in Costco stores, whereas Blue Buffalo has a much larger online presence.
Overall
While Blue Buffalo won in three categories to Kirkland's one, it barely won in most of those, whereas Kirkland was the big winner in price.
As a result, we'd say Blue Buffalo is probably the better food — but Kirkland is the better value.

Conclusion
Blue Buffalo and Kirkland are two foods you may not think to compare to one another, but as we've seen, they match up pretty closely. We'd recommend Kirkland by the smallest of margins, largely due to price, but both are good foods.
Blue Buffalo is probably slightly better in terms of quality, especially in its more high-end lines, but it's hard for us to say that the extra quality justifies the increase in price. Budget-conscious shoppers can give their dogs Kirkland and not feel the least bit guilty about it.
At the end of the day, it comes down to whether you're willing to spend a bit more money for a bit more nutrition. We can certainly understand if you feel it's worth it — but we can also understand if you'd prefer to keep that cash in your pocket.
See Also: