KONG Cat Zoom Groom Brush Review 2023 – Pros, Cons, FAQ, & Verdict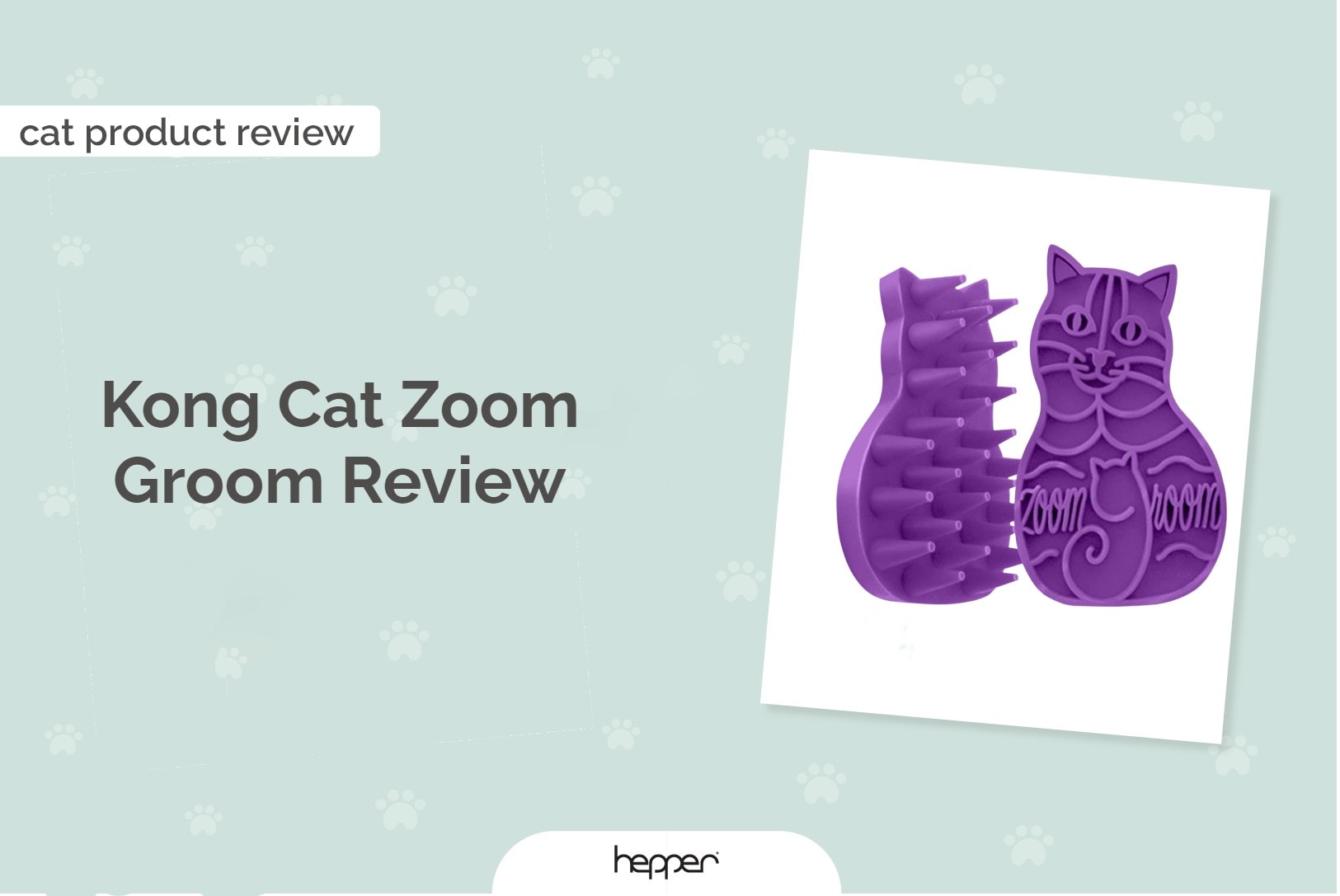 Our Final Verdict
We give KONG Cat Zoom Groom a rating of 4.7 out of 5 stars.
The KONG Cat Zoom Groom for cats is a rubber brush with thick, cone-shaped bristles. KONG specializes in toys, treats, grooming supplies, and more, and it produces quality products at affordable prices. They have products for cats and dogs, so if your household has multiple pets, KONG may be worth looking into.
KONG's Zoom Groom has received overwhelmingly good reviews, especially from pet owners with short-haired cats. Some long-haired cat owners complain that the rubbery teeth of the brush pull on their cat's hair, but almost all users report that the Zoom Groom is incredibly effective.
Many users commend the Zoom Groom for its ease of use, versatility, and durable material, while some note that the brush could be improved somewhat if it was better suited to trap loose hairs. If you are considering the Zoom Groom for your cat, you will certainly want to know more about the product. In this review, we will take a look at the pros and cons of this product to help you decide if it's suitable for your feline.
Kong Cat Zoom Groom – A Quick Look
Ergonomic grip design
Multiple uses
Durable yet flexible material
Specifications:
Material: Rubber
Height: 4.5"
Length: 2.75"
Width: .75" teeth
Location Manufactured: United States
Life stage: Kittens, adults, and seniors
Uses: Brushing and bathing
Easily Gripped with an Ergonomic Design
KONG's Zoom Groom for cats is designed to look like a sitting cat. It is more than just a cute kitty product; it features an ergonomic design. The rubbery material combined with the ergonomic design makes this brush much easier to grip than others. This improves your ease of use and makes brushing time more enjoyable for everyone involved.
Can Be Used to Brush, Bathe, and Massage Your Cat
The Zoom Groom has multiple functions for such a simple design. It is, of course, used to brush your cat's fur and remove loose strands of fur that have remained stuck in your cat's coat. This helps prevent the formation of hairballs and keeps your house cleaner.
While your cat is in the tub, you can apply shampoo to the Zoom Groom and run it through its fur. This helps create a lather that will clean your cat's coat. The third function of the Zoom Groom is to massage your cat. The rubbery teeth of the brush are firm enough to get through your cat's fur, yet they are gentle enough not to startle it. By rubbing the Zoom Groom against your cat's body in slow, gentle strokes, you can soothe your cat.
Made with Durable Yet Flexible Material
The rubber material used in KONG's Zoom Groom makes this brush durable yet pliable. It's easy to grip and fit in your hand and attracts loose hairs. It also provides your cat with a flexible, gentle brush that can be moved along the shape of its body.
May Not Trap All Loose Hairs
One of the less stellar aspects of this brush is its inability to trap fur. Whether you brush a dog, a cat, or your own hair, the brush you use will often come away with the gathered hairs stuck between the bristles. However, the Zoom Groom doesn't have the best trapping mechanism, so many loose hairs from your cat's body end up falling on the floor. The brush is excellent at removing the fur from your cat's coat, but it's messier to clean up than other products.
FAQ
Can the KONG Cat Zoom Groom Be Used on Dogs?
KONG creates plenty of products for cats and dogs, so there is no need to use your cat's brush on your dog. However, if you are in a pinch, many users have insisted that the Zoom Groom for cats works just as well on dogs.
How Is it Used as a Brush? How Is it Used for Bathing?
Rather than brush down your cat's body in one linear stroke, the Zoom Groom instructs you to brush in a gentle, circular motion. The goal is to massage your cat's body, remove loose hairs, and maintain the skin and coat health. During bathing, the process is the same. However, you can apply your feline shampoo directly to the Zoom Groom before gently massaging the brush into your cat's fur.
What Is the Purpose of the Brush's Massaging Ability?
The Zoom Groom's focus on gentleness is geared toward anxious or tense cats. Not all cats enjoy being handled or brushed, so with the Zoom Groom, cat owners can make the experience more pleasant for their pets.
How Well Does the Brush Clean?
Since the brush is made of rubber, it is effortless to clean. You can rinse the brush or manually remove the fur from the bristles. 
What the Users Say
We think that KONG's Zoom Groom is excellent, but don't just take our word for it. We've compiled a list of common pros and cons of the product that users have mentioned in their reviews.
As we've mentioned, many people find the Zoom Groom remarkably effective. It picks up so much loose hair that many pet parents are astonished at how much their pets' coats are hiding.
The ergonomic design comes in handy for many customers, but one user mentioned that it is especially helpful for them due to their own dexterity issues.
Zoom Groom's rubber material makes cleaning a breeze. Many users report that the hair comes out without a fight.
Since the loose hairs come out so easily, that can also mean that the fur is not well-trapped. Some say that since the brush cannot trap fur well, it somewhat defeats the purpose of having it since the brush is creating the mess they sought to avoid.
Pet owners appreciate how gentle Zoom Groom's brush is, and they remark that it is beneficial for pets with thicker coats.
In some instances, users have reported that the rubbery material may cause static against your cat's fur. This may accidentally give them a harmless yet startling shock, which can make brushing a chore.
When it comes to bath time, the Zoom Groom is reportedly very effective. It creates an excellent lather and removes dirt from the coat with ease.
Conclusion
KONG 's Zoom Groom is an excellent product for an affordable price. The unique design, versatility, and durable material make this brush a standout. While its inability to trap hair can be a nuisance, the gentleness this brush offers your cat is hard to beat. With so many excellent qualities, it is easy to see why pet parents praise the KONG Cat Zoom Groom brush so highly.
See Also: KONG Zoom Groom Dog Brush Review – Pros, Cons, & Verdict