17 Labrador Health Issues: Vet Approved Facts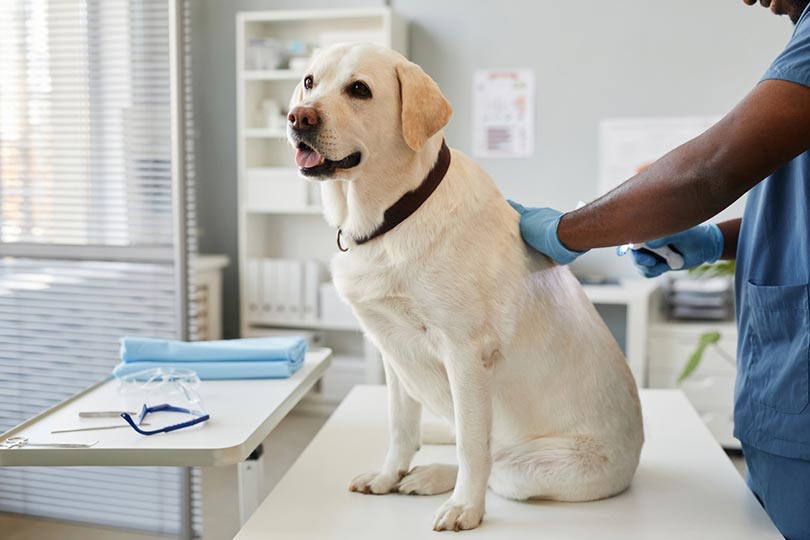 Labradors may be the most popular dog in America year after year, but that doesn't make them immune to poor breeding practices and medical conditions. This breed can suffer from a variety of medical conditions, from minor to life-threatening. Responsible breeding practices are one of the best ways that the Labrador breed can be made healthier. If you're interested in bringing a Lab into your home, it's important to understand the medical conditions you could potentially be dealing with.

The 17 Most Common Labrador Health Conditions
1.

Hip Dysplasia
| | |
| --- | --- |
| Type of condition | Musculoskeletal |
| Treatable? | Yes |
| Severity | Variable |
Hip dysplasia is a disorder in which the hip joint doesn't form properly as the dog grows. This results in looseness, or laxity, in the joint. Over time, this can lead to damage to the bones and soft tissues surrounding the hip joint. Dogs may develop osteoarthritis or degenerative joint disease as the damage to the hip joint increases over time.
Dogs with hip dysplasia may experience varying degrees of lameness and pain, but in most cases, the condition will worsen over time. While hip dysplasia can be treated with invasive surgeries, it is most commonly managed with medication, supplements, a healthy diet, activity, and maintaining a healthy weight.
---
2.

Bloat
| | |
| --- | --- |
| Type of condition | Gastrointestinal |
| Treatable? | Yes |
| Severity | Severe |
Bloat is a condition that commonly occurs in large breed dogs and dogs that eat their food too quickly. It is considered a medical emergency and can lead to the death of your dog if not addressed quickly. Bloat occurs when a dog's stomach twists, leading to an inability of anything in the stomach to leave and a buildup of gasses and gastric juices.
This is an extremely painful condition that can lead to the rupturing of the stomach if left untreated. Dogs experiencing bloat may have a swollen, hard abdomen, restlessness, unsuccessful vomiting attempts, rapid breathing, drooling, and collapse. Some vets will perform a surgical procedure in high-risk dogs that "tacks" the stomach in place, nearly eliminating the risk of bloat occurring later on in life.
---
3.

Obesity
| | |
| --- | --- |
| Type of condition | Variable |
| Treatable? | Yes |
| Severity | Variable |
Obesity is often a lifestyle-related medical condition that is caused by overfeeding, lack of exercise, or a combination of both. However, some dogs may also experience obesity due to other medical conditions or medications. Obesity is a serious problem for dogs because it can lead to other health conditions. Obese dogs are more likely to develop osteoarthritis, diabetes, heart disease, and other serious medical conditions.
Obesity is often treatable with changes to your dog's food and exercise regimen. However, it's important to clear any changes with your vet before making the changes since some dogs may require specialized care. The best treatment for obesity is preventing it in the first place with a regular exercise routine and healthy diet served in appropriate portions.
---
4.

Osteochondritis
| | |
| --- | --- |
| Type of condition | Musculoskeletal |
| Treatable? | Yes |
| Severity | Variable |
Osteochondritis is a joint condition in which diseased cartilage separates from the underlying bone. The elbow and shoulder joints are commonly affected. It is similar to hip dysplasia, and Labradors are particularly prone to it. Over time, damage to the elbow or shoulder may result in pain and lameness for your dog.
It is often managed with medication, supplements, maintaining a healthy weight, and exercise. Some dogs may require surgery to ease their discomfort from this disorder. Physical therapy and alternative therapies are often implemented to help keep these dogs comfortable and active.
---
5.

Allergies
| | |
| --- | --- |
| Type of condition | Immune |
| Treatable? | Yes |
| Severity | Variable |
Many Labradors suffer from environmental and dietary allergies. Allergies often lead to itchy and painful skin in dogs, which can cause excessive shedding and skin infections. Allergy symptoms in dogs can be caused by proteins in food, dust mites, pollen, grasses and fleas.
Some dogs with allergies may experience severe symptoms and painful infections. Many dogs with allergies have manageable symptoms, although allergies are not curable. Some dogs may require specialty food or prescription medications to help prevent and manage their allergy symptoms.
---
6.

Epilepsy
| | |
| --- | --- |
| Type of condition | Neurological |
| Treatable? | Yes |
| Severity | Variable |
Epilepsy is a neurological condition that leads to seizures. It's the most common neurological condition in dogs, impacting around 0.75% of all dogs. It can vary significantly in severity, with some dogs experiencing mild seizures on rare occasions, while others may experience severe symptoms every day.
While most cases of epilepsy are idiopathic, or without a known cause, it can also be caused by genetics or changes in the brain, like tumors. There are medications that can help manage epilepsy, but it is not a curable disease. Dogs can die from severe seizures, even with medical intervention, so it's extremely important to stay on top of your dog's epilepsy medications and any lab tests or vet visits.
---
7.

Patellar Luxation
| | |
| --- | --- |
| Type of condition | Musculoskeletal |
| Treatable? | Yes |
| Severity | Mild to moderate |
Patellar luxation is a condition in which the patella, a small bone that makes up the front of the knee, slips in and out of place. This condition is usually relatively mild but may result in an occasional skipping gait that rapidly corrects itself.
Over time, patellar luxation can increase the risk of other problems occurring, like cranial cruciate ligament tears and arthritis. Some dogs may offload from their bad leg if the knee bothers them, which puts extra stress on other joints, leading to faster breakdown. Patellar luxation can be surgically repaired if needed. Many people successfully manage luxating patellas with medications, supplements, exercise, and a healthy body weight.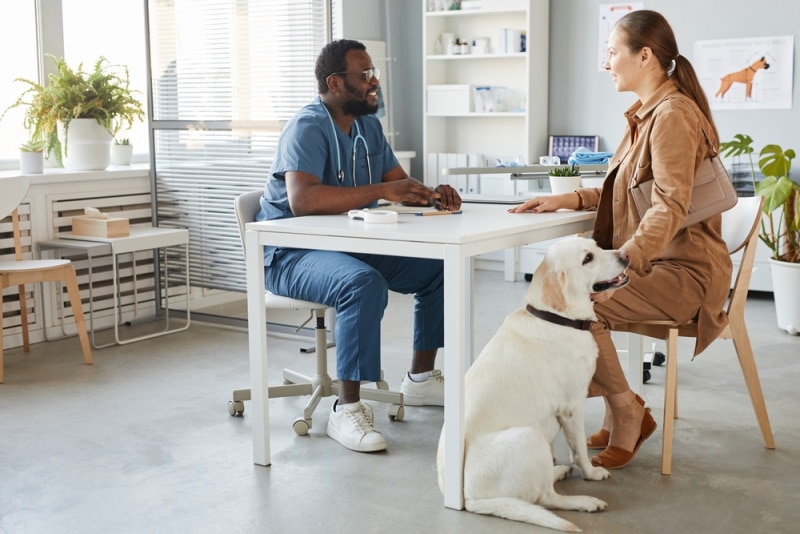 ---
8.

Exercise-Induced Collapse
| | |
| --- | --- |
| Type of condition | Neurological |
| Treatable? | No |
| Severity | Variable |
Exercise-induced collapse is an unusual neurological condition that is known to affect Labradors, as well as a handful of other breeds, like Curly Coated Retrievers, Old English Sheepdogs, and Pembroke Welsh Corgis. It is an inherited autosomal recessive disorder. This disorder is often discovered when the dog begins to collapse after exercise. Many dogs will begin to lose strength in their back legs before collapsing, with some even dragging their rear legs while attempting to continue exercising.
Generally, these symptoms resolve after 5–25 minutes of rest. However, severe cases of this disorder can lead to death. Continuous, strenuous exercise is most commonly associated with this disorder. While there is no cure for exercise-induced collapse, limitations on exacerbating activities often eliminate episodes.
---
9.

Entropion
| | |
| --- | --- |
| Type of condition | Integumentary |
| Treatable? | Yes |
| Severity | Mild to moderate |
Entropion is a condition in which the dog's eyelids roll inward. While the disorder itself is unlikely to be uncomfortable, it often results in the eyelashes rubbing against the eyes, causing ulcers and pain. If left untreated, severe cases of entropion can lead to permanent eye damage and even blindness.
There is a surgical procedure that can correct the eyelids, although this procedure does sometimes need to be repeated in dogs with severe cases. If irritation to the eyes themselves is left untreated, it can lead to a need for removal of the eyes.
---
10.

Hypothyroidism
| | |
| --- | --- |
| Type of condition | Endocrine |
| Treatable? | Yes |
| Severity | Mild to moderate |
Hypothyroidism is an endocrine disorder in which the thyroid gland begins underproducing hormones. The thyroid is a gland that is responsible for metabolic functions within the body. If it is underperforming, multiple body processes can be interrupted.
Hypothyroidism can lead to weight gain, lethargy, excessive shedding, dull coat, slow heart rate, and an increased risk of developing skin and ear infections. Although it is not curable, hypothyroidism can be treated with medications. Routine blood work and vet visits are required to ensure no changes need to be made to the medication regimen.
---
11.

Tricuspid Valve Dysplasia
| | |
| --- | --- |
| Type of condition | Cardiovascular |
| Treatable? | No |
| Severity | Mild to severe |
This heart disorder involves insufficiency of the tricuspid valve, leading to poor movement of blood through the heart and back flowing of blood within the heart. It most commonly impacts male dogs and is present at birth. Most dogs with this disorder have a heart murmur that can be heard when the vet listens to their heart and lungs with a stethoscope, but some cases may not be caught until the dog develops congestive heart failure.
While it can often be managed with diuretic medications, there is no cure for tricuspid valve dysplasia. In mild cases, dogs can live long, healthy lives. In severe cases, though, the dog may die from CHF, even at a young age.
---
12.

Muscular Dystrophy
| | |
| --- | --- |
| Type of condition | Musculoskeletal |
| Treatable? | No |
| Severity | Progressive |
Muscular dystrophy is an inherited condition that progressively worsens as the dog ages. Many dogs with muscular dystrophy will begin showing symptoms around 4–12 weeks of age, and the most common first symptoms are a "bunny-hop" gait. This is an X-linked condition, so male dogs are more likely to exhibit symptoms since they only have one X chromosome. Over time, the structures of the muscles will begin to change.
These dogs will often have poor motor skills, decreased exercise tolerance, and progressive muscle atrophy that results in prominent bones on the skull, ribs, and spine. Many dogs will experience difficulty eating and drinking and may even be diagnosed with megaesophagus. Many of them will also have an enlarged tongue and drool excessively. There is no treatment for muscular dystrophy and is likely to eventually cause death.
---
13.

Retinal Atrophy
| | |
| --- | --- |
| Type of condition | Ophthalmologic |
| Treatable? | No |
| Severity | Progressive |
Retinal atrophy is a condition that causes progressive worsening of visual acuity in the dog. Eventually, dogs with this disease will become blind. There is a version of retinal atrophy called retinal dysplasia that impacts dogs as young as 8 weeks of age. There is also a version that impacts adult dogs as young as 3 years of age.
Initially, dogs with this disorder will begin losing their night and low-light vision. As time goes on, they will also begin losing visual acuity in bright lighting. There is no treatment for retinal atrophy, and it is guaranteed to eventually lead to blindness.
---
14.

Cataracts
| | |
| --- | --- |
| Type of condition | Ophthalmologic |
| Treatable? | Yes |
| Severity | Variable |
Much like in humans, cataracts are most likely to impact older dogs. Cataracts are a disorder in which the lens of the eye becomes clouded. Some dogs with cataracts may be fully or partially blind, but mild cataracts may have minimal impact on vision. They can be caused by diseases like diabetes, age, genetics, and injuries.
Cataracts can be corrected through surgery by a veterinary ophthalmologist. On occasion, a cataract may partially reoccur after surgery. Cataracts caused by diabetes have shown promising treatment with aldose reductase inhibitor drops, but these medications are often extremely expensive and ineffective if not administered on a strict schedule.
---
15.

Osteoarthritis
| | |
| --- | --- |
| Type of condition | Musculoskeletal |
| Treatable? | No |
| Severity | Variable |
Osteoarthritis is a condition in which the cartilage within a dog's joints begins to break down. As the joint cartilage breaks down, the joint capsule may thicken, and bone may grow inappropriately around the joint. Over time, this disease will lead to pain and decrease in mobility for your dog.
These dogs often develop osteoarthritis as a secondary condition due to other conditions, like CCL tears, hip dysplasia, and obesity. The treatment for osteoarthritis depends on the cause. Some dogs can be successfully managed with medications, physical therapy, weight loss, and exercise, while others may require surgery.
---
16.

Laryngeal Paralysis
| | |
| --- | --- |
| Type of condition | Respiratory, neuromuscular |
| Treatable? | Yes |
| Severity | Moderate to severe |
Laryngeal paralysis is a condition in which the nerves that control the cartilaginous larynx don't function properly. This causes the larynx to impede your dog's ability to breathe properly, especially during exertion and excitement. These dogs often exhibit anxiety, excessive panting, coughing, gagging, and an unusual, dry-sounding bark.
The only treatment for this condition is a surgical procedure that permanently tacks one side of the larynx open. Unfortunately, this increases the risk of aspiration pneumonia and choking. However, surgical repair is preferred since laryngeal paralysis is likely to progressively worsen over time and may even lead to the death of your dog.
---
17.

Ear Infections
| | |
| --- | --- |
| Type of condition | Aural |
| Treatable? | Yes |
| Severity | Variable |
Labradors are prone to developing ear infections, which can have a multitude of causes, from parasites to allergies. Since Labs often spend a lot of time in the water, this can also increase their likelihood of developing ear infections. The vast majority of ear infections are easily treated with ear drops, flushes, and oral medications.
Some dogs may develop severe ear infections, like those that are caused by antibiotic-resistant bacteria. In extreme cases, a surgery may need to be performed that removes the dog's ear canal as a last attempt to remove the infection as well. This procedure is a last resort, though, and there are multiple other treatment options available to try before that.

Conclusion
Some of these conditions are far more likely to occur in your Labrador, like osteoarthritis, allergies, and ear infections, than some of the other conditions, like tricuspid valve dysplasia. Unfortunately, though, all of these conditions are problems that have shown a prevalence in Labradors. It's important to ensure you only get your Labs from responsible breeders who perform all necessary and recommended health testing on their dogs before breeding. These breeders are working to better the breed and trying to eliminate many of these health conditions.
---