20 Largest Pet Food Manufacturers in the US (Updated 2023)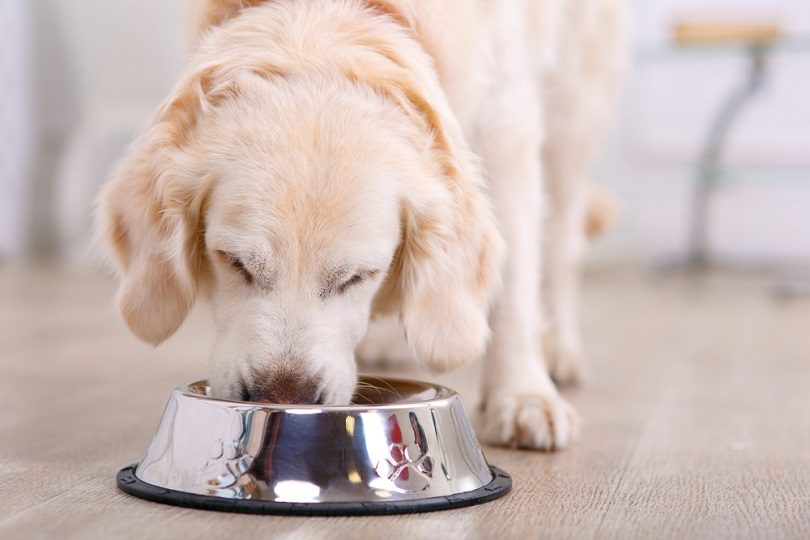 It's no secret that pet care is big business. Americans love their pets, and they don't balk at spending money on them, which is why pet-related expenditures have been growing steadily for the past several years.
According to the American Pet Products Association, owners in the United States spent over $72 billion on their pets in 2018, the last year for which we have reliable numbers. Over $29 billion of that was spent on food.
That naturally led us to wonder: Where is all that money going? Which companies are the prime beneficiaries of all this spending?
In order to answer those questions, we tracked down the 20 largest pet food manufacturers (based on annual revenue) in the United States. Many of the companies on this list will come as no surprise to knowledgeable owners, but others may shock you.
(Note: The information on this list comes from data published by PetFoodIndustry.com and Statista.com.)

The 20 Largest Pet Food Manufacturers in the US:
1.

Mars Petcare Inc.
Although better known as a candy manufacturer, Mars is also the giant of the pet care industry, raking in over $18 billion each year from its animal food brands. It owns a variety of labels, several of which are worth over a billion dollars each, including Pedigree, Iams, Whiskas, and Royal Canin.
Mars is also active in pet healthcare, as it owns Banfield Pet Hospitals, VCA, Blue Pearl, and AniCura. It's clear that its aim is to be a part of your pet's life from birth to death — and to get paid for it every step of the way.
---
2.

Nestlé Purina PetCare
You probably won't have to think hard to identify the jewel of Nestlé Purina PetCare's pet food lineup. In addition to Purina, it owns huge brands like Alpo, Fancy Feast, Felix, Kit & Kaboodle, Merrick, and more.
While Nestlé Purina PetCare still lags behind Mars Petcare, it's a close competition. Nestlé makes over $13 billion per year from its animal foods, and these two companies are far and away the two biggest in the U.S. market.
---
3.

JM. Smucker
Like Mars, J.M. Smucker is better known for making things other than pet foods (in this case, jam). However, it also owns brands like Milk-Bone, 9 Lives, Canine Carry Outs, Kibbles 'n Bits, Natural Balance, Rachael Ray Nutrish, and more.
J.M. Smucker makes around $2.9 billion per year from its pet foods, but unlike the two larger companies above, it makes a generous portion of its profits from treats. It just goes to show you that there's a ton of money to be made in everything your pet eats.
---
4.

Hill's Pet Nutrition
Hill's Pet Nutrition takes a different tack than many of the other companies on this list. Rather than appealing to consumers directly, it often chooses to go through their veterinarians.
Many of its foods require a prescription, like Hill's Science Diet and Hill's Prescription Diet. These foods often come highly recommended by vets, although that may be due to the fact that the vets get a little taste of Hill's $2.3 billion in revenue per year.
---
5.

Diamond Pet Foods
Diamond Pet Foods is primarily known as a manufacturer of pet foods, and it actually make some of the other high-profile foods on this list. It has its own labels too, like Diamond Naturals, Nutra, and Taste of the Wild.
This is one of the few family-owned and privately-held companies on this list. At $1.5 billion per year, that's one well-off family indeed.
---
6.

Blue Buffalo
One of the youngest brands on this list, Blue Buffalo has wasted no time climbing the pet food ranks. It claims to be the top-selling natural pet food brand in the world, and at $1.3 billion per year, it's hard to argue with that assessment. Blue Buffalo is its only brand, although it has several different labels under that flag, including Basics, Wilderness, Naturally Fresh, and Life Protection Formula.
In 2018, the company was purchased by General Mills for $8 billion, but at this time, this is General Mills's only foray into the pet food industry.
---
7.

Spectrum Brands/United Pet Group
Spectrum Brands/United Pet Group is a much bigger player on the international pet food scene, but it makes its fair share of coin from the domestic market as well. Some of its top brands include Salix Animal Health, which is a big manufacturer of rawhide treats, and Wild Harvest.
Spectrum/United also makes a ton of pet care accessories under labels like Nature's Miracle and Litter Maid. It all adds up to $820 million per year in the U.S. alone, with a much larger chunk coming from the international markets.
---
8.

WellPet
If Blue Buffalo is the rowdy newcomer in the natural pet food market, WellPet represents the old guard — and it's not going down without a fight. WellPet was formed in 2009 when two older pet food companies, Old Mother Hubbard and Eagle Pack Pet Foods, decided to join forces to lead the way in natural and holistic pet products.
WellPet owns brands like Wellness, Sojos, Old Mother Hubbard, and Holistic Select. Those companies add up to $700 million per year in revenue, so Blue Buffalo isn't the undisputed natural food champ just yet.
---
9.

CJ. Pet Foods
This company would have been listed several spots lower in previous editions of this list, but in February 2020, they reached a deal to acquire American Nutrition, another company that would have shown up on the bottom half of this list. Both companies are now owned by J.H. Whitney Capital Partners, a private equity firm in Connecticut, and together, they rake in upward of $580 million every year.
C.J. Pet Foods may not own any brands that you'd recognize, but it probably helps make a few of them. This manufacturing giant helps a variety of companies (including Blue Buffalo) to create natural and premium pet foods.
---
10.

Central Garden & Pet
Central Garden & Pet's primary focus is lawncare, but it makes a pretty penny from pet food as well. Its largest food and treat brands are Pinnacle, AvoDerm, and Nylabone, but the company also owns a variety of pest control products.
Central Garden & Pet cashes in to the tune of $390 million annually, which means they sell a large number of chew toys. Not bad for a company that most people have never heard of.
---
11.

Sunshine Mills
Although none of its brands may be all that notable on their own, Sunshine Mills makes up for that by producing a variety of foods. Its labels include Evolve, Triumph, Hunter's Special, and Sportsman's Pride, and it makes farm feed in addition to pet food.
It all adds up too, to the tune of $350 million per year, in this case. It's amazing how much money can be made on products that aren't found in most stores.
---
12.

Tuffy's Pet Foods
One of the few family-owned companies on this list, Tuffy's Pet Foods is a subsidiary of KLN Family Brands, which also owns Kenny's Candy & Confections (hopefully, it keeps the two product lines separate). Tuffy's makes foods like NutriSource, PureVita, and Natural Planet, and it has recently invested in its own success by building a $70-million manufacturing plant in Perham, Minnesota.
---
13.

Simmons Pet Food
Simmons Pet Food is actually a private-label and contract manufacturer, which means it makes foods that other companies slap their own labels on. Simmons makes wet and dry food in addition to treats, so if you're looking to get into the (obviously lucrative) pet food game, calling them up seems like a good first step.
It certainly appears that creating products for other companies is working out for Simmons, as it boasts annual revenues of $260 million.
---
14.

Champion Petfoods
If you've ever considered feeding your dog or cat a premium food, then you may have come across Champion Petfoods' two labels, Acana and Orijen. These lines focus on biologically appropriate foods, and as such, they load their products with as much meat as possible.
All told, Champion Petfoods makes in the neighborhood of $220 million every year.
---
15.

Freshpet
Freshpet is a newer company that's nevertheless rocketing up this list. It focuses on fresh food made with real ingredients, and its foods need to be refrigerated until served. This makes these foods extremely high quality, but it also makes them expensive, which may explain how Freshpet pulls in $193 million every year.
Then again, given Freshpet's distribution deals with stores like Target, $193 million may just be scratching the surface of what it's capable of.
---
16.

Nature's Variety
Despite only being on the scene since 2002, Nature's Variety has enjoyed quite a bit of success, to the tune of $127 million per year in revenue, in fact. They're primarily known for their Instinct and Prairie brands, both of which use high-quality ingredients, with meat as the primary food source.
They also use quite a bit of raw, freeze-dried meat in their recipes, and if the raw food craze keeps booming, Nature's Variety could find itself climbing quite a few spots on this list in the years to come.
---
17.

Mid America Pet Food
Based out of Texas, Mid America Pet Food makes the bulk of its money ($115 million per year) from its VICTOR premium pet food line. It uses high-quality meats, including organ meats that aren't often used in other foods, as well as premium grains (although it has many grain-free options available as well).
The company also operates Eagle Mountain Pet Food, which currently only offers a single recipe.
---
18.

Kent Corp.
Kent Corp. owns and operates a variety of brands, almost all of which bear the Kent name. Much of its revenue comes from providing feed for livestock, but it also makes pet food and accessories, including the World's Best Cat Litter.
This company brings in $100 million per year, proving once again that there's a great deal of money to be made in agriculture if you're one of the top dogs.
---
19.

Nunn Milling Co.
As you might expect given the name, the Nunn Milling Co. started in the 1920s as a flour and corn mill. It started experimenting with making pet food in the 1940s, and the pet brand, Nunn-Better, soon eclipsed the milling operation.
Today, the company brings in $80 million every year, and it's one of the largest manufacturers of bird food in the country. Turns out bird food isn't chicken feed.
---
20.

Solid Gold Pet
Solid Gold Pet is a Missouri-based company that takes its cues from pet food companies in Europe. The company's founder, Sissy McGill, was a Great Dane lover, and she noticed that European Great Danes outlived their American counterparts. Believing their different diets to be the cause of this discrepancy, McGill designed foods that use real meat, whole grains, and nutrient-dense superfoods.
Today, Solid Gold Pet makes $50 million per year, largely from its Solid Gold line.
Dog Food Manufacturers: Peering into the Future
Looking at this list, one thing seems clear: The giants of the pet food industry make cheap, mass-produced foods that are often lacking in nutrition compared to their premium counterparts.
However, that seems to be changing, and as more pet owners demand high-end nutrition for their pets, we expect some of the high-end companies shown here to rise up this list in the years to come.
Champion Petfoods may never be able to truly compete with Mars, but if it keeps cranking out extremely nutritious foods, its success will likely only continue to grow.
---
Featured Image Credit: dmytro Zinkevych, Shutterstock