Litter Genie vs. Litter Genie Plus – Which One To Choose?
Cat waste is no joke—both pee and poop smells are strong and hard to hide. As cat owners, we are always looking for ways to reduce litterbox odors. Whether you pick out an odor-fighting litter or get a self-cleaning litterbox, you want your house to smell as lovely as possible.
To help out, Litter Genie hit the shelves. In short, it's a pail that traps and locks in bad scents to keep your room smelling fresh. But now that the Litter Genie caught traction, many wonder what's up with two products—the Litter Genie and Litter Genie Plus. But what's the difference? Let's find out.
At a Glance
Litter Genie
Compact design
Holds two weeks of litter
Simple 3-step system
7-layer refill bags
Includes standard refill
Litter Genie Plus
Compact design
Holds two weeks of litter
Antimicrobial properties
Simple 3-step system
5-layer refill bags
Last 30% longer than standard refills
Overview of Litter Genie:
Jackson Galaxy, the same genius who created the Diaper Genie, used his expertise to extend products to cat owners—giving us the Litter Genie. The idea behind it is to trap and lock odors from litterboxes, making it a much more breathable atmosphere in your cat-friendly home.
Each spec works to combat odors relating to cat waste, sealing it in for air quality freshness. There's a simple handle that you pull to open the cache. Dump the waste into the container and let go—it's that easy. And it's already pre-assembled for a straightforward startup.
It comes with 7-layer bag refills at trap soiled litter without ripping or tearing. For a singular cat, the initial setup will last about ten weeks—but will vary depending on the size and number of your feline friends.
Litter Genie sells refill bags separately. You buy more when you run out each time—which can be a turn-off for some since it guarantees a recurring cost. But since the layering system is so efficient, these bags are handy to combat smells—so it might be worth it for you.
Seals away smell
Pre-assembled
Easy to use
Durable bags
Includes scooper
Overview of Litter Genie Plus:
The Litter Genie Plus has all of the perks of the standard Litter Genie with slight but notable differences. The Plus design comes in both gray and black colors. It also has 30% more refills than the regular version. That means you can buy some time in between making a store trip or online purchase for refills.
While this is a terrific way to start things off, you will eventually have to buy the same refills at a like price, so keep that in mind. If you don't want a product you have to replace with compatible bags, there might be other products on the market that suit your needs better.
As an upgrade to the original Litter Genie, the Plus model has microbial properties to keep the container clean and easy to maintenance. This aspect repels bacteria and odor build-up, helping you use the product longer.
So again, you get all of the same features—the product is the same size touting a scooper and holder on the side. It has a hand-release seal to keep odors in that is easy to use and efficient. The term 'plus' might make you feel like the design is bigger than the standard, so the title can be misleading.
Exactly like the original Litter Genie, with improvements
Microbial priorities
It comes in two colors
30% more refills
Marketing can be misleading
What Are the differences Between Them? How Do They Compare?
You have probably picked up that each design is built the same, but there are slight differences between them. So, how do they match up?
Performance
Edge: Litter Genie Plus
Both the Litter Genie and Litter Genie Plus operate precisely the same, with slight differences. Both offer an airtight, compact solution to dirty cat litter smells. You don't have to muck up your home trash can—and you can easily scoop every day without hassle.
However, the Litter Genie Plus offers antimicrobial properties and longer-lasting cartridges.
Price
Edge:: Litter Genie Plus
Since both the Litter Genie and Litter Genie Plus are so similar, they don't differ that much in price. However, on average, the Plus is a few dollars more. The refills are precisely the same in terms of money. So ultimately, both have the exact upkeep costs after the first initial buy.
With the Litter Genie Plus, you get more bang for your buck, including 30% more refills.
Durability
Edge: Litter Genie Plus
Both of these products are incredibly durable and easy to use. With proper care, you can own your Litter Genie for several years—regardless of if you opt for the standard or plus.
But if you want a container that doesn't retain residual odor over time, the antimicrobial properties of the Plus model might work best in this aspect.
Design
Edge: None
Both designs are identical in terms of build. Then, you simply place the waste into the top and let go of the handle for an airtight seal. You have a convenient scooper holder on the side for easy storage, too. It's compact—perfect to place in a corner or out-of-sight spot in the home.
Other Products
If you're disappointed that the Plus didn't signify more space, you might want to browse other Litter Genie Products. This company also offers a Litter Genie XL version, holding up to 50% more—making it perfect for multi-cat households.
You can, of course, buy replacement pieces or refills for each Litter Genie system, too.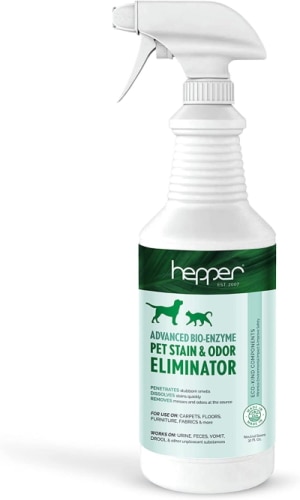 Even after the litter is changed you may be left with smells and stains around the house – but with the Hepper Advanced Bio-Enzyme Pet Stain & Odor Eliminator Spray, you can take care of it all. It's our product, and we love it so much, we just have to share it! It permanently removes the very worst smells and stains, and we offer a 100% satisfaction guarantee! Click here to get yourself a bottle.
What the Users Say
We know how important it is to be certain you get what you pay for. That's why we dug extensively into online reviews and user forums from multiple sources to see how it's working out for other real users. Here's a little overview of what we found out.
People absolutely seem to love the odor-trapping ability of the Litter Genie and Litter Genie Plus. Users claim it was easier to keep up with scooping the litter box daily because there's somewhere convenient to put the waste.
Other users have mentioned that they don't just rely on it for cats. They also use it for dog poop and cage animal bedding. So, if you have a multi-pet household, this might come in more use than you think at first.
One thing that seems to be a commonly witnessed complaint is the price of refills, which are more to replace—especially if you have more than one cat living in the home. So, even though you might love the idea, the constant replacement might become more of a hassle for certain homes.
Though there's no difference in the product functionality, the antimicrobial properties of the Plus model might be more attractive to most. Having such a similar starting price, setup, and function—the Litter Genie Plus seems to be the most desirable buy of the two.
Remember, if you have multiple cats living under one roof—you can check out the Litter Genie XL model, which is 50% larger than its lesser counterparts.
Conclusion
When it comes down to which one to choose—the Litter Genie or Litter Genie Plus—we think it only makes sense to go with the Plus version. You get a bigger bang for your buck right up front by getting 30% more refill bags. That will save you time in the future remembering to reorder.
However, each would work just as well because these two products have the same replacement costs. Don't forget other Litter Genie models might fit your needs better, too.