Male vs Female Betta Fish: What's The Difference (With Pictures)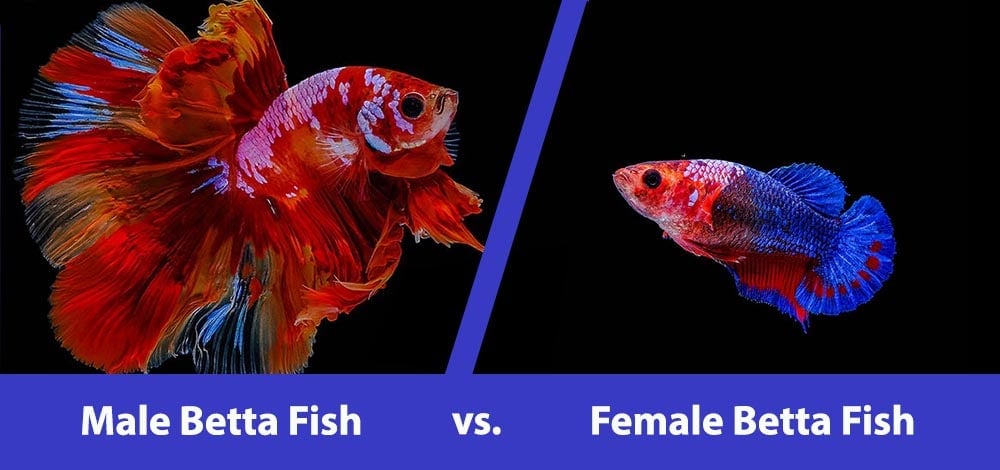 Male Betta fish have been popular in the pet market for years now, but females are growing in popularity. While often less flashy than males, female Betta fish have their own set of unique characteristics and features that make them great aquarium pets. Betta fish are easy to care for and are beginner-friendly, but many people don't fully understand the needs of Betta fish. This includes a poor understanding of the differences between the sexes and the implications they have on the care and housing of Betta fish. Keep reading for more information about the differences between male and female Betta fish.
Click to skip ahead:

Visual Differences

At a Glance
Male Betta Fish
Average size:

2–2.5 inches

Life:

3–5 years

Minimum tank size:

5 gallons

Tank needs:

Planted, tropical freshwater

Appropriate tank mates:

Large, peaceful invertebrates

Care level:

Easy

Dietary needs:

Carnivorous

Temperament:

Semi-aggressive
Female Betta Fish
Average size:

2–2.25 inches

Life:

3–5 years

Minimum tank size:

5 gallons

Tank needs:

Planted, tropical freshwater

Appropriate tank mates:

Large, peaceful invertebrates, other female Bettas, peaceful community fish

Care level:

Easy

Dietary needs:

Carnivorous

Temperament:

Can be peaceful to semi-aggressive

Male Betta Fish Overview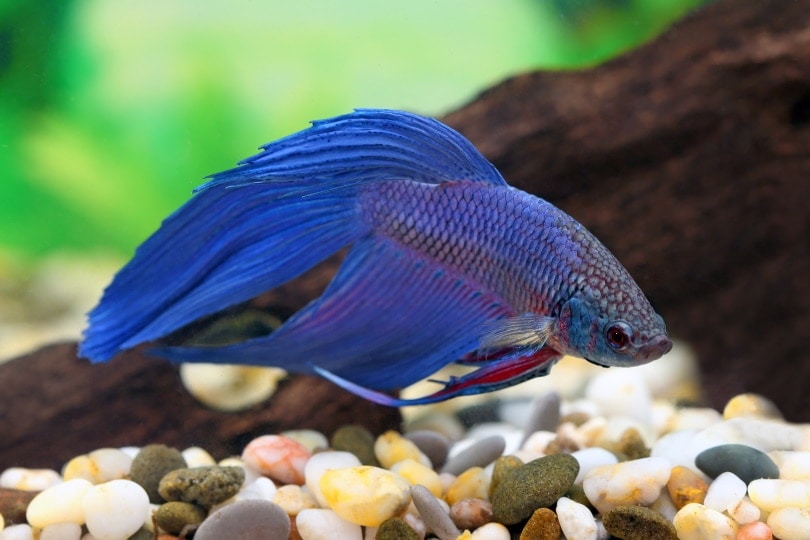 Temperament
Male Betta fish are known for their semi-aggressive to aggressive nature. When kept alone, they tend to be laid back, spending most of the day slowly cruising around their environment or resting on large leaves. When living with other fish, they are known to nip at fins, chase, injure, and even kill other fish.
Tank Mates
It's usually advised to keep male Betta fish in a tank without tank mates. However, they can often be safely kept with large, peaceful invertebrates, like Mystery snails and Rabbit snails. They can be kept with other peaceful, shy tank mates, like Bamboo shrimp, but will need to be watched carefully to ensure they do not injure or bully them. Avoid keeping them with aggressive invertebrates or invertebrates that may be able to injure their fins, like crayfish.
Identification
Male Betta fish are prized for their long, flowy tails. They come in over a dozen varieties, but the most common varieties are Veil Tail, Crowntail, Spade Tail, Delta, Super Delta, Double Tail, Round Tail, Halfmoon, Over Halfmoon, Rose Tail, Combtail, and Half Sun.
Plakat Bettas are the closest to the appearance of wild Betta fish, and they usually have a short tail with a distinctly stout and sturdy body. Plakat Bettas can have a Halfmoon tail, but it is shorter than a normal Halfmoon tail. With the exception of Plakats, male Bettas have highly elongated fins across the body.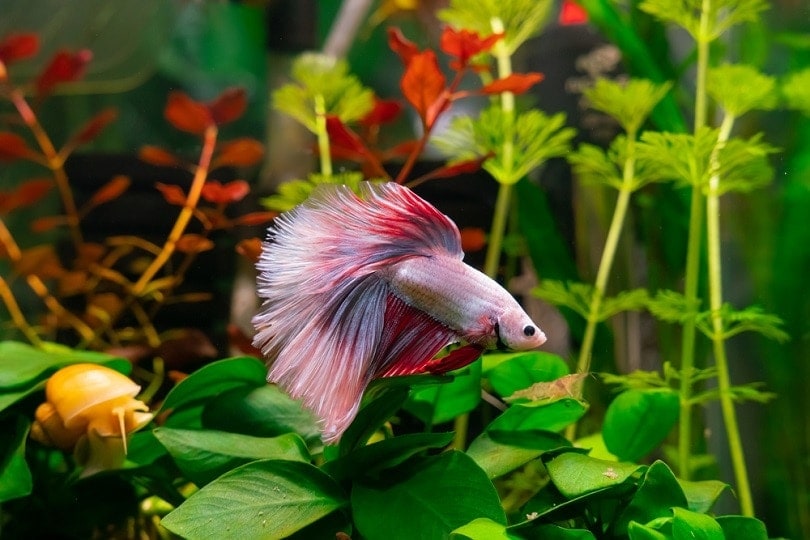 Can They Live with Other Bettas?
Males should not be kept with other Betta fish, including females. The only exception to this is to allow for breeding, which should only be done carefully and with supervision. Any time a female Betta is sharing a space with a male Betta for any period of time, there should be plenty of plant cover to allow her to escape from him if needed.
Suitable for:
Male Betta fish are suitable for first-time fish keepers who are interested in keeping a singular fish. They shouldn't be expected to be social, but they are not typically shy or fearful and will often approach the front of the tank when they see the person who feeds them. They should be kept in a tropical tank with plenty of plant cover.
Brightly colored
Long, trailing fins
Great option for someone only wanting one fish
Aggressive tendencies
Cannot be kept with other fish
Will even attack female Bettas

Female Betta Fish Overview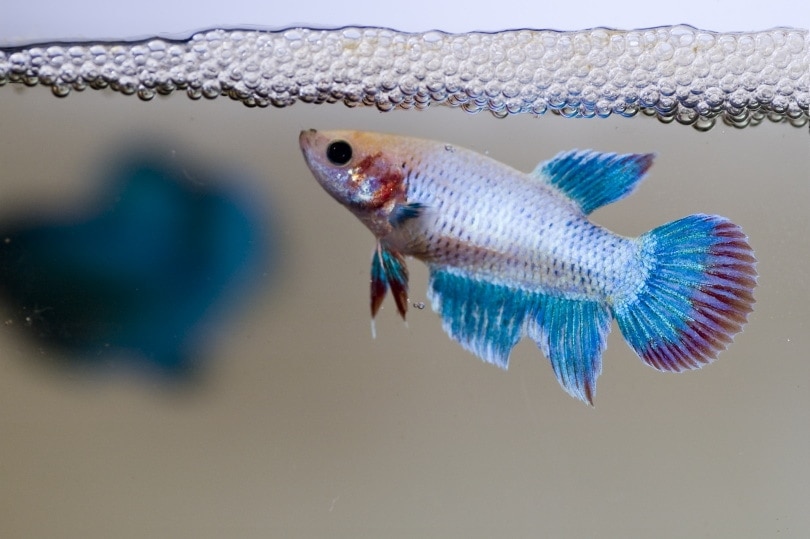 Temperament
Female Bettas are often considered to be semi-aggressive, but they can be very peaceful and many of them are able to live in community tanks safely and happily. They are usually very laid back when kept alone, but they can become shy and jumpy in high-stress environments.
Tank Mates
It can be risky to attempt to keep a female Betta fish in a community tank, so be prepared with a backup plan if bullying or aggression becomes an issue. Peaceful shoaling fish, like Neon Tetras, bottom feeders, like Plecos, and livebearers, like Guppies and Mollies, can be good tank mates for female Bettas. Most community fish will usually keep to their own groups and are rarely bullies. Large, peaceful invertebrates are also good tank mate options.
Identification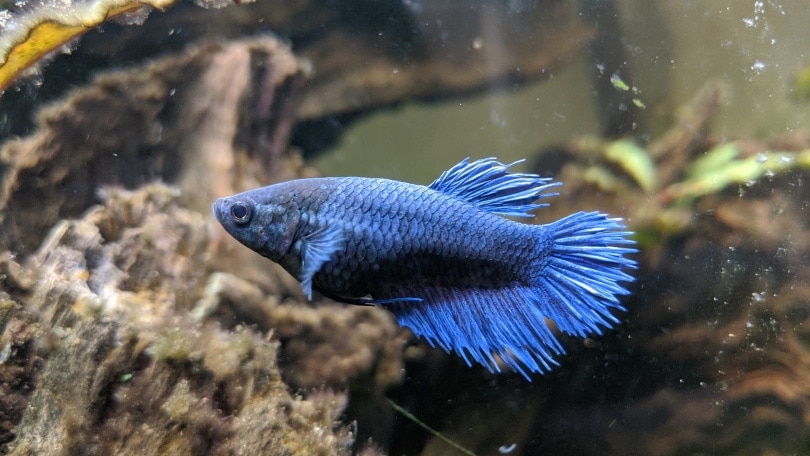 Females have fewer tail types than males, and their tail types are often less defined due to their shortened length. The most common tail types seen in female Bettas are Veil tail, Crowntail, Delta, Super Delta, Halfmoon, Double Tail, and Plakat.
Females have much shorter tails and fins than males, almost with a stubby appearance. This makes identifying females extremely easy. Females may have tails that are similar in length to those of a male Plakat, but they will have shorter, stubbier fins across the body than a male Plakat.
Can They Live with Other Bettas?
Many people find success in keeping female Bettas in sororities, which are female-only groups. This can be done in a community tank or a species-only tank. This does come with risks, though, since some females will have the aggressive or semi-aggressive temperament of a male. Providing a densely planted tank will help keep your females safe from each other by creating a sense of security and limiting their ability to spot the other females openly.
Suitable for:
Female Bettas are suitable for first-time fish keepers who want to keep a single fish. Unlike males, females can be suitable for community tanks and sororities that are closely monitored by a moderately experienced fishkeeper. This type of setup is not recommended for first-time fish keepers, especially children, since this should be closely monitored by someone who understands the signs of bullying, fin nipping, aggression, and stress.
Less aggressive than males
Can be kept in community tanks
Brightly colored
Short fins are less eye-catching than males
Must be monitored closely in community tanks
May be more shy than males
Additional Information

Which Breed is Right for You?
Choosing between a male or female Betta fish is something that is based solely on your preferences. Their care needs when kept alone are basically identical, but females kept in community tanks have different needs to keep everyone safe and stress-free. Both sexes of Betta fish are available in seemingly limitless colors and patterns, giving you plenty of options to choose from to ensure you get a Betta you think is beautiful.
It is a common misconception that Bettas can be kept in vases or small fishbowls, so before you get a male or female Betta fish, you should ensure you are prepared to provide an appropriately sized tank of 5 gallons or more. They also need proper filtration and lots of plants to provide a sense of security. If you're hoping to breed Bettas, make sure you have proper environments set up for the male and female to live separately from each other.
---