Male vs. Female Shiba Inu: Key Differences (With Pictures)
The Shiba Inu is so popular in Japan that the breed makes up 80% of all the breeds that live in the country today. However, this breed is not just living and thriving in Japan. The Shiba Inu was imported into the United States only about 60 years ago, and they have been growing in popularity throughout the West ever since.
With more popularity comes more people interested in acquiring a Shiba Inu as a pet. So, it makes sense that people want to know whether a male or female dog is right for them. Learning about the differences between the two is the most effective way to determine which is the right pet for your household.

Visual Differences
At a Glance
Male Shiba Inu
Average height (adult): 15½–16½ inches
Average weight (adult): 20–23 pounds
Lifespan: 12–15 years
Exercise: 1+ hours a day
Grooming needs: Moderate
Family-friendly: Yes
Other pet-friendly: Sometimes
Trainability: High
Female Shiba Inu
Average height (adult): 12½–13½ inches
Average weight (adult): 16–18 pounds
Lifespan: 12–15 years
Exercise: 1+ hours a day
Grooming needs: Moderate
Family-friendly: Yes
Other pet-friendly: Sometimes
Trainability: High

Male Shiba Inu Overview
Personality / Character
Male Shiba Inus are slightly taller and heavier than females when fully grown, but there are exceptions to this rule. Males are also known for their aggression, especially when it comes to dealing with other dogs that are not part of their pack. However, this doesn't mean that they cannot be socialized and learn to get along with other dogs. It depends on the specific dog and their personality/temperament.
Also, males tend to be bolder and more confident than their female counterparts. Although female dogs are usually more independent than males, that does not seem to be the case for the Shiba Inu breed. The reason many breeders recommend that first-time owners get males is that they are generally more outgoing, affectionate, and playful than females. They are also typically a bit easier to care for and integrate into a family.
Exercise
Both male and female Shiba Inus require exercise, but the males tend to be more active due to their strong-willed and bold personalities. While a female might be happy with a 45-minute stroll around the neighborhood, a male will want to pick up the pace. Males are typically more athletic and agile, so they tend to enjoy things like agility courses, swimming, and long hikes more than females. But this isn't a fixed rule.
Training
Some breeders and owners believe that male Shiba Inus are easier to train than females. After all, they are eager to please, they tend to be headstrong in their tasks at hand, and they don't mind being handled.  However, females tend to take on commands easier than males do. Fortunately, both
While both males and females happen to be easy to potty train, both can be unreliable as puppies until properly trained. Therefore, males should be kept on a leash and supervised just as much as females, even if they do exhibit better potty habits.
Suitable For:
The male Shiba Inu is suitable for families with experience with dogs and those who have time and can commit to regular training. The males are typically a bit easier to manage and care for than females, but both sexes require about the same amount of patience, attention, and management to ensure a healthy and happy life. Females are suitable for the same environments too, though, so they should not be ruled out until you learn more about them and can make an educated decision.

Female Shiba Inu Overview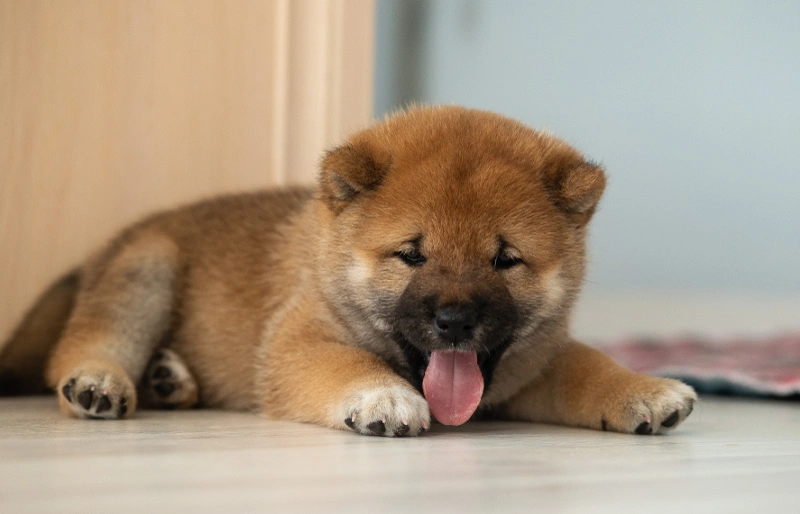 Personality / Character
Unlike their male counterparts, female Shiba Inus tend to be aloof with strangers and animals in social situations. In fact, they are cautious when interacting with others in general. They can sometimes be more independent than males, but only because they prefer being on their own if too many people are around.
Since females are less likely than males to greet strangers and try to make new friends, some owners compare them to cats. They are also not big cuddlers and tend to do what they want. Females are not generally more aggressive with other dogs, but they can be so toward other females if they have not been spayed.
Exercise
Like all dogs, female Shiba Inus require daily exercise. They should get at least 1 hour of exercise each day like their male counterparts; however, they are usually fine with leisurely walks and adventures as opposed to the brisker exercise and strenuous exercise that males typically enjoy. Females can get on the agility course with males, but they may be a bit slower and less agile overall. As long as they get at least one long walk each day, they should be able to maintain a healthy body and happy mind.
Training
Typical female Shiba Inus are easier to train than males because they are not quite as headstrong and are known for being a bit "brighter" on the intelligence scale. However, females can also be independent and even sometimes stubborn, so don't expect training to be easy and breezy. Patience and commitment are required for success.
Suitable For:
Female Shiba Inus seem to be more suitable for families with young kids than males, as they are gentler and more patient. Females are also thought to be able to get along with other animals better than the males. Overall, though, these dogs need an owner with experience handling headstrong dogs.

Which Gender Is Right for You?
Both male and female Shiba Inus have pros and cons, so the sex that is right for someone else's household might not be the right one for yours. A headstrong and protective male might be perfect for a family with teens who have time and energy to put into training and adventures, whereas an independent yet affectionate female might be the best bet for a family with children that wants a more laidback approach to dog ownership.
Keep in mind that all dogs are different, and any of these traits can be found in both male and female Shiba Inus. Some females might show more traits thought to be prominent in males and vice versa. You should spend time with both male and female Shiba Inus before deciding which one is right for you. You may find that the Shiba Inu is not the right dog breed for you altogether!
---