500+ Amazing Dog Names for Mastiffs: Iconic Options For Your Pup
If you're bringing home a baby Mastiff, you know they're not going to stay little for long. This massive breed grows quickly into an impressive, muscular body with doting, terrific personalities. So, if you are stuck on a name, we thought maybe we could help you out.
Everyone has a different preference when it comes to names. But if there's one thing we can agree on, your Mastiff deserves a name to match their majesty. Here is a list ranging from simple to powerful. Hopefully, you find one that strikes your fancy—or a handful!
Click below to jump ahead:
How to Name Your Mastiff
There are several ways to choose a name that suits your Mastiff—but sometimes you need a little help.
1.

Consider the Breed
So, how could you possibly pick a name to match that cute little wrinkly face? Keep in mind that your little guy or gal will grow into their big, honking feet in no time! So, as much as you want to name them a squishy, cuddly name, remember the adult version is soon to come.
You may want to think of some names that will still fit once they no longer fit in your lap.
---
2.

Draw at Random
Listen, you can get really creative if you can't make up your mind—leaving it all up to chance. You can write your favorite names down on a piece of paper, or you can enjoy a free online random name picker.
You simply Google, pick a site, add in your names—and voila! You have a name without hassle. Or, you can do what we all love to do and get the name at random to realize you wish it had been another one (and choose that other name instead!)
---
3.

Ask a Friend—or Two!
You can rely on your good friends or family to help you out! You can ask everyone in a group message, if that's your style. After all, who wouldn't be thrilled to have a part in coming up with a forever name for your furry buddy?
Or, you can always start a poll on social media! Give people options and pick the most popular choice. You can always ask for extra suggestions, too!
---
4.

Pick a Name You Love
You know you have a list of names mentally cataloged in your head that you've always loved but never used. Dust those lists off and read through to see if any name you saved has merit with your new little buddy.
After all, you are the one that will use your dog's name most of all. So, why not make it something you'll never get sick of?
---
5.

Make It a Family Affair
Get your whole household in on the naming magic. You can gather up all the kiddos or live-ins and sit everyone down. Brainstorm some awesome names, get those creative juices flowing! You'd be surprised what sort of names you can come up with, with a little help!
Plus, it always makes it a little more sentimental when those you love are around to put in their two cents.
European Names for Your Mastiff
If you know much about mastiffs, you'll know that there are a few different types—and each comes from a separate place on the map. However, these dogs are all European. So, we have a list of names here that match their roots!
Male Dog Names
Bjorn
Klaus
Arthur
George
Leonard
Frederick
Jasper
Alessandro
Alexei
Ambrosius
Bazyli
Clemens
Enzo
Gianni
Goran
Iver
Laszlo
Vincent
Nigel
Orville
Virgil
Hugo
Humphrey
Alvaro
Bruno
Andreas
Flurin
Soren
Dimitri
Ivo
Leon
Stellan
Laszlo
Viggo
Bastian
Emilio
Marcel
Leandro
Rui
Sven
Rayan
Zoltan
Sergio
Bardic
Lewis
Newman
Paris
Lyuben
Thiago
Oliver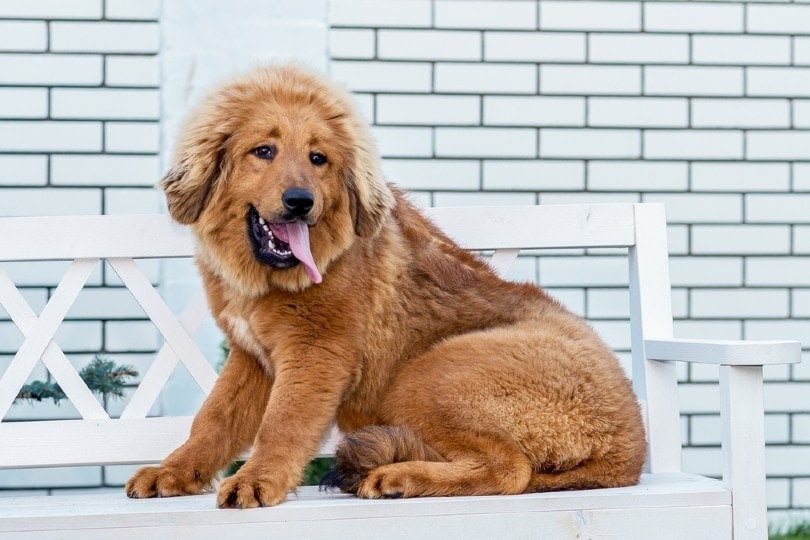 Female Dog Names
Tatiana
Greta
Gretchen
Brunhilda
Guinevere
Genevieve
Blaire
Eowyn
Eleanor
Irma
Romelia
Charlotte
Saskia
Gaia
Ines
Amelia
Aya
Fleurie
Anais
Chiara
Leonie
Solana
Isa
Valeria
Lilou
Elvira
Elin
Aurelie
Layla
Vega
Juni
Sigrid
Maelle
Eulalie
Minerva
Luz
Lisette
Fiorella
Giada
Isla
Evadne
Flavia
Milou
Rosalia
Mattea
Griselda
Fenna
Zosia
Perdita
Dasha

Powerful Dog Names for Your Mastiff
Mastiffs have a presence about them that is undeniable. Calm, well-timed gentle giants deserve a name that depicts just how impressive they are. Here are some names that capture the essence.
Male Dog Names
Gryphon
Ezekiel
Gabriel
Angus
Ignacio
Asia
William
Leopold
Damien
Darius
Ethan
Alejandro
Ansaldo
Burke
Denzel
Augustus
Oswald
Victor
Ambrose
Caesar
Orion
Thor
Uzziah
Imre
Barlas
Baron
Pruitt
Barak
Boaz
Lucius
Nicodemus
Gautier
Samson
Ferdinand
Marco
Atlas
Alonso
Carlisle
Darwin
Dimitri
Despereaux
River
Leviathan
Lazarus
Regal
Ollivander
Yuri
Wilhelm
Rogue
Webster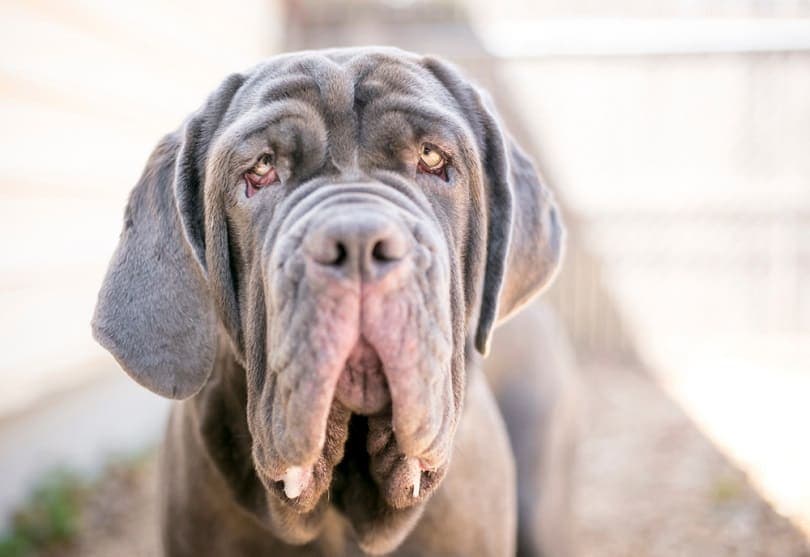 Female Dog Names
Xena
Athena
Artemis
Calliope
Calypso
Imogen
Wilhelmina
Anastasia
Saigon
Dinah
Freya
Nadine
Naomi
Gabrielle
Raven
Aphrodite
Zinnia
Kyrie
Linnea
Winona
Zula
Vienna
Diandra
Adelaide
Bianca
Sierra
Viola
Carina
Isabel
Pia
Greta
Kalian
Eloise
Bertha
Reva
Valentina
Isla
Adira
Amelia
Valerie
Melisende
Bridget
Gertrude
Isa
Bria
Kendra
Audelia
Ophelia
Gloria
Victoria

Larger-Than-Life Names for Your Mastiff
We have a few to consider if you want a name that relates explicitly to your Mastiff's size. There will be no denying why you chose it—each of these names matches the massiveness.
Male Names
Bubba
Butterball
Rhino
Sausage
Beefcake
Porky
Teletubby
Wobbles
Snuffleupagus
Snickers
Potluck
Snack-pack
Shrek
Crisco
Chalupa
Pumba
Chunk Norris
Doughboy
Biggie Smalls
Beast
Buddha
Goliath
Fezzik
Vesuvius
Beowulf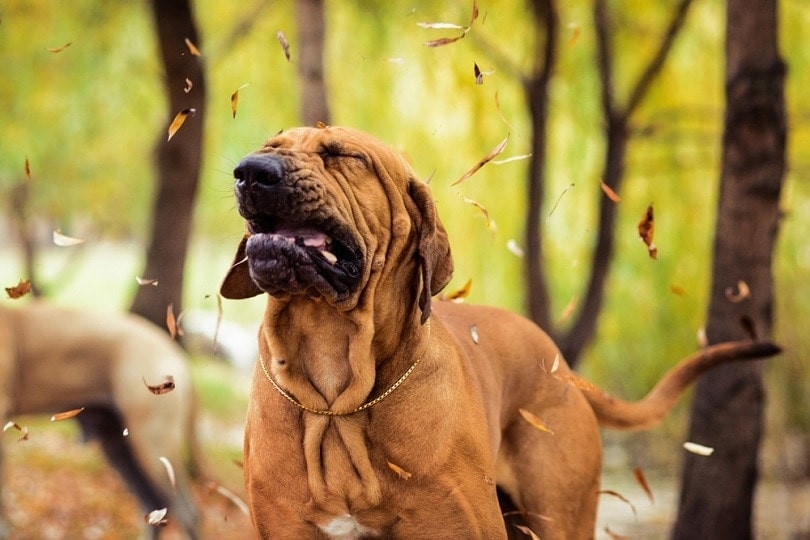 Female Dog Names
Mochi
Big Bertha
Betsy
Floofy
Bon Bon
Helga
Heffalump
Peppa
Large Marge
Wookie
Curvy
Miss Plum
Pupperoni and cheese
Ursula
S'mores
Pudge
Mama Flo
Rosie the Riveter
Xena
Artemis
Big Mama
Pookie
Gorda
Two-Ton Tonya
Dumpling

Character Names for Your Mastiff
There are tons of character-inspired options that you can choose from. We all have favorite books from childhood until now—and there are tons of great character names to choose from.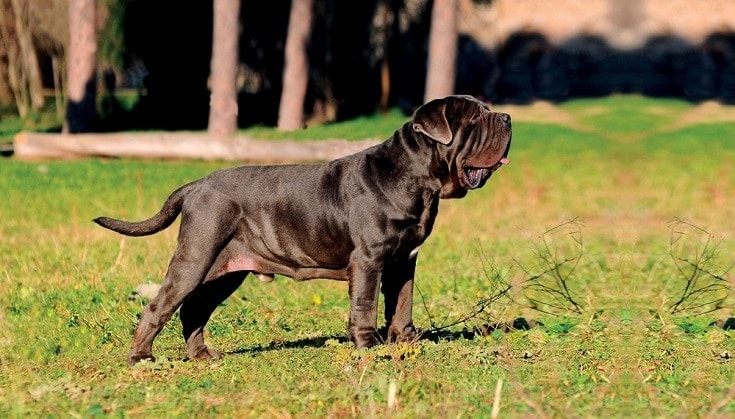 Male Dog Names
Edward—Twilight
Sparrow—Pirates of the Caribbean
Chief—Fox and the Hound
Maximus—The 300
Josey—Outlaw Josey Wales
Jackie Moon—Semi-Pro
Ignacio—Nacho Libre
Steve—Stranger Things
Bruce—Batman
Eli—Book of Eli
Metro Man—Megamind
Evinrude—The Rescuers
Tristan—Tristan and Isolde
Rhett—Gone with the Wind
Kelso—That 70s Show
Rafael—Teenage Mutant Ninja Turtles
Sherlock—Sherlock Holmes
Bond—James Bond
Montana—The Godfather
Marty—Back to the Future
Sebastian—Cruel Intentions
Winnfield—Jules Winnfield
Gatsby—The Great Gatsby
Gandalf—Lord of the Rings
Hagrid—Harry Potter
Optimus—Transformers
Bubbles—Trailer Park Boys
Gomez—The Addams Family
Morty—Rick & Morty
Meatwad—Aqua teen Hunger Force
Rio—Good Girls
Fonzie—Happy Days
Ebenezer—A Christmas Story
Chief—Fox and the Hound
Groot—The Avengers
Barney—The Andy Griffith Show
Manny—Ice Age
Fang—Harry Potter
Schmidt—New Girl
Archie—All In the Family
Bundy—Married with Children
Kristoff—Frozen
Oogie Boogie—Nightmare Before Christmas
Baloo—Jungle Book
Banjo—Banjo Kazooie
Hogarth—Iron Giant
Elliot—ET
Reginald—Umbrella Academy
Linus—Peanuts
Waldo—Where's Waldo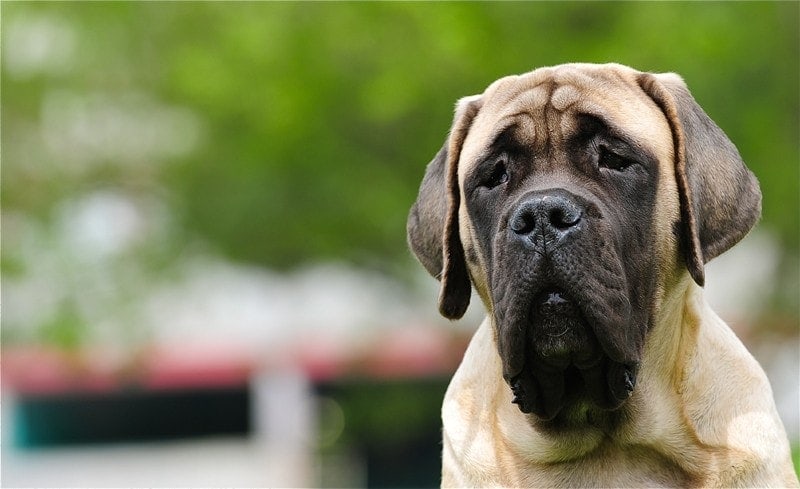 Female Dog Names
Rapunzel—Tangled
Aurora—Sleeping Beauty
Katniss—Hunger Games
Rizzo—Grease
Fern—Charlotte's Web
Leia—Star Wars
Sugar Cane—Some Like It Hot
Vivian—Pretty Woman
Marquise—Dangerous Liaisons
Mia—Pulp Fiction
Sally—When Harry Met Sally
Dorothy—The Wizard of Oz
Idgie—Fried Green Tomatoes
Sweet Dee—It's Always Sunny in Philadelphia
Arya—Pretty Little Liars
Alice—Alice in Wonderland
Matilda—Matilda
Arwen—Lord of the Rings
Ophelia—War and Peace
Ariel—The Little Mermaid
Sarah—The Little Princess
Judith—Where the Wild Things Are
Ellen—Alien
Hermoine—Harry Potter
Baby—Dirty Dancing
Nancy—Stranger Things
Holly—Breakfast at Tiffany's
Marge—Fargo
Scarlett—Gone with the Wind
Clarice—Silence of the Lambs
Mona—Drowning Mona
Veronica—Anchorman
Moira—Schitt's Creek
Gamora—The Avengers
Tottie—Wallace & Gromit
Blanche—The Golden Girls
Lois—Family Guy
Juno—Juno
Maleficent—Snow White
Florence—Florence and the Machine
Margelov—Stuart Little
Pearl—Spongebob Squarepants
Wilma—The Flintstones
Daphne—Scooby Doo
Regina—Mean Girls
Buffy—Buffy the Vampire Slayer
Leslie—Leslie Knope
Leeloo—The Fifth Element
Letty—Fast and the Furious
Ellie—Jurassic Park

Nature-Based Dog Names for Your Mastiff
Do you have a little nomad on your hands? If you have a flower child, it's time to pick a name relating to the nature you love. Do any of these beautiful names match your expectations?
Male Dog Names
Aspen
Moss
Ash
Branch
Briar
Rock
Timber
Hickory
Kodiak
Quartz
Avalanche
Tsunami
Cyclone
Moose
Bear
Boulder
Canyon
Blaze
Orion
Leaf
Spruce
Redwood
Quake
Monsoon
Cliff
Moon
Stone
Rye
Ridge
Smoke
Reed
Barley
Indigo
Woody
Bamboo
Cedar
Caiman
Yosemite
Cypress
Elm
Conifer
Ficus
Fox
Spider
Badger
Newt
Wolverine
Cricket
Harbor
Cosmo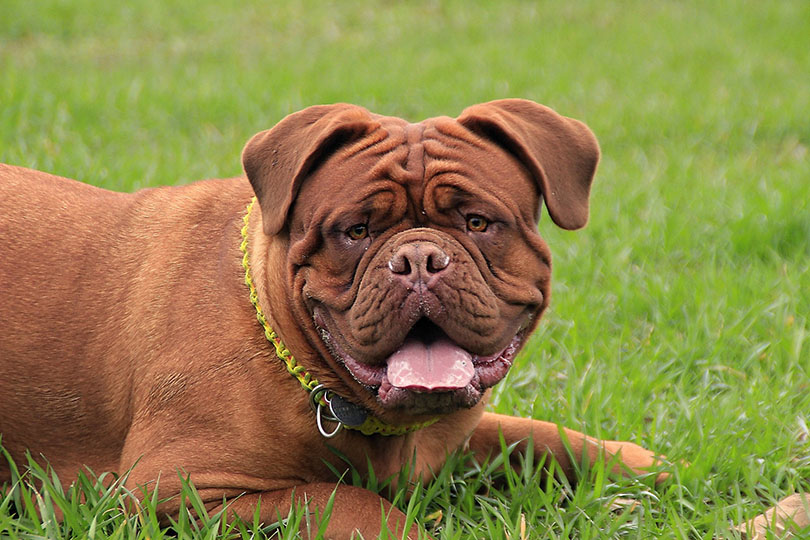 Female Dog Names
Amethyst
Rain
Fairy
Star
Luna
Raven
Sable
Fawn
Wren
Flora
Fern
Acacia
Dove
Paloma
Juniper
Everest
Fauna
Primrose
Sassafras
Daisy
Lilac
Iris
Meadow
Rosie
Rainey
Azalea
Azul
Ember
Echo
Hazel
Flower
Petunia
Maple
Violet
Amber
Ivy
Rowan
Sage
Poppy
Summer
Autumn
April
June
Blossom
Tulip
Aerial
Laurel
Ruby
Venus
Sunny

Food-Based Dog Names for Your Mastiff
It will be no secret—your Mastiff is going to love food. Why not name them an adorably delicious name? These names truly double as a pet name and a real name.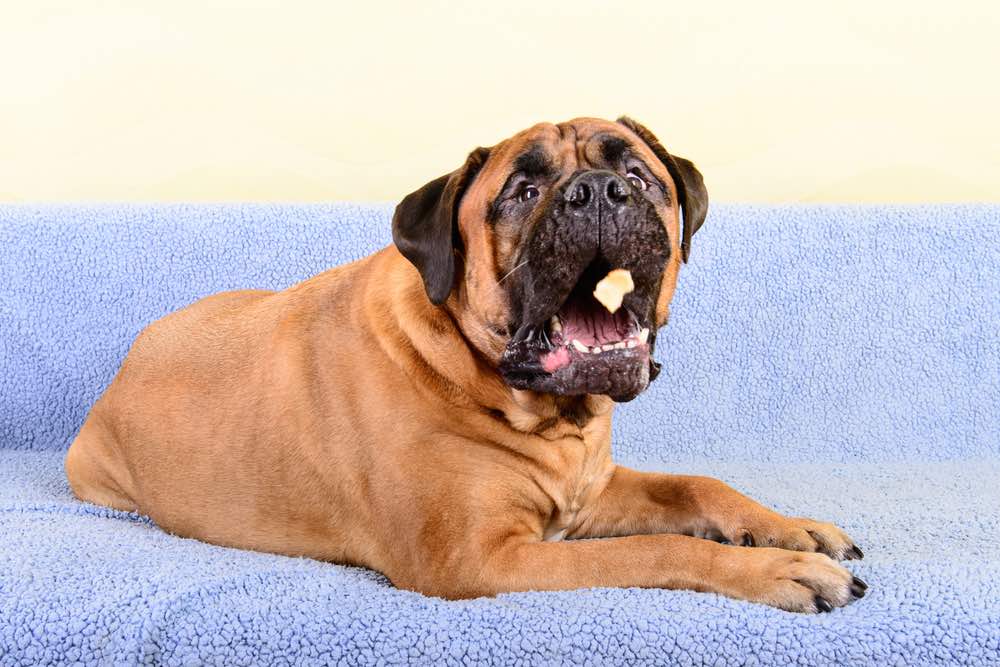 Male Names
Mr. Pickles
Tatertot
Fizzlepop
Oreo
Mousse
Spaghetti
Kibbles
Ragu
Noodle
Burgers
Gizzards
Chips
Shrimp
Taco
Fettucini
Gumbo
Beefcake
Angus
Hibachi
Merlot
Stew
Walnut
Bun Bun
Pistachio
Cashew
Nugget
Reuben
Graham
Dijon
Sprout
Gelato
Bruschetta
Alfalfa
Ziti
Fig
Mushroom
Chowder
Potato
Coconut
Huckleberry
Coffeecake
Babaganoush
Hunk
Toast
Bean
Mochi
Cheeto
Truffles
Macaron
Fudge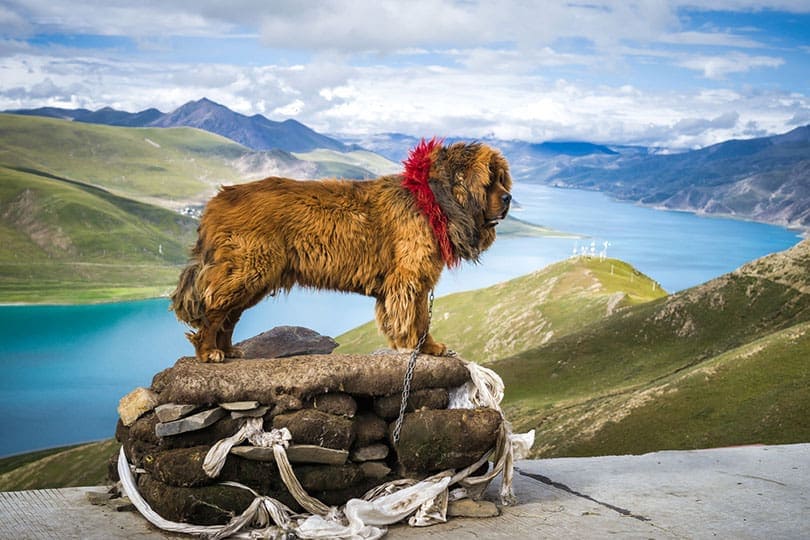 Female Dog Names
Marzipan
Fresca
Penne
Honey
Dumpling
Sugar
Daiquiri
Vanilla
Sweetpea
Cream Puff
Feta
Plum
Cookie
Chia
Sundae
Cappuccino
Pepper
Olive
Cocoa
Muffin
Clover
Ginger
Cinnamon
Mango
Clementine
Cherry
Cupcake
Kit-Kat
Pumpkin
Squash
Jasmine
Waffles
Banana
Cheesecake
Boston Cream
Buckeye
S'mores
Pepsi
Krispy
Praline
Peach
Buttercup
Keylime
Brownie
Blondie
Whoopie
Candy
Butterscotch
Tiramisu
Cayenne

Ironic Dog Names for Your Mastiff
Mastiffs can get well beyond 100 pounds as adults and are anything but little. So, your Mastiff is a beast—why not make a pun out of it? What exactly makes it so fun to choose something ironic for a name? We can't say! We can merely suggest.
Tiny
Inchworm
Mouse
Squirrel
Dinky
Shrink
Gizmo
Pipsqueak
Bitsy
Teenie
Baby
Bitty
Bug
Munchkin
Shorty
Shortcake
Firefly
Tootsie
Gremlin
Lil' Bit
Shrimp
PeeWee
Nemo
Popcorn
Midge
Final Thoughts
That about wraps it up for the Mastiff dog names we have. Hopefully, one name out of this 500+ name list stood out to you. Remember, you can always get friends and family in on the fun. Everyone wants a chance to put in their two cents.
Naming your newest family member is a catalyst into your future life with them. Enjoy the process.
---