Top 10 Most Dog-Friendly Cities in the World (Updated in 2023)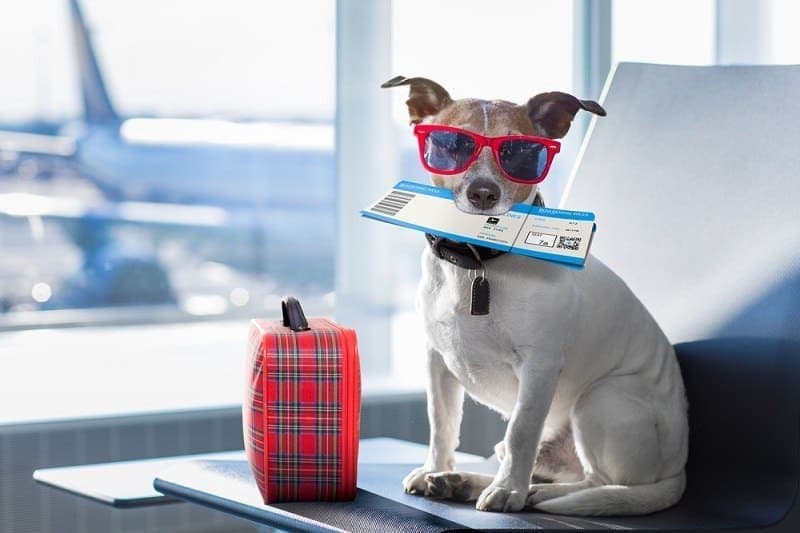 For many dog owners, their dogs are much more than just friends and companions; they're beloved family members. Just like you wouldn't leave your kids at home when you travel, (hopefully), most of us don't want to leave our beloved canines behind either.
But if you've ever attempted to travel with your dog in tow, then you know firsthand just what a hassle it can be. Many establishments refuse dogs, from restaurants to hotels and everything between. This can quickly turn your peaceful getaway into a frustrating game of "where can we go?"
Thankfully, things don't have to be that way if you choose to travel to one of the top 10 most dog-friendly cities instead. These cities are packed with amenities that make traveling with your pooch more fun, comfortable, and stress-free.
In these cities, dogs are treated much better than in other places. They might be allowed in businesses they'd never be able to enter in other places or they might even get special dog beds in the hotel room. Let's take a closer look at the best cities to travel with your dog.

The 10 Most Dog-Friendly Cities in the World:
1.

San Francisco, California, USA
With the most pet businesses per capita and the second most dog parks per capita in the United States, San Francisco is easily the most dog-friendly city in America. San Francisco is also the most dog-friendly city in the world! They have awesome pet-friendly spaces such as Golden Gate Park, where there are 1,000 acres of greenery for you and your dog to see, plus multiple off-leash areas where you can let your dog run around, play fetch, or whatever else your dog's heart desires.
Of course, dog parks and pet stores aren't the only accommodations in this city for your four-legged friend. Many of the main attractions of this city will also welcome your furry friends. Fisherman's Wharf, Coit Tower, and even the Golden Gate Bridge are all happy to accommodate you and your dog while you check out this beautiful city.
The cable cars of San Francisco are iconic and no trip here would be complete without a ride on one. Luckily, these also allow your canine companions on board! This city is so dog-centric that they even have multiple city-wide festivals that occur annually to celebrate these wonderful animals, such as DogFest and Pet Pride Day Festival.
---
2.

Amsterdam, Netherlands
There's a good reason why Amsterdam has been a popular travel destination for a long time. Well, there's another good reason besides the one you're thinking of! And that is: how dog-friendly this city is! The Dutch love dogs, which is why in Amsterdam, dogs are allowed in most establishments! This includes restaurants, stores, hotels, most places, in fact. The exceptions are museums and galleries. But aside from these two places, your dog is welcome pretty much everywhere.
If you're worried about how you're going to get around the city with your canine, Amsterdam makes it easy. In this city, dogs are welcome as free passengers on almost all public transport. The only exception is trains, where dogs are still allowed, but the doggy day pass you need for your canine to ride the train costs 3 euros.
When it's warm in Amsterdam, numerous parks that are well-kept and beautiful will welcome your canine. Even better, most of these parks are off-leash, so you can allow your dog to run free and stretch their legs. There's even a swimming area for dogs that love water at Flevopark.
---
3.

Tel Aviv, Israel
It shouldn't be surprising that the city with the highest dog population per capita is also one of the most dog-friendly cities anywhere in the world. With one dog for every 17 people, Tel Aviv is packed with canines. To keep them satisfied, many pet amenities have been built in this city, which is why it's such a great place to travel with your dog.
This city boasts an impressive 70 dog parks. You'll never have to travel far to find a suitable dog park here since that works out to about one park every square kilometer. But this city has more than just parks for your dog. They've also got four beaches that welcome dogs with open arms. Here, your canine can swim in the water, run and play in the sand, and mingle with other friendly canines that are living their best lives on vacation as well.
With so many dog amenities available, you should be able to find accommodations right near the main canine attractions. And luckily, most of the hotels are dog-friendly as well.
---
4.

Toronto, Canada
In any major city, it can be difficult to find places for your dog with greenery and scenery and soft ground for their feet. But with more than 60 off-leash dog parks in Toronto, this is one city where you'll never have that problem. In any of these numerous parks, you can let your dog run free in the grass so their inner pup can come out to play. One of these parks is located at Cherry Beach, which means you can take your dog for a dip in the ocean! Just be careful not to let the undertow pull them out.
Purina has also decided to the Purina Animal Hall of Fame here; a museum that has been celebrating animal heroism for over 50 years and currently has over 180 inductees.
For pet-friendly rooms, check the Hazelton Hotel. Here, dogs are treated as honored guests with their own plush dog beds, bowls, and treats. Waste disposal bags are even provided for you. And to help with planning your daily activities, the "pet-culars" brochure they provide will fill you in on all the local dog-friendly fun activities and places to see.
---
5.

Paris, France
In France, your dog must be no further than 100 meters from you and they must remain under close surveillance, but they don't have to be on a leash. For many in the West, this seems pretty incredible! But if you're going to travel here and allow your canine the freedom of off-leash travel in a crowded tourist area, make sure that your dog is well-trained, socialized, and able to handle the situation so you don't accidentally cause danger to your dog, yourself, or someone else.
Most businesses in Paris are completely open to canines. Many will even offer customers' dogs water and comfortable places to relax while you shop. But you won't find any dog parks here. That's because they don't need them! Dogs are allowed at any parks, so special parks for dogs aren't necessary.
---
6.

Seattle, Washington, USA
In America, Seattle has the fourth most dog-friendly restaurants of any city. But a much more surprising figure is that there are approximately twice as many dogs in Seattle as children. If that doesn't tell you how much people in this city love dogs, then nothing will.
Inside the Seattle city limits, you'll find 14 dog parks where your canine is free to run around off-leash and expend all that excess energy. Just outside the city limits, you'll find an additional 10 off-leash dog parks. One of the best is right in the heart of Seattle; Magnuson Park. It's a 9-acre haven for canines that's fully fenced and even has a separate area for smaller dogs. Plus, there's even a bit of beach access to Lake Washington.
If you prefer something a bit more natural, a short drive out of the city will lead you to numerous mountains that are covered with hiking trails for you and your dog to explore together.
---
7.

Berlin, Germany
Though most of Europe is pretty pet-friendly, Berlin makes it even easier than just about anywhere else in Europe to travel with your canine. All public transportation is pet-friendly, so you and your dog will be able to get around with no issues. If you need to travel further than the city limits, you can grab a train ticket for your pooch and enjoy a nice train ride into the rest of the country.
Most businesses in this city are welcoming to dogs. Restaurants, hotels, cafes, stores, and more are all happy to allow your pooch inside. Some hotels will even offer special accommodations for your dog, such as dog beds and food bowls. Hotels in this city are so dog-friendly that about 70% of them will allow you to book a room with your dog!
Many attractions are also open to dogs, including several of the steamer cruise boats. And if you're looking for a wide-open area for Fido to exercise, then the many dog-friendly parks dotted across the city provide the perfect place, helping to make Berlin one of the best cities to travel to with your dog.
---
8.

Rome, Italy
Rome is very progressive with their attitudes towards dogs. In this city, you don't even need to keep your pooch on a leash. And dogs are welcome just about everywhere. You can take your dog on a stroll through any of many parks, but that's nothing special. What is special is that your dog can play in the public fountains and monuments! Most dogs love to splash around, and here, there are plenty of places for them to do so.
Dog-friendly beaches can be hard to find, but in Rome, there's Baubeach. This beautiful oceanside paradise was built specifically for people that have canine companions. Here, your dog is free to swim, frolic, play, run, and even join you for a yoga class on the beach!
Because dogs are so popular here, it's not uncommon to make friends simply by strolling down the street with your dog. Dogs are allowed in most restaurants, cafes, and businesses, so you won't have to worry about finding it difficult to do normal things because your dog is with you. All of this makes Rome one of the most dog-friendly cities in the world.
---
9.

New York City, New York, USA
New York is a concrete mecca. You might not expect to find much space for your canine to be free and run around like a dog or enjoy the feel of soft grass under its feet. But you might have heard of a little place called Central Park. Ok, it's not that little! At 840 square acres, Central Park is pretty spacious, and your dog is welcome in all of it. There are even several dog runs and other off-leash areas where you can allow your dog to run free without worry.
But there are plenty of other things that make New York such a dog-friendly city. You might be surprised to find out that several high-end department stores will allow you to bring your dog inside, including Bloomingdale's and Saks Fifth Avenue.
Of course, pet-friendly accommodations are a must, and this city has plenty. You can even bring your pet to such iconic hotels as the London NYC or the Loews Regency where they will be welcomed with open arms. And throughout the city, you'll find restaurants, cafes, and bars where your dog will be allowed on the patio with you so you don't have to leave them in the hotel!
---
10.

Geneva, Switzerland
Few places take dog ownership as seriously as the Swiss. Here, you must pass tests to prove that you're a capable and responsible pet owner before you're allowed to have a dog. While this may seem overly restrictive, it's actually meant to help protect the animals.
But because they're so strict on pet ownership, pet laws are fairly lax. Dogs are allowed in most places and there are tons of areas where no leashes are required. You'll find tons of pet-friendly establishments and amenities, such as Parc Bertrand. You'll be able to take your dog on a long stroll through the grassy hills and along paths lined with trees and open green spaces.
And if you're looking for a place to stay, you'll have no trouble finding one. This city is home to 55 pet-friendly hotels, making it just as easy to stay somewhere with your dog as it would be to stay alone.
---
Featured image credit: Javier Brosch, Shutterstock