80 Amazing Names for Greater Swiss Mountain Dogs (2023 Update)
The Greater Swiss Mountain Dog is a friendly, calm, but energetic large dog breed that was developed in the Swiss Alps to help farmers with the hard duties of farm life. They are strong dogs with a dense coat with white, red, and black markings. Greater Swiss Mountain Dogs make excellent guard dogs, are pros at herding, and can perform draft dog duties if necessary.
These beautiful but powerful dogs need unique names to go with their distinctive coloring and size. It can be hard to figure out the right name for a new pet—so we've compiled a list of amazing name ideas with different inspirations for Greater Swiss Mountain Dogs.

Names Based On Swiss Characters
Inspiration for pet names can come from many places, so the first names on this list are inspired by famous Swiss characters:
Victor Frankenstein: Mary Shelley's title character from the classic Frankenstein
Doctor Waldman: Victor Frankenstein's mentor in Shelley's Frankenstein
Helvetia: This goddess is Switzerland's national personification
Betty Bossi: The Swiss fictional version of Betty Crocker
Titeuf: a 10-year-old blonde boy who is the main character of the Swiss comic of the same name
Tsagoi: a Roma truck driver who is the main character of the science fiction comic, "The Gibsy," or gypsy
Oblivia: Tsagoi's sister attends a Swiss boarding school before joining him on their travels
Wicked Wanda: a British adult comic strip character who lived in Switzerland
Klara Prast: a Superhero who can manipulate plant movement and growth in the Marvel Comics series, Runaways
Silvester Klaus: a masked character for New Year's Eve during Saint Sylvester's Day festivities
Mercy: a medical support player who lives in Zurich, Switzerland in Overwatch games
Frick and/or Frack: an ice skating comedic Swiss duo from the original Ice Follies show
Dr. Hans Gruber: a character from the film, Re-Animator, who is brought back from the dead
Mr. Vieux Bois: a character from the comic, Histoire de Mr. Vieux Bois, first published in Switzerland in 1837
Globi: an anthropomorphic parrot that wears a black beret and is sometimes called Switzerland's Mickey Mouse

Names Based On Myths and Heroes of Swiss Folklore
Swiss folklore has a mythology of witches, spiritual creatures, and dragons that offers many options for Greater Swiss Mountain Dog names.
Jack-of-the-Bowl: a spirit who takes cows to graze in areas hazardous to humans in exchange for a bowl of cream each night
Barbegazi: small men, covered in white fur, that live in the mountains
Boog: another name for the Bogeyman
Samichlaus: the Swiss Father Christmas who wears long canonical robles
Undines: water spirits or elementals in mythology
Basilisk: a mythical creature that's believed to be a serpent king; it's part dragon or snake, and is a symbol of Basel
Matterhorn: a triangular peak in the Swiss Alps, also reputed to be the realm of the giants
Schnabelgeiss: a tall beaked goat with the features of a serpent and cat in the Ubersitz festival
Witch of Belalp: a misunderstood witch who was burned at the stake, and who is honored with a skiing event in the Belalp region
Heidi: a character in Johanna Spyri's book about a young girl in the Swiss Alps
Berchtold: the white-cloaked being who leads the Wild Hunt
Herwisch: creatures that turn on their lanterns at night in the marshes to lead travelers astray
Frost Giant: giants that are ruled by the Frost King and inhabit the highest peaks of the Alps
Dragonet: tales about the "little dragon" from the Middle Ages that originated in Switzerland
Teufelsbrücke: a legendary stone bridge, called the Devil's Bridge, that spans over the Schollenen Gorge
Huttefroueli: an old strong woman who carries her husband during the Ubersitz festival on her back
Perchta: Germanic goddess who is the female leader of the Wild Hunt, who wears a white cloak
William Tell: a Swiss folk hero who shot an apple off his son's head under duress
Bruder Kaus: the patron saint of Switzerland who was also a Swiss monk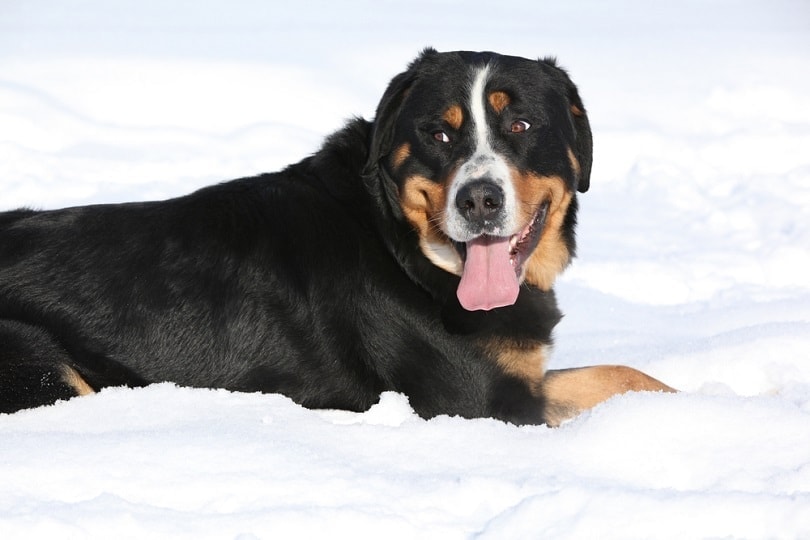 Names Based On Swiss Celebrities
These famous artists, scientists, actors, writers, artists, and more come from Switzerland—whose names all make great options for naming your Great Swiss Mountain Dog.
Carl Jung: founder of analytical psychology and a psychoanalyst
Alberto Giacometti: Swiss painter, sculptor, and printmaker
Albert Einstein: developed the theory of relativity and was a theoretical physicist
Paul Klee: a surrealist artist, cubist, and expressionist
Jean Piaget: Swiss psychologist who first championed the understanding of children through systemic study
Le Corbusier: Swiss-French city planner, architect, and developer of modern architecture
Ursula Andress: the first Bond girl in the film, Dr. No
Robert Louis-Dreyfus: Swiss-French entrepreneur, who is the former CEO of Adidas
Anna Goldi: a housemaid who was decapitated for witchcraft; she was the last person to be executed in Switzerland
Johanna Louise Spyri: the author of the famous children's novel Heidi
Romain Grosjean: the professional Swiss-French racecar driver competing for France in the NTT IndyCar Series
Jacob Bernoulli: a mathematician who was an early advocate of Leibnizian calculus
Jean-Jacques Rousseau: an influential thinker and philosopher credited with being a large influence during the Enlightenment period
Louis-Joseph Chevrolet: the co-founder of the Chevrolet Motor Car Company
Tina Turner: a famous American-born Swiss singer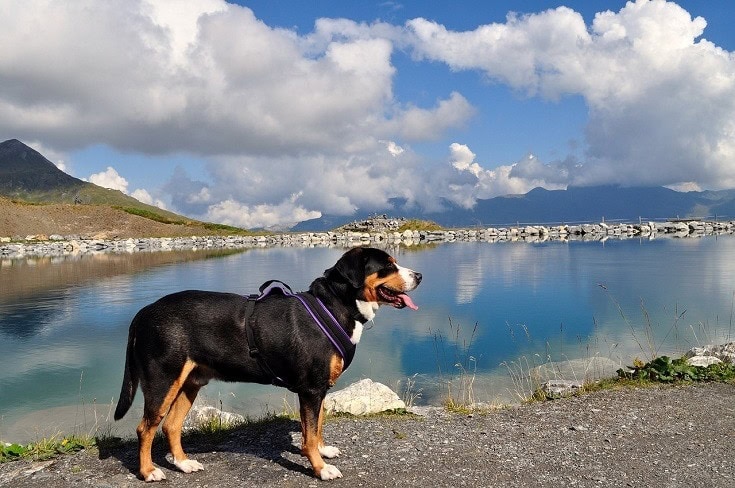 Names Based On Destinations in Switzerland
Switzerland inspires people around the globe because of the diversity of its citizens, as well as tourists. From stunning cities to the impressive backdrops of the valleys and snow-topped peaks of the Swiss Alps, there is something to inspire everyone. Here are some possible Greater Swiss Mountain Dog names inspired by the gorgeous Swiss landscapes:
Geneva: a famous lake in Switzerland
Bellinzona: a city center of historic significance
Werdenberg: an important medieval hamlet
Jura Vaudois: a nature park in Romainmotier in the medieval monastic town
Jura: French-Swiss border mountains
Jungfrau: a beautiful Jungfrau Region on the Bernese Oberland on the way to a well-known ski resort
Grindelwald: a renowned winter sports destination
Lac de Neuchâtel: a thermal lake located at the foot of the Jura mountains
 Lauterbrunnen: a pretty Alpine village is known best for its waterfalls
Bern: Switzerland's capital city
Le Sentier: a village known for watchmaking
Yverdon-les-Bains: a mineral bath area
Lucerne: a famous tourist lake and town
Lausanne: a large city in the Lake Geneva region that is a cultural hub
Zermatt: an Alpine resort area
Lavaux: the World Heritage Site known for the Vineyard Terraces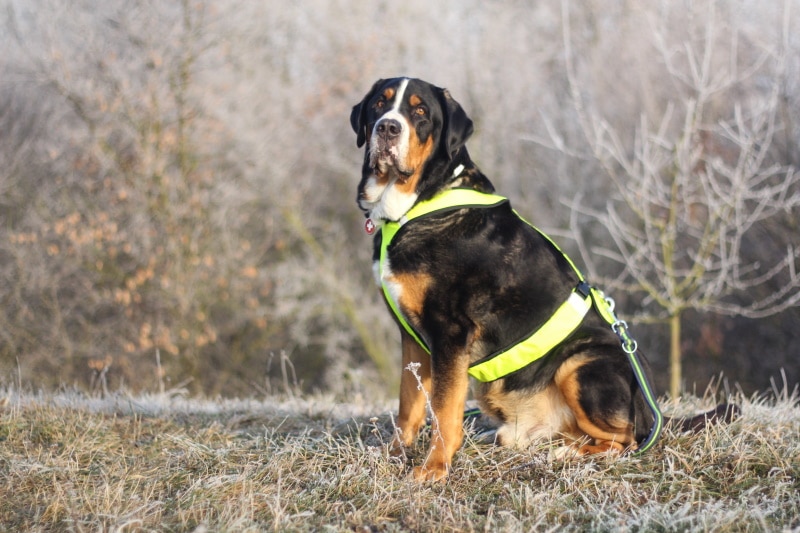 Other Popular Names to Consider
Some of these names are Swiss-inspired, while others are popular names for large dogs like the Greater Swiss Mountain Dog.
Brutus: a great name for large, strong dogs
Agatha: means "good" and is popular because of the mystery author Agatha Christie
Hulk: a large green superhero from Marvel Comics
She-Hulk: the Hulk's female counterpart
Hercules: the son of Zeus who is known for his superior strength
Zeus: father of Hercules, known as the king of the gods in Greek mythology
Zoe: means "life," which describes the lively Swissie to a tee
Tank: a large machine used in wars
Bailey: a bailey is the outer wall of a castle used to protect the city, which is a good name for a guard dog
Moose: a large antlered animal
Gigi: means "earth-worker," which harkens back to the origins of the Greater Swiss Mountain Dog
Prince: a popular name that can mean royalty or a certain popular 80's singer
Lucy: for Lucille Ball, a comedic actress that was full of life
Hugo: means "min" or "intellect," but many equate it with "huge"
Verena: a defender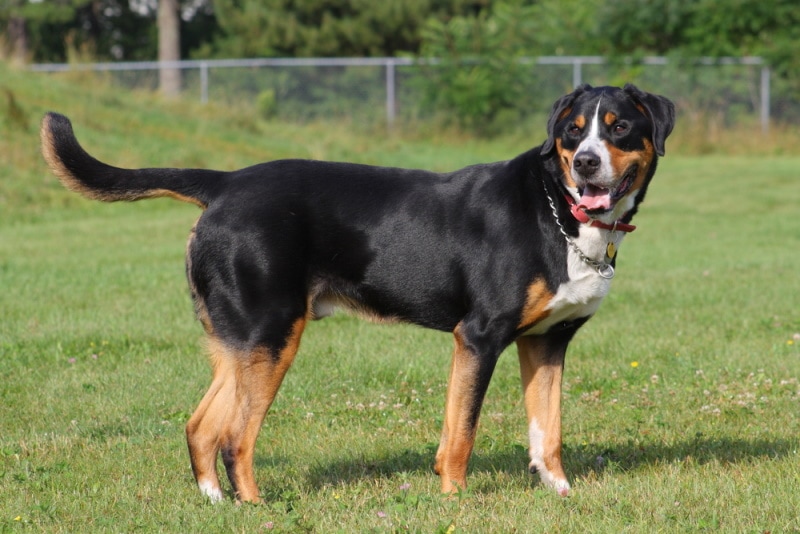 What's in a Name?
Finding pet name inspiration can be difficult when you want the name to be "the right one" for your favorite furry friend. Switzerland has plenty of inspiration for names for your new Greater Swiss Mountain Dog, whether the name idea comes from the landscape, the country's myths and heroes, or from the people themselves. If none of those quite hits the ticket, there are also plenty of other popular names for large dogs on our list. We hope that our list helped you find the right name for your new canine companion.
---