Nom Nom Dog Food Subscription Review 2023: Pros, Cons & Verdict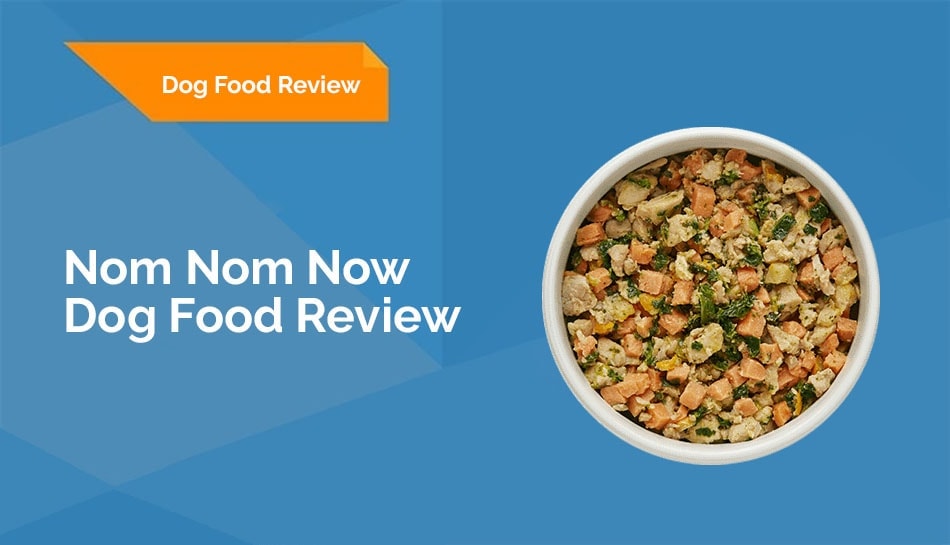 Nom Nom Dog Food Review Summary
Our Final Verdict
We give Nom Nom Dog Food a rating of 4.8 out of 5 stars.
Editor's Rating: 5/5
Quality: 5/5
Variety: 4.5/5
Ingredients: 5/5
Value: 4.5/5
Personalization: 4.5/5

What Is Nom Nom Dog Food? How Does It Work?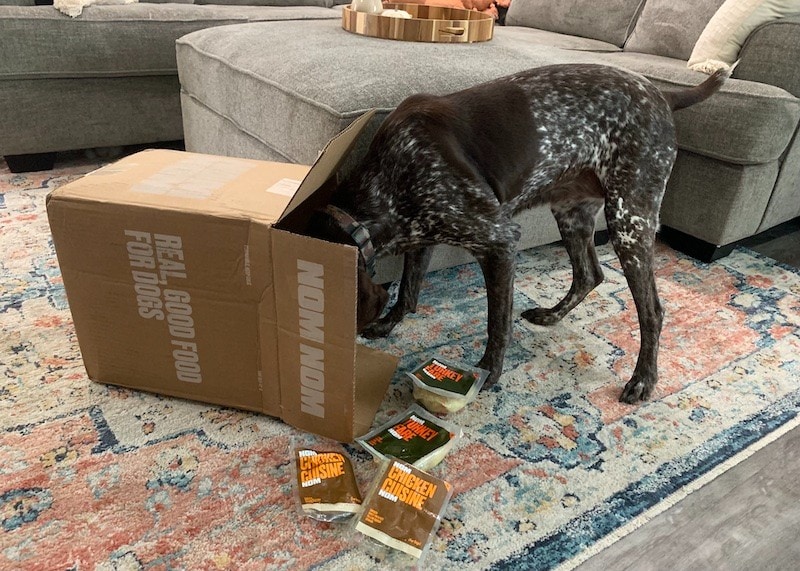 Nom Nom Now Fresh Dog Food is a dog food delivery service that delivers delicious and fresh food monthly. With recipes designed by board-certified veterinary nutritionists, Nom Nom Now Fresh Dog Food packs in nutrition and flavors that your pooch is destined to love. Coming in four flavor varieties (with the option to sample the flavors), even the pickiest of dogs will enjoy these meals.
Because of the premium ingredient list in Nom Nom Now Fresh Dog Food, it is a great choice for people who want to provide their pets with the best possible food. This nutritious and flavorful dog food does come at a price, though. It is pretty pricey, costing a minimum of $30 a week.
Since your dog is part of your family, however, this price may very well be worth it. Feeding your dog whole, fresh, and minimally processed food that is rich in antioxidants and free from excessive numbers of dangerous byproducts will have a positive impact on their overall health. It will help your dog live a happy and long life.
If you are interested in Nom Nom Now Fresh Dog Food, you can sign up for their services through their website. How it works is that you will fill out a profile for your dog, allowing them to give you recommendations and a cost estimate based on your dog's size and needs. From there, they will ship you samples to try.
A Quick Look
Shipped fresh
Sample flavors before committing
High-quality ingredients
Minimally processed, thus healthier
Recipes designed by veterinary nutritionists
Recommends blends based on your dog's breed, size, and needs
Expensive
Not available in all states
Pricing
As a monthly subscription service, Nom Nom Now Fresh Dog Food starts at $30 per week for a 20-pound dog. The prices go up based on dog size, breed, and any additional needs, like allergies or joint pain. For dogs that weigh between 10 to 15 pounds, you will pay between $30 and $37 per week based on the protein you select. There are a variety of protein options, including beef, chicken, turkey, and more.
Payment must be paid upfront, and it is paid monthly. Delivery will be free and signing up will give you the opportunity to save 20% on the first 2 weeks.

What to Expect from Nom Nom Dog Food
Nom Nom Now Fresh Dog Food is a pretty easy subscription service to follow. It begins with you creating a profile based on your pet. This is where you can put in their breed, current weight, target weight, and their favorite protein. Then, Nom Nom Now provides you with a price quote based on your dog's size.
After you sign up and select which proteins you want to receive, they will ship you samples to try out. If your pet doesn't like one of the options, you can change the protein flavor next time. They will also ship fun treats with the samples.
After you have confirmed your pet's preferred meal, you'll get 56 packets of food every month. The packs will arrive with ice packs, ensuring that the food is fresh and cool. It's recommended to freeze most of the packets and place a few in the refrigerator to thaw. Add the contents of the refrigerated packets to your dog's bowl during meal times.
Nom Nom Fresh Dog Food Contents
Dog Food Type: Fresh dog food
Quality: High-end, whole ingredients
Delivery Period: Delivered monthly
Payment Method: Paid upfront
Protein Options: Beef, chicken, pork, and turkey
Recall History: No recalls
Ingredients
Nom Nom Now Fresh Dog Food is designed to be nutritionally complete for your pet. This ensures that your dog is getting the needed nutrients and health it deserves. All of their dog food includes a variety of ingredients that are nutritious and tasty.
Below is a list of some of the ingredients found in Nom Nom Now Fresh Dog Food:
Beef
Potatoes
Eggs
Carrots
Peas
Fish oil
Chicken
Sweet potatoes
Yellow squash
Spinach
Pork
Green beans
Mushrooms
Kale
Turkey
Brown rice
Food Ingredient Quality
What makes Nom Nom Now Fresh Dog Food stand out among its competitors is the quality of ingredients used in the recipes. This dog food is nothing like regular kibble. Instead, all of the ingredients are premium and gently cooked, ensuring that they are fresh and nutritious.
Since their founding, Nom Nom Now Fresh Dog Food has never received any recalls, which is a pretty impressive feat. Their food packs are shipped with freezer packs, ensuring that the food remains fresh and cool during the shipping process. All around, you can trust the ingredient quality within this fresh dog food.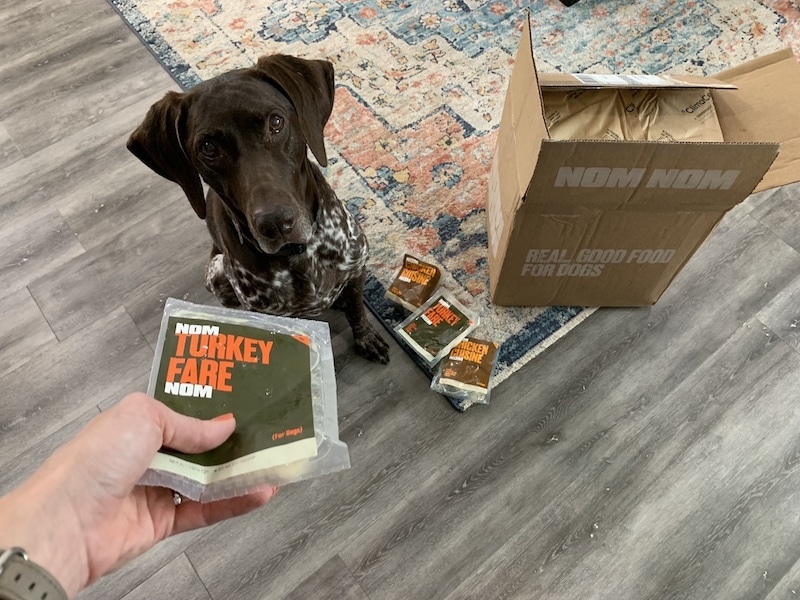 Dog Food Variety
On top of the nutritious and yummy ingredients within Nom Nom Now Fresh Dog Food, they offer a variety of options. Even the pickiest dogs will like these recipes. Nom Nom Now Fresh Dog Food offers four different recipe varieties, including Beef Mash, Chicken Cuisine, Pork Potluck, and Turkey Fare.
Each of these varieties is formulated with specific ingredients and nutrients to target different preferences and needs. For example, Ground Pork is a great option for healthy dogs with known poultry allergies, whereas Turkey Fare may be ideal for dogs looking for a less calorie-dense food. If you're unsure which recipe your dog would like, there are also variety-pack options.
Nom Nom Fresh Dog Food Pricing
The cheapest option for Nom Nom Now Fresh Dog Food is $27 a week. For some people, that is expensive dog food. However, it's important to think about the quality and value of the food, not just the price. Feeding quality dog food to your dog might help you save on veterinary fees in the long run.
If you want to give your dog the freshest food available, Nom Nom Now Fresh Dog Food is a great value. The food is incredibly nutritious and tasty, meaning that your dog receives the best food possible. At the same time, this brand ensures that you receive the food safely and they even offer additional features, like testing out samples and treats. This makes the dog food a great value, even though it is expensive.

FAQ
Who formulates the recipes?
All Nom Nom Now Fresh Food recipes are formulated by Doctor Justin Shmalberg, a practicing veterinarian and professor of veterinary medicine. He is a board-certified veterinarian nutritionist within the country, of which there are fewer than 100.
Does the food meet AAFCO standards?
Yes. All Nom Nom Now Fresh Food recipes meet or exceed the AAFCO Dog Food Nutrition Profile standards. This includes profiles for all stages of life.
What if I don't know which flavor my dog will like?
Nom Nom Now offers a variety pack that lets you sample all four recipes. No subscription is necessary. It costs $15 per pack, and shipping is free for orders over $30.
Can I reschedule or cancel orders?
Yes. Reschedule orders using your account. You can cancel your subscription by contacting Nom Nom Now via email or toll-free number.
What the Users Say
In addition to our own experience with Nom Nom Now Fresh Dog Food, we looked online to see what other people thought about this product. Overall, most users were overwhelmingly pleased by the dog food's freshness and benefits. Still, the price was something that multiple people noted was too high for them to pay.
Almost every review we read noted that the dog food always arrived fresh and that their dogs absolutely love the blends. Some dog owners noted that their lovable pooches tend to have hard to please appetites. With this service though, their dogs loved the Nom Nom Now Fresh Dog Food blends.
Users also found that the dog food did make a difference in their dog's health. Several people noted that the dog food helped their dog reach health goals, such as losing weight, having a shinier coat, or even relieving itchy skin.
As we expected, the main drawback of this product was its price. Several people noted that although the dog food was of superior quality, they simply couldn't afford this option and had to select something less expensive.
All around, users agree with our general consensus that Nom Nom Now Fresh Dog Food is very impressive with high-quality blend varieties. At the same time, it is very expensive and is not the most economical of options.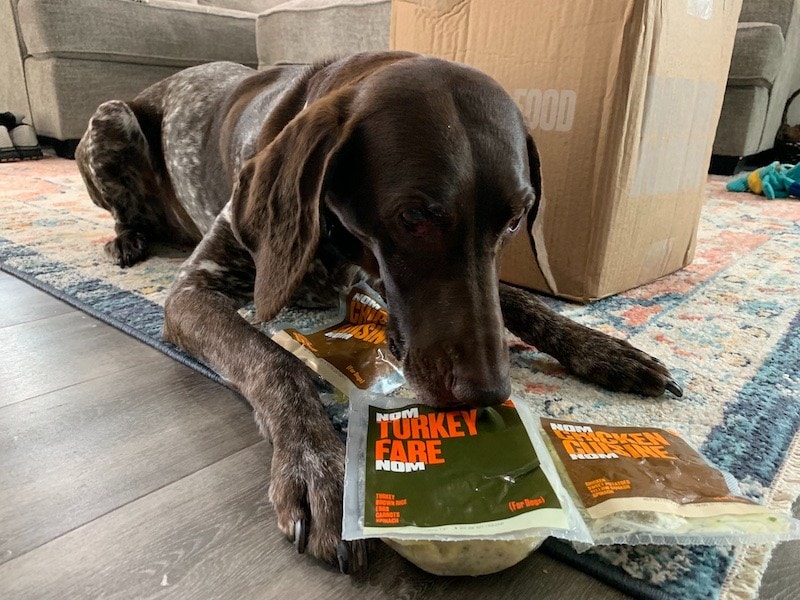 Conclusion
Nom Nom Now Fresh Dog Food is a great option if you want to give healthy, high-quality food to your furry family member. These dog food varieties are nutritious and tasty enough for the pickiest of eaters. They also are designed to provide a complete and balanced nutrition to all healthy dogs regardless of their life stage. Although this service is a bit pricey, it is worth it if you want to provide your pup with the best food available.
Check out some of our other dog product reviews: