Nom Nom vs Spot & Tango: Which Fresh Dog Food Brand is Better in 2023?

Introduction
When you've decided to make the switch to top-quality fresh dog food, you've got some choices to make. Today, much like food delivery services for people, there are fresh dog food delivery companies thriving, with Nom Nom and Spot & Tango being two of the best in this niche market. Both premium brands prioritize using human-quality protein, fruits, and vegetables, and both offer formulas that are developed with the help of veterinarians and vet nutritionists.
If you're not crazy about the idea of comparing the top fresh dog food brands, don't fret. We've done all the hard work for you with this Nom Nom versus Spot & Tango brand comparison. We'll delve into the nitty-gritty details about Nom Nom and Spot & Tango and break down their product lines, warranties, pricing, and lots more. So, sit back, relax, and read through this comparison to decide for yourself which of the two brands is best for you and your beloved pooch!

A Quick Comparison
Rating
Image
Product
Details

Best Overall

Nom Nom

High protein content
Carrots and spinach add necessary nutrients
Chicken proteins account for first two ingredients
Click to Save 50%

Runner-Up

Spot & Tango

Offers Fresh and Dry food varieties
Human-grade food ingredients
Packed with nutrients, vitamins, and minerals
Click to Save 50%
Brief History of Nom Nom
The founders of Nom Nom, Nate and Jack, along with their two dogs Harlee and Mim, started Nom Nom in 2014 because they felt the dog food world was stagnant with nothing new being offered. Nate and Jack could only find kibble and canned dog food for their beloved canines that had questionable ingredients listed on the packaging, many of which had unpronounceable names.
In their quest to do better for Harlee and Mim, the duo experimented with cooking their own dog food using only fresh ingredients. Once they created delicious and nutritious homemade dog food, they went on to create a pet food delivery service for their friends and family.
Later, the pair teamed up with Dr. Justin Shmalberg, a board-certified specialist in both the American College of Veterinary Nutrition and the American College of Veterinary Sports Medicine and Rehabilitation to formulate dog food recipes to ensure dogs receive the best possible food using restaurant-quality ingredients.

Brief History of Spot & Tango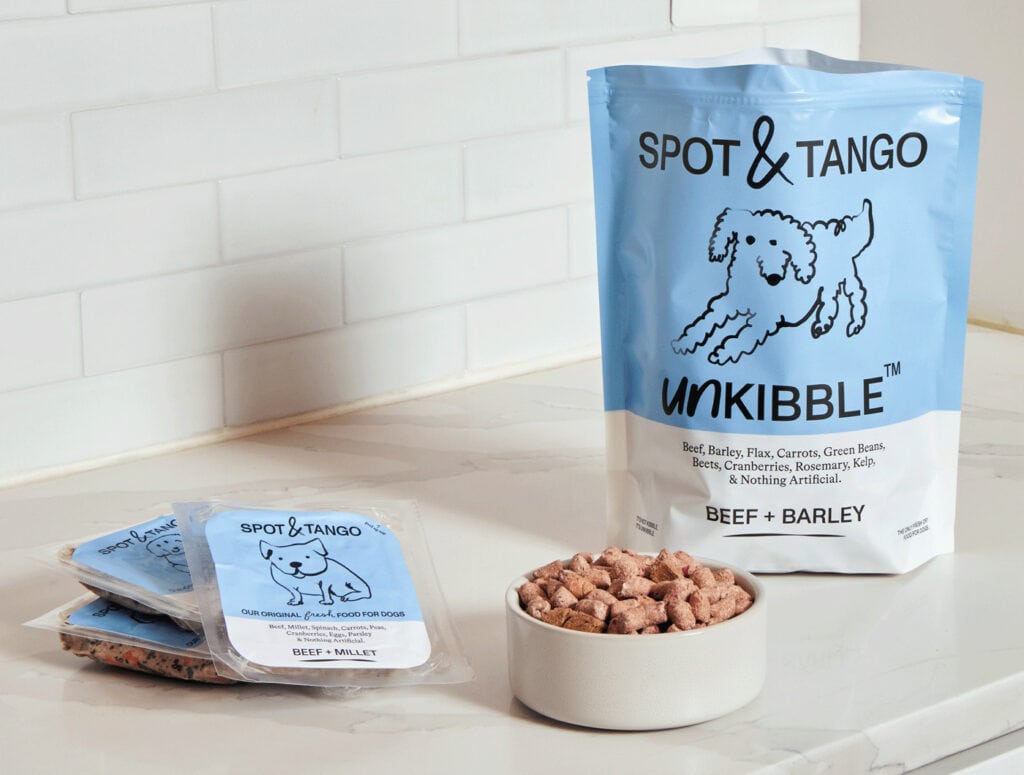 Together with his wife and long-time friend, Spot & Tango founder Russel Breuer founded the company in 2013. After evaluating dog foods on the marketplace, the trio knew they could do better for their dogs by creating healthy, nutritious, farm-to-table meals.
Spot & Tango was founded on the premise that dogs benefit greatly when provided with a fresh, all-natural diet that includes lean meats, vegetables, and fruits. The business ramped up over a period of several months of exhaustive research and self-funding.
Breuer, his wife, and his friend worked closely with holistic veterinarians, food scientists, researchers, and others so they could produce the highest quality fresh dog food money can buy. This New York City brand began offering delivery services across the Big Apple so dog owners could conveniently get the best dog food possible for their beloved pets.
Nom Nom Manufacturing
Nom Nom makes all its fresh dog food in its own kitchen facilities located in Nashville, Tennessee, and the San Francisco Bay Area. This brand believes in personally handling each step of the process of creating fresh dog food so it can inspect every ingredient, undertake rigorous testing for safety, and provide the highest quality meals from small made-to-order batches.
As the brand states on its website, "Every Nom Nom meal is made in a Nom Nom kitchen that only makes Nom Nom." The brand also packs its meals in its own buildings, so it knows that the customer is getting exactly what they ordered. Nom Nom goes the extra mile by even answering its own phones so the brand can develop close relationships with its customers and their pets.
Spot & Tango Manufacturing
Spot & Tango makes all its premium fresh dog food in a USDA/FDA inspected kitchen in New York. This brand gently cooks each human-grade ingredient at a low temp in small batches to derive its maximum nutrient bioavailability. As the dog food ingredients are cooked separately, they get mixed together, then flash-frozen to lock in freshness.
This New York-based dog food brand sources all its ingredients from local farms and human food providers. Spot & Tango takes great pride in never using anything artificial, including cheap fillers or additives and preservatives. This commitment to freshness and quality has helped make Spot & Tango one of the world's best providers of wholesome and freshly made food for dogs.

Nom Nom Product Line
Nom Nom is well-known for offering a variety of nutritious and delicious recipes even the pickiest dogs will like. The four different recipe varieties offered by Nom Nom include Beef Mash, Chicken Chow, Pork Potluck, and Turkey Fare. Each of these recipes contains specific ingredients and nutrients to target different needs. For example, Beef Mash is targeted toward healthy dogs with no allergy issues while Turkey Far is great for canines with known allergies. Consumers who are unsure of which recipe their dog would like can order variety packs from Nom Nom.
Below we've broken down Nom Nom's four fresh dog food recipes so you can see what ingredients are in each.
1.

Beef Mash
This Nom Nom recipe offering is made using beef, potatoes, eggs, carrots, peas, and fish oil.
---
2.

Chicken Cuisine
This offering from Nom Nom consists of chicken, sweet potatoes, yellow squash, spinach, and fish oil.
---
3.

Pork Potluck
Pork Potluck is made from pork, potatoes, green beans, yellow squash, mushrooms, kale, and fish oil.
---
4.

Turkey Fare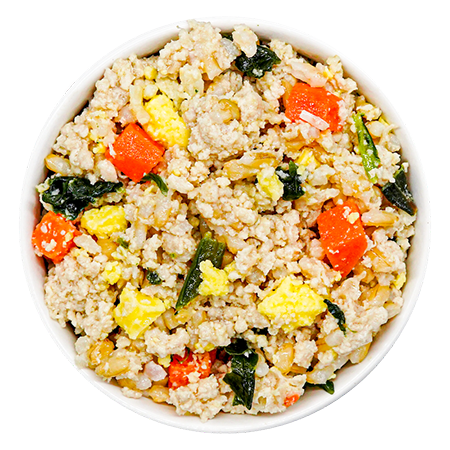 This Nom Nom fresh dog food recipe is made using turkey, eggs, brown rice, carrots, spinach, and fish oil.
Non Nom excels at meticulously producing tasty and nutritional fresh food that is suitable for any dog from the tiniest chihuahua that's a picky eater to the biggest St. Bernard that needs lots of yummy goodness in its daily diet.

Spot & Tango Product Line
Spot & Tango is well-known for preparing made-to-order fresh, ready-to-serve meals loaded with human-grade ingredients that contain no artificial additives, preservatives, or fillers. The team at this company knows that human-grade food is considered edible by people like you and me. These foods are rigorously regulated, and Spot & Tango meets all the human-grade requirements. This commitment to top-shelf quality makes Spot & Tango a leading fresh dog food brand that pulls out all the stops to provide canines with delicious, premium, freshly made food.
Spot & Tango offers just three fresh recipes but they're all outstanding options for dogs of all sizes and types. We've broken down the company's recipes below so you can see what ingredients are in each.
1.

Turkey & Red Quinoa
This Spot & Tango recipe contains turkey, red quinoa, spinach, carrots, peas, apple parsley, and eggs.
---
2.

Beef & Millet
This offering by Spot & Tango contains beef, millet, spinach, carrots, peas, cranberries, and eggs.
---
3.

Lamb & Brown Rice
This all-natural recipe contains lamb, brown rice, spinach, carrots, peas, blueberries, and eggs.
Spot & Tango does an excellent job of ensuring all its meal options are rich in protein, so they can be used for feeding growing puppies. This brand also goes the extra mile by including fruits and berries in its recipes. While these ingredients aren't a needed part of a dog's diet, they do contain healthy antioxidants and vitamins which is always a good thing!

Nom Nom vs Spot & Tango: Price
If pricing is important to you when choosing a fresh dog food brand, you should know that both Nom Nom's and Spot & Tango's fresh dog food starts at just a few dollars per day. However, this cost is only applicable to a small dog that eats a partial meal plan. This means that most dog owners will end up paying more per day to get the fresh food their dogs need.
In the end, things like your dog's weight, age, activity level, and nutritional requirements will determine the price. The nice thing about both brands is that they don't hide the cost of their dog food, nor do they tack on any extra fees. As soon as you provide some basic info about your dog, you'll be given the best recipe options along with the cost.
Nom Nom Brand
There's no reason to sugar-coat it: Nom Nom premium fresh dog food comes at a premium price. This company bases its prices on factors like your dog's age, weight, overall health, and target weight. If you were to choose full daily meals for a healthy, medium-sized mixed breed dog with no health problems or allergies, you can expect to pay in the neighborhood of $50 per week if you choose Nom Nom.
The good news is that Nom Nom offers a sample variety pack for far less than that weekly cost so you can figure out which fresh food recipe your dog likes best. This company also offers free shipping and gives you the option of customizing when you'll receive the deliveries.
Spot & Tango Brand
Spot & Tango's full portions of its fresh dog food start at under $20 per week. However, that cost estimate is based on a small breed dog like a chihuahua with no health issues. If you have a large breed dog with special dietary needs, you can expect to pay far more each week for full portion meals.
Spot & Tango's prices are based on your dog's unique caloric needs and factors like age, weight, activity level, and special dietary needs. This brand does offer free shipping on all meal plans, which is great and right on par with Nom Nom.
Again, there's no reason to beat around the bush. Spot & Tango charges premium prices for their quality premium fresh dog food that's among the best you can get for your pampered pooch.
Nom Nom vs Spot & Tango: Guarantee
Nom Nom
Nom Nom states on its website that they're not able to accept returns since their fresh meals are perishable, which is understandable. The company does state that if you don't see the benefits of giving your dog Nom Nom fresh food within 30 days of receiving your first order, you can contact them to request a full refund on your first order. While this isn't a cut-and-dry guarantee, it's the best Nom Nom can provide considering it's in the fresh dog food industry.
Spot & Tango Brand
Spot & Tango offers what it calls a 100% Happy Puppy Guarantee. This means that if your dog doesn't love Spot & Tango fresh dog food, you'll get your money back. There is a catch to this 100% money-back guarantee because it's only offered to first-time purchasers.
In other words, if you sign up for Spot & Tango's 14-Day Trial offer that allows you to sample its food for two weeks, you can request a full refund if you do so before the end of your Trial. Like Nom Nom, Spot & Tango doesn't offer any more of a guarantee because its products are perishable edibles.
Nom Nom vs Spot & Tango: Customer Service
When you're paying good money to have fresh dog food delivered to your door, you naturally expect to receive excellent customer service. You probably want to deal with a company that welcomes any and all questions and handles problems and issues quickly. We've broken down the customer service offered by Nom Nom and Spot & Tango so you can see how these two brands compare regarding customer care.
Nom Nom
Nom Nom is very upfront about what it offers and what customers can expect when signing up for its fresh dog food meal plans. The company's website has a whole section dedicated to customer support called the Nom Nom Help Center. Here you can find answers to many of the questions you may have.
You can use the "Contact Us' form on the Nom Nom website to ask questions and they promise to answer promptly. You can also call the team at Nom Nom directly by phone during regular business hours and on weekends. That's a great option if you prefer working with companies that don't shy away from offering live support. All in all, Nom Nom receives positive reviews from customers located across the USA.
Spot & Tango
Spot & Tango goes out of its way to ensure all your questions and concerns are addressed throughout the ordering process. The online quiz is easy to fill out and it gives you clear options at the end. Once you order from this company, you'll get a confirmation email telling you what to expect next as well as email updates when your order is ready to ship.
One thing that may disappoint you about Spot & Tango's customer service is that you can't just pick up the phone and call this company. You must contact this brand by email and wait for your reply. The company does have a fairly extensive FAQ section on its website that may answer some of the questions or concerns you have. However, many Spot & Tango customers complain that there's no human available to take calls from customers.

Head-to-Head: Nom Nom Beef Mash vs Spot & Tango Beef & Millet
Both Nom Nom Beef Mash and Spot & Tango Beef & Millet contain beef, but there are some differences between the two fresh dog food recipes. Beef Mash by Nom Nom is made mainly from ground beef and russet potatoes while Beef & Millet contains mainly beef and millet.
If you're unfamiliar with millet, you should know that it's a type of small-grained cereal that belongs to the grass family. While millet is easy for dogs to digest, it's not as tasty as russet potatoes, which gives Nom Nom the edge in this side-by-side comparison. Also, Nom Nom doesn't specify what type of beef it uses in Beef & Millet so there's no way to know if it's ground beef or a certain cut.
Our Verdict:
We think Nom Nom offers a better-tasting beef recipe for dogs with its Beef Mash made with ground beef and russet potatoes. While there's nothing wrong with millet, it's not a tasty grain, even if it's easily digested by dogs. Perhaps Spot & Tango uses millet instead of potatoes because it's a cheaper route to take. We also like that Nom Nom specifies the type of beef it uses in its Beef Mash recipe whereas Spot & Tango doesn't.
Head-to-Head: Nom Nom Turkey Fare vs Spot & Tango Turkey & Red Quinoa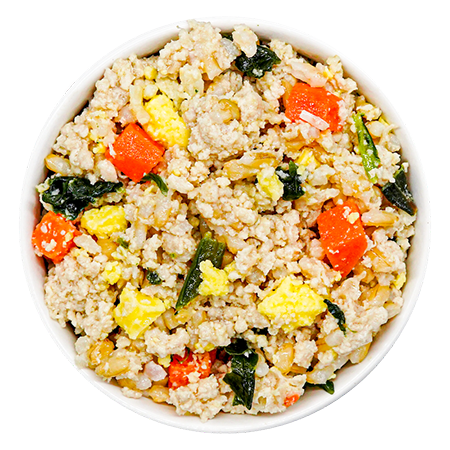 Turkey is a great alternative to beef that contains less fat and fewer calories. If your dog could stand to lose a few pounds, both Nom Nom and Spot & Tango have turkey recipes in their product lines.
Nom Nom's Turkey Fare provides an above-average amount of protein and fat and a below-average number of carbohydrates. In addition to turkey, Turkey Fare also contains brown rice which is considered one of the best grains to use in dog food, so we give them points for that!
Spot & Tango Turkey & Red Quinoa contains red quinoa, an ancient seed rich in protein, fiber, and many vitamins and minerals. Red quinoa also contains a significant number of carbohydrates with about 40 grams for every one cup. Turkey and Red Quinoa is loaded with other good things like carrots, peas, spinach, and eggs which are all great ingredients for dogs.
Our Verdict:
We're going with Nom Nom on this matchup too simply because Turkey Fare has more protein and fewer carbs than Turkey & Red Quinoa. Plus, Nom Nom uses brown rice in this recipe which is a top-notch grain to include in dog food.
Head-to-Head: Nom Nom Chicken Cuisine vs Spot & Tango Lamb & Brown Rice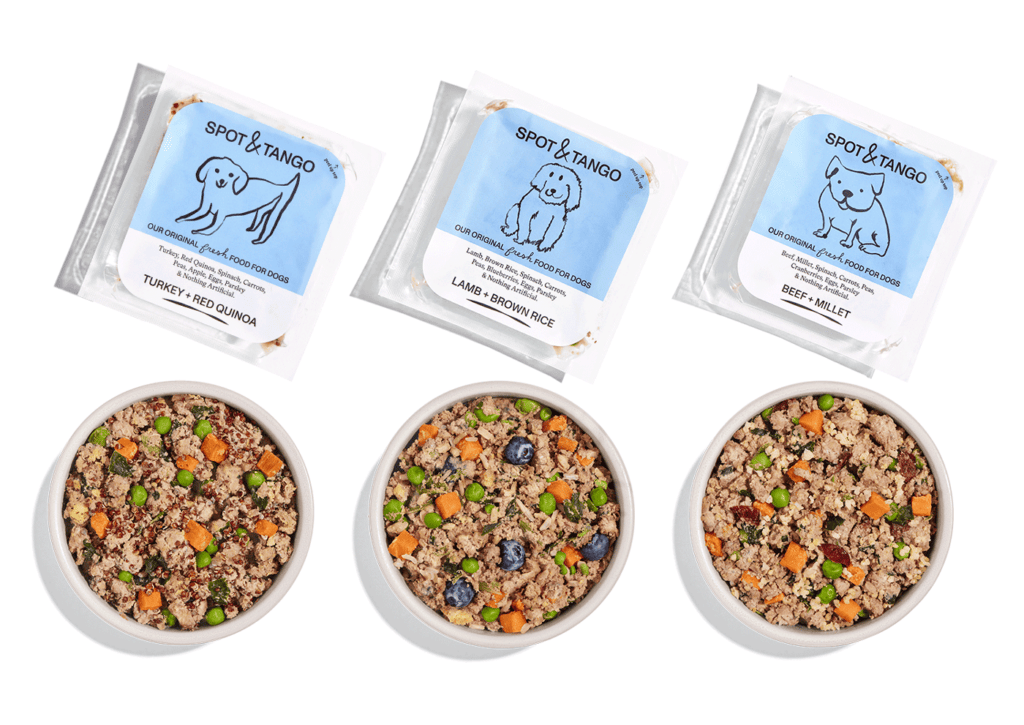 Chicken Cuisine by Nom Nom contains a total of 8.5% crude protein per cup. This recipe mainly contains diced chicken, sweet potatoes, squash, and spinach. While it's lacking in fiber with just 1% cred fiber per cup, it's a good source of essential vitamins and minerals. This recipe contains fewer carbs than Nom Nom's other offerings and the added fish oil and sunflower oil are great sources of omega fatty acids that promote a healthy coat of fur.
Spot & Tango's Lamb & Brown Rice has a bit more crude protein than Chicken Cuisine, offering 11.8% and more fiber with 2.64%. This lamb recipe is a great option if your dog doesn't tolerate beef or poultry because it's high in protein, low in carbs, and offers lots of important vitamins and minerals. This recipe includes whole blueberries which are nice and plump. If you're skeptical about your dog liking blueberries, you may be surprised to see him gobble them all down because dogs are generally very fond of this natural treat.
Our Verdict:
Spot & Tango's Lamb & Brown Rice earns the top spot here because it has more protein and fiber than Nom Nom's Chicken Cuisine. Plus, we like that it's made with brown rice which offers much more nutritional value than white rice which essentially offers nothing more than a lot of empty calories and carbs.

Overall Brand Reputation
Ingredients
Edge: Nom Nom
Nom Nom and Spot & Tango source all their ingredients from local farmers and producers and both use veterinarians and nutritional experts to formulate their recipes. When you compare these two companies to others out there that offer fresh dog food that's delivered to your door, you'll notice that the Nom Nom and Spot & Tango meals are much more appetizing.
We give the award for best ingredients to Nom Nom because it uses a broad range of human-grade ingredients you wouldn't hesitate to serve to your human family.
Price
Edge: Nom Nom
The cost of feeding a small healthy dog fresh food will cost you about the same amount from both companies. While Nom Nom has set base prices for all their meals, some meals from Spot & Tango are priced differently. For example, Spot & Tango's Lamb and Brown Rice costs more per order than its other recipes. This is probably because the Lamb and Brown Rice recipe is targeted toward dogs that can't tolerate beef or chicken. If you run down the prices of both brands, in the end, Nom Nom will come out as the most affordable option.
Guarantee
Edge: Nom Nom
Both Nom Nom and Spot & Tango offer some type of money-back guarantee if you don't like their fresh dog food recipes. However, since Nom Nom gives you 30 days to request a refund on your first order instead of Spot & Tango's 14 days, Nom Nom gets the highest marks concerning guarantees.
Customer Service
Edge: Nom Nom
You can contact Nom Nom via telephone and talk to a real person. This is important if you have a concern or an important question to ask that can't wait. On the other hand, Spot & Tango can only be contacted via email which means you'll have to wait for someone to reply. Therefore, Nom Nom comes out ahead in terms of customer service.

Conclusion
Both Nom Nom and Spot & Tango are excellent sources for fresh dog food that's delivered straight to your front door. However, overall, Nom Nom comes out ahead. It's a more affordable option and the company uses restaurant-quality ingredients in all its recipes. The guarantee from Nom Nom is also superior to what's offered by Spot & Tango and the customer service is better too!
In the end, you'll have to decide which company is best for you and your beloved dog. We don't hesitate to recommend either company because they're both amazing! Just do your homework and consider your dog's overall health and food preferences. With a bit of diligence, you'll surely make the right choice!
Related Reads: