Nutro vs Blue Buffalo Dog Food: 2023 Comparison

When trying to pick a dog food to feed your pup, sometimes the answer is clear: one food is made from real ingredients, while the other is pieced together from animal by-products and cheap fillers.
However, sometimes the answer isn't so clear, and you must pick between two seemingly high-quality foods. How do you make the right decision in that case?
Nutro and Blue Buffalo are two foods that are at the higher end of the dog food spectrum in terms of quality, as both rely on natural ingredients over chemicals and grains. That doesn't mean that they're equally good, however, and there's one that we'd definitely recommend giving your dog over the other.
So which food won our contest? Read on to find out.

A Sneak Peek at the Winner: Nutro
Nutro edged out Blue Buffalo by the slimmest of margins, despite the foods being nearly identical in many important aspects. Ultimately, concerns over Blue Buffalo's safety history led us to go with Nutro, but Blue Buffalo is still an excellent food.
Rating
Image
Product
Details

Best Overall

Nutro Wholesome Essentials Natural Adult

Real chicken is first ingredient
Lots of omega fatty acids
Includes biotin
Check Price

Runner Up

Blue Buffalo Life Protection Formula

Lots of chicken inside
Good amount of fiber
With LifeSource Bits
Check Price
Here are a few of the Nutro products that stood out for us:
As we said, though, Blue Buffalo certainly put up a fight — and some may even prefer it to Nutro. We'll discuss why later in the article.
About Nutro
Nutro is one of the most commonly found higher-end foods, as you'll see it on shelves at pet stores nationwide.
Nutro Started Small But Went Big
The company started in 1926, when a man named John Saleen bought a dog food manufacturing company to make healthy kibble for the residents of southern California. The company was family-owned and -operated for 50 years.
In 1976, The Nutro Company was bought by Mars, Incorporated, the owner of the Pedigree brand of dog foods (and the largest pet care company in the world).
While no longer a mom-and-pop outfit, the company's mission was kept the same: to manufacture healthy food for pets.
The Company Blew Up Fast
Soon after being acquired by Mars, Inc., the company opened more manufacturing plants across the United States. Their foods are still made domestically, with plants in California, Missouri, and Tennessee.
Just because they make the food in America doesn't mean that it's not a worldwide brand now, as you can find Nutro's products virtually anywhere in the world.
Nutro Used an Innovative Marketing Strategy to Succeed
While other dog food companies relied on traditional methods of advertising, often bragging about how delicious dogs find their food, Nutro used a different technique.
They produced pamphlets and other literature educating consumers on the dietary needs that dogs have. This educated their target market, while also uniquely positioning them as the answer to their pets' problems.
Nutro Commonly Uses a Controversial Tactic Known as Ingredient Splitting
Ingredient splitting is when they take an ingredient and call it by several different names on the ingredients list. This lets them disguise the true amount of that ingredient in the food.
For example, they may have a food that lists chicken as the first ingredient, followed by three different kinds of rice. This leads you to believe that the food is mostly chicken, when in fact there's much more rice in it, and that fact would be apparent if they hadn't divided it into three separate ingredients.
There's nothing illegal about this, nor does it change the amount of protein inside. However, it is unseemly and misleading.
Uses natural ingredients
Believes in educating consumers on canine nutrition
Easy to find in stores
Ingredient lists can be misleading
Usually on the expensive side

About Blue Buffalo
Blue Buffalo is one of the biggest names in premium pet foods, despite being a relative newcomer to the game.
Like Nutro, Blue Buffalo Started Small But Went Big
Blue Buffalo is a much younger company than Nutro, as it was only founded in 2003. Blue Buffalo was started by two dog owners who wanted to make a healthy food to assist their sickly Airedale. The food was successful, and before long, their brand was, too.
It was so successful, in fact, that in 2018 Blue Buffalo was acquired by the food giant General Mills. This is both a testament to the fact that many owners find the food to be great for their dog and to the fact that the premium dog food market is booming.
Blue Buffalo Foods Use Something Called LifeSource Bits
Inside each bag of kibble, you'll find little dark chunks mixed in with the food. These are their proprietary LifeSource Bits, which are gobs of vitamins and antioxidants they add to make their food even more nutritious.
The LifeSource Bits don't seem to affect the taste at all, and they're great ways to give your dog a quick and easy boost of nutrition.
They Eschew Common Allergens
Many lower-quality foods use cheap fillers like corn, wheat, or soy to bulk up their kibble without also bloating their bottom line.
Unfortunately, a great many dogs have issues digesting these Blue Buffalo foods, and can suffer all manner of allergic reactions as a result. Plus, they're little more than empty calories, so they can cause your pup to pack on a few pounds, too.
Absolutely none of Blue Buffalo's recipes use these ingredients, making them an excellent choice for dogs with sensitive systems.
Blue Buffalo's Safety Record Isn't the Best
We'll discuss this more below in the "Recall History" section, but for such a young company, Blue Buffalo has endured quite a few manufacturing incidents.
More recently, the FDA has linked them (along with over a dozen other foods) with possibly causing heart disease in dogs. Now, this has not been proven, and there are many possible explanations for this linkage. However, it's something that's worth noting before you decide to feed your dog this food.
LifeSource Bits add lots of extra vitamins and minerals
Completely soy-, corn-, and wheat-free
Good for dogs with sensitive stomachs
Safety record isn't the best
Fairly pricey

3 Most Popular Nutro Dog Food Recipes
1.

Nutro Wholesome Essentials Natural Adult
This recipe starts off with real chicken, then adds chicken meal, chicken fat, and lamb meal further down the line. This gives your dog a healthy foundation of protein, while also providing a variety of essential nutrients that are only found in those foods.
However, three of the primary ingredients are whole brown rice, brewers rice, and rice bran. This leads us to believe that they're trying to mask the amount of rice inside this formula, and the low amount of overall protein (22%) indicates that there's not as much chicken in here as they want you to think.
While that's disappointing, the rest of the ingredients list leaves us little to complain about (except maybe the salt content). It has sweet potato and dried beet pulp for fiber, flaxseed for omega fatty acids, and biotin for healthy hair and nails.
Overall, this is a particularly good food, which makes us wonder why they felt the need to resort to trickery to make it look even better.
Real chicken is first ingredient
Lots of omega fatty acids
Includes biotin for nail and coat health
Misleading amount of rice
Little protein overall
High salt content
---
2.

Nutro ULTRA Adult
This formula uses the same ingredient splitting technique as the one above, although it's a bit more brazen about it. The three rice products are all in a row, right after the chicken and chicken meal.
This means there's probably a lot of rice in here. That's not a bad thing, as rice is easy on the digestive system and healthier than corn or wheat. It's hard to evaluate the nutrition levels of a food when the manufacturer uses misleading tactics.
That said, this has more protein than the recipe above (25% as compared to 22%). This is because it has a wider variety of animal proteins, as it boasts salmon meal, lamb meal, and chicken fat in addition to the chicken and chicken meal.
As we mentioned, all that rice is gentle on stomachs, and it has oatmeal too, which is also good for soothing upset tummies. Beyond that, there are fantastic ingredients like kale, spinach, blueberries, and more in here.
Our only other issue with this food is that it has dried egg product, which may cause digestive issues. That should be offset by the rice and oatmeal, though.
Uses a wide variety of animal proteins
Extremely gentle on stomachs
Lots of superfoods like kale and blueberries
Misleading amount of rice
Dried egg product may cause digestive issues
---
3.

Nutro MAX Adult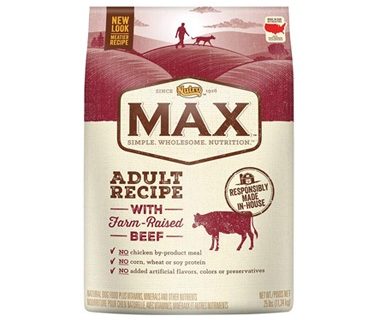 Nutro's MAX line was largely responsible for its explosive growth in the 1980s, and it's easy to see why: this is a good food.
It's not great, though. It doesn't use ingredient splitting techniques to the same extent as the formulas above do, but there's still quite a bit of carbohydrates in here at the expense of protein.
There's only 22% protein inside (and not much fiber, either), and while chicken meal is the first ingredient, you won't find real chicken until well down the ingredients list. The chicken meal adds plenty of glucosamine, though.
It does have oatmeal, though, which combines with the rice to make this an excellent choice for sensitive pups. The chicken fat also adds important omega fatty acids, as does the flaxseed.
This was a groundbreaking food 30+ years ago, but the rest of the industry has caught up since then, and now it's middle-of-the-road at best.
Good for dogs with sensitive stomachs
Flaxseed and chicken fat add omega fatty acids
Glucosamine from chicken meal
Limited amount of animal protein
Packed with carbs
Low amount of fiber

3 Most Popular Blue Buffalo Dog Food Recipes
1.

Blue Buffalo Life Protection Formula Natural Adult
This is Blue Buffalo's most basic formula, and it's just kibble with LifeSource Bits mixed in. While it's basic, there's still a lot in here to like.
The first two ingredients in this Blue Buffalo food are chicken and chicken meal, with chicken fat not far behind. Despite all that poultry, the protein level is mediocre — only 24%, and some of that comes from pea protein. There is a good amount of fiber in it, though.
It does have quite a bit of omega fatty acids, thanks to foods like flaxseed. You'll also see great ingredients like kelp, cranberries, blueberries, and sweet potatoes inside.
The salt content is higher than we'd like, and the white potatoes may give some dogs gas. Overall, though, this is a fine food, and it's easy to see how it would catapult Blue Buffalo into prime position in the dog food wars.
Lots of chicken inside
Good amount of fiber
Great ingredients like flaxseed, kale, and cranberries
Mediocre amount of protein
More salt than we'd like
Uses a lot of plant protein
---
2.

Blue Buffalo Wilderness Rocky Mountain Recipe High Protein Grain Free Natural Adult
The Wilderness line is Blue Buffalo's high-protein line, and this one clocks in at 30%. It also has 6% fiber, making it a good choice for both athletic dogs and those who can stand to lose a few pounds.
The protein comes from sources like beef, fish meal, beef meal, lamb, venison, and dried egg product. That should make the taste very inviting for your pup, while giving him a broad array of nutrients as well. There's quite a bit of pea protein in here too, which lets them boost their numbers cheaply.
The non-meat ingredients are good, too, although there's less of them. You'll find cranberries, sweet potatoes, blueberries, kelp, carrots, and more, as well as dried chicory root for fiber.
This is also one of Blue Buffalo's more expensive product lines, as you might expect from all that meat. However, if you can afford it, it's well worth the price.
High amount of protein
Wide array of animal sources
High in fiber
Uses a lot of plant protein, too
Expensive
---
3.

Blue Buffalo Basics Limited Ingredient Diet Grain-Free Natural Adult
The name of this Blue Buffalo food is almost as long as the ingredients list, as it relies on using only a limited amount of foods to make the kibble. The idea is that the fewer the ingredients, the easier it is for you to avoid giving your dog something that doesn't agree with him.
This might not be apparent at first, as the ingredients list seems quite daunting. However, most of that is due to the added vitamins and minerals rather than extra foods.
The primary ingredients in this Blue Buffalo recipe are turkey, potatoes, and peas, and you'll find variations of each inside. They also toss in a little fish and canola oil for omega fatty acids, as well as tapioca starch for complex carbs.
While this food is good for sensitive pups, it doesn't have a lot to offer, nutritionally speaking. There's very little protein or fat (20% and 12%, respectively), and it's low in calories. There is a fair amount of fiber, though.
If your dog has issues with other foods, this Blue Buffalo option is worth a shot. Otherwise, you're probably better off finding something a little more substantial.
Good for sensitive stomachs
Canola and fish oil add omega fatty acids
Tapioca starch for complex carbs
Not very many nutrients inside
Very low in protein
---
Recall History of Nutro and Blue Buffalo
There have been two Nutro recall incidents in the past 10 years or so.
The first happened in late 2009, when they recalled their dry dog food over concerns that there was melted plastic inside. This was purely precautionary, as the company didn't believe any food had been contaminated. Indeed, no issues were reported as a result of eating the food.
In 2015, they recalled some of their treats due to the presence of mold. Again, though, there were no known injuries or deaths as a result of eating the treats.
Blue Buffalo's recall history is a bit more involved. Their food was part of the Great Melamine Recall of 2007, in which over 100 dog foods were tainted by a lethal chemical at a manufacturing plant in China. Thousands of pets died from eating that food, although we don't know how many, if any, were as a result of eating Blue Buffalo.
They recalled foods in 2010 due to elevated vitamin D levels, and in 2015 they recalled chew bones due to Salmonella contamination.
In 2016, mold caused Blue Buffalo to bring back a few batches of food. 2017 was an even worse year, as they recalled canned foods due to the presence of aluminum. Later that same year, they called back other batches of canned foods on account of elevated beef thyroid hormone levels.
All of this is in addition to the FDA's concerns over a potential link to heart disease in dogs, as we mentioned above.
Nutro vs. Blue Buffalo Comparison
So far, we've provided a broad overview of both foods and the companies that make them. But how do they stack up in several head-to-head categories? Let's find out:
Taste
Dogs seem to enjoy both foods, as they both use a lot of the same ingredients, including high-quality meat.
At the higher end of the spectrum, though, Blue Buffalo's premium foods (especially their high-protein lines) may be a bit more of a treat, so we'll give them the slightest of nods here.
Nutritional Value
Again, they're very similar, with Blue Buffalo's highest-end products probably being the best of either company's lot.
At the basic level, though, we like Nutro a tiny bit more — and their superior safety record helps, too.
Price
These foods are comparably priced, with both at the medium-to-high end of the dog food spectrum. Blue Buffalo's most expensive foods are pricier than Nutro's, though, so we'll give this category to the latter food.
Selection
Both have several different product lines, including limited-ingredient and grain-free options.
However, Blue Buffalo seems to have a little more to offer, and their high-protein foods use exotic ingredients that Nutro can't really match.
Overall
As you can see from the fact that they split the categories above, these two foods are very evenly matched. Your dog will almost certainly be happier with either one.
We just can't shake concerns over Blue Buffalo's safety record, though, so if we had to pick one to feed our dog, we'd go with Nutro.

Conclusion
Blue Buffalo and Nutro are remarkably similar foods, and both are high-quality. Neither use fillers like corn or wheat, and you're not going to find any nasty animal by-products in either one.
As a result, Blue Buffalo and Nutro are close in price, and it's hard to say that one is better for certain pets than others. Owners should just compare the two and decide on a case-by-case basis, but luckily, it's hard to go wrong either way.
When it comes to Nutro vs Blue Buffalo Dog Food, we would ultimately choose Nutro over Blue Buffalo, but you're certainly not doing your dog a disservice if you go the other way.