10 Lovely Off-Leash Dog Parks in Brooklyn, NY (2023)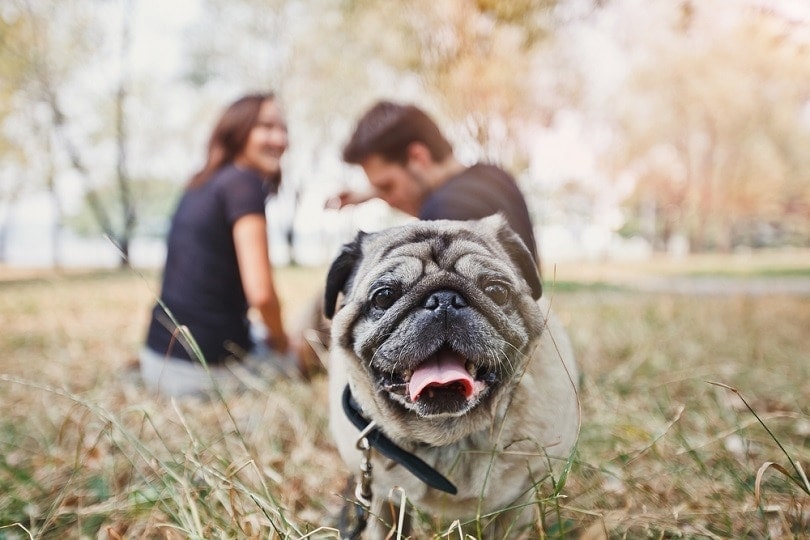 Brooklyn residents are spoiled when it comes to amazing dog parks. There are smaller, more intimate parks and jovial community runs, so there's something for every dog to enjoy. We rounded up 10 of the best dog parks that let your dog run off-leash in Brooklyn so you can plan your visit and make the most of the beautiful parklands.

The 10 Off-Leash Dog Parks in Brooklyn, NY
1.

Prospect Park
| | |
| --- | --- |
| 🗺️Address: | 📍Prospect Park, Brooklyn, NY |
| 🕐 Open Times: | 6:00 am to 1:00 am |
| 💲 Cost: | Free |
| 🐕 Off-Leash: | Yes, from 6 am–9 am and 9 pm–1 am at the Long Meadow (except ballfields), Nethermead, and Peninsula Meadow (except woodlands) |
Features a dog run with separate large and small dog areas
Leash-only in some areas
Features a dog beach (warning: the water gets very deep quickly, so be cautious) with off-leash hours available
An amazing community of dog owners and walkers
Be cautious of blue-green algae blooms that can grow in the water; they are very toxic to dogs.
---
2.

Hillside Dog Park
Purpose-built dog park with a gentle slope and water fountains for dogs and people
Two areas available: one for all sizes, one for smaller breeds only
Can get very muddy in the wetter months, so be cautious
Remember to pick up after your dog; many trash bins are available
Kids are allowed but must be supervised under 12 years old
---
3.

Herbert Von King Park
Wide open space in an urban area
Dogs are allowed in the park on a 6-foot leash only unless in the designated dog run
Restrooms, barbeques, playgrounds, showers, wi-fi hotspots, and information/visitors centers
Dog waste disposal is available at the park
---
4.

Dyker Beach Park
Two designated off-leash areas in the park for dogs
All other areas allow dogs with leashes
Playgrounds, sports fields, spray showers, restrooms, and places to eat
Be mindful of the gravel in some areas of the park
Horseshoe crabs crawl onto the beach to lay eggs between May and June, so be sure to keep your dog on-leash
---
5.

Mount Prospect Park Brooklyn
Specified area for off-leash time, but dogs are allowed in the entire park on-leash
A hidden gem and relatively quiet, offering stunning views over the area from its high vantage point
Regular puppy play meets before 9:00 am
Bathrooms, spray showers, and playgrounds are available (dogs not allowed in the playgrounds)
Bring your own poop bags
---
6.

Shore Road Park
This park offers jaw-dropping views of the Verrazano bridge
A beautiful place to run alongside your dog
The designated off-leash area is a long stretch and is open from 6:00 am until 9:00 am
Bathrooms and spray showers are available
---
7.

Mccarren Park Dog Run
Large dog run has two separate areas for small and large dogs
Benches are available in the run for owners to sit and watch their dogs
Bring a water bowl and water
Reviews have stated that the park is dusty and dogs get muddy, so bring old clothes
Sports centers, a pool, eateries, and restrooms available
---
8.

Msgr. McGolrick Park and Dog Run
Benches are available all around the park
Plenty of areas for picnics and restrooms are available
Farmers market in the park on Sundays
The dog park is smaller and fosters a sense of community
There are no separate areas for large and small dogs
---
9.

Fort Greene Park
Off-leash is allowed in the entire park from 6:00 am until 09:00 am
Barbeques, playgrounds for the kids, spray showers, restrooms, and eateries
Sprawling park with rolling hills and plenty of trees to sniff
A weekly market is set up within the park
Regular events for dog owners, including a very popular Halloween dog costume contest
---
10.

Owl's Head Park
Huge dog run that lets your dog really stretch their legs
Breathtaking views of the New York skyline
Playgrounds for the kids, skate parks, beautiful walks for your leashed pup, bathrooms, and regular events
No shade in the summer, so make sure to keep your dog cool by walking to find some shade
No running water in winter, so it's best to ring your own
Be wary of the short fence around the park

Conclusion
The off-leash dog parks in Brooklyn have something to offer dogs of every type and energy level. Meandering walks or high-octane dog runs are easily found within the boundaries of the area, so even a short drive is more than worth it. Most of the parks have all the amenities an owner could wish for, but some don't have water. We hope you found this guide helpful in preparing you and your pup for an amazing day out in Brooklyn and found some gems that can give your dog some freedom off-leash.
---