5 Great Off-Leash Dog Parks in Spokane, WA: 2023 Update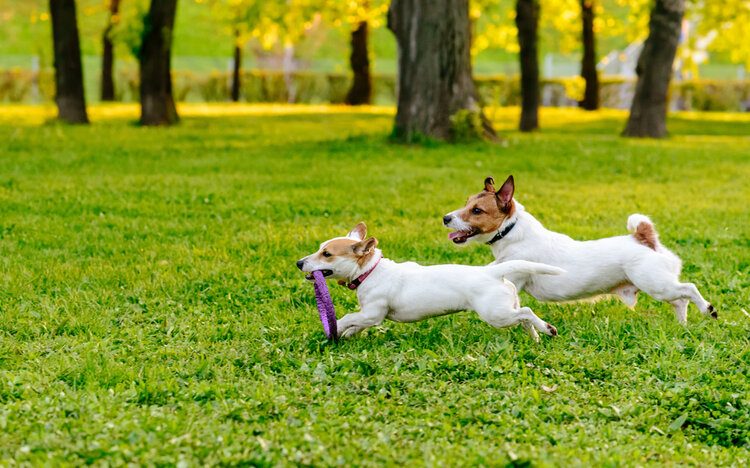 Off-leash dog parks are the best way to help your dog make new friends and stretch their legs when you don't have a backyard. Most parks within city limits are intended for humans rather than dogs, though, and don't allow dogs to wander freely or provide secure fencing to keep them safe.
Proper off-leash dog parks in Spokane have high fences and often include amenities like poop bag dispensers, canine water fountains, and plenty of space to play. This list contains off-leash dog parks in and around Spokane where you can let your dog run freely.

The 5 Off-Leash Dog Parks in Spokane, WA
1.

SpokAnimal Dog Park at High Bridge
Private parking lot and street parking
Includes a separate area for small or shy dogs
Can get dusty or muddy depending on the weather
Provides access to hiking trails and shaded picnic benches
Biggest dog park in Spokane
---
2.

Valley Mission Dog Park
Separate areas for big and small dog breeds
Provides dog waste bags for cleaning up after your dog
Both areas are fenced and properly gated
Can get muddy during winter or rainy weather
Dogs should be kept on a leash except while inside the designated off-leash area
---
3.

Downtown Spokane Dog Park
Seasonal drinking fountain
Too small for separate areas for big and small dogs
Naturally shaded by tree coverage during the warmer months
Provides dog waste bags
Has proper lighting for nighttime walks
---
4.

Browne's Addition Dog Park
Maintained by volunteers and dog lovers
Provides dog waste bags for keeping the park clean
Small but tidy
On-site water and shaded areas
Completely fenced-in dog park to ensure safety
---
5.

Dawn to Dusk Doggy Domain Private Dog Park
Monthly memberships to the dog park available
Privately owned, 2 acres of open field, trees, and hills
Surrounded by a 5-foot fence for safety
Requires a reservation to visit
Provides treats, toys, and agility course obstacles

Conclusion
Big cities are filled with people and their canines, but there aren't many places for our furry friends to stretch their legs. Fortunately, cities like Spokane have fenced parks designed solely for letting your dog run around, play a game of fetch, or just meet other dogs. These off-leash dog parks require you to have voice control of your dog and to clean up after them, but they're the perfect place to get away from your cramped apartment.
---