Okocat Litter Review 2023: Wood Clumping, Natural Pine & Paper Pellets

Review Summary
Our Final Verdict
We give Okocat Cat Litter a rating of 3.7 out of 5 stars.
Price: 3/5
Clumping Action: 3/5
Quality: 4.5/5
Absorption capacity: 3.5/5
Odor control: 4/5
Ease of use: 4.5/5
Dust/ Tracking: 4/5
Looking for unbiased Okocat litter reviews? Our guidelines may give you just the guidance you need. Finding the right litter for your cat starts with familiarizing yourself with a brand and its product reviews. This guide takes a deeper look into Ökocat Cat Litter, touching on their brand history, product line, and performance reviews based on clumping, odor control, absorption, dust control, and tracking.
Read on to find out how the Ökocat cat litter products fare when compared to other cat litter brands and determine if this brand is right for you and your cat.
At a Glance: The Best Ökocat Cat Litters in 2023
Rating
Image
Product
Details

ökocat Natural Wood Clumping Cat Litter

Flushable
7-day odor control
No harmful chemicals
Check Price

ökocat Natural Pine Cat Litter

Antimicrobial
Biodegradable
Absorbent 500% of its weight
Check Price

ökocat Natural Paper Cat Litter

Non-tracking
Soft with paws
99% Dust-free
Check Price

ökocat Dust-free

Antimicrobial
Check Price
A Quick Review of the Ökocat Cat Litter Brand
Öko is a German word that translates to "eco" or "ecological", chosen for this companies name because the Ökocat brand presents itself as a producer of eco-friendly products.
The brand stems from a parent company called Healthy Pet, which has been in operation for over 25 years. Healthy Pet belongs to the J. Rettenmaier & Söhne Group (JRS), an organization that is among the world leaders in terms of processing natural fibers. Thus, Ökocat has been able to take advantage of its mother company's expert knowledge in the field of natural processing.
Healthy Pet then launched "Cat's Best" in Germany. For over 15 years, it has served as Europe's most reliable natural cat litter.
More recently, Healthy Pet remarketed Cat's Best for the United States, launching it under the brand Ökocat. Today, Ökocat joins a lineup of other ecologically conscious animal care products under Healthy Pet, which includes Carefresh, Critter Care, Puppy Go Potty, and SimplyPine.
What kinds of litter does the brand offer?
Ökocat offers clumping litter products (which are manufactured in Germany), as well as non-clumping wood litter and paper litter products (which are made in the US).
Ökocat also has a wood litter, which is made from 100% unused lumber or reclaimed timber. Their paper litter is produced from natural wood fiber manufactured by the company's processing facility. Ökocat sets itself apart from other paper litter manufacturers who reuse post-consumer paper products.
Below is a list of the litters you will find in their diverse product line:
Natural Wood Clumping Series
Clumping Wood Natural Litter Regular – It's primarily made of natural plant fibers that feature a natural clumping ability.
Super Soft Clumping Wood Litter – This litter has been formulated to have a softer texture than the original wood clumping litter, and it's meant for more sensitive paws
Long-Hair Clumping Wood Natural Litter – This litter features mini wood pellets that are dense enough so they would not cling to your long-haired cat's fur.
Natural Cracked Pine
Cracked Pine Natural Litter – It's a non-clumping litter made of cracked pine.
Dust-Free Paper Natural Litter
Dust-Free Paper Natural Litter – It's rated as 99% dust-free, and it's meant for cats and cat owners that have sensitive respiratory systems and dust allergies.
---
Reviews of Top 3 Ökocat Litter
1.

ökocat Natural Wood Clumping Cat Litter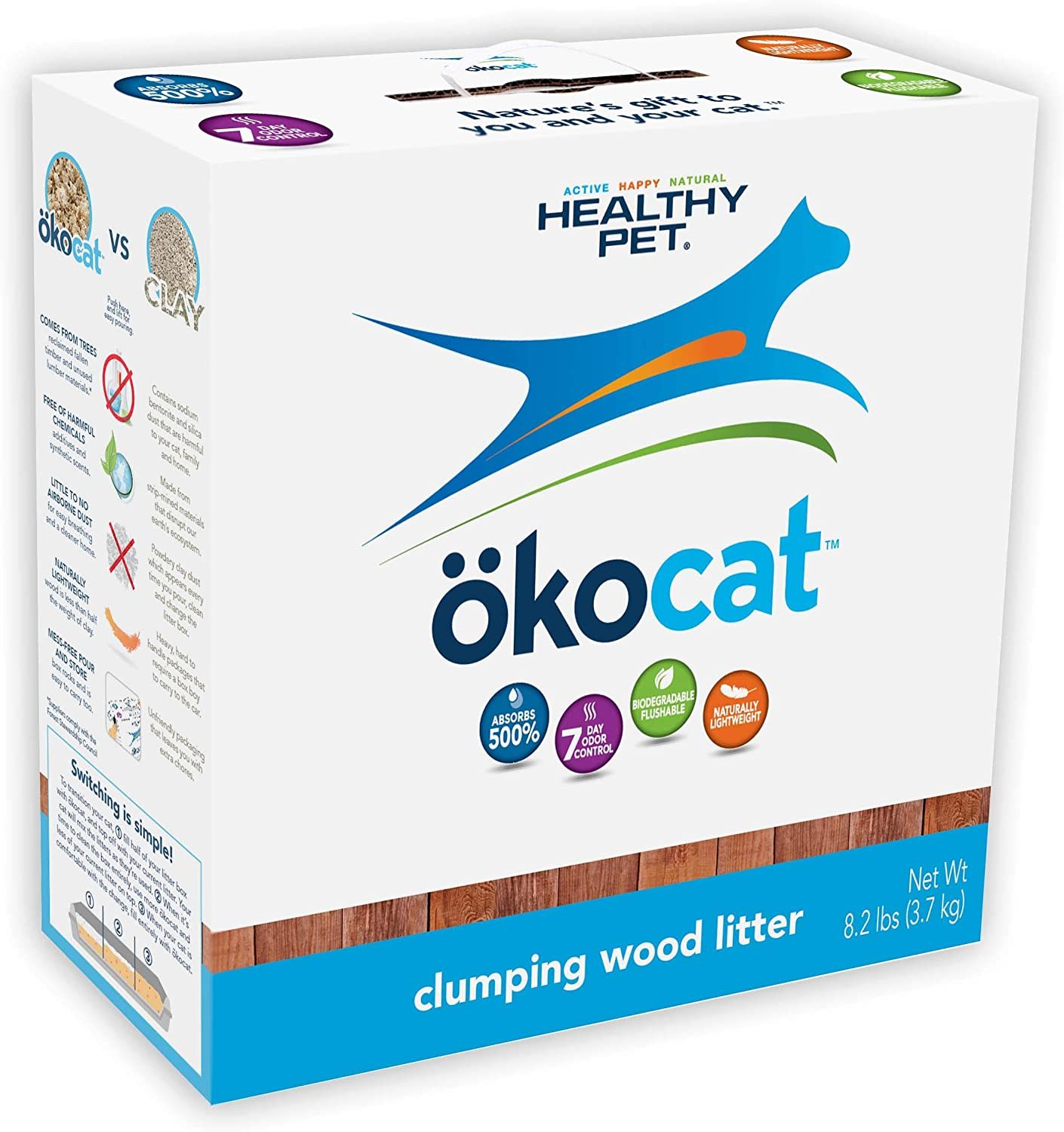 The Ökocat Natural Wood Clumping Cat Litter is manufactured in Germany and produced from reclaimed wood. The litter is sourced from fallen timber, or from lumber materials that have not been used or simply recycled.
One of the best things about this litter is its ability to control odors, offering a 7-day odor-control guarantee. Its "Odor Shield Technology" makes use of the natural capillary system within each pellet. The wood pellets can absorb moisture up to 500% of their weight. The same system inhibits bacterial growth and traps odors effectively.
The wood pellets do not emit any airborne dust, making the Ökocat Natural Wood Clumping Litter safe for highly sensitive cats.
This wood litter comes in three different types: long-hair, super-soft, and regular.
Long-haired: Formulated especially for cats with beautiful and long locks of hair, the Long-Hair Clumping Wood Litter by Ökocat features dense mini-pellets. With larger pellets, they're less likely to stick to your cat's fur. And because they're denser, they tend to prevent tracking throughout the house.
Super soft: The Ökocat Super Soft Clumping Litter is made of fine wood granules, formulated to cater to super sensitive cat paws. The litter granules feature a texture similar to clay, making the transition to natural litter even easier.
Regular: Ökocat's premium natural litter features soft, cracked pellets that can provide unmatched performance for long-lasting odor control. Due to its amazing absorption capability, it provides you with easy-clean clumping.
All of the above wood clumping litter variants contain no harmful chemicals or even additional scents. They're also biodegradable, flushable, and clumps in a way that they're very easy to clean.
No harmful chemicals or added scent
Biodegradable
Flushable
7-day Odor Control
Easy clean clumping
Expensive
Clumping is okay but it's not the tightest
Tracks a little bit
The particles might be too large to go through
---
2.

ökocat Natural Pine Cat Litter
Made from naturally lightweight wood and plant particles, the Ökocat Natural Pine Cat Litter is not a typical watered-down version of litter. It also offers 7 days of odor control, having been tested in the labs and proven to absorb even up to 500% of its weight.
It's safe for both cats and the environment, as it doesn't contain chemicals, dyes, and any other synthetic ingredients.
It features a natural antimicrobial effect, thanks to the action of coniferous wood that kills 99.9% of bacteria and even fights against bacterial growth for several weeks.
This Ökocat formula is truly eco-friendly, as it's both biodegradable and flushable.
Doesn't contain chemical
Absorbent 500% of its weight
Antimicrobial
Biodegradable
Flushable
7-day Odor Contro
Non-clumping
Cracked pine pellets might be too sharp to the touch
---
3.

ökocat Natural Paper Cat Litter, Dust-free
The Ökocat Natural Paper Cat Litter is among the top 5 paper cat litter products that we've reviewed. Unlike most paper litters, this one from Ökocat does not come from post-consumer newspapers. Instead, it's made from clean, recycled pulp.
Natural fibers within the paper pellets can quickly and completely absorb your cat's liquid waste. And while other paper litters still have a residue of inks or dyes, this Ökocat paper litter doesn't.
With soft paper pellets, this litter won't produce airborne dust. It's also designed to be non-tracking. Because it's just made of natural paper, the Ökocat paper litter is biodegradable as well as flushable.
Lightweight
Biodegradable
Flushable
Soft with paws
Non-tracking
99% Dust-free
Doesn't contain dyes
7-day Odor Control
Non-clumping
May not be efficient in covering your cat's ammonia odor up to 7 days as claimed
Expensive
Not easy to scoop

Our Overall Results Explained
Price – 3/5
The Ökocat litter products are relatively more expensive than other cat litter brands. This is most likely because they opt for superior and all-natural materials. Instead of using recycled or post-consumer paper materials, Ökocat uses natural paper fibers sourced from wood and paper which are processed in their facilities.
To compare, other notable brands produce their paper litter from various recycled paper products such as old newspapers resulting in much cheaper consumer costs. With Ökocat, you pay for quality.
Clumping Action – 3/5
Ökocat litter formulas use only natural fibers and human-grade ingredients that aid in the pellets' efficient clumping technology, although it may not be the hardest when compared to a clay litter. The Super Soft Clumping Litter formula provides the most sufficient clumping and superb absorption, among others.
There are many other natural litter brands out there that provide far more superior and rock-hard clumping.
Absorbent – 3.5/5
Any of the Ökocat litter formulas offer superior absorption — except for the pine litter. The brand's secret relies heavily on naturally absorbent wood and paper fibers. These fibers exhibit a natural capillary action that draws in moisture upon contact, thereby absorbing your cat's liquid waste efficiently.
Of the many cat litter formulas by Ökocat, the Natural Clumping Wood Litter provides the best and most incredible absorption performance. The other natural litter products of other brands, however, can still perform better than this formula.
Odor Control – 4/5
Because of the brand's faithfulness to its mission, it doesn't use any artificial scents or other harsh chemicals to help in controlling odor. Instead, Ökocat relies on the power of the wood or paper fibers to provide odor neutralization. These natural fibers can kill bacteria upon contact, and thereby significantly reduce the odors they produce.
In particular, the Ökocat Natural Long Hair Breeds Cat Litter offers remarkable odor control the most among all the Ökocat formulas. Its denser pellets offer more fiber material to absorb and eliminate the unpleasant litter box smells.
Although it won't be as effective as other brands that use activated carbon or baking soda to further attack odors as well as odor-causing bacteria, it still does a considerable job.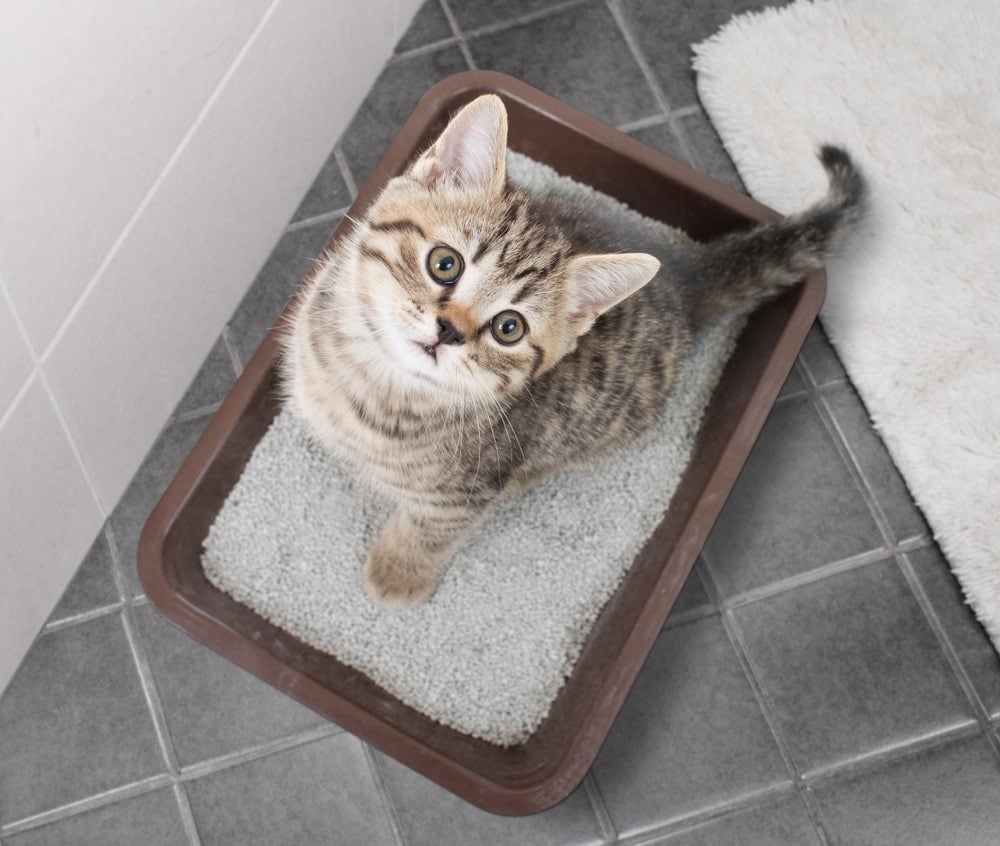 Dust/Tracking – 4/5
Ökocat litter products offer some of the best dust-free cat litters on the market, although they're not necessarily the best in terms of preventing tracking.
Both the Soft Wood Litter and the Natural Paper Litter are recommendable in terms of reducing dust. They add in other natural plant fibers that help with the binding of each litter pellet, thus minimizing dustiness. The Long Hair Litter variant prevents tracking the most since it has denser pellets.
Ökocat lands among the higher-end products when it comes to this category when compared to other like brands and litters.
Easy To Scoop – 4/5
All Ökocat clumping litters are easy to scoop, as long as you're using the right kind of scooper. Pellets require scoops that have larger and more cylindrical holes, so we recommend you purchase an appropriate scoop if you're buying Ökocat pellet litters.
Since ease of scooping is highly dependent on how a litter formula can form tight and solid clumps, it's noteworthy to say that Ökocat litters clump decently well. However, while Ökocat clumping litters wouldn't give you a hard time with scooping, they're not the most scoopable litters out there.
Frequently Asked Questions (FAQs):
1.

 What scoop is best to use with the larger pellet litters?
The best litter scoops will match large pellet litters so opt for one with big holes and a cylindrical shape rather than circular. One example is the
Iris SCP-CLXL Jumbo Cat Litter Scoop
. With jumbo-sized holes, it allows clean litter pellets to pass through and fall back into the litter box so they can be reused.
2.

 How often should you change Ökocat litter?
Ökocat claims that there's no need to change the litter box completely for up to 7 weeks. This is possible because of the fast absorption of the litter pellets. However, we recommend that you change the entire litter box as you see fit. Generally, we recommend that you change the entire contents of the litter box every two weeks or 15 days to help combat odor. This would vary between households depending on how frequently your cat visits the litter box or how many cats you have.
3.

Is Ökocat litter flushable?
All the Ökocat litter variants are flushable. The company simply recommends that you don't flush a big batch of litter all at once. If you do, the litter could clog your pipes. It's advisable that you should flush only small amounts of litter at a time.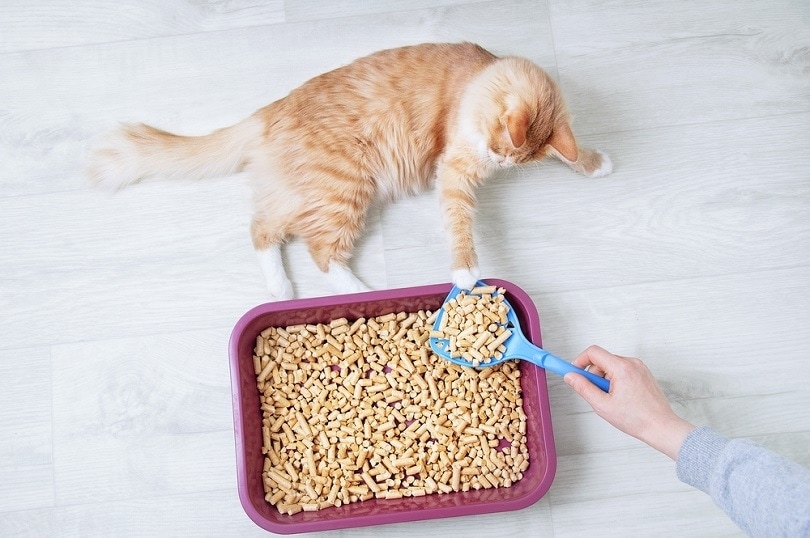 4.

Is Ökocat litter safe?
Yes, the Ökocat litter is safe, not only for your cat and for yourself, but also for the environment. For formulas that contain chemical additives, all ingredients in there are FDA-approved, which means they are human-grade. They are also similar to the chemicals in tissue paper, so there's nothing to worry about when it comes to safety.
5.

Does Ökocat litter work in a litter robot or other clumping litter machines?
Ökocat recommends using either its Wood Clumping Litter formula (the one with cracked pellets) or its Super Soft Wood Clumping Litter, which features fine grounded granules much like what you can find in clay litter. So, both of these variants should be able to work with your litter robot or litter machine.
6.

Why is there a PROP 65 Warning on the packaging of the Ökocat litters?
This PROP 65 Warning is a requirement imposed only by the state of California. While it does sound scary, it doesn't need to be. This warning refers to "wood dust." Wood dust is actually listed along with beach sand among over 900 substances that were ruled as harmful if you're overexposed to it, either in your workplace or through any consumer products. According to California law, any cat litter products that are wood or silica based should explicitly state the Prop 65 warning, for the sake of compliance and consumer transparency.
There are many substances on the California PROP 65 Warning list that are harmless with typical use and would not risk your health or your pet's. Traditional cat litters made of clay are also required to place the warning on the label, especially when there is silica or sand content.
7.

Where to buy Ökocat Cat Litter?
The Ökocat cat litter products are available in stores either in the United States or Canada. You can also purchase them online via Amazon, Drs. Foster and Smith, Chewy, Only Natural Pet, Walmart, and Pet Flow.
8.

​Ökocat vs. World's Best Litter?
So, we've conducted a little household experiment with our cats to see which cat litter brand performs better: the Ökocat or the World's Best Cat Litter. We've also accounted for the experiences of other cat owners to make our comparison even more accurate.
Easy To Scoop: Ökocat appears to be an early favorite among cat parents. Looking at the cleaning perspective, however, we prefer the World's Best Cat Litter products. Their grains have much more fiber and they're far easier to scoop. You can just shake off any of the excess or the unused litter, and then you can put the waste in a bag for disposal.
Odor Control: The two brands seem to be equally good in terms of masking foul odors.
Tracking: Both litter brands have grains or pellets that track.
Dust: Ökocat formulas might get a little dusty after using them for a few days. The World's Best products are not as dusty, so the brand easily wins this category.
Long-Lasting: The clear winner is the Ökocat with requiring a litter scoop or replacement after a full week.  The World's Best litter tray appears to need a full change within just a couple of days.
The Winner: If you account for long-lasting use, odor control and cost-efficiency, the Ökocat comes out as the winner of our test.
Final Thoughts
Overall, is Ökocat Litter worth it?
The short answer is YES. We hope that our Ökocat litter reviews have helped you determine whether this brand os right for you and your cat. There are many excellent benefits in choosing Ökocat as its products are biodegradable, flushable, long-lasting, and cost-effective. They're pretty safe and effective over-all.
Our final note is that almost every Okocat litter formula works excellently and is favored by many cat owners and cats alike, worldwide.