Pedigree Dentastix Dog Treats Review 2023: Recalls, Pros & Cons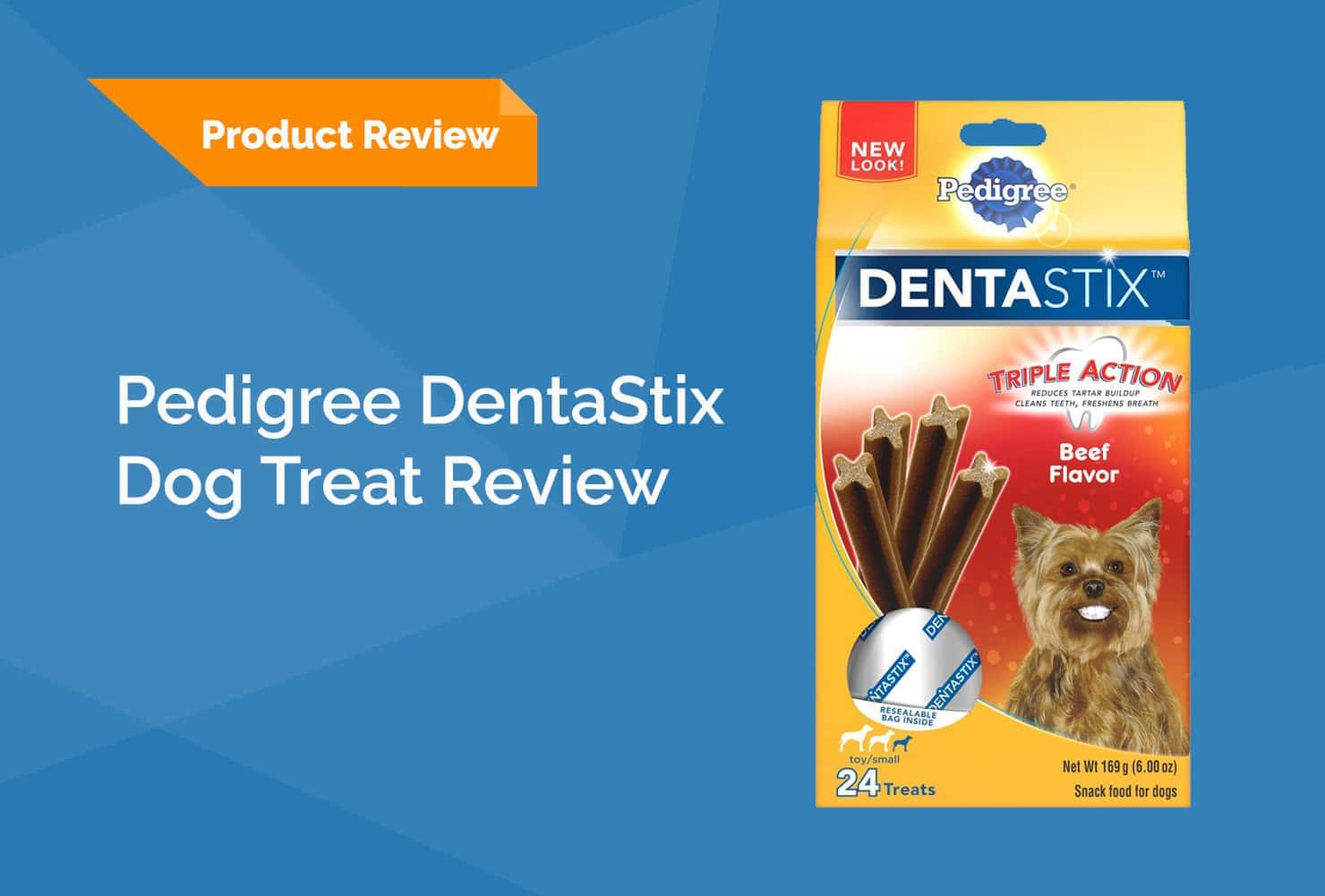 Our Final Verdict
We give Pedigree Dentastix dog treats a rating of 4.4 out of 5 stars:
Dental treats have become very popular in recent years. Not only do they help with overall oral hygiene and bad breath, but they can reduce the number of uncomfortable teeth brushing your pooch has to endure. Pedigree Dentastix has been one of the most popular brands in this category. Their star-shaped treat will scrape tartar and plaque from your pet's teeth, changing gnarly breath into happy kisses.
Pedigree, owned by Mars, is a committed member of the canine community. They donate millions of meals a year to animal shelters, plus they have a non-profit that helps dogs find their forever home. They pride themselves on providing nutritional value in their food and treats.
This, unfortunately, is where the controversy comes in to play with these treats. It is not the immediate effects of the treats, but what is under the radar that may be harmful to your pet.

At a Glance: The Best Pedigree Dog Treat Recipes
Image
Product
Details

Our Favorite

Pedigree Marrobone Real Beef Flavor Biscuit Dog Treats

Made with real bone marrow
Contains vitamins
Comes in a resealable bag
Check Price

Pedigree Mini Jumbone Real Beef Flavor Dog Treats

Designed for small and toy dogs
Contains vitamins and minerals
Long-lasting
Check Price

Pedigree Dentastix Dual Flavored Bacon & Chicken Flavored Large

Dogs love the flavor
Contains vital nutrients
Triple-action texture
Check Price

Pedigree Dentastix Fresh Mint Flavored Mini Dental Dog Treats

Helps reduce tartar buildup
Patented x-shape helps to clean in between the teeth
Mini size is perfect for toy and small breeds
Check Price

Pedigree Dentastix Chicken Puppy Dental Dog Treats

Unique texture scrapes away at plaque and tartar
Softer than Dentastix for adult dogs
Clinically proved to combat dental disease and promote oral health
Check Price
Pedigree Dentastix Dog Treats Reviewed
Pedigree Dentastix is a popular treat for dogs with bad breath. They are a star-shaped snack that comes in a variety of flavors and sizes. This product claims to work on three fronts. First, it helps clean your pet's teeth. Second, the star shape and texture of the stick will clean away tartar and plaque build-up down to the gum line. Third, it is meant to freshen breath. Let's take a closer look at these claims!
Who Makes Pedigree Dentastix and Where Is It Produced?
Pedigree is owned and manufactured by the Mars company. In the United States, they are more commonly referred to as Mars Petcare. Pedigree has several offices across the nation including Tennessee, Kansas, and Missouri.
As far as the Dentastix, Pedigree has indicated that they are manufactured in the USA and sourced in North America, so some ingredients could be coming from Canada and Mexico, as well.
It is also important to note that Pedigree (Mars PetCare) has headquarters in the UK where their standards for pet food ingredients differ from the USA's FDA regulations.
Which Types of Dogs Is Pedigree Dentastix Best Suited For?
As Dentastix comes in a variety of flavors, few palettes are left out. You can choose from either their original flavor (chicken), beef, bacon, fresh (mint), and dual bacon and chicken.
There is also a grain-free option for those dogs with sensitivities, plus there are puppy chews for younger dogs.
Which Types of Dogs Might Do Better With a Different Brand?
Something to note about the Dentastix is that they are recommended for dogs 30 pounds and heavier. We encourage small toy-sized breeds to go with another dental treat for small dogs. This is a good oral hygiene snack for your pups in the 10 to 25-pound range. They even have an option for extra small dogs in the 5 to 10-pound category.
As mentioned, Pedigree offers Puppy Dentastix, which doubles as treats for small dogs. Unfortunately, the ingredients that a puppy would need in an oral hygiene snack are different than an adult dog. You should also consider that Pedigree Dentastix must be given to your pet daily to be effective. Those dogs with weight issues, stomach sensitivities, or other issues would be better off looking elsewhere.
What's more, if your pup has serious teeth, mouth, or gum issues, you should consult your vet before giving any type of dental treat. Further, note that these treats do not have the Veterinary Oral Health Council Seal of Acceptance.

Discussion of the Primary Ingredients (Good and Bad)
One of the most important aspects of any dog treat or food is the ingredients. When it comes to Pedigree, they have some good points and some not-so good points. First, let's take a look at the overall nutritional value and the main ingredients.
Also, note that we will be primarily discussing the ingredients from the original flavor, as it is the most popular.
Nutritional Value
First, let's talk about calories. A healthy adult dog should consume approximately 30 calories per pound of body weight. In this case, let's say your dog weighs 40 pounds. They would then need about 1,200 calories per day.
That being said, all treats should not exceed more than 10% of a dog's daily calorie intake. In the case of Pedigree Dentastix, they contain 76 kcal ME/treat, so this is a bit high considering it is only a once a day treat.
Next, we have protein which is an important nutritional supplement for most dogs. The Association Of American Feed Control Officials recommends that a dog's diet consists of a minimum of 18-26% crude protein. One positive note about these treats is that they contain 8% of their daily need.
Both fat and fiber are also important for canines. In this category, Pedigree comes out on top, as well, with 1.0% fat and 4.5% fiber.
https://www.instagram.com/p/B-k2ZxhpYuT/?utm_source=ig_web_copy_link
Dental Ingredients
Dental chews are designed (at the very least) to clean your dog's teeth, remove plaque and tartar build-up, and freshen breath. To do this, they need to have the appropriate ingredients. Pedigree Dentastix is formulated with calcium, potassium, vitamin B, D, and E.
Although these are all good ingredients that will promote strong bones and teeth, they do not lend themselves to breath freshening. It is also important to keep in mind that dental chews can clean your dog's teeth due to their shape and texture, not necessarily the ingredients.
What's more alarming is not what is lacking in the treats but what it is formulated with, which we will go over shortly.
A Quick Look at Pedigree Dentastix Dog Treats
Texture cleans teeth
Has appropriate nutritional value
Various flavors
Manufactured and sourced in North America
Not as effective at freshening breath
Not recommended for small dogs
Questionable and artificial ingredients
---
Ingredients Analysis
In The United States, the FDA regulates dog food/treats labeling guidelines. Each product must have, "proper listing of all ingredients in the product in order from most to least, based on weight." This means that the first item on the ingredient label is going to be the most concentrated.
It is also important to note that the FDA requires all pet food to be safe with only necessary ingredients; however, it does not require premarket approval. What's more, many ingredients are "deemed safe."
As we mentioned, there are several vitamins and minerals in the Pedigree Dentastix. Unfortunately, they are the lower ingredients on the list, so chances are there is very little nutritional value from these supplements.
The more concentrated items are more concerning. Take a look at the chart below.
Rice Flour and Wheat Starch: Rice flour and wheat starch are the top two ingredients of this product. Rice flour is typically used as a substitute for gluten for pets with an allergy. Unfortunately, wheat contains high amounts of gluten, but even without sensitivities, it is still difficult for dogs to digest. Both of these combined can cause some stomach issues for your pet.
Powdered Cellulose: Cellulose in powdered form is used to help the treat keep its shape. This ingredient is usually plant-based, but when used in animal foods, it can just as easily be sawdust. This is also close to the top of the list.
Sodium Tripolyphosphate: Also known as STPP, this is an artificial preservative that has been known to cause vomiting. It was once used in industrial cleaners. It is also close to the top of the list.
Salt: An abundance of salt is not good for anyone including your pet. With sodium so close to the top of the ingredients list, it is concerning.
Potassium Sorbate: Although we mentioned a different form of potassium above, this particular version is another artificial preservative that can cause eye, ear, and lung irritations, plus immune deficiencies.
Smoke Flavor: Smoke flavor is an artificial flavoring that is used to give the treat flavor. In this case, the "chicken" is not an ingredient, but only a synthetic approximation.
Iron Oxide: Although iron is a good nutritional staple, iron oxide is a synthetic coloring. It has been linked to skin and eye irritations as well as some forms of cancer.
Recall History
At the time of this writing, Pedigree has had some recent recalls from possible salmonella poisoning and foreign objects in their dry dog food. Dentastix has not been included in any recalls, however.

Reviews of the 3 Best Pedigree Dog Food Recipes
1.

Pedigree Marrobone Real Beef Dog Treats
The Pedigree Marrobone Real Beef Dog Treats are a great way to give your furry pal a high five. These small snacks are made with real beef bone marrow in the center with a crunchy biscuit outside. They also contain vitamin A, D, and E to help your dog's coat, teeth, and bones.
Another plus is the resealable bag that will keep the treats fresh until the last one is gone. On the other hand, you should note that these little bites are high in sugar. They are also not recommended for small dogs or puppies. Beyond that, this is a tasty snack that your canine will love.
Made with real bone marrow
Contains vitamins
Comes in a resealable bag
Great flavor
Dual textures
High amounts of sugar
Not recommended for small dogs
---
2.

Pedigree Mini Jumbone Real Beef Flavor Dog Treats
Pedigree Mini Jumbone Real Beef Flavor Dog Treat is a great option is you have a small canine with a big love of snacks. Designed for smaller dogs in the 5-15-pound range, you will find they love the soft center with its real beef flavor. Not only that, but the bone-like outer layer makes these treats last for a long and satisfying chewing session.
You with also find the Mini Jumbone is packed with vitamins and minerals to help keep your pet healthy. Conversely, it is important to point out that the treats are high in sugar, and they also contain meat by-products. Other than that, your dog will love the crunch of the outside and the savory center.
Designed for small and toy dogs
Contains vitamins and minerals
Long-lasting
Dual textures
High in Sugar
Contains meat by-products
---
3.

Pedigree Dentastix Bacon & Chicken Flavor Dental Dog Treats
Pedigree Dentastix Bacon & Chicken Flavor Dental Dog Treats pack a flavorful combination of bacon and chicken that most dogs love. These treats have the triple action formula that dog owners have come to rely on. The treat's texture removes plaque, promotes clean teeth, and fights back doggie breath.
Like the other Dentastic products we've reviewed, the bacon & chicken treats contain all the vitamins and minerals you want to see in a dog treat. These are larger sized treats for bigger dog breeds, so you won't want to reward your puppy with these dual-flavored treats. You get 32 treats per bag.
Dogs love the flavor
Contains vital nutrients
Triple-action texture
Not for small or medium sized dogs
Contains meat by-products
---
What Other Users Are Saying
When it comes to any product on the market, some of the best advice comes from those consumers who have already tried the item you wish to try. We believe this to be true, so we wanted to add some reviews from other shoppers to help you make the final decision.
"I have an adorable 85-pound black lab that hates getting his teeth brushed. I decided dentasti[x]s a try. After about 1 week of using dentasti[x]s, I noticed a significant difference in my dog's teeth. The plaque and starter was much less than before. My dog looks forward to his morning "treat". I look forward to the sparkling smile provided by dentasti[x}s!"
"I'm not sure whether it fixes the tartar on his teeth but our dog refuses to eat dry food so we give it to him as his breath smells bad. You can instantly tell the difference when he's had his dentastix[.]"
Of course, no review would be complete without Amazon reviews! As there are too many to add to this article, you can browse through them yourself here.

Conclusion
Overall, Pedigree Dentastix has proven to be effective at cleaning canine teeth and removing tartar and plaque build-up. They have a great flavor that dogs love, plus they are reasonably priced and come in a variety of flavors.
Unfortunately, this is one of those situations where the apparent effectiveness is not the issue. Instead, it is the overall effect it could have. It's akin to having a pair of scissors that will always cut a straight line, but they are also likely to cut your finger off, as well.
The ingredients in this product leave much to be desired. In fact, some are downright scary. As always, we hope you will take our review seriously, but also don't neglect your research when buying a product for your pet. As our fuzzy little ankle-biters can't tell us what they need, we are obligated to figure it out for them.