100+ Pekingese Dog Names: Meaningful, Fun & Cute Ideas

The Pekingese is a popular breed that originated in China. They are recognizable by their straight long fur, scrunchy faces, and compact bodies. Well rounded, this breed has a wide range of personality traits that make them excellent companions, show dogs, and even guard dogs! With their owners, they are warm and affectionate but are quick to let a stranger know when they are getting a bit to close for comfort. Pekingese is a growing breed in the show industry and they have their obedience and strong will to thank for that. Although they like to be their own boss and are incredibly independent, once they get the hang of something – they perform it like a pro! Being the center of attention also isn't too shabby for this breed as their ancestors were royal! 
So if you've adopted a Pekingese of your very own, the next crucial step is finding them a name just as versatile and show-stopping as they are. Below you find the most popular names for females and males, Chinese names to honor their heritage, fluffy names for obvious reasons, Toy breed suggestions, and a list of smart names!

Female Pekingese Dog Names
Molly 

Ginger 

Daisy 

Gem 

Tink 

Tooties 

Gracie 

Zoey 

Lady 

Greta

Jewel 

Duchess 

Chloe 

Puddles 

Lucy 

Roxy 

Pixie 

Sophia 

Gidget 

Astra 

Ellenor 

Annie 

Bella 

Rosie 

Flora
Male Pekingese Dog Names 
Max 

Dolye 

Ernest 

Espresso 

Alvin 

Junior 

Ripley 

Dune 

Oscar 

Bonsai 

Chai 

Tucker 

August 

Odie 

Magnus 

Dash 

Hamlet 

Ezra 

Remmy 

Hansel 

Ollie 

Charlie 

Slim 

Milo 

Duff 
Chinese Pekingese Dog Names
Originating in China, the Pekingese has royal roots! Kept by Chinese Monarchs as lap and companion dogs, this breed likely inherited its poise and strong will from its ancestors who were treated like the Kings and Queens they truly are. If you are interested in a name that honors the origin of your pet and is looking for a name that is sure to be unique to your pooch, check out these picks for Chinese inspired royal dog names. 
Mao – Cat 

Dishi – Man of Virtue 

BaoBei – Baby 

Kung Pao

Bing – Soldier 

Chow 

Mayli – Beautiful 

Sake 

Cong – Intelligent 

Manchu – Pure 

Sichuan 

Mushu – Mulans Sidekick

Liko – Protected by Buddha 

Jin – Gold 

China – Country 

Wonton 

Zhen – Chaste 

Lian – Dainty 

Tofu 

Ping – Stable 

Jiao – Charming 

Ying – Clever 

Shan – Mountian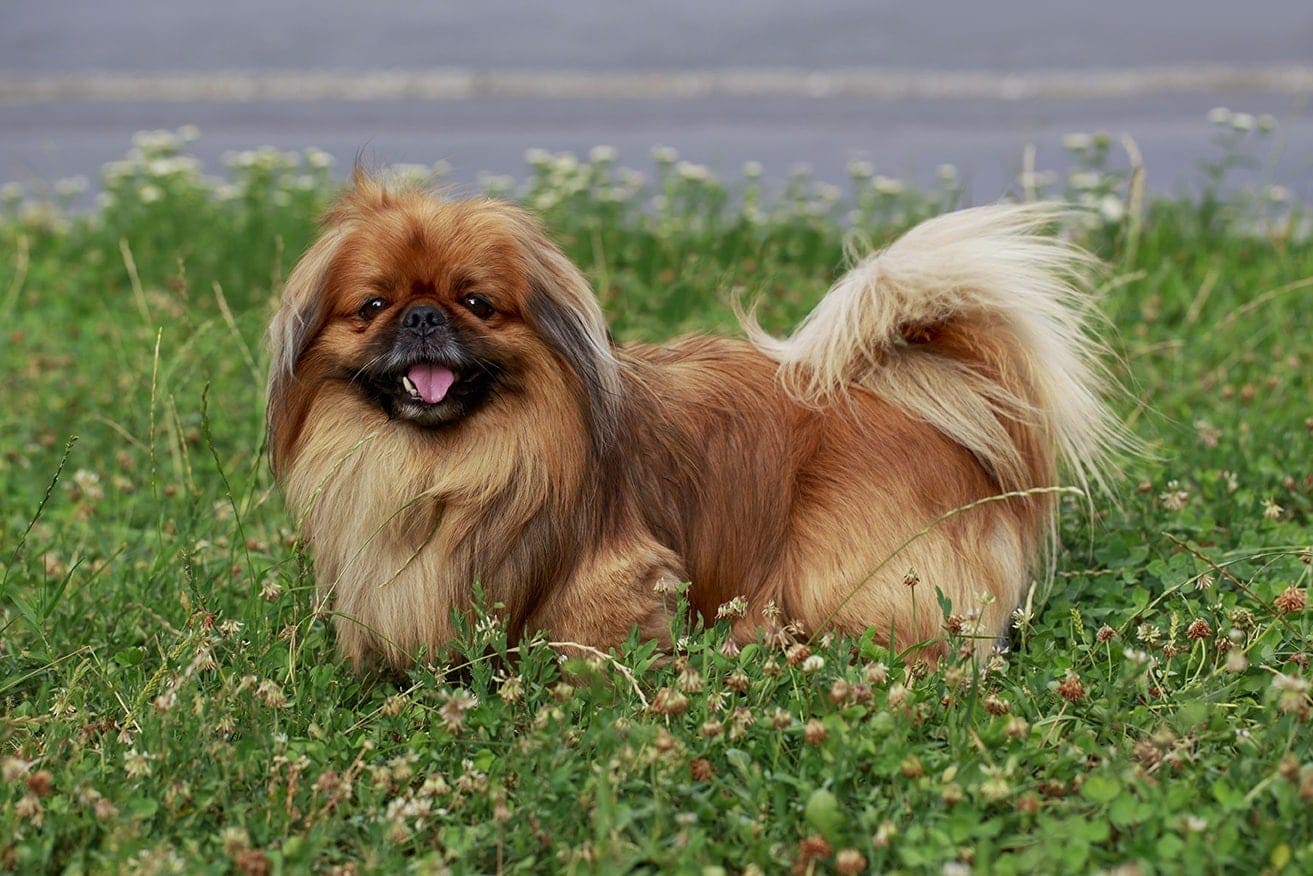 Fluffy Pekingese Dog Names
As you might have noticed, the Pekingese has hair some humans could only dream of! Long, flowing, and thick – in fact, they would make great actors in shampoo commercials, if that was such a thing. There is quite a bit of maintenance that goes into grooming this breed, so you'll want to ensure that they are regulars at groomers! Although they look stellar with long locks, you may opt to keep your Pekingese's fur short and a bit more manageable. Whether they have tons, or very little – a fluffy fur inspired name is a fun option!
Teddy 

Snugs 

Plush 

Cozy 

Curly 

Poof 

Alpaca 

Freckles 

Cotton 

Whiskers 

Mane 

Wookie 

Bear 

Ringlet 

Lion 

Foxy 

Feathers 

Silky 

Pompom 

Cuddles 
Toy Names for Pekingese Dogs
Categorized as a toy breed, the Pekingese is quite small, but you would be surprised how heavy these little dogs can get. It might be the fur or the short legs, but this shout and compact pooch can reach up approximately 14 pounds – and the average for a toy breed is between 5-12 pounds! Regardless of how they fare on the scale, your Pekingese is still of the toy variety and would be perfectly paired with one of these next options. 
Gizmo 

Mouse 

Tot

Squirt

Hiccup 

Chip

Runt 

Morsel 

Tiny 

Minnie 

Zippy

Buttons 

Roo

Moose

Micro 

Poco 

Uno 

Rascal 

Myrtle 

Spud

Arrow 

Bugsy 

Bean 

Chicklet

Bisty 

Elf 

Flick 
Smart Names for Pekingese Dogs
The Pekingese breed is incredibly intelligent – they are sassy (must be the royal heritage), and a little forward, but are obedient, poised, and graceful. You might be keen on a pet who is receptive to learning tricks. Well, the Pekingese's strong will and independence will be a bit of a hurdle, but they are absolutely capable of being excellent tricksters! For the smarty pants pups, here are a few wise names for your new addition:
Magnus 

Genesis 

Einstein

Agent 

Neutron

Darwin 

Whiz 

Ion 

Brainy 

Pricilla 

Dexter 

Gideon 

Pascal 

Tesla 

Urkel 

Gatsby 

Amelia 

Finding the Right Name for Your Pekingese Dog
When it comes to naming your Pekingese, there truly is no wrong answer. As long as you love your pup unconditionally, they will do the same, no matter what their name is! However, choosing your new pup's name might just be the most complicated part of adoption, as the options are endless and searching can become tiresome. We hope that you were able to find one you truly love among our list of 100+ Pekingese Dog Names. For some, this decision may not come as easily. So for those needing a little extra help, we have included a few tips to guide you in the right direction. 
Love the name you choose

. Don't settle for something you don't really like unless you're making a family decision, of course. You can (and most likely will) always come up with nicknames for your dog as they grow anyway, but when possible, be in love with the name.

See how your pet reacts when you say it out loud.

This may be a clear indication that they love or hate a name. If an option provokes an alarming bark, we know that's not the name for your pup! If you get a curious head tilt or a few puppy kisses, we can bet you have found a winner!

Think of the personality your Pekingese puppy has (or is likely to have).

Most dog breeds have specific qualities, so even before your puppy comes home, it is somewhat easy to pick a name. Or, you may choose to have your furry friend at home with you for a few days while you get to know him or her and then pick the name to express their character.
Finally, have fun with it – it's all part of the process and should be an exciting and worry-free time for you. If you need a bit more inspiration before making a final decision, we've also linked a few other posts for you to check out: 
---
Feature Image Credit: heroindra, Pixabay