215 Perfect Pet Frog Names: Fun & Unique Options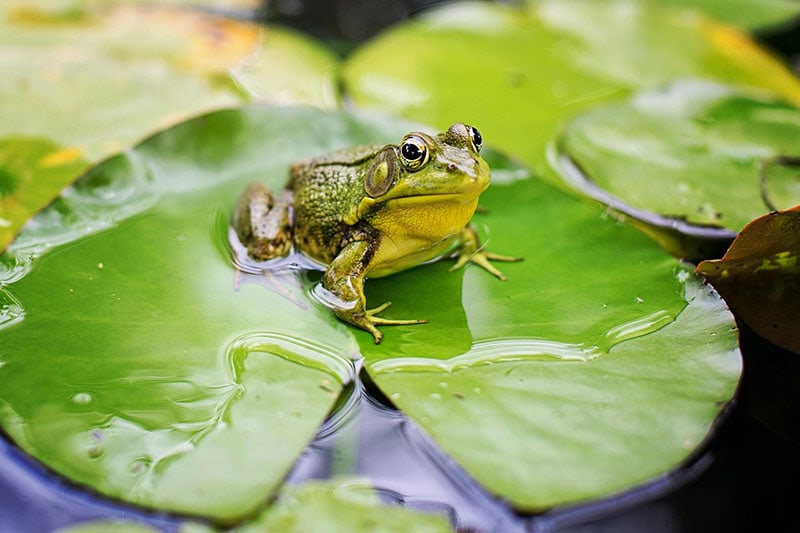 So, you've decided it's time for a pet frog. In addition to setting up the ideal habitat for your new family member, you'll need to decide on the right name. Just because your frog probably won't come when called doesn't mean they don't need a name! Here are 215 perfect pet frog names for you to consider.

How to Name Your Pet Frog
Naming your pet frog is the perfect opportunity to express your creativity. While there are some obvious choices (we'll get those out of the way first,) you can also look for inspiration from other areas. Your frog's unique look and color are one place to start.
You can also use your pet frog's country of origin to inspire a name or your favorite foods. You could also come up with a clever name based on your interests, such as sports or video games. The options are endless!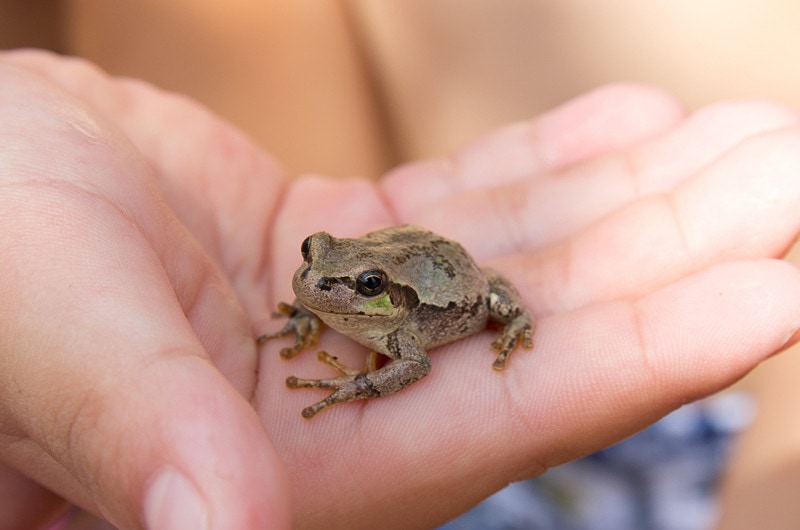 Obvious Pet Frog Names
Sometimes, you don't want to think too hard about a name for your pet. With so many other complicated decisions in life, why not make this one simple? If that sounds perfect, try one of these names for your pet frog.
Kermit
Hoppy
Hops
Hopalong
Hopscotch
Tadpole
Frogger
Froggy
Jumper
Leap
Jumpy
Frog
Frog
Swimmer
Ribbit
Tad
Pepe
Toad
Toad
Croak
Croaker
Lily
Lilypad
Swimmer
Fisher
Peeps
Peeper
Toadie
Springy
Pet Frog Names Based on Physical Appearance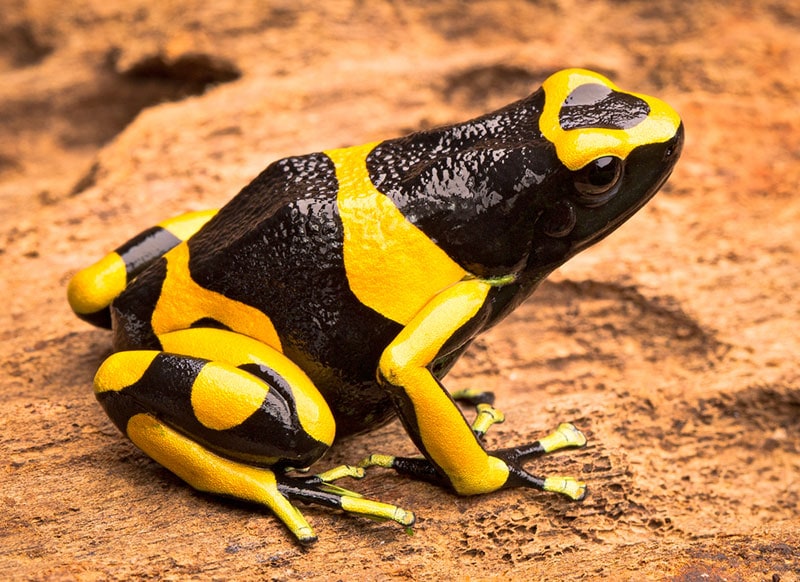 Whether it's their brightly colored skin, flashy eyes, or size, you can find plenty of inspiration from your pet frog's appearance. Check out these names for your amphibian friend.
Greenie
Toes
Warts
Bumpy
Warty
Verde
Verdant
Jade
Ivy
Spot
Speckles
Freckles
Stripe
Bumblebee
Slimy
Slippy
Sticky
Stix
Slipper
Wiggles
Slick
Bully
Hercules
Dot
Dotty
Lips
Shorty
Legs
Bubbles
Goliath
Godzilla
Band
Chubby
Ruby
Goldie
Red
Milky
Rosie
Smokey
Squirt
Sky
Dart
Monkey
Puff
Tank

Pet Frog Names Inspired by Food and Drink
Consider what you and your frog enjoy eating and drinking for this category. You could also get creative and name your pet after the food they most closely resemble. Remember to research the normal diet for your new pet frog before you bring them home.
Cabbage
Slug
Sluggy
Slugger
Spider
Fly
Worm
Crawfish
Bugs
Bugsy
Apple
IPA (a "hoppy" beer)
Flapjack
Pancake
Pickle
Jelly
Jellybean
Kiwi
Mint
Donut
Cinnamon
Brussels Sprout
Bean
Broccoli
Papaya
Mango
Blueberry
Strawberry
Mint
Mochi
Nugget
Noodles
Pea
Pear
Pretzel
Pudding
Chives
Herb
Cilantro
Basil
Peaches
Asparagus
Biscuit
Candy
Cricket
Dorito
Cheeto
Cheezit
Ritz
Triscuit
Grape
Spinach
Pet Frog Names from Pop Culture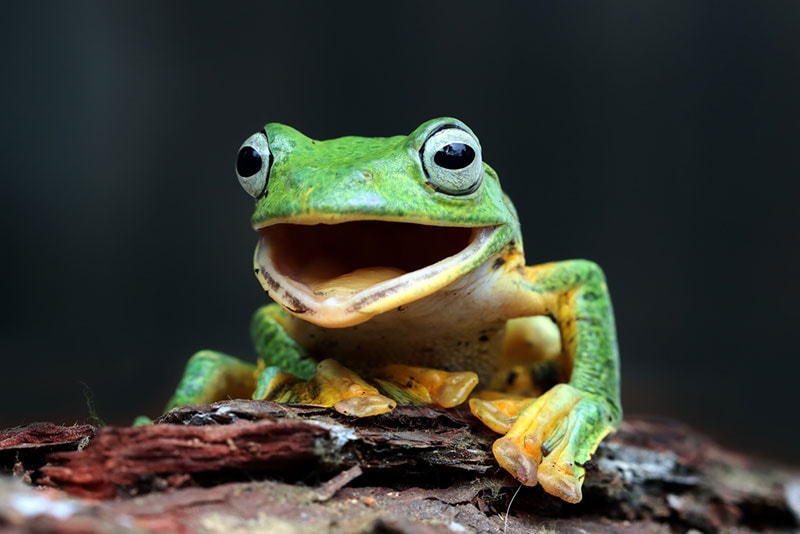 Whether it's classic art or modern cinematic masterpieces, pop culture offers inspiration for your pet frog's name in multiple areas. Use a clever variation of a famous pop culture personality, or name your frog after a well-known fictional amphibian. There's something for everyone in this category!
Jeremiah
Budweiser
Edward Hopper
Hopperdink
Anthony Hopkins
Sir Croaks-a-lot
MC Hopper
Snoop Froggy Frog
Marty Mcfly
Doc Hop
Trevor
Prince Charming
Princess Tiana
Prince Naveen
Charizard
Charmander
Yoda
Yoshi
Yertle
Bogart
Bubba Gump
Bud
Billy Bob
Michigan J. Frog
Jean-Bob
Grandfather
Jeremy Fisher
Bogart
Burt
Ed Bighead
Hypnotoad
Freddie the Frog
Superfrog
Ribert
Humphrey Frogart

Pet Frog Names Inspired by Locations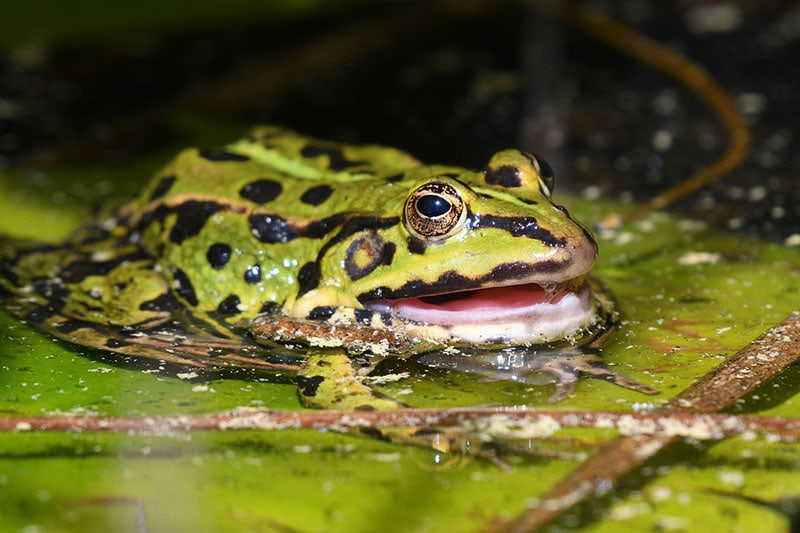 Pet frogs are found all over the world and in a variety of habitats. Why not draw inspiration from these locations? Whether it's the Amazon rainforest or a Florida swamp, you can find something to name your frog.
Swamp
Amazon
Tree
Aussie
Aqua
River
Pond
Harbor
Creek
Mermaid
Pearl
Pebbles
Rocky
Moss
Mossy
Puddles
Dribbles
Shells
Leaf
Branch
Human Names for Pet Frogs
Sometimes the funniest name you can give your pet frog is simply one typically reserved for humans. Crack open a baby name guide and start browsing until you find one you like. Or check out our list here.
George
Martha
Charlotte
Owen
Bernadette
Anastasia
Emmaline
Henrietta
Paul
Johnny
Calvin
Letty
Rebecca
Michael
Otis
Leonard
Jerry
Jasper
Lucille
Moses
Ned
Oscar
Polly
Priscilla
Andrew
Wally
Penelope
Zoey
Boris
Daphne
Elmer
Francesca
Gretchen
Herbert
Leonardo
Wanda

Conclusion
If you've never owned a pet frog, research your options carefully. Some species are better suited for beginner frog owners because they're more adaptable and hardier. Frogs may not require the same level of care as a dog or cat, but they deserve a comfortable, safe life. Some larger species can live 10 years or more with the proper care, so make sure you're prepared to make this commitment to your new pet.
---