100+ Pitbull Names: Ideas for Tough & Smart Dogs
Historically, Pitbulls have a bad rap, but I think we can all agree that this is a misconception. They are capable of being excellent companions and family pets with the right training and socialization, as with any breed. Pitbulls are confident, loyal, and truly good friends to loving and nurturing owners! 
We understand the devotion you have for your new pup, and why you must find the perfect name for them! Whether your dog is tough or sweet, we've got you covered. We have gathered the top names for Pitbulls – including extraordinary female and male options, and even noted our favorite cool, cute, and downright badass suggestions for you to consider.

Female Pitbull Names
Edith
Mia
Cassie
Hazel
Kiki
Queenie
Freya
Dinah
Lola
Sadie
Florence
Maddie
Anna
Betsy
Molly
Frankie
Katie
Maisy
Piper
Ellie
Clara
Mary
Eva
Coco
Darla
Callie
Tessa
Violet
Related Read: Best Dog Crates for Pitbulls – Our Top Picks!
Male Pitbull Names
Hank
Harley
Buddy
Charlie
Benji
Jax
Eddie
Archie
Rudolph
Basil
Freddie
Carter
Danny
Cooper
Finn
Ace
Major
George
Riley
Tyson
Jonny
King
Buddy
Charlie
Sergeant
Jack
Harrison
Karl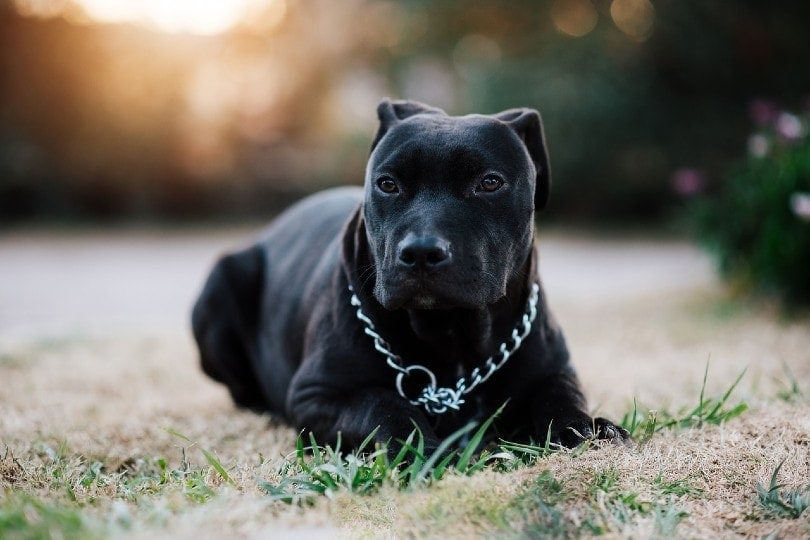 Badass and Tough Pitbull Names
Pitbulls have a bit of a rap – these seemingly rough, intimidating pups are actually sweethearts. However, there is nothing wrong with wanting a totally badass name for your little pitty. Below we have noted some of the toughest, and strong names we absolutely love for Pitbulls:
Dozer
Athos
Maximus
Titus
Bruno
Turbo
Atlas
Caesar
Rifle
Zeus
Brutus
Spike
Tank
Ace
Ajax
General
Archer
Bruiser
Rocky
Samson
Knight
Odin
Thor
Maverick
Stone
Bullet
You may also like: Best Dog Foods for Pitbull Puppies: Our Top Picks!
Cute Pitbull Names
There is no denying how adorable Pitbulls are! They are loyal and so caring when paired with the right owner! Their loving eyes and warm, welcoming hearts make this breed great companions. So it would only be fitting that you would consider a name just as cute as your new little pup. Here are our favorite picks:
Bella
Toffee
Minnie
Tiny
Cookie
Mocha
Valentine
Cupcake
Tiny
Patches
Oreo
Bear
Daisy
Lucky
Spots
Teacup
Rosie
Dotty
Sprinkles
Jojo
Jake
Candy
Pepper
Buddy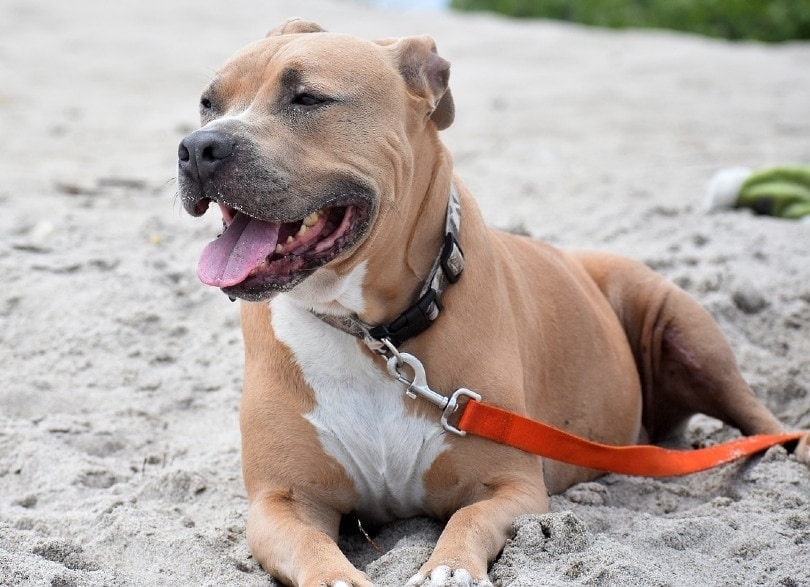 Cool Pitbull Names
Some of the most notorious Pitbulls are famous because of their awesome name. Take the celebrity pitty Hulk – for example. He even has his own Instagram page! So we understand why you would want to consider something cool when choosing a name for your furry friend. Not only will a name from the list below have your pup running with a cool crowd, but they will also be the talk of the town.
Buzz
Alaska
Jet
Blizzard
Lightning
Benji
Drake
Snickers
Roxie
Diesel
Flint
Blaze
Risk
Snap
Chase
Submarine
We reviewed the best gear for your Pitbull – Check out our top choices here!
Trendy Pitbull Names
You may want to give your pup a trendy name that's current, fun, and most importantly a step ahead of the pack. Not only will this name give your pup an edge, but they'll for sure be a hit among the other owners are the dog park. Step aside washed out and dated – welcome home, trendsetter!
Arlo
Shook
Snatched
Clairo
Nas
Woke
Kiki
Theron
Thirsty
Swerve
Claud
Mood
Dua
Lowkey
Fleek
Hadid
Eilish
Tarian
Yeet
Slay
Bae
Gucci
Genzie
Lizzo
Juice
Savage
Spade
Stan
Twerk
Tik or Tok (Super cute if you have two pups!)
Flex
Salty
Modsy
Lewk
You may also be inspired by your Pitbulls fur coloring. Below we have noted a few of the most common coat colors and our favorite name ideas that complement each shade!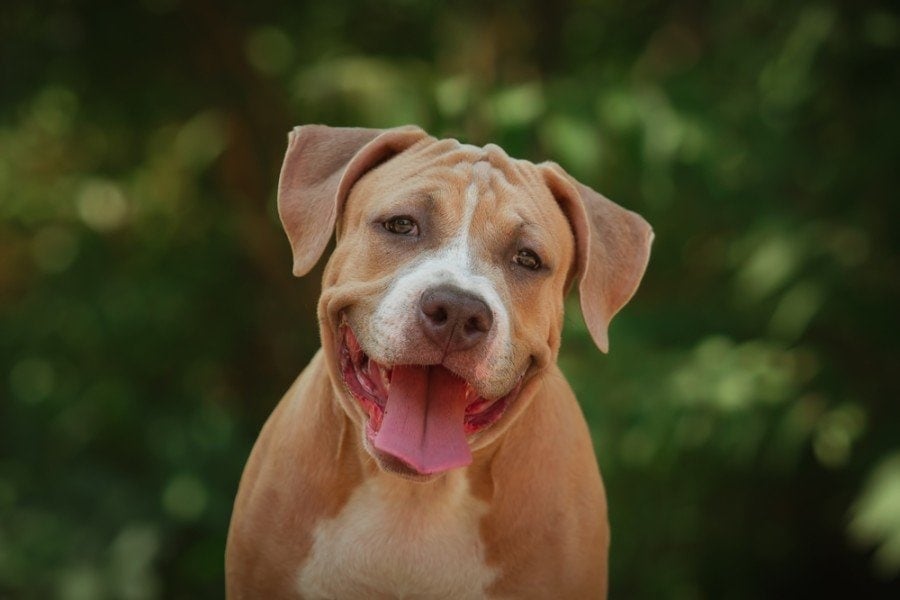 Blue Nose Pitbulls
Known for their earthy grey coats and deep blue eyes, Blue Nose Pitbulls are simply gorgeous. If you are looking for a blue-hued name to match your pooches cindered exterior, this is the list for you.
Haze
Slate
Foggy
Winter
Sterling
Indigo
Myrk
Luster
Sully
Gable
Ice
Polaris
Umbra
Phantom
Yale
Memphis
Fade
Stoke
Casper
Steely
Vapor
Cobalt
Dusky
Red Nose Pitbulls
Similar to the list above, these names are geared for the auburn coated Red Nosed Pitbulls. Their firey fur sets them apart from the others and a name to complement the way they glow would be an incredible idea.
Rover
Redina
Brick
Azalea
Finch
Cerise
Maroon
Crimson
Foxy
Apple
Merlot
Poppy
Rusty
Scarlet
Frizzle
Mars
Elmo
Merida
Ginger
Weasley
Finding the Right Name for Your Pitbull
Pitbulls are stocky, graceful, and incredibly smart, and we understand that you'll want a name that captures their true personality. We know how the perfect name may seem impossible to come by but, we hope that with a little reasearch you find a great match for your pitty. With great suggestions for the cool and toughest of Pitbulls to the sweetest and most adorable, we are sure there is a perfect pairing, no matter what your Pitbull's personality is. 
Tips for Naming Your Dog
If you are having a bit of trouble landing on a single name – or one hasn't jumped out at you yet, read on for a few tips we are sure will help you with your selection:
Take Your Time. The reason you may be having such a difficult time is that you haven't had a chance to truly get to know your pup. Spend a week getting to know their personality – this may actually narrow down your search if they happen to be cuddle monsters rather than the tough guard dog you originally thought.
Test Out a Few On Your Pup. Write down your favorite names that you've come across and test them out on your dog to see what their reaction is. If you get a wagging tail or an excited bark you may have just found the winner. You'll be encouraged to toss one out if your pup runs away or even goes as far as whimpering when you say it!
Take Training into Consideration. Will your pup be confused with a long elaborate name? Does the name sound appropriate for when you are giving praise or trying to establish rules? Keep it simple and to the point – you will thank yourself in the long run!
Be Proud of the Name. Would you be embarrassed to say the name you've chosen to a neighbor, the vet, or loudly while calling them at the dog park? You want to ensure you are choosing a name that both you and your pup can be proud of. A silly nickname between the two of you is fine, but their formal name should be a badge of honor! Something your doggo can truly wear with pride!
Still haven't found one quite right yet? No problem! Take a peek at one of our other name posts linked below:
---
Featured Image Credit: Michael Anfang, Unsplash