8 Potential Side Effects of CBD in Dogs

Cannabidiol (a.k.a. "CBD oil") is one of the hottest supplements on the market today, as it's used for everything, from pain management to seizure reduction. It's even starting to be used on dogs, and many owners swear by it for reducing inflammation, nausea, and anxiety.
While CBD oil is found in marijuana, it's most often taken from the hemp plant, which means that it doesn't contain the psychoactive compounds found in regular cannabis. Your dog shouldn't get high from CBD oil, but they should start feeling incredible after taking it — at least, that's the idea.
Even though CBD oil doesn't come from marijuana, there are still side effects that you should be aware of before you start giving it to your dog. This list will walk you through common ones.

A Quick Disclaimer Before We Begin
CBD oil is a fairly new product, and as such, there have been few studies performed on it — and virtually none that focus on dogs. As a result, most of the side effects below have been noticed in humans rather than dogs.
Also, while there haven't been any reports that we can find of serious issues arising from the use of CBD oil on dogs, there have yet to be any credible long-term studies done on its safety for pets.
---
The 8 Potential Side Effects of CBD Oil in Dogs
1.

Drowsiness from CBD
Drowsiness can actually be a welcome side effect, especially if you're using the CBD oil to treat anxiety. However, some dogs can become extremely lethargic, to the point that it can become an issue worth discussing with your vet.
If your dog is sleeping more than 10 hours a day or if you haven't seen them act as active and vibrant as they used to, it may be time to eliminate the use of CBD oil (or at least lower the dose).
---
2.

Dizziness from CBD
Some pups may occasionally make themselves dizzy (especially if their tails feel like taunting them), but in general, dizziness is a bad sign in dogs. If you see your dog struggling to maintain their balance or falling occasionally, then you should stop giving them CBD oil until your vet can take a look at them.
Dizziness may be a sign that your CBD oil has THC in it, and THC is very bad for dogs. You may need to find a new brand of CBD oil if your dog has trouble maintaining its balance and coordination.
---
3.

Dry Mouth from CBD
You may think that your slobbery pooch could never have a dry mouth, but this is actually one of the most common CBD oil side effects. It's not a good one either, as your dog's saliva is extremely important to their dental health.
If you notice that your dog isn't slobbery anymore, you should discontinue using CBD oil, at least until you find one that doesn't cause this side effect. You should also encourage your dog to drink more water, but that's only a band-aid rather than a cure.
---
4.

Vomiting from CBD
As you might expect, vomiting is never a good thing, and it may be a sign that your dog is struggling to tolerate CBD oil. However, it may also just be a sign that your dog doesn't care for the taste, especially if the vomiting is triggered by eating grass after a dose.
You may want to try switching brands before cutting the CBD oil entirely, but if the vomiting continues, it's a sure sign that your dog can't handle this particular supplement.
---
5.

Diarrhea from CBD
Much like vomiting, diarrhea is usually a bad sign. The two symptoms often go hand-in-hand, which are bad news for your dog and worse news for your carpet. However, diarrhea can be caused by a bunch of different factors, so you can't necessarily pin it on the CBD oil without doing some process of elimination first.
If your dog's diarrhea doesn't clear up after a few days and you can't locate another possible culprit, discontinue the CBD oil, and consult your vet.
---
6.

Worsening of Tremors from CBD
This side effect has only been noticed in humans so far (specifically, sufferers of Parkinson's Disease), but there's a risk that your dog could be affected. Dogs can suffer from neurological diseases too, and uncontrollable tremors are one of the symptoms.
If you're giving your dog CBD oil to counteract these symptoms, make sure that it's not actually making things worse. Also, start slowly, using less than the recommended dosage, and gradually increase it. This allows you plenty of time to monitor your dog for additional tremors.
---
7.

Itching from CBD
Some dogs experience skin irritation as a result of taking CBD oil, so watch and make sure your dog isn't scratching or biting themselves more than usual. In some cases, they can rub the skin raw, so it's important to nip this behavior in the bud before it gets out of control.
Itching isn't a serious side effect, but it can certainly make your pooch less comfortable, so you still want to avoid it if at all possible.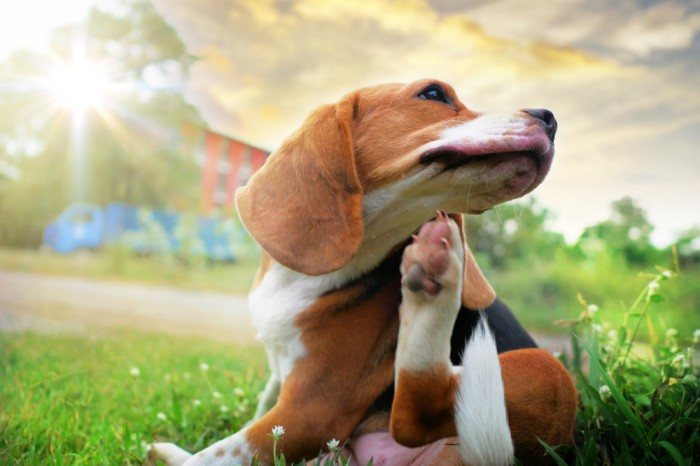 ---
8.

Interactions With Other Drugs
If your dog takes other medications, talk to your vet before you start giving your pup CBD oil. The oil can make prescription drugs much more potent, which can then cause liver damage or increase the risk of an overdose, even if you're using a dosage that your dog has been able to tolerate in the past.
This is one of the most serious CBD oil side effects, so don't take any chances with it. Your doctor should be able to tell you if using the oil is safe for your dog or if you need to change the dosages of your mutt's other medications.

CBD Side Effects in Dogs
CBD oil has shown some promise in treating a variety of conditions in dogs, and it's understandable that you'd want to see if it will help your pup. However, it's not something to be taken lightly, so be careful when using it, as you don't want your dog experiencing any of the side effects on this list.
As long as you follow the directions and use a reputable product, your dog should likely be fine. Just to be on the safe side, though, always talk to your vet before changing your dog's diet or supplement routine.
You might also like:
---
Featured Image Credit: iAmMrBenjamin, Shutterstock