100+ Pug Names: Ideas for Mischievous & Lovable Dogs

Congratulations! You are the proud owner of a brand-new pug! By now, we're sure you know how charming and expressive they are. You've grown accustomed to their sounds – loving every single grunt, snort, and sneeze. These adorable dogs make excellent companions and family dogs, and if you haven't already noticed, they are sure to follow you where ever you go! From the kitchen to the bedroom, even to the bathroom, these pups are going to be your second shadows from now on! Before they can truly settle into your family, you'll need to pick out a great name.
What things should you consider when finding the perfect name for your Pug? Their wrinkled faces, goofy noises, petite round bodies, and flamboyant personalities of course! Luckily we have something for every type of pug on our extensive list, which includes names for boys and girls, along with cute, funny, and famous options. 

Female Pug Names
Coco
Lucy
Zoe
Penny
Rosie
Lulu
Sophie
Bella
Daisy
Ruby
Molly
Susie
Ellie
Lily
Bailey
Lola
Penelope
Maggie
Luna
Winnie
Olive
Stella
Mia
Pepper
Roxy
Gracie
Riley
Chloe
Fiona
Ollie
Sadie
Emma
Charlie
Male Pug Names
Hank
George
Rocco
Tucker
Rocky
Leo
Winston
Oliver
Diesel
Oscar
Frankie
Bo
Buddy
Bentley
Gus
Bobby
Louie
Henry
Harley
Cooper
Dexter
Buster
Teddy
Bruno
Jack
Duke
Sammy
Max
Milo
Toby
Jax
Frank
Otis
Cute Pug Names
Simply put, your pug is an adorable dog. Although pugs have this magical power of turning every name they're given into a cuter than cute rendition, it would only be natural to pair them with a name just as sweet as they are! Take a peek at the names below and see if one of them fits your perfect little pup.
Cupcake
Diva
Princess
Sprinkles
Wrinkles
Slim
Petal
Bean
Tiny
Bunny
Flan
Daisy
Shortcake
Pancake
Bubbles
Peanut
Duchess
Piper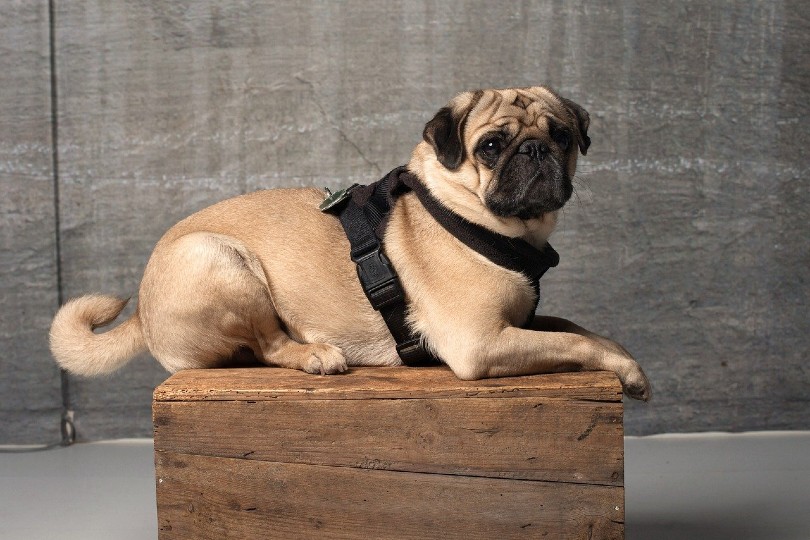 Funny Pug Names
Pugs are already pretty hilarious without a comical name – but how great would it be to have their name pay homage to their existing goofy demeanor?! There's nothing like a dog name that makes you laugh every time you say it. We've got a few of them below. The only problem is, it'd be pretty difficult to discipline a Sir Puggington if he chewed up your shoe.
Tank
Elvis Pugsley
Puggles
Giant
Wrinkles
Pugsworth
Brutus
Gizmo
Gadget
Pugsley
Sir Puggington
Pugzilla
Wrigley
Bear
Bubba
Yoda
Admiral
Boss
Munchkin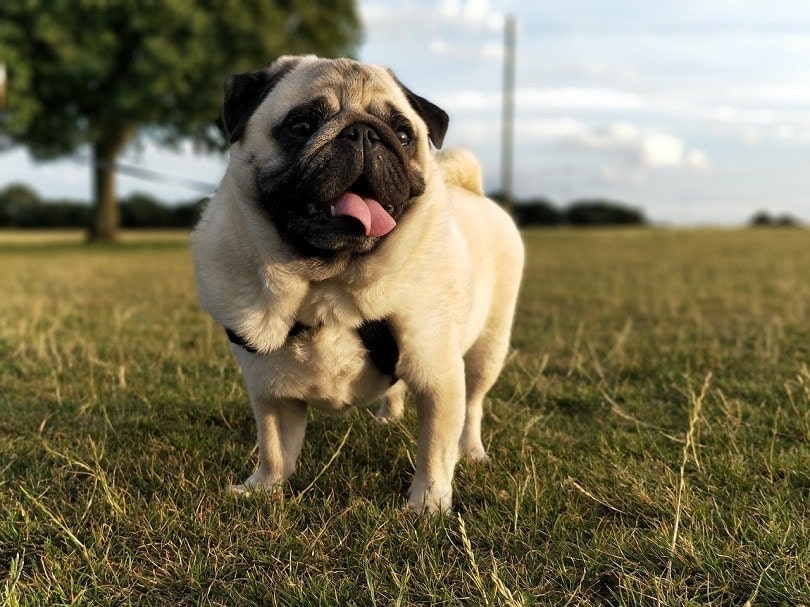 Famous Pug Names
Pugs have been around for thousands of years, so you won't be surprised to learn that there have been many famous Pugs. Not only were they noble pets for a few royals or celebrities as parents, but some also made a name for themselves all on their own.  Here are some of the best-known Pugs (and their often famous owners).
Mops (Marie Antionette, Queen of France)
Precious the Pug (The Nut Job)
JB (The Kingsman)
Pompey (William the Silent, Prince of Orange)
Basco (Alexandrina Victoria, Queen of Great Britain)
Percy (Disney's Pocahontas)
Mel (Secret Life of Pets)
Sid (Jessica Alba)
Loulou (Instagram)
Otis (Milo & Otis)
Batman the Batpug (Instagram)
Doug the Pug (Instagram, 4 Million Followers!)
Frank the Pug (Men in Black)
Fortune (Josephine Bonaparte, wife of Napolean Bonaparte)
Ellie & Darcie (Dan DTM, Youtuber)
Lolita (Gerard Bulter)
Homer Pugalicious (Instagram)
Mimi LaRue (Tori Spelling)
Finding the Right Name for Your Pug
Choosing the ideal name for your sturdy little Pug can be tricky. How do you encapsulate the winning personality and goofy expressions in just one or two words? Although it may seem next to impossible, we know that's it achievable! We hope that you were able to find some inspiration from our list of pug names. With cute, funny, and famous suggestions, we are sure that your pug will be proud of whatever you have chosen. 
Get the latest and stylish dog swag:
If you weren't able to find the perfect match among our pug names, take a peek at another name post as they may spark some additional inspiration!
---
Featured Image Credit: MishuHanda, Pixabay