Pure Balance Grain-Free Dog Food Review 2023: Recalls, Pros & Cons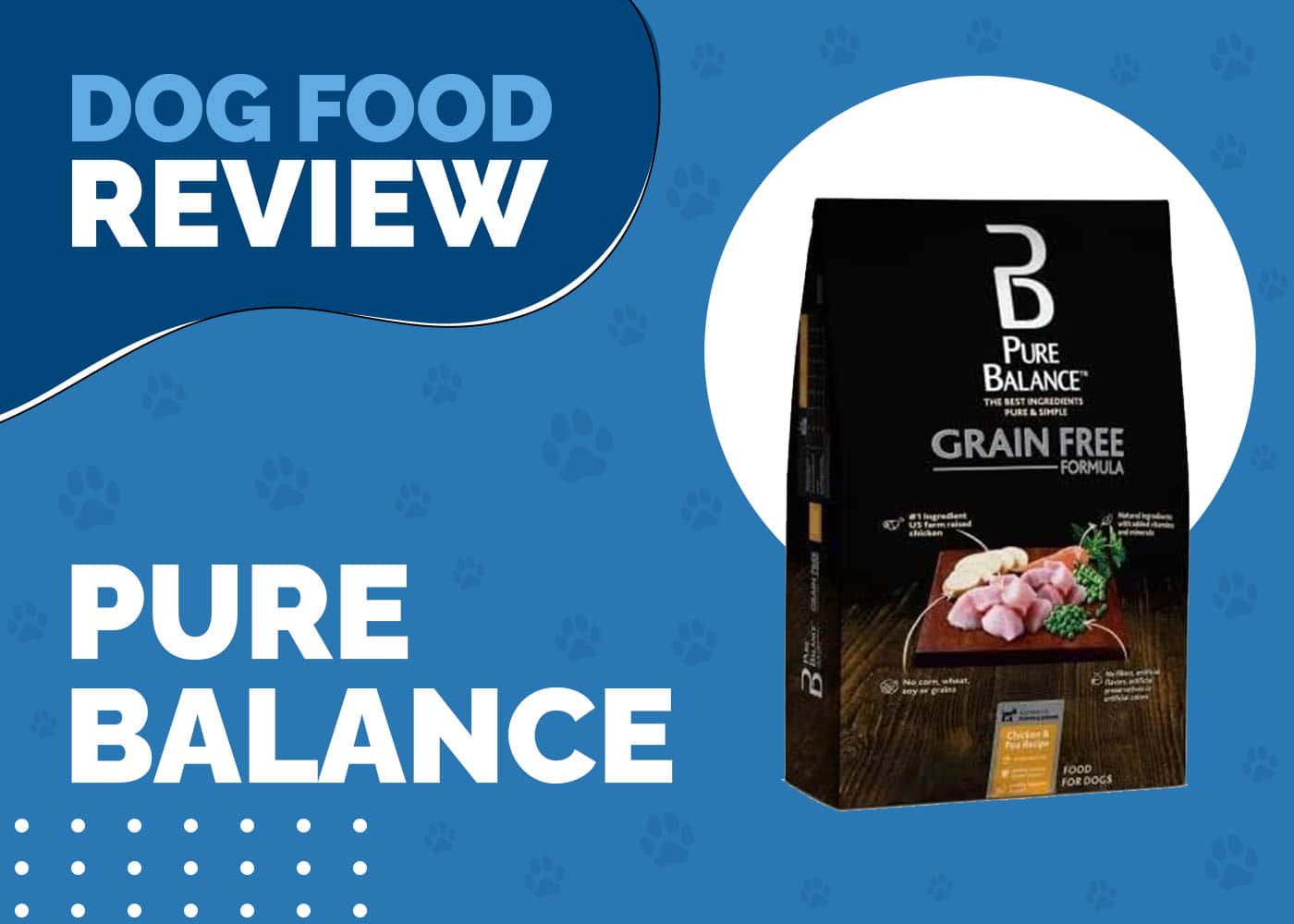 Our Final Verdict
We give Pure Balance Grain-Free dog food a rating of 4.5 out of 5 stars.
Pure Balance Grain-free dog food is an all-natural pet brand that is affordable and nutritious. They make recipes with essential vitamins and minerals to support your pup's well-being and overall health. Moreover, they have several flavors available depending on your pet's needs and palette.
To give you a better understanding of this grain-free option, we have reviewed Pure Balance. We will answer all your most important questions, such as where the food is made and whether it has had any recalls. Not only that, but we will also share our favorite dishes and comments from other consumers. Keep reading to see if Pure Balance is right for your pup!

At a Glance: The Best Pure Balance Grain-Free Dog Food Recipes:
Image
Product
Details

Our Favorite

Pure Balance Bison, Pea & Venison

Bison
Pea & Venison Recipe
Dry dog food
Check Price

Pure Balance Chicken, Beef, Salmon, and Egg Roll

All-natural
Grain-free
No artificial ingredients
Check Price

Pure Balance Chicken and Pea

Beef & Wild Boar Recipe
Dry dog food
Check Price

Pure Balance Poultry-Free Lamb and Fava Bean

With real lamb pate
Enriched with vitamins and minerals
Check Price

Pure Balance Chicken Multi-Pack

Chicken Recipe
Case of 6
Wet canned food
Check Price
Pure Balance Grain-Free Dog Food Reviewed
Grain-free dog food has become increasingly popular in the last several years. Many pet owners have found that their pet fares better with a gluten-free meal.
However, grain-free dog food is controversial and may not be the best option for your dog. Often, brands that lack grains replace them with other fillers that are even less nutritious, and grains play an essential role in your canine's diet. The FDA also found a link between grain-free formulas and heart disease in 2019.
Who Makes Pure Balance Grain-Free and Where Is It Produced?
The Pure Balance brand is a Walmart label created in 2012 after they saw a need for cost-friendly dog food. Walmart wanted to create a pet food line that was healthy and easy to find. Ainsworth Pet Nutrition LLC manufactures most of Pure Balance's products out of Pennsylvania.
Ainsworth is owned by the J.M. Smucker corporation, which also owns several other pet brands, including Kibbles N' Bits and Milk-Bone. Interestingly enough, Ainsworth does not manufacture all of Pure Balance's products, and it is unclear which ones they produce. We do know that all their pet food is manufactured in the USA, yet the ingredients are sourced from around the world.
The Grain-Free Menu
Another benefit of Pure Balance's grain-free formula is it comes in several varieties and recipes. You can choose from dry food, wet food, semi-raw rolls, wet food in gravy, and wet "dinners." They also have several flavors, such as chicken, beef, bison, salmon, turkey, and many others.
Pure Balance is not strictly grain-free, however. They carry formulas that are made with rice and other grains. If you want to look at the entire brand, check out this article.
All of the grain-free formulas are made without artificial ingredients, soy, corn, and wheat. They also have a lot of nutritional value in the form of vitamins, minerals, and other essential supplements such as fish oil, omegas, and biotin. Besides these basic adult meals, they have a small-breed food and a poultry-free diet.
Which Types of Dogs Might Do Better with a Different Brand?
Unfortunately, two types of canines may do better with a different type of food: puppies and seniors. Though Pure Balance has a puppy formula, it is not grain-free. If you need something with wheat, corn, and rice for your new pup, try the Nature's Recipe Grain-Free Puppy Food. This meal is made with real chicken and is packed with all the nutrients they need.
A senior pup is the second type of dog that may need a different brand. Pure Balance does not carry a senior formula in their grain-free or regular, and many canines require a gluten-free meal.
Senior pups also benefit from additional supplements, such as the joint-supporting glucosamine that none of the Pure Balance formulas contain. If you need a tasty and grain-free meal for your older pet, try the Blue Buffalo Freedom Grain Natural Senior Dry Dog Food.

The Nutritional Value
As mentioned, grain-free dog food formulas can lack the essential nutrients your pet needs to lead a strong and healthy life. When you cut out grains, manufacturers usually replace them with something else. Sometimes, the alternative ingredients can be good; other times, they're not.
First, let's take a look at the nutritional value of the different types of recipes Pure Balance offers:
Protein
Protein is one of the most critical components of your pup's meal. They need a lot to keep them energized, strong, and flexible. The AAFCO recommends your pet gets at least one gram of protein per body weight, which is the equivalent of 18% of dry matter.
Dry Food: 27%
Wet: 9%
Semi-Raw Rolls: 8%
Fat
Fat is another important part of your pet's diet. Experts recommend you feed your dog at least 10% to 15% as they will turn it into energy. More active dogs should receive up to 20% to 25% daily.
Dry: 15%
Wet: 9%
Semi-Raw Rolls: 8%
Fiber
Fiber helps your pup go to the bathroom and eases digestion. It keeps their digestive system running smoothly, plus it helps with other essential needs, as well. The AAFCO states that your dog's food should have 1% to 10% fiber.
Dry: 5%
Wet: 1.5%
Semi-Raw Rolls: 1%
Calories
Canine experts also recommend that your dog consumes at least 30 calories per pound of body weight each day. Your pet's two meals and treats should not exceed this amount. Unfortunately, the calorie levels are not readily available with this product, and there was no response when we attempted to reach out.
A Quick Look at Pure Balance Grain-Free Dog Food
All-natural formula
No artificial ingredients
Grain-free
Variety of recipes
Packed with vitamins and minerals
May be missing essential nutrients
There is no puppy or senior formula
---
Ingredients Analysis
This formula has many vitamins, minerals, and supplements, such as vitamins A, D, E, and B-complex. It also contains omega 3 and 6, biotin, iron, calcium, CFUs, and much more. The natural formula has no artificial ingredients, wheat, corn, or soy. What's more, the meals are all made with real meat (except the poultry-free option), and it has no by-product meals.
We could go on about the essential nutrients in Pure Balance's Grain-Free formula, but we would be here all day. So, not to be a downer, but we will concentrate on the grain "substitutes" and other not-so-desirable ingredients.
Pea Protein: This ingredient is commonly used to replace carbohydrates like wheat in dog food. The protein from peas is not the same as peas. A few peas in the formula can add nutritional benefits in their raw form. In the protein form, there is little to no benefit for your pet.
Chicken Meal: We are sure you have heard of "meals" and by-product "meals." Though by-products are never good for your dog, there is a lot of debate over whether "meals" are good or not. Meals are only as good as what goes in them. If it's made with less nutritious parts of the chicken or cow, you will have a less than stellar "meal."
Pea Starch: You face the same issue with starch as you do with protein when it comes to peas. Consider this, however. There is such a thing as ingredient splitting. If you see an ingredient in several forms, it may have been done intentionally to lower the weight of the ingredient. The FDA requires dog food ingredients to be listed according to weight. In some cases, if you add up the weight of all the "pea" products, they could weigh more than the first ingredient-like beef.
Dried Potatoes: This is another ingredient that's controversial because of its questionable nutritional value. In general, rarely will a potato hurt your pup. Potatoes can provide a quick burst of energy, but their diet does not require them.
Carrageenan: This ingredient is used as a filler in most dog foods. It adds weight to the product and is included in Pure Balance's semi-raw rolls. Not only does it have no benefits for your dog, but it also can be hard to digest and cause gas and diarrhea.
We must mention that the nutritional analysis for the grain-free wet food is not readily available on any website, including Walmart's. Though the FDA requires all pet foods to list their ingredients, it is concerning that you cannot find this information anywhere online.
Recall History
The Pure Balance Grain-Free dog food has not had any recalls since this article was published. However, when a product is outsourced to another manufacturing company, you must examine their recall history since they are responsible for "making" the food.
The manufacturer, Ainsworth Pet Nutrition LLC, has been involved in recalls regarding their Rachel Ray line,  and J.M. Smucker has also been involved in two voluntary recalls in the last three years. One of the recalls involved euthanasia ingredients found in their canned dog food.

Reviews of the 3 Best Pure Balance Grain-Free Dog Food Recipes
1.

Pure Balance Wild & Fresh Chicken, Beef, Salmon, and Egg Roll
This Pure Balance semi-raw dog food is a great option as a snack or a full meal. It is made with all-natural ingredients, grain-free, and produced without artificial ingredients. Not only that, but it is also packed with additional supplements, vitamins, and minerals.
This formula can take some getting used to in regards to your pet's stomach. Small portions initially are critical to a smooth transition. Beyond that, this healthy option has real meat with biotin and calcium. Just keep in mind that it is also formulated with carrageenan, which is a filler with no nutritional value for your pet. Besides that, Semi-Raw is a tasty meal available in two flavors.
All-natural
Snack or meal
Grain-free
No artificial ingredients
Tasty
Contains carrageenan
Can be initially hard on the stomach
---
2.

Pure Balance Grain-Free Dry Dog Formula Chicken and Pea
When it comes to delicious dry dog food, this chicken and pea recipe takes the cake. It is not only grain-free but also made without artificial colors, flavors, and preservatives. Plus, there is no corn, soy, or other harmful ingredients. Unfortunately, it is formulated with pea starch and protein, which have no benefit for your dog.
Besides that, you will find several vitamins such as C, D, E, and B-complex. There is also biotin, calcium, and potassium to support your pet's health. This dry food is made with all-natural ingredients and manufactured in the USA, but the ingredients are sourced from around the world.
Grain-free
No artificial ingredients
All-natural
Great flavor
Added vitamins and minerals
Contains high levels of pea starch and protein
---
3.

Pure Balance Grain-Free Poultry-Free Lamb and Fava Bean Dry Dog Food
If your dog has grain allergies and sensitivities to poultry products, this is the dry food for you. It's an all-natural formula with a lot of nutritional value to keep your pet healthy.
Formulated without corn, soy, poultry, grains, or artificial ingredients, this meal is tasty and healthy. Unfortunately, one drawback is the high concentration of pea protein and starch. Plus, it can be hard to digest. Other than that, this meal has excellent levels of protein, fat, and fiber.
All-natural
Great protein, fiber, and fat levels
Added vitamins and minerals
No grains or poultry
No artificial ingredients
Can be hard to digest
Contains high levels of pea protein and starch
---
What Other Users Are Saying
Nothing is more reassuring to a customer than seeing positive reviews about a product from other pet parents. It will reinforce all the benefits the product has, and it will help you decide on which food to pick. Take a look at these reviews below.
Walmart.com
"Absolutely love this food. My Pomeranian is sensitive to grain and licked all the time; she's doing so much better. We use lamb, and both of my furbabies love it, as do I !! Thank you for this, and now I don't have to buy two separate kinds of food."
Walmart.com
"I have three dogs ranging from a 2-year-old weighing 10 pounds to a 9-year-old weighing 90 lbs. Pure Balance is the only food I give them, any of the grain-free flavors. I have seen a huge difference since I switched 2 years ago, and it's all my baby has ever eaten."

Conclusion
We hope that you've enjoyed our review of Pure Balance Grain-Free Dog Food. This tasty option is available at Walmart and Amazon and comes in multiple varieties. With so many options for dog food available on the market, it can be difficult to choose the right one. If we have made your life any easier with the previous information, we consider it a job well done.