Purina DentaLife Dog Chews Review 2023: Recalls, Pros & Cons

Our Final Verdict
We give Purina DentaLife dog treats a rating of 4.5 out of 5 stars.
Introduction
There are few pet food brands as large and established as Purina; indeed, once the company was acquired by Nestle in 2001, it became the second-largest pet brand in the world.
The company makes a wide variety of foods for a wide variety of animals, but they also manufacture treats. These treats range from the "just for fun" variety to the "secretly healthy," so regardless of whether you're looking to improve your pup's health or just reward her, they'll have something that fits the bill.
The vast majority of their food products are manufactured in the United States, and the company has several processing plants in the Midwest and Northeast.

At a Glance: The Best Purina DentaLife Dog Treats Recipes:
Image
Product
Details

Our Favorite

Purina DentaLife ActivFresh Adult Large

Help combat halitosis
Nine ridges clean off teeth and gums
Honey and spirulina clean out digestive tract
Check Price

Purina DentaLife Small/Medium Adult

Suitable for daily use
Gentle on teeth and gums
Chewy texture
Check Price

Purina DentaLife Advanced Clean Oral Care

Good for deep cleaning
Forces dog to use entire mouth
Long-lasting
Check Price

Purina DentaLife Oral Care Mini

Tasty chicken flavor
Helps clean hard-to-reach teeth
Helps freshen your dog's breath
Check Price
Purina DentaLife Dog Treats Reviewed
Who makes Purina DentaLife and Where is it Produced?
Purina DentaLife is a brand of treats developed by the Nestle Purina PetCare corporation. The treats are designed to help clean dogs' teeth, with the aim of preventing plaque and tartar buildup and reducing the risk of periodontal disease.
Which Types of Dogs is Purina DentaLife Best Suited For?
The treats are suitable for any adult dog, especially since preventative maintenance is just as important as disease treatment. Dogs who are beginning to have buildup on their teeth and gums should be especially encouraged to use them, however.
There are three treat lines inside the DentaLife brand: Daily Oral Care, ActivFresh, and Advanced Clean.
The names pretty much tell you everything you need to know about them, but just in case, the Daily Oral Care is for regular use, ActivFresh adds a breath-freshening agent, and Advanced Clean helps deep-clean your dog's mouth.
Which Types of Dogs Might Do Better with a Different Brand?
The chews range from chewy to hard and crunchy, so any dog with advanced dental disease may have trouble chomping on them.
In that case, you might want to consider Nutri-Vet Dental Health Soft Chews.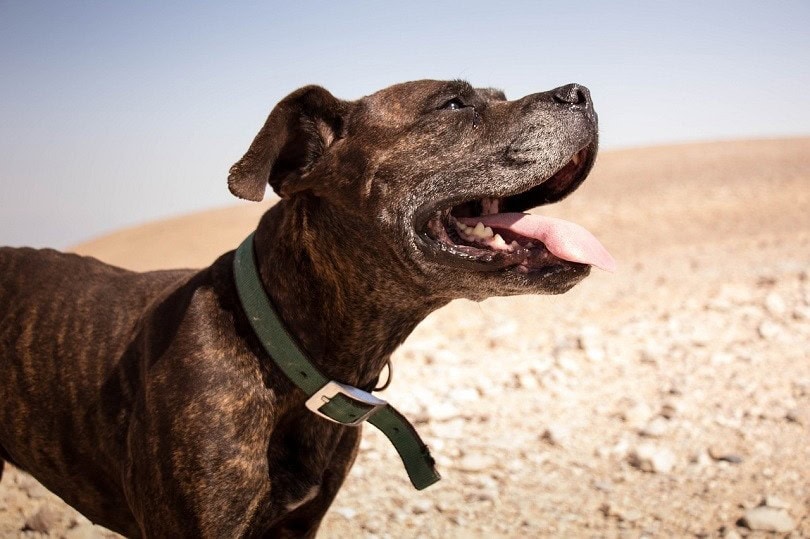 Discussion of the Primary Ingredients
The primary ingredient in these chews is their proprietary blend of honey and spirulina. These are designed to help combat doggy breath by attacking the bacteria that cause it.
The idea behind both ingredients is that there are two possible culprits for halitosis in dogs: bacteria in the mouth and bacteria in the digestive tract.
Honey has natural antibacterial properties, so it can eliminate some of the nasty germs in your dog's gut that are causing his breath to smell. It's also useful for soothing upset stomachs and can calm some skin conditions, but those are ancillary benefits.
Spirulina is a type of cyanobacteria that wards off potentially harmful microbes. It acts like a probiotic, so as the honey clears out all the harmful bacteria, the spirulina takes up residence in your dog's digestive tract, helping to keep things running smoothly (and his breath smelling sweet).
While both ingredients have powerful health benefits, they can also be harmful in large quantities, so be sure to observe the recommended dosage on the package.
Purina DentaLife Attacks Bad Breath at the Source
Or, to be more accurate, at its sources.
The treats have nine ridges on them to help carve away any built-up plaque or tartar on your dog's teeth while he chews. This prevents bacteria from taking over his mouth, worsening his breath and possibly leading to periodontal disease.
Meanwhile, the honey and spirulina work on the digestive tract, clearing out harmful microbes and replacing them with probiotics.
The Recipe is Free of Artificial Colors and Flavors
Many manufacturers add artificial colors and flavors to make their treats more appealing to dogs (and the humans that shop for them). While this may seem harmless, those chemicals can trigger allergies, and some may even be dangerous.
DentaLife uses honey to sweeten its treats, making them naturally appealing to dogs without using potentially harmful additives.
There are Other Questionable Ingredients Inside, However
If you can the ingredients list, you'll see things like animal fat, chicken by-product meal, wheat flour, wheat gluten, and wheat starch.
All these ingredients can trigger dogs with sensitive stomachs, and many of them are filled with empty calories. The animal fat and chicken by-product meal, on the other hand, are made using low-grade meat, and that's not something you'll want to feed your best friend.
A Quick Look at Purina DentaLife Dog Treats
Ridged to remove plaque and tartar
Uses honey and spirulina to target harmful gut bacteria
No artificial colors or flavors
Uses low-grade meat sources
Includes cheap fillers
---
Recall History of Purina DentaLife
As best we can tell, there has never been a recall of Purina DentaLife treats. However, Purina has had two other recalls in the past decade.
In August 2013, the company recalled its Purina Beyond One kibble over fears of a Salmonella contamination. The contamination was limited to a single bag, and no animals were hurt as a result of eating the food.
The second recall happened in March 2016. This time, it was two of the brand's wet foods that were affected: Beneful and Pro Plan. However, the recall was due to concerns that the food didn't have the number of vitamins listed on the package, not due to fears of it being dangerous.

Reviews of the 3 Best Purina DentaLife Dog Treats Recipes
Purina DentaLife has three distinct lines: Daily Oral Care, ActivFresh, and Advanced Clean. Below, we take a quick look at treats from each line.
1.

Purina DentaLife ActivFresh Adult Large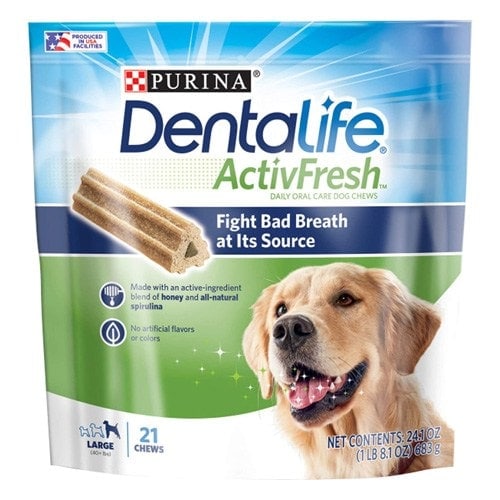 The ActivFresh line is Purina's middle-of-the-road dental treat option. It's a little more focused than the Daily Oral Care, but not as intense as the Advanced Clean. As a result, we believe it tends to do the most good for the most dogs.
The treats have nine ridges on them to scrape away gunk from your dog's teeth and gum while he chews. This also stimulates blood flow to the gums, helping to bring nutrients to the area.
Meanwhile, the spirulina and honey in the treats help to clean out his digestive tract. This double-pronged approach is good for combating halitosis as well as fending off periodontal disease.
However, there are some suspect ingredients inside, most notably filler grains and animal by-products. These no doubt help to keep the price down, but they certainly don't improve the nutritional profile.
Still, if used sparingly, these treats can help make your next puppy kiss more enjoyable for everyone involved.
Help combat halitosis
Nine ridges clean off teeth and gums
Honey and spirulina clean out digestive tract
Packed with cheap fillers
Uses questionable animal by-products
---
2.

Purina DentaLife Small/Medium Adult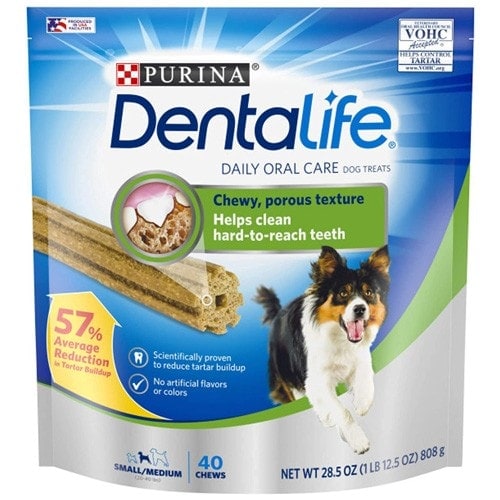 The basic DentaLife brand is Purina's everyday chew. These are like brushing your dog's teeth (which you should still do even if you feed him these) — they won't deep-clean his mouth, but if used regularly they can prevent problems from getting to be overwhelming.
They have one less ridge than the ActivFresh line, but that shouldn't make too much of a difference. It's their texture that sets them apart; they have thousands of air pockets, so they're chewy without being rigid. This makes them gentle on the teeth and gums while still allowing them to whisk away plaque.
It's good that they physically remove buildup from the teeth and gums, because there's little to recommend them, nutritionally-speaking. They're mainly rice, glycerin, and wheat flour, so each treat is basically a bunch of empty calories.
They do have a bit of chicken by-product meal in them, too, so your dog will get a tiny bit of low-grade meat in each bite.
We wouldn't expect miracles from these treats, but when combined with a responsible oral hygiene routine, they may just save your dog from a painful trip to the dentist.
Suitable for daily use
Gentle on teeth and gums
Chewy texture
Basically, a bunch of empty calories
Contain animal by-products
---
3.

Purina DentaLife Advanced Clean Oral Care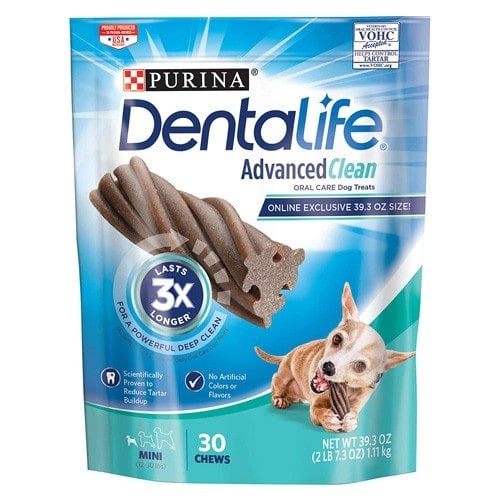 The Advanced Clean line should be used sparingly, and you should likely only give your dog one or two of these a month.
These treats are twisted and triple-ridged, allowing them to get down deep in between the teeth and along the gumline. They're designed to take a long time to eat, and the longer your pup gnaws on one, the cleaner his mouth will be.
The design also encourages dogs to use their entire mouth, rather than focusing on just one area. This increases the likelihood that they'll enjoy a comprehensive cleaning.
Like the other treats in the DentaLife brand, though, they don't have much in the way of nutrition. You'll get a fair amount of cheap fillers and a little bit of chicken by-product, so you probably wouldn't want to give these to your mutt very often even if you could.
Also, they're pretty pricey, but since you shouldn't be using them that often it's not as big of a deal as it could be.
Good for deep cleaning
Forces dog to use entire mouth
Long-lasting
Uses cheap fillers and animal by-products
On the expensive side
---
What Other Users are Saying About Purina DentaLife
HerePup – "From the ideas to testing to farming and factory production, Purina ensures its quality every step of the way."
Dog Food Guru — "Purina's dog foods are quite good, and they provide good nutrition."
Amazon – As pet owners, we always double-check with Amazon reviews from buyers before we buy something. You can read these by clicking here.

Conclusion
If you're worried about your dog's dental health, then feeding him treats from Purina's DentaLife line may be an easy way to keep any problems under control. These treats help dislodge plaque and tartar, keeping your pup's mouth healthy, and some even address issues in his digestive tract.
While they have important health benefits, we wouldn't go so far as to call them "healthy." They're filled with questionable ingredients, so they should be used sparingly. Ultimately, you'll have to decide how much of a trade-off you're willing to make in terms of keeping his teeth clean versus keeping his digestive system in line.
If you don't go overboard, they can be a useful addition to any dental hygiene regimen. That doesn't mean you're off the hook as far as brushing his teeth, though — it just means the treat you give him for allowing you to do so may just have an ulterior motive.
See Also: