Purina Pro Plan vs Kirkland Dog Food: Our 2023 In-Depth Comparison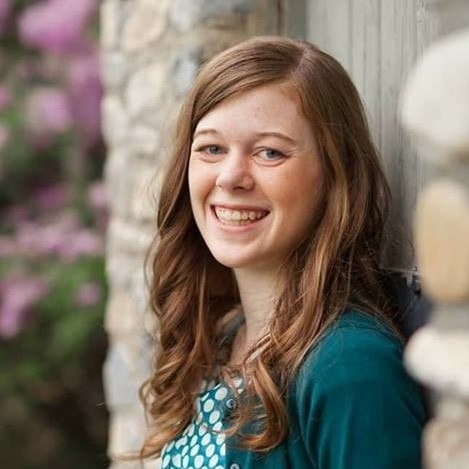 Purina Pro Plan is one of the most popular dog foods out there, and it is easy to find at most grocery and pet stores. But if you have a Costco membership, you may have seen Kirkland Signature dog food on the shelves and wondered how it measures up. With so many choices, it can be hard to find the right brand, and both of these can be excellent choices for your dog. To find out what the best food is for your dog, this review will break down some of the differences between the two brands.
Click to skip ahead:

A Sneak Peek at the Winner: Kirkland
Rating
Image
Product
Details

Our Favorite

Kirkland Signature Chicken, Rice & Vegetable

Highly nutritious
Doesn't contain by-products
Lower price point
Check Price

Kirkland Signature Lamb, Rice & Vegetable

Lamb, Rice & Vegetables
Glucosamine & Chondroitin
Vitamin E, Selenium, Zinc & Active9™ Probiotics
Check Price
Purina Pro Plan is a fine choice, but Kirkland takes our vote in this competition. Kirkland dog foods have high-quality ingredients that make them stand out. They also are nutritionally balanced with great protein content and a few different options to meet your dog's needs. The low cost is just a bonus!

About Purina Pro Plan
Purina Background
Purina dog food is one of the most popular dog food lines out there. This company has a long history of making animal feed going back over a hundred years, but it wasn't until Nestle acquired the company in 2001 that Purina began making dog food. Since then, it's had a fairly good reputation but it has been involved in a few legal actions. In 2015, it was involved in a lawsuit over an additive called propylene glycol, which caused at least one dog to sicken. In 2014 and 2017, it was involved in lawsuits over false advertising claims.
Purina Today
Today, Purina is a giant in the dog food world—it even sponsored the Westminster Dog Show in 2011. Purina is known for making a wide variety of high-quality dog foods for dogs of all ages, breeds, and health needs. It has dozens of dog food options, making it a great choice for many dog owners of differing needs.
Purina Pro Plan
Purina Pro Plan is the premium line of Purina foods. It is on the expensive side compared to other premium dog food brands, but it does meet high health standards. It is AAFCO certified as nutritious for all life stages. Their foods do include meat by-products—these are processed leftovers of meat that's been prepared for human consumption. These can include bones, organs, and other less desirable parts of the carcass, and some pet owners prefer to avoid them.
Long history of making pet food
AAFCO Certified nutrition
High quality food
Large selection
Contains meat by-products
Lawsuit history
Pricey
---
About Kirkland
Kirkland Background
Kirkland is Costco Wholesaler's in-store brand available to shoppers with a Costco Membership. Kirkland dog food is manufactured by Diamond Pet Foods, inc. in five factories across the United States. Kirkland dog food is available at a lower price than many comparable dog foods because of Costco's wholesale approach. It overall has a great reputation, although a particularly large recall in 2012 affected many of their products.
Kirkland Dog Food Products
Unlike Purina Pro Plan, Kirkland only has a few food options available. Most of Kirkland's dog food falls into their Signature line. This line is their basic dog food, and it has six dog food options specialized for different life stages and breed sizes. They also have a Kirkland Signature Nature's Domain, which has five dry and two wet foods available. These foods have a greater variety of flavors and are all grain-free. Kirkland Dog Foods are meat first and have high-quality ingredients. They don't include animal by-products, but they do have some controversial ingredients, especially the Nature's Domain line. This includes grain-free food options and a heavy use of peas and lentils, all of which have been linked to heart disease.
Highly nutritious
Doesn't contain by-products
Lower price point
Limited selection
Lots of recipes rely on peas and lentils
Limited to Costco shoppers

The 3 Most Popular Purina Pro Plan Dog Food Recipes
1.

Purina Pro Plan Adult Sensitive Skin and Stomach
Purina Pro Plan's most popular food is their Sensitive Skin and Stomach food, designed to promote digestive health and a shining coat. The salmon and rice formula is a great option for many dogs because it is easy to digest, includes healthy whole grains, and avoids chicken and beef, which are relatively common allergens. It also promotes digestion via probiotics and prebiotics, which help your dog have better gut health. The first five ingredients are salmon, barley, rice, oatmeal, and canola meal and it has a crude protein content of 26% and a fat content of 16%. Salmon is a great choice for many dogs because it is healthy and high in omega-fatty acids. Barley, rice, and oatmeal are all healthy whole grain options. Canola meal is a little more controversial—it is a high-protein plant product that can cheaply increase the protein content in dog food without adding much nutrition. This recipe also includes yeast, which can cause allergies. This recipe also doesn't include any fruits and vegetables to add vitamins and minerals, instead relying on additives.
High in protein
Salmon as first ingredient
Healthy whole grains
Probiotics and Prebiotics
Expensive
Contains plant protein sources and yeast
No fruit and vegetable nutrition
---
2.

Purina Pro Plan Sport Performance 30/20 Dog Food
Purina Pro Plan Sport Performance 30/20 Dog Food is designed for more active dogs with a higher fat and protein content than Purina Pro Plan's standard foods. The 30/20 in the name comes because it has 30% protein and 20% fat—perfect for puppies or active dogs. The first ingredients are salmon, corn gluten meal, rice, poultry by-product meal, and whole grain corn. The main animal sources are salmon and poultry by-product meal. By-product meals are controversial because they use leftovers from meat processed for humans and can be lower quality. The unspecified poultry might also be an allergen. Corn gluten, rice, and corn are the main grains. Corn gluten meal is processed corn proteins that boost the protein levels without adding a lot of nutrition. However, rice and whole grain corn can be healthy whole grains. This recipe doesn't add any extra fruits or vegetables beyond grains. It does contain probiotics which will boost digestive health.
High protein and fat for active dogs
Salmon as first ingredient
Probiotics and Prebiotics
Uses poultry by-products
Plant protein meal as second ingredient
No fruit and vegetable nutrition
---
3.

Purina Pro Plan High Protein Shredded Blend
Purina Pro Plan High Protein Shredded Blend is a chicken-based dog food that uses a novel texture, with "shredded" kibbles that add variety and flavor into the food. It is fortified with probiotics and is 26% protein and 16% fat. This is a great amount of protein, although it isn't any higher than most Purina Pro Plan foods. The first ingredients are chicken, rice, whole grain wheat, poultry by-product meal, and soybean meal. Chicken is a common and healthy protein source, and rice and wheat are both healthy whole grains. However, poultry by-products and soybean meal are both controversial ingredients. Like other Purina Pro Plan foods, it doesn't have any fruit or vegetable products added in.
High protein
Chicken as first ingredient
Novel texture
Healthy whole grains
Probiotics
Uses plant proteins
Uses poultry by-products
Doesn't have fruits or veggies

The 3 Most Popular Kirkland Dog Food Recipes
1.

Kirkland Signature Chicken, Rice & Vegetable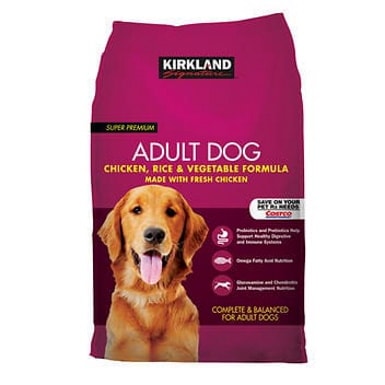 Kirkland Signature Chicken, Rice & Vegetable food is their most popular food. It has 26% protein and 16% fat, which is a healthy amount for most adult dogs. The main ingredients are chicken, chicken meal, whole grain brown rice, cracked pearled barley, and chicken fat. Chicken and chicken meal are excellent protein sources—chicken meal is simply dried, concentrated chicken that is actually higher in protein than normal chicken. The whole grain rice and barley are healthy grain options. This food also contains small amounts of many different healthy foods like carrots, apples, and cranberries to help fill your dog's nutritional needs. These natural ingredients often make it easier for your dog to absorb vitamins when compared to added vitamins. It does contain yeast, which is sometimes linked to allergies in dogs.
Chicken and chicken meal as first ingredients
By-product free
Healthy veggies and whole grains
Probiotics
Contains some potential allergens
---
2.

Kirkland Signature Nature's Domain Salmon & Sweet Potato
The Nature's Domain line contains a variety of grain-free foods with novel vegetables and proteins. Their Salmon and Sweet Potato recipe's main ingredients are salmon meal, sweet potatoes, peas, potatoes, and canola oil. It has a protein content of 24% and a fat content of 14%. Salmon is a healthy protein source that's high in protein and omega fatty acids, and salmon meal is just a more concentrated salmon. Sweet potatoes are a common product in grain-free foods and are a healthy carb that's high in vitamin A and other healthy vitamins. However, the FDA is currently investigating a link between the high levels of peas and potatoes in grain-free diets and certain types of heart disease, making these ingredients controversial. Other ingredients in this food include a variety of fruits and vegetables, probiotics, and prebiotics. It should be noted that grain-free diets aren't necessarily lower in carbs than grain-inclusive diets—in fact, this food has more carbs and less fat and protein than other Kirkland dog foods.
Salmon meal as first ingredient
Lots of healthy vegetable products
Probiotics
Contains peas and potatoes as major ingredients
Not especially high in protein
---
3.

Kirkland Signature Adult Lamb, Rice & Vegetable Dog Food
Kirkland Signature's Lamb, Rice & Vegetable Dog Food is a great option if your dog has an allergy towards chicken proteins or if you'd like a novel protein in your dog's food. The main ingredients are Lamb, lamb meal, whole grain brown rice, ground white rice, and rice bran. The use of lamb and lamb meal in the first ingredients is a great choice. Lamb is a digestible protein option with many health benefits. Rice is generally seen as a good grain option as well, although the inclusion of three rice ingredients in a row might be a sign of ingredient splitting. That's when manufacturers separate out similar ingredients so that it looks like there are less carbs than there are. This food does have a slightly lower protein and fat content than the Chicken, Rice & Veggie food, with 23% protein and 14% fat, but these numbers are adequate. Other healthy ingredients include probiotics, antioxidants, and lots of fruits and vegetables.
Lamb as first ingredient
Free of poultry proteins
Probiotics
Lots of fruits and veggies
Possible carb ingredient splitting
Not especially high in protein

Recall History of Purina Pro Plan and Kirkland
Both Purina and Kirkland have had recalls in the past. In 2012, Kirkland was involved in a major recall after several dogs were sickened by salmonella exposure in their dog food. In 2016, Purina Pro Plan wet dog food was recalled due to inadequate vitamins and minerals.

Purina Pro Plan vs Kirkland Comparison
Taste
Edge: Kirkland
When it comes to taste, few things matter more than high quality, varied ingredients. Although Purina Pro Plan is nutritionally varied, Kirkland foods tend to have better quality ingredients. Kirkland doesn't use meat by-products and their foods are packed with fruits and veggies that add flavor.
---
Nutritional Value
Edge: It depends
Both Kirkland and Purina Pro Plan have nutritionally sound recipes. Although Purina Pro Plan tends to be higher in protein, they also use more meat by-products and plant-based protein sources that are lower quality. Both lines have grain-free foods with ingredient lists that don't stand up to the latest research, but their grain-inclusive recipes are better. They both use whole grains and probiotics, and Kirkland also uses a wide variety of ingredients to add nutrition and flavor. If your dog needs a high-protein recipe or a specialized diet, Purina Pro might meet your needs best, but otherwise Kirkland will have the slight edge.
---
Price
Edge: Kirkland
Kirkland is the hands-down winner when it comes to price. Their dog food is significantly cheaper than Purina because they sell wholesale to consumers instead of through retailers. This allows them to shave off some of their costs and give you a better-quality food for less. However, it's worth noting that the lower price is linked to the limited availability—Kirkland food is available mostly through Costco clubs and if you do find it online at another source, it's likely to be at a significant markup.
---
Selection
Edge: Purina
Purina Pro Plan is the clear winner here, with dozens of options available for any needs. This makes it ideal if your dog needs a specialized diet or something more specific. Kirkland does have an increasing selection of foods, but they still are limited to only a handful of options and will likely remain that way.
---
Overall
Edge: Kirkland
There are great things to be said about Purina, but it's hard to beat Kirkland's great price, taste, and nutrition. This makes it a good option for many dog owners looking for the perfect food at the best price, especially if you already shop at Costco regularly.

Conclusion
When you look at the food, Kirkland Pro Plan is the clear winner here. It is a low-cost food that has great ingredients, a good brand history, and optimal nutrition. However, it's also a lot more limited in availability and selection. If your dog needs a specialized diet, higher protein content, or other accommodations Purina Pro Plan may be better.
Kirkland food is only officially available through Costco. I found a few available on Amazon through resellers but they were significantly marked up and I wasn't sure if they were reliable vendors so I linked both for you.